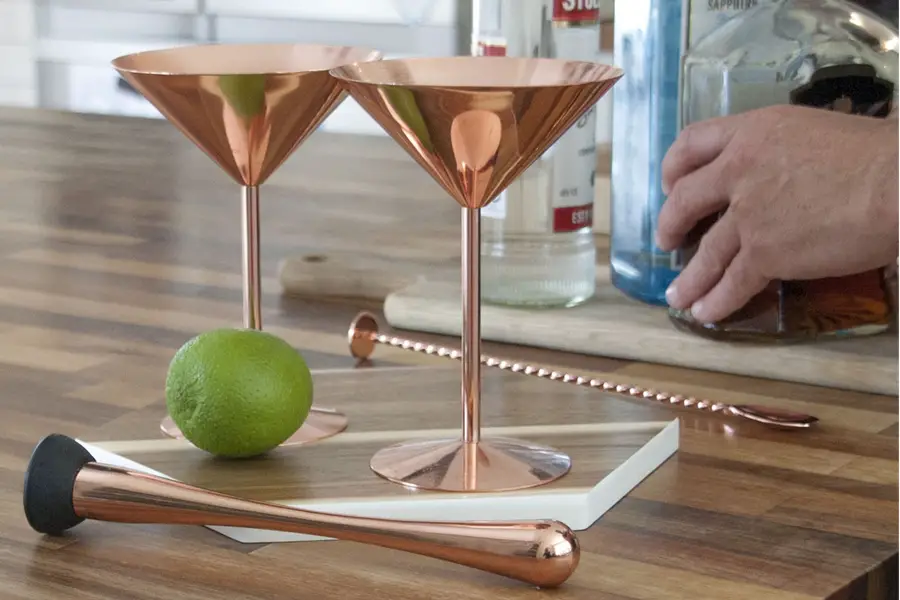 Cocktail Muddler Reviews
A cocktail muddler is an important bar tool to have on hand if you make a lot of mixed drinks or work as a bartender. If you've never heard of a muddler before, they are the baseball shaped tools that are about 5-7 inches long, with a flattened end, sometimes with small teeth, that are used to crush and mix certain ingredients together in the bottom of a drink glass. The purpose of muddling is to bring out the flavors of certain herbs before adding the liquid part of the drink. Not all drinks will need the muddler but they are definitely handy to have around if you want to make outstanding mixed drinks at your next dinner party or gathering. They used to be mostly made of wood, but the modern designs include stainless steel and even plastic. Avoid any muddlers with a coating or lacquer on them, as this can be toxic.
Most Popular Cocktail Muddler
Kydara
The teeth end works much better than smooth bottom muddlers. There will be no scratches to worry about with the nylon material used fir the end. It's durable and long lasting and like some wood muddlers can do, it won't splinter, crack or stain and won't leach any funny tastes into your drinks. The ergonomic stainless steel handle is easy to hold and won't put undue strain on your hand or wrist. The weight of it enables you to effectively pulverize your herbs and fruits without having to use a lot of strength. It is dishwasher safe, but it'll look like new indefinitely if you hand wash it instead. You can also use the Epica Cocktail Muddler as a mortar and pestle for cooking.
Stainless steel and nylon construction
Easy to use
Great weight prevents having to over push
Teeth on the bottom work better than smooth bottom muddlers
Won't crack, stain or splinter
– Anthony Dawson
Best Overall Cocktail Muddler
OXO SteeL Muddler
Get ready to make some great tasting drinks with this steel muddler from OXO. Made with durable die-cast zinc and has a nylon head to protect glasses against scratching. The grip is comfortable and easy to use. The bumpy "teeth like" bottom is Perfect for crushing up fruits and mint for all kinds of delicious drinks like mojitos and mint juleps. This muddler can also be used as a mortar and pestle for cooking. Easy clean up is a breeze, just put in the dishwasher and go. A great size to use easily at 9" long.
Made of durable die-cast zinc
nylon head won't scratch glass
comfortable grip is easy to use
dishwasher safe
bumpy, textured bottom is great for mashing up fruits and herb leaves
– Anthony Dawson
Best Budget Cocktail Muddler
Arctic – Stainless Steel Muddling Set
Every drink will come out perfect with this best selling cocktail muddler from Arctic Chill. Easily muddles herbs, fruits and more, releasing all their flavors and making your mixed drinks burst with flavor. The nylon head won't scratch any glasses and the grooves make quick work of pulverizing your ingredients. Made of 100% stainless steel with a polypropylene head and measures about 8" long. Designed for easy and comfortable handling. Hand washing is recommended and is very easy to do in a sink with warm, soapy water. Perfect for making those cold summer drinks on a hot Sunday evening. Get this great stainless steel muddler and make everyone wonder when you became such an incredible bartender.
Stainless steel construction lasts a long time
Polypropylene head with grooves won't scratch glasses
Muddles fruit and herbs easily and quickly
Lifetime guarantee
Easy to clean – hand washing is best
– Anthony Dawson