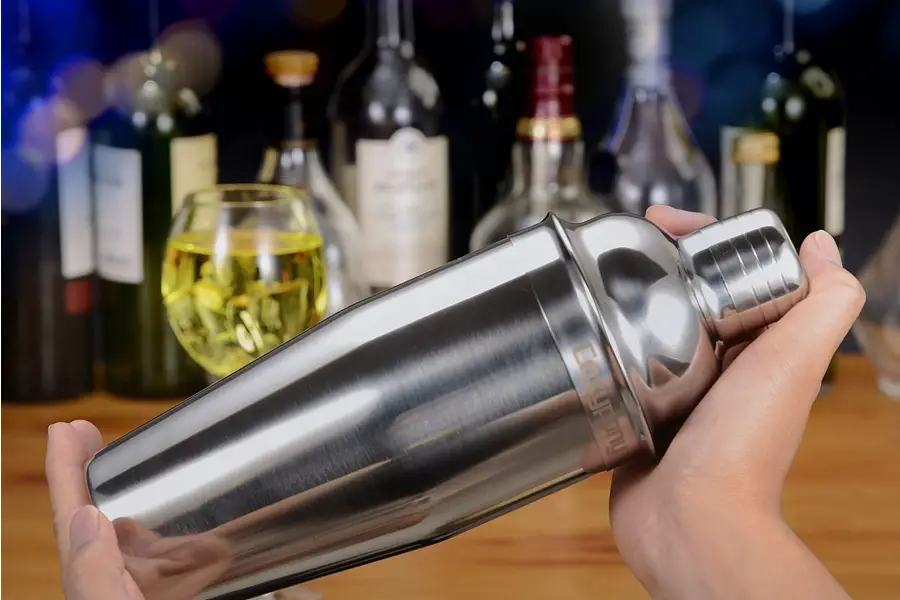 Cocktail Shaker Reviews
Cocktail shakers are common bar tools and are used possibly more than any other drink mixing tool. There are many drinks that involve having ingredients and different liquors mixed up and the shaker is the perfect tool to do the job. The purpose of shaking the drink before pouring it in the serving glass is to chill it properly without watering it down unnecessarily. Most of the time shakers are made of stainless steel or plastic for safety's sake. Some shakers are designed with a strainer top and jigger and others are simply the shaker all by itself. Drinks that are made with a shaker are colder, better mixed and taste better due to that shaking process which should only last 5-10 seconds. You don't need to over shake it. The cocktail shakers below are all great quality, stylish shakers that will look great in any bar. Whichever one you choose, you'll be sure to have one of the most important barware tools you can have to make excellent tasting, chilled mixed drinks every time.
Most Popular Cocktail Shaker
Oggi Marilyn Tall and Slim Cocktail Shaker
The sleek, stylish design of this slim cocktail shaker adds elegance to any bar whether professional or at home. The Oggi Marilyn Tall and Slim Cocktail Shaker holds up to 26 ounces and includes a lid for use when shaking your drinks up. This beautiful shaker was named for one of America's icons, Marilyn Monroe and the influences are seen in the subtle curves of the shaker. Features a built in strainer too so it's all you need to make great tasting mixed drinks for your friends and family. They'll be impressed and you will love the style and convenience this contemporary shaker gives you.
Holds up to 26 ounces
Subtle sleek curved design is eye catching and stylish
Stainless steel construction is long lasting and durable
Cleans easily by hand
Soft, satin finish
– Anthony Dawson
Best Overall Cocktail Shaker
OXO SteeL Press & Pour Insulated Cocktail Shaker
Another winner from OXO! This press and pour cocktail shaker can be used one-handed with ease with the button activation. You don't have to remove the self-straining top at all because it has everything you need to mix and strain your drinks perfectly. Press the button and pour from anywhere on the 360 degree opening. There are 3 inner silicone seals to prevent spilling. Your cocktails will stay cold with the double wall construction and the outside will be condensation free. The amazing and unique cocktail shaker is great for beginners and professional bartenders alike. The outside exterior has a brushed stainless steel exterior and the whole shaker holds up to 18 ounces of your favorite drink.
Easy to use with one hand
Push button activation
Self straining top doesn't need to be removed
Pours from anywhere on the 360 lid
3 inner seals prevent spills
– Anthony Dawson
Best Budget Cocktail Shaker
MOFANG FAMILY-Barware Styles Classic and Elegant
Entertain your friends and family from your own home with this Premium Steel Cocktail Shaker. The top quality polished stainless steel is FDA certified and is BPA and Lead free. No funny tastes from the steel, just the great taste of whatever drink you are making. The non-stick lid is easy to remove when you're ready to pour your drinks. Has a 24 ounce capacity. No worries about rusting or leaking with this stylish cocktail shaker. You can use this high quality shaker for hone or professional use or anywhere you want to show off your drink making skills. This cocktail shaker is dishwasher safe and easy to clean. Included with this shaker is a free bonus ebook with cocktail recipes to start you off right. Comes with a 1 year Masterclass Shaker Money Back Guarantee.
FDA certified
BPA and Lead Free
Non stick lid comes off easily when you're ready to pour
No rusting or leaking
Stylish stainless steel construction
– Anthony Dawson