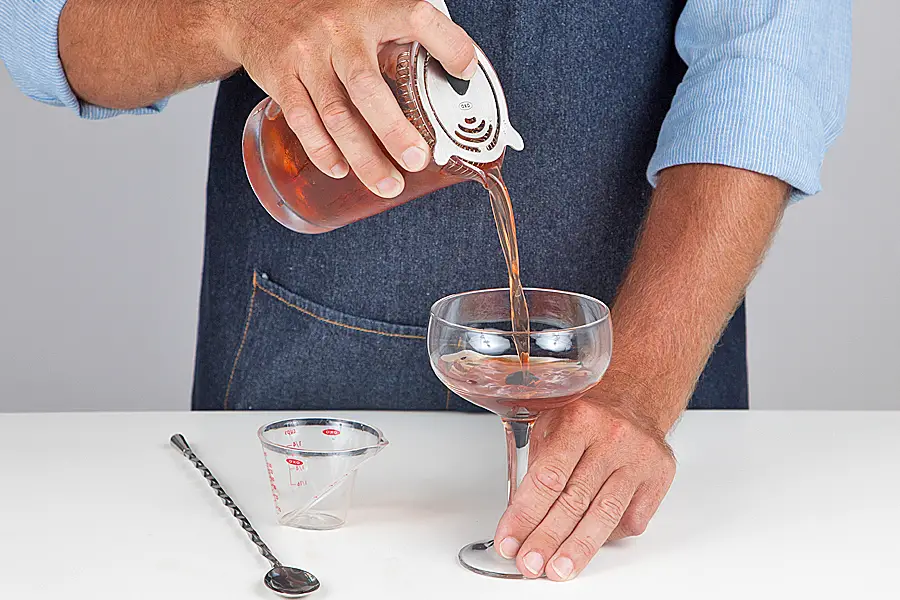 Cocktail Strainer Reviews
Cocktail strainers are frequently used bar tools to remove ice from a mixed drink before serving. The strainer is placed over the mouth of the glass and the holes on the strainer only let the liquid throw and not the ice. The Hawthorne strainer is the most commonly used and in the shape of a disc with a handle and at least two prongs that stabilize the strainer over on the glass. The metal spring rolls inward to fit inside the glass and filters the ice out as the liquid is poured into the serving glass. These trainers are very useful and every bar and restaurant as well as any home bar. The strainers below are all good quality and any would be a great addition to your barware. The other type of strainer is the Julep strainer which looks more like a large spoon with holes in it. The Hawthorne strainer tends to be the more widely used strainer due to the convenient design that allows for fast straining. When you want to allow fruit pulp to get into the glass, you can still use any of these strainers below. The design of them makes them great for filtering out ice but allows fruit pulp to filter through into the glass for fruity drinks that taste delicious.
Most Popular Cocktail Strainer
OXO Fine Mesh
This OXO Softworks strainer makes drink making easy and efficient. Made of durable and long lasting stainless steel. The raised lip design prevents drips and spills while you're pouring so there's no embarrassing mess to clean up. This OXO strainer has a soft finger rest and the handle is made of nylon and is non-slip for added comfort while straining and storage is easy with the short handle. This will fit in cocktail shakers and drink glasses easily and can stand on the counter when you're not using it. Comes with a limited lifetime manufacturer's warranty and cleaning it is simple and easy; just put in the dishwasher and go.
Stainless steel construction
Long lasting and durable
Fits cocktail shakers and glasses easily
No mess design prevents spills during straining
Dishwasher safe
– Anthony Dawson
Best Overall Cocktail Strainer
OXO
If you're looking for a cocktail strainer with a simple yet stylish design, you have found it right here in this true best seller by OXO. The short handle works with the natural grip and positioning of your hand, making it very easy to use. The raised lip on the strainer prevents you from making messes while making drinks and filtering out the ice. The non-slip finger rest gives added stability and support even with wet hands. The all steel construction is long lasting and durable and will be useful for years to come. You can wash this strainer easily and safely in the dishwasher. Storage of this useful bar tool is easy with the short handle.
All steel construction
Easy to use
No mess design prevents spills and drips
Comfortable to hold
Short handle makes for easy storage
– Anthony Dawson
Best Budget Cocktail Strainer
Swissmar
Every well equipped bar will want to have one of these Swissmar cocktail strainers on hand. The attractive stainless steel strainer features both polished and brushed steel for a stylish look that looks great with any bar décor. You will have a secure fit with the wire stabilizing ring that has two prongs to ensure no messes while pouring. Fits most shakers and glasses. The strainer works well to keep ice out of the glass but allows some pulp to filter through making it the perfect strainer for drinks with crushed or muddled ingredients in them. The 7.75" length is comfortable to use and yet not so long that storage becomes a problem.
Brushed and polished stainless steel construction
Measures 7.75" in length
Secure fit ensured with the stabilizing ring and two prongs the strainer contains
Keeps ice out of mixed drinks
Allows fruit pulp to filter through for great tasting fruit mixed drinks
– Anthony Dawson