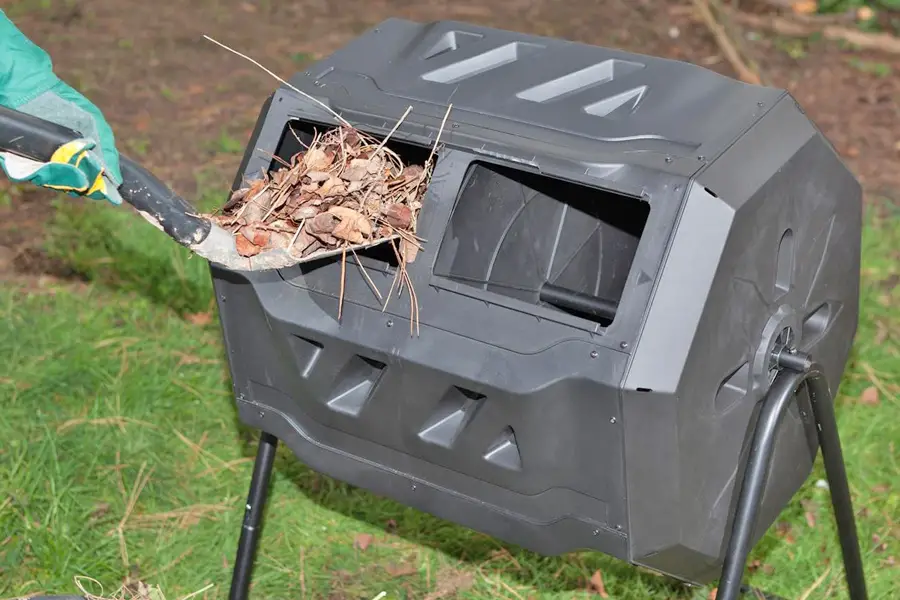 Composter Reviews
The act of recycling garden waste isn't just for those with a green thumb, its become trend of its own. Keeping up to date and in with the carbon footprint crowd is both economical and environmentally sensible now. Composting your household organic waste material is simple to do and saves the planet at the same time. Using a composter you can turn any matter of compostable waste into a rich and environmentally friendly fertilizer that is 100% natural. All it takes is throwing your old vegetable peels, left overs, unwanted coffee, or egg shells into the composter instead of the regular waste bin. So the concept of throwing something away is exactly the same it's just a different container that it lands in, you are using the same amount of effort and time yet you are producing a great fertilizer for your plants and garden.
Most Popular Composter
Compost Tumbler
The Compost Tumbler looks great in your back garden and allows you to be environmentally friendly too. It can turn with ease on its movable axis which lets you rotate the tumbler whichever way you need to. There is an internal aeration bar where the compost gets mixed, and it also gets a good supply of oxygen through this bar too. The tumbler itself is made of a highly durable HDPE,a high-density polyethylene plastic that gives the tumbler its strength and allows it to hold compost with ease. It is also UV protected so the sun cannot damage the material or adversely affect the contents it stores. This is helped by the dark colour and the double wall panels which absorb and maintain heat. The lid is conveniently made in a spring-loaded manner and is extra-large making it easy to use if your hands are full. It also rotates when you are filling the tumbler. All the hardware is included and a DVD on how to compost comes with the tumbler.
7 cubic feet capacity
Mixes the compost and allows a flow of oxygen by using its internal bar
Turns on its axis with ease
Made from HDPE (high density polyethylene plastic powder coated steel)
Rodent proof outdoor compost tumbler
– Anthony Dawson
Best Overall Composter
Worm Factory 360 WF360B Worm Composter
Composting worms is a great way to recycle your kitchen scraps into nutrient rich soil to feed your plants. The Worm Factory 360 Composter lets you do this both quickly and easily using its thermo siphon air-flow design which also gives you faster composting speeds. You can get your compost quicker than other composting methods for speedy results. Thousands of worms work around the clock every day of the week breaking down the waste material you add into the composting factory. The compost in turn is rich and improves your soils quality by using the efficiently produced compost packed with microbes and water-soluble plant nutrients. Worm compost has 10 times the amount of nutrients than a normal composter and it's obvious that the more nutrients you give to your plants and vegetable patches the better they will grow and the more succulent and rich they will taste. So you can enjoy great tasting organic fresh fruit and vegetables as well as bright and beautiful flowers too.
4 trays expand to 8 trays to allow for extra volume
The lid converts to a stand for the trays when composting
Comes with the basic tools to assemble the product
Built in drainer and collector tray
– Anthony Dawson
Best Budget Composter
Oggi Countertop Compost Pail with Charcoal Filter
The Oggi Countertop Compost Pail With Charcoal Filter is the ideal product to save you even more time and effort when it comes to recycling. You use this well designed and attractive product in your kitchen to deposit any old kitchen scraps, paper, peelings, egg shells, coffee grounds and more to store them until it is full and ready to be transferred to the outdoors. This product comes with the charcoal filter so you do not experience any foul smells in the kitchen and conveniently stores your scraps while looking great on the countertop too. Being made from quality bamboo fiber the compost pail is attractive and fits well in your kitchen. It has a great capacity of 3.8 litres with a handy carry handle for transportation needs. Replacement filters can be bought to ensure the odors are kept at bay.
Made from quality bamboo fiber
Charcoal filter absorbs bad odors
Hand washing is recommended
3.8 litre capacity
Stores all your compost goods until ready to transfer outdoors
– Anthony Dawson