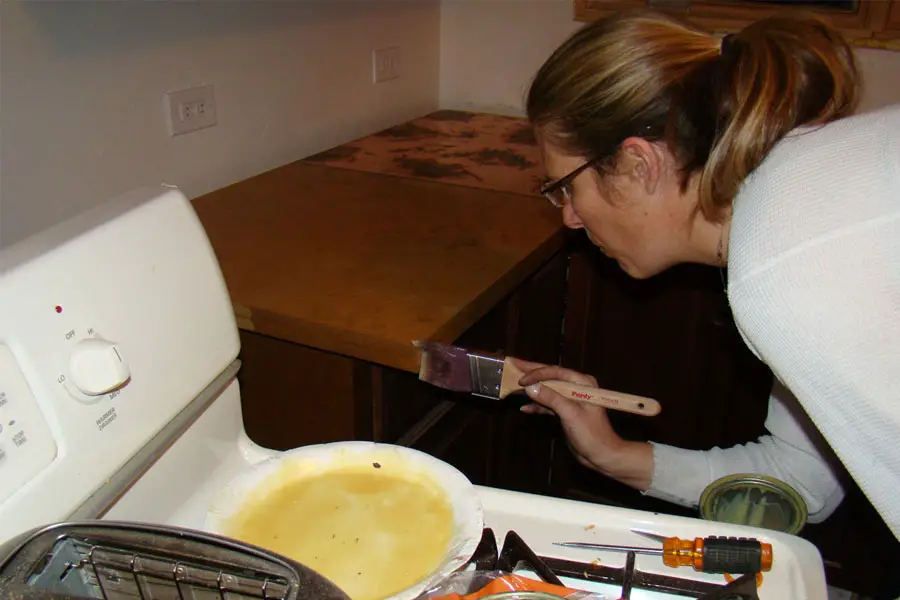 Contact Cement Reviews
It seems as though there are a number of "magic glues" out there that powerfully bond materials together, but contact cement is a special substance that in some cases is the only effective way of bonding materials. Also known as contact adhesive, contact cement is a neoprene rubber adhesive that makes for flexible and fast permanent bonds. It really works with practically everything but it's especially good for nonporous materials that can't be glued by other types of adhesives. Perfect for rubber, leather, plastic, veneers, glass, and much more. People get a lot of success from using contact cement on countertops in kitchens, as well as in bathrooms. What makes contact cement unique is that it doesn't have to dry, because it is already dry on contact. The cement forms a flexible bond with no residual moisture once the solvent evaporates. That means you never need to clamp it. Great for floor tiles and hundreds of other different projects around the house. There are a number of different brands to choose from that have different application methods.
Most Popular Contact Cement
Dap 102
Great for use on a variety of different materials and instantly bonds on contact, this durable, water-resistant bonding adhesive is one of the best you can find on the market. The 1-ounce bottle features a handy applicator head that ensures that you're not going to have to deal with any mess or leaking. The bond is completely resistant to water and chemicals, and is recommended for use with plastic laminates such as Micarta, as well as countertops. Many customers find this is a great formulation for fixing books and other paper materials as well. A fantastic way to instantly bond a vast number of materials without the mess. The small size of this tube makes it easy when you're only every once in a while fixing little things around the house, and then want to store the bottle in a cabinet or drawer. The contact cement is strong but safe, and you're going to be amazed by all the different kinds of projects that it can be used for.
Instant and permanent bonding on contact
Resistant to water and chemicals
Great for application of plastic laminates to countertops
– Anthony Dawson
Best Overall Contact Cement
DAP 25312
Weldwood's Original Contact Cement has a unique gel formula that won't ever drip. That means that you're not going to need to deal with the huge mess that other contact cements leave you with. It's perfect when you need to work on projects that are vertical or overhead. You get really excellent coverage because the formulation is so easy to spread. The neoprene contact adhesive dries in just about 15 minutes and meets all CPSC requirements. Basically, this is an incredibly strong cement that is going to make fixing things around the house so much easier. It works great for tiles in the kitchen or bathroom, as well as for adhering any non-porous material in a snap. The 1-quart size is ample, and if you're just doing small projects then this amount is going to last you a long time. The design of the tube makes it easy to apply the cement, and the cap fits snuggly back on for easy storage.
Dries in 15 minutes
Gel formula will never run
Incredibly easy to apply
Meets all requirements by CPSC
– Anthony Dawson
Best Budget Contact Cement
The Original SuperGlue
Super Glue is perhaps the most trusted name in adhesives, and it seems like they have every kind of glue and contact cement imaginable. This is a flexible acrylic contact cement in a nice, portable 1oz bottle, which makes it easy to store in a drawer, or even in your pocket or toolbox. It's amazing how many things that this little tube of cement can fix. Great for countertops, hobbies, bathroom fixtures, paper products, tiles, laminates, plastics…..and the list goes on and on. The acrylic formulation is flexible, which is handy when you're working with materials like leather and rubber. Once you fix something for the first time with this Super Glue contact cement, you may find yourself getting excited and running around the house looking for other things to fix. This is just another fantastic product from Super Glue that does what it says at a price that is completely reasonable. The perfect addition to your home-maintenance arsenal.
Flexible acrylic contact cement
Great for use on laminates, formica, leather, masonite, metal, plastics
Convenient 1 oz. bottle
– Anthony Dawson
Contact Cement Buying Guide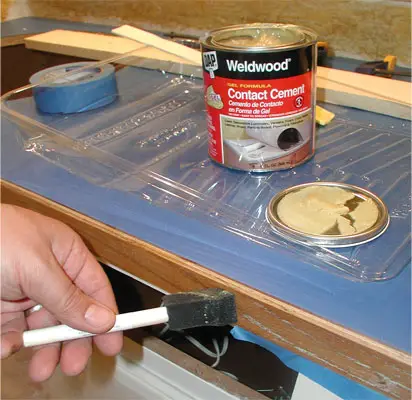 Contact cement is typically used for bonding two surfaces together. This substance is primarily used to connect laminate flooring and substrates. Contact cement can also be used to fasten items such as wood, leather and metal together. The following information will describe contact cement and go into details about its use, ingredients and the different types of this product that is available for sale.
Main Uses for Contact Cement
Contact cement is an extremely useful bonding agent that can be applied on a variety of different surfaces and objects. Construction crews and flooring technicians use contact cement when placing stone tiles or pavers onto concrete or tarred surfaces. This product can also be used to bind wooden or clay surfaces and milder versions are often added to indoors flooring that are overlaid with tiles. Contact cement is put down on aggregate outdoor surfaces as well. Workers use this substance to bind bricks together and for laying down stone slabs that are sometimes used for deck areas that surround swimming pools.
While contact cement can be used for outdoor projects involving heavy duty materials it can also be used for bonding plastics, veneers, rubber, glass, metal and even leather. Kitchen countertops and bathroom sinks can all be fixed into place with contact cement. Some auto body shop technicians will even use this substance to keep automotive body parts (such as a bumper) in place.
What Ingredients are Typically found in this Substance?
Contact cement is considered a synthetic adhesive and it also contains other materials and chemical substances. Ingredients such as naphtha, aceon, synthetic rubber and acetone are often mixed into contact cement. Various resins and an ingredient called hexane is often included as well. Some fillers and other ingredients can be found inside of bonding cement.
Types of Contact Cement
There are three basic types of contact cement and they include non-flammable, flammable and water based. Here is a description of each variety of this product.
Non-Flammable
Non-flammable contact cement is flame retardant grade. Unless there is a raging inferno in the area where this substance has been applied; this type of cement won't catch on fire. Even in conditions where a fire is engulfing a structure this material will burn but not so easily. Non-flammable contact cement is the most expensive to purchase and is good for areas inside of structures where electricity, sparks and open flames are common.
Flammable
Flammable contact cement cannot be used near an open flame and it should also be used in a well-ventilated area. This type is best suited for jobs where flames and sparks are not present. Many people typically use the flammable variety outdoors but it is not recommended where there is a significant chance of fire. This is the least expensive type of contact cement.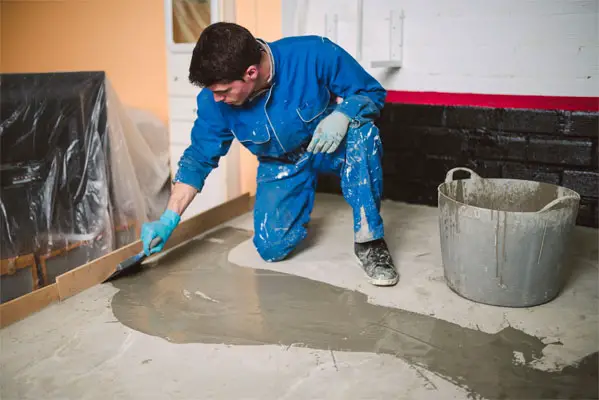 Water-Based Contact Cement
Water-based contact cement is a slow drying mixture and it is primarily used for jobs where people have time to work. This material does not burn and it forms a tight bond when dry. This particular grade is also inexpensive and is used for many common jobs. There are some contact cements that are specifically designed to withstand high-heat and moisture.
Applications for Contact Cement
Contact cement can be applied as a spray or with the use of a brush or roller. Spray varieties are liquid while they remain inside the bottle. However they dry rather quickly once they come into contact with air. Brush and roller contact cement substances take a longer amount of time to dry. People should be prompt when using them because they will dry within 45 minutes up to an hour.
When people are placing objects together with the use of contact cement they should make sure that they are placing the parts as even as possible. Once this substance forms a bond it will be extremely difficult to break undo it. This is why people are strongly encouraged to plan out their job before they start a project.
Objects that are not Suited for Contact Cement
Certain materials such as copper, brass, aluminum, galvanized, zinc or non-stainless steel spray system or fluid components should not come into contact with contact cement. Surfaces that have not been cleaned from dirt, grease and excessive moisture should also be avoided as well. While contact cement will bond vinyls with plasticizers they just do not work well on these types of materials. Surfaces with low-pressure melamine, polyester, metal or painted surfaces are not recommended for use with contact cement products.
Problems with Contact Cement
The different chemicals that are contained within contact cement have been known to affect the eyes and skin. These two areas of the body will be irritated if this substance comes into contact with them Contact cement will also cause problems if its directly inhaled for a long period of time. Inhaling this product over time will cause irritation to a person's lung and respiratory system. While the ingredients are safe for use people should not handle them inside of an enclosed area without good ventilation.