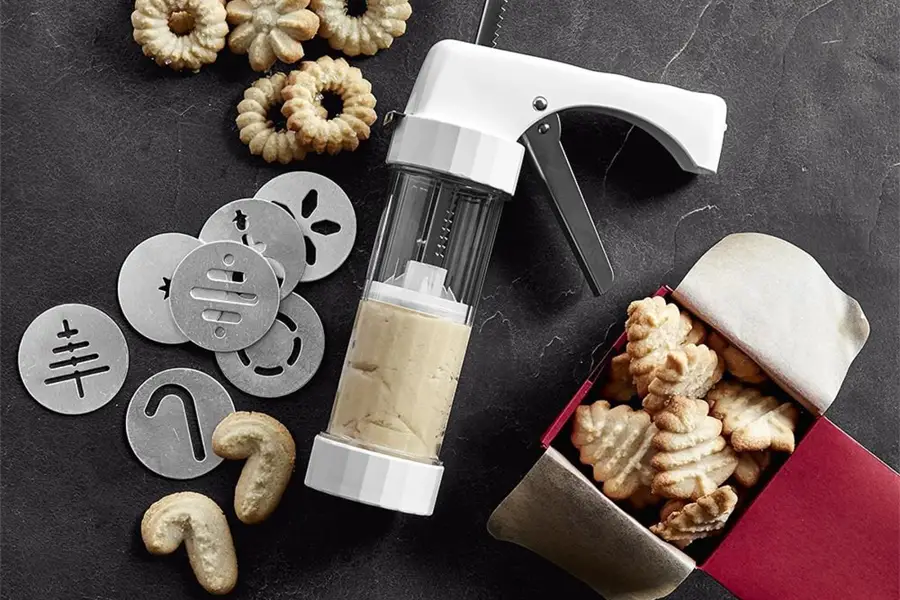 Cookie Presses Reviews
A cookie press is one of those baking tools that can make baking large amounts of cookies a whole lot easier. Basically, a cookie press is a "dough gun" that can shoot dough through a disk with holes in it. The holes determine the shape of the cookie dough as it drops onto the baking pan – like a Playdoh set! To use a cookie press, you fill the barrel with dough, insert the proper disk for the shape you desire, screw on the plunger handle, and depress the plunger to release a measured amount of dough onto the cookie sheet. One thing to remember is to use a cookie recipe that was made for cookie presses – the dough has to be the right consistency in order for the press to work properly. You may need to experiment with different dough consistencies to get it just right. Using a cookie press takes some finesse, but with practice you can be putting out cookies by the dozen. Most cookie presses are manual, using a turning handle or plunger system. There are electric versions available, but they will cost you more. Some cookie presses add decorating tips to give you even more versatility. With these, you can decorate your cookies, or trim cakes and pastries. You can even pipe mashed potatoes in smiley faces and amuse your kids!
Most Popular Cookie Presses
OXO Good Grips Christmas Disk Set
If you are looking to make batches of cookies for a bake sale, try the OXO Good Grips Cookie Press. It has a large, contoured lever that fits easily into your hand, so you won't get tired. The non slip silicone base keeps the press stable during use, and the clear barrel shows you how much dough is left. It even comes with a 12 stainless steel cookie disks with their own storage case, so they are always right where you need them. The disks come in standard patterns, including daisy, flower, sunflower, snowflake, heart, and others. The Good Grips Cookie Press disassembles for easy filling and cleaning.
Makes consistent cookies to save you time
Silicone coated non-slip base keeps the press steady while dispensing dough
The clear cylinder shows you exactly how much dough is left
Large, contoured lever for repetitive use
Disassembles for easy loading and cleaning
– Anthony Dawson
Best Overall Cookie Presses
Marcato Atlas Deluxe Biscuit Maker Press
You may be wondering why Norpro calls this a "biscuit" maker. In Europe, cookies are commonly called biscuits. With this cookie/biscuit maker, you can make dozens of cookies in the same size and shape every time. Fill the stainless steel cylinder and choose whether you want large or small cookies. Then you attach on of the 20 aluminum cookie pattern disks, and press the lever. The exact amount of dough is dispensed onto your cookie sheet.
It is recommended that the cookie pattern disks and the cylinder be hand washed in warm, soapy water. The NorPro 3301 Deluxe Biscuit/Cookie Press comes with a three year warranty.
Includes 20 aluminum cookie pattern disks for a variety of shapes
You can choose two cookie sizes, large or small
Hand wash in soapy water and wipe dry
Includes free recipes and instruction booklet
Come with a manufacturers three-year warranty
– Anthony Dawson
Best Budget Cookie Presses
Cuisinart Cookie Press
The Cuisinart Clear Cookie Press allows you to make dozens of delicious cookies in not time at all! The trigger is shaped like a handle, which means you can use it easily with either hand. Use one of the included 18 stainless steel disks to select a fun cookie pattern. As an added bonus, there are 6 pastry nozzles for decorating. You can use those for cookies, or decorating pastries, piping mashed potatoes, or filling appetizers.
The clear plastic barrel allows you to see how much dough is left, and the cookie press comes apart for easy cleaning. Included is a storage box for the disks, and a recipe booklet.
Includes 18 patterned stainless steel disks
Comes with 6 decorating tips for extra versatility
Cookie press is dishwasher safe and easy to clean
The pattern disks have their own storage box
Included is a recipe booklet for even more ideas
– Anthony Dawson