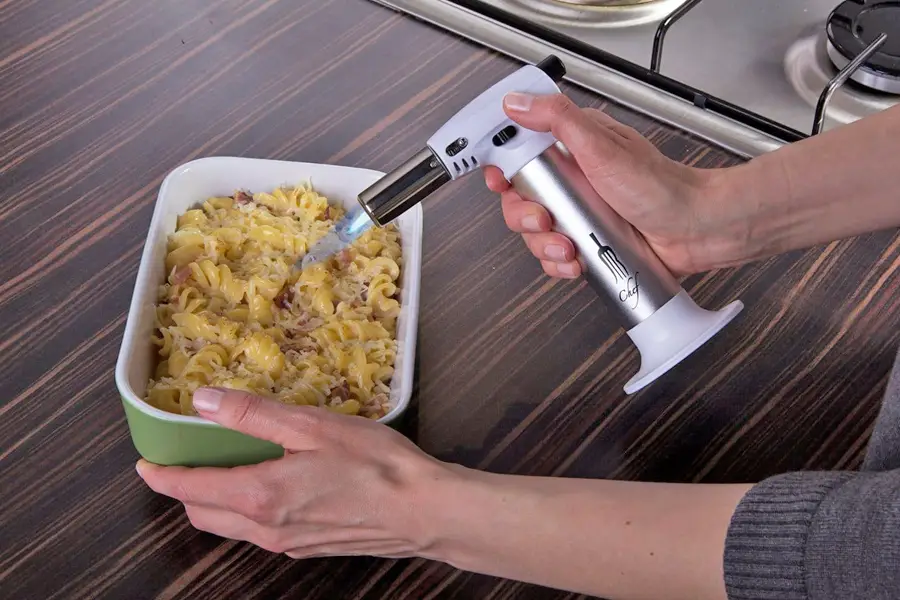 Cooking Torch Reviews
Cooking torches could very well be one of the most under used or understood tools in the kitchen, IF you even have one. But once you know what these little gems can do, you will want to add one to your kitchen arsenal and have all kinds of fun with it. Most people are accustomed to cooking torches being used for crème brulee and yes they can be used for that, but there are tons more uses that you can use them for that you may never thought of. How about browning the top on your baked macaroni and cheese? Or Roasting green peppers, toast marshmallows for S'mores, make an au gratin and so much more. Once you start letting your imagination go, the possibilities are endless.It isn't hard to learn to use a cooking torch but it does take practice to perfect. These torches below are all good torches to learn on or perfect a skill you already possess. It's always fun to learn new things in the kitchen and these torches sure fit the bill for that.
Most Popular Cooking Torch
BonJour
Make restaurant quality gourmet desserts and meals at home with this fun to use BonJour Chef's Torch. You can melt cheese on top of soup or French bread and all sorts of other creative ideas. This BonJour torch is powered with standard butane fuel containers, making it easy to keep fueled. The indicator window lets you know when it's time to refuel so you don't run out right in the middle of cooking a special meal or dessert. If you know someone who loves to do creative unique things in the kitchen, they will love this BonJour Chef's torch.
Fuel indicator lets you know when to refuel
Uses standard butane fuel containers
Great for making fine desserts
Also great for melting cheeses for soups and other great recipes
Comfortable grip handle for easy use
– Anthony Dawson
Best Overall Cooking Torch
Messermeister
This beautifully designed culinary torch will thrill even the calmest of chefs when they see how stylish and functional it is. The Cheflamme Culinary Torch is great for using at home or in the restaurant to create restaurant quality desserts and dishes that require browning of some kind such a French onion soup (the cheese on top) and other dishes too. You will get 200minutes of burning time with this beauty which is plenty of time to create some incredible meals. This unit holds 28 ml of fuel and take refillable butane gas. If you have an avid baker in the family, they will love this item as a gift. Lots of creativity, style and fun in this little package. If you want to learn how to do more things in the kitchen, consider learning how to use the culinary torch. All of your friends and family will be impressed and you will learn something new while having fun.
Refillable butane gas
Great for professional or home use
Beautiful stylish design looks great in any kitchen
200 minutes of burning time
Great for desserts and special dishes
– Anthony Dawson
Best Budget Cooking Torch
Iwatani
If you love being creative in the kitchen, and you love to use unique cooking tools, this cooking torch is perfect for you. This professional grade torch is great for beginners and seasoned chefs alike. It has an adjustable flame control and adjustable air and gas intakes as well, giving you a lot more control over the cooking process than other torches offer. You can do browning or charring with this torch opening up all kinds of cooking options for you. Has a pistol type ignition system that is easy and fun to use. This unit takes standard butane gas canisters. It's the perfect tool for learning how to create fancier desserts and dishes.
Professional grade cooking torch
Perfect for restaurant or home use
Adjustable air and gas intake
Adjustable flame control
9, 725 BTU per hour
– Anthony Dawson
Cooking Torch Buying Guide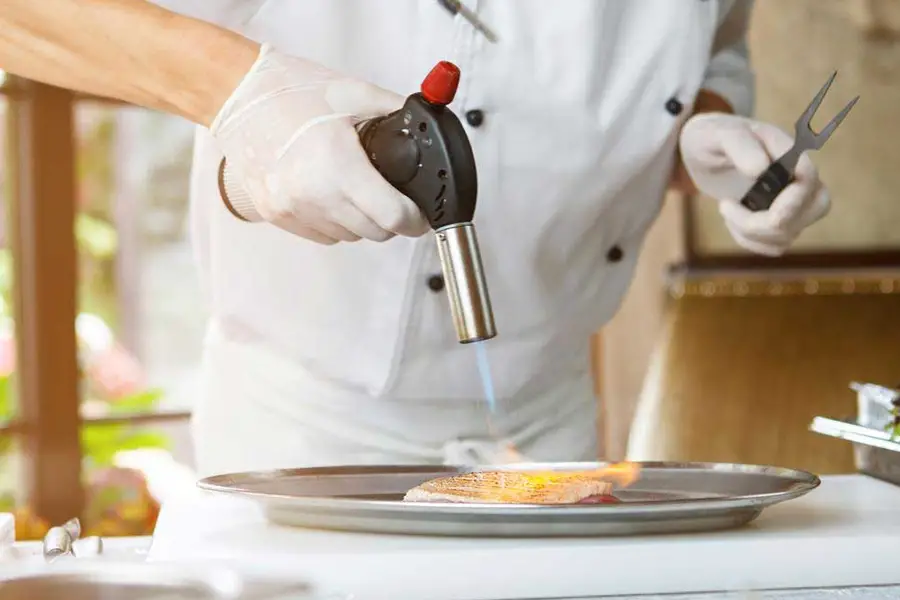 What is Butane Torch
Butane torches, also known as micro torches, are frequently used in jewelry making. They are also used for culinary applications; hence they're other name, the "crème brûlée" torch. Butane torches produce an intensely hot flame by burning butane, a highly flammable gas. Most commercially available butane torches produce flames with temperatures of up to 2,400 degrees Fahrenheit. This is hot enough to melt most common metals and a number of organic compounds. Butane torches have three main uses:
Hobby and Craft: Micro torches can be used with a specialized nozzle for glass and metal projects.
Culinary Creations: In addition to being used for caramelizing the sugar in crème brûlée, butane torches can be used to brown soup and casserole toppings, melt cheese, and roast vegetables.
Cigars: Butane torches are a popular pocket lighter for cigars, the intensity of flame it produces allows for faster cigar lighting and even burning.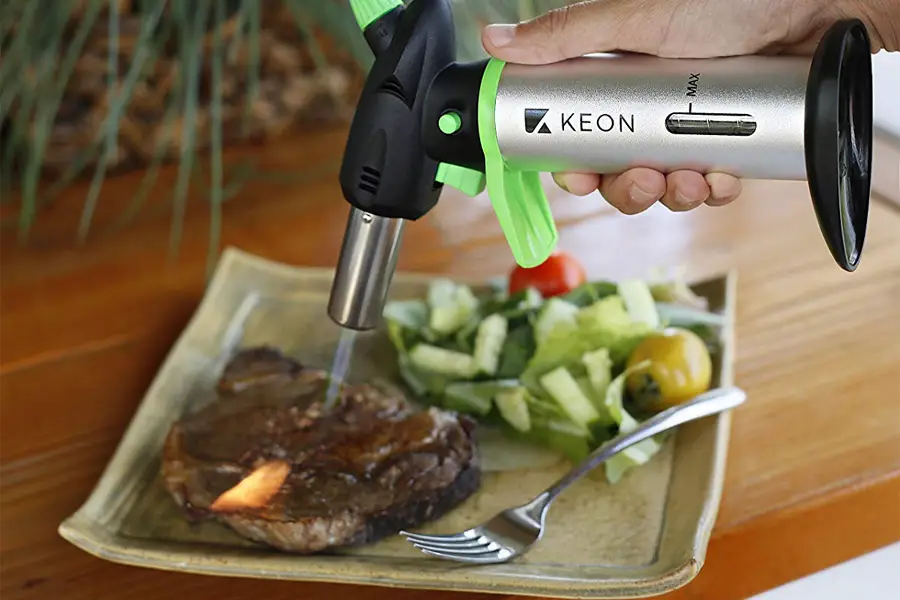 Butane Torch Features
Butane torches are inexpensive, with many models available within the $10-$50 range. They all tend to run between 2,400 and 2,600 degrees Fahrenheit, which is sufficient for most soldering projects. Below are a few more features to consider when shopping for a micro torch.
Burn time – Most micro torches have a maximum burn time of about 30 minutes on a full tank of butane.
Flame adjustment – A flame adjuster is handy for giving you greater control when soldering. It can also prevent you from burning more fuel than you need to complete a task.
Metal nozzle – Some butane torches are designed with a metal nozzle. These are great for extended usage times, as there are no plastic parts around the hot flame than can melt.
Safety feature – If you have children or general safety concerns, look for a butane torch with a safety switch. This will prevent accidents from misuse.
Hands-free base – Some models come with a base that you can place the butane torch in for hands-free operation.
Filling a Butane Torch
In order to use your micro torch, you'll need to purchase a separate canister of butane, which is available for around five dollars. For best results and the cleanest burn, choose a "triple-refined" butane. Using lighter fuel can cause clogging of the torch head and uneven burning. To fill the torch, first make sure you're in a well-ventilated area, or even outside. Remove the cap of the butane canister and turn your torch upside down. Place the tip of the butane canister down against the filling point found on the bottom of the torch. Fill the torch until it starts to sputter slightly at the filling point. Once filled, turn your torch right side up and let the gas settle for about half a minute. The torch is now ready to use.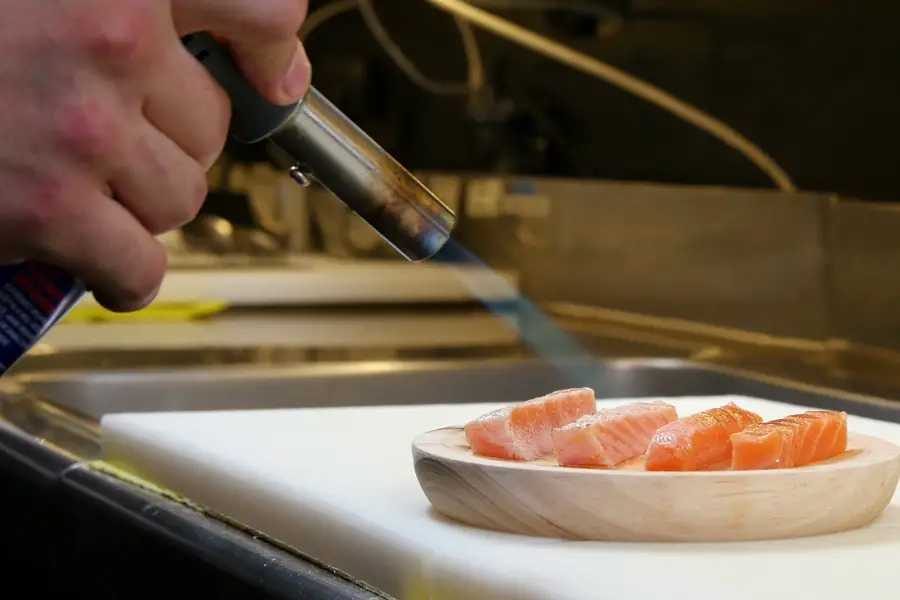 Butane Torch Maintenance
Micro torches must be maintained regularly to ensure proper functioning. The most common problem with butane torches is a flame nozzle clogged with dirt. To keep the nozzle clean, blow compressed air into the tip. Make sure the torch is off before cleaning with compressed air. Another factor that will determine how well your torch performs over time is how you store it. Make sure to keep your butane torch in a clean, dry place. Avoid placing the torch on cement flooring, as the dirt and cold can hamper the functioning of the cold over time.
Last, keep a bit of fuel in your torch when storing. Recycling and drawing on this fuel will help the torch last longer.
Butane torches are great tools with a variety of applications. Whether used as a kitchen gadget or to light a cigar, a micro torch is the perfect addition to any tool set. While they can appear intimidating to novice users, butane torches are easy to buy, fill, and use. If you've been looking for the ideal tool for your hobby or jewelry project, consider adding a butane torch to your arsenal.
Butane vs. Propane
There are several advantages to using butane as opposed to propane another frequently used gas. Below, you'll find a few advantages and disadvantages of each type of gas.
Butane
Pros:
Less expensive than propane
More efficient than propane
Is already used as a propellant in everyday products like aerosol sprays
Ideal for use in camping stoves and cigarette lighters
Cons:
Propane
Pros:
Is common and widely available
Can be used to heat homes and vehicles
Cons:
More expensive than butane
Less efficient than butane
In general, butane offers better quality and affordability. And because it's more efficient than butane, you get more use out of a single tank.