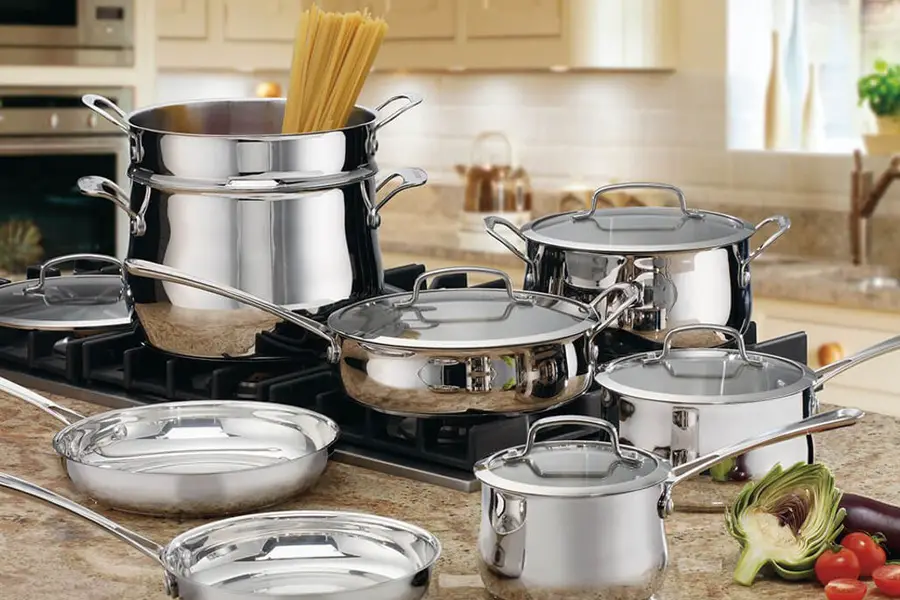 Cookware Reviews
Cookware ranges in price from a few dollars to a hundreds of dollars. So many elements go into quality cookware. Yet any home cook, who has used good cookware, will swear by it from that day forth. Finding the right cookware to meet your needs is what we are here for. We have reviewed the best cookware for the money so that you can spend your time enjoying the kitchen rather than struggling with sub-par cookware.
Most Popular Cookware
Cuisinart Stainless Steel 12-Piece Cookware Set
The Cuisinart MCP 12N MultiClad Stainless 12 Piece cookware set is a professional grade cookware set made with the home cook in mind. It has features like the Tri ply bonding of 18/10 stainless steel construction with an aluminum core. This provides for even cooking throughout the entire cooking surface. It's brushed exterior creates a professional look while the mirror finish interior provides non-reactive and non-stick cooking surface. The lids are tight fitting which preserves nutrients and drip free pan rims offers clean pouring.
The Cuisinart MCP 12N MultiClad Stainless 12 Piece set comes with a 1 ½ and 3 quart saucepan, an 8 and 10 inch skillet, a 3 ½ quart sauté pan, an 8 quart stockpot with a steamer inset, and matching lids. The updated handle design stays cool during the cooking process and is riveted for strength. The set is dishwasher safe. There is no coating to flake or plastic parts to melt. The set is also oven safe up to 500 degrees F. With the lifetime warranty, this set will last a lifetime.
12 piece set including 1 ½ and 3 qt saucepan, 8 and 10 in skillet, sauté pan and stock pot
Oven safe to 500 degrees and dishwasher safe
Tri ply construction for even heating
Tight fitting lids and drip free rims
Lifetime limited Warranty
– Anthony Dawson
Best Overall Cookware
Cuisinart Nonstick Hard Anodized 17 Piece cookware set
The Cuisinart 66 17 Nonstick Hard Anodized 17 Piece cookware set has all the necessary cooking pieces for most home cook needs. This professional cookware set includes a 1, 1 ½, and 3 quart saucepans with lids, an 8 and 10 in frying skillet with lid, 4 quart sauté pan and 9 quart stock pot. Fitting in the stock pot are a steamer insert and a pasta insert.
The anodized aluminum construction with aluminum core creates an even cooking surface. The inside of the cookware has a quantanium nonstick finish reinforced with titanium. This anodized cookware is harder than stainless steel. The Cuisinart 66 17 also comes with cool grip handles that are permanently riveted to the cookware. It has break resistant flavor lock glass lids and drip free rims for pouring. The Cuisinart 66 17 cookware is oven safe up to 500 degrees and can even be put in the freezer. It is also dishwasher safe and comes with a lifetime warranty.
17 piece set including 1, 1 ½, 3 qt saucepan, 8 and 10 inch skillet, 4 qt sauté pan, 9 qt stockpot with steamer and pasta inserts, and lids.
Oven safe to 500 degrees and dishwasher safe
Anodized aluminum for even heating and nonstick surface
Tight fitting lids and drip free pans
Lifetime warranty
– Anthony Dawson
Best Budget Cookware
Cookware Stainless Steel
The T-fal  Hard Anodized Cookware Set was designed by T-fal  to provide a lifetime of use for home cooks. The Anodized cookware is both non-stick and scratch resistant for long term use and easy clean up. The non-stick coating produces excellent heat conductivity for even cooking. The handles are riveted onto each piece permanently. This provides a worry free cooking experience. The handles are ergonomically designed for balance, comfort and control. The  T-fal  Hard Anodized Cookware Set has tempered glass lids that are oven safe up to 350 degrees. The pans themselves are oven safe up to 450 degrees. The pans are also dishwasher safe.
This  T-fal  Hard Anodized Cookware Set Resistant. The 12-piece set includes 8-inch and 10.25-inch fry pans, a 5.6-quart covered Dutch oven, and 1.1-quart, 2.3-quart, and 3.2-quart covered sauce pans, as well as a nylon solid spoon and slotted spatula for stirring or serving. This set will meet all of your cooking needs for many years to come. It includes a lifetime Limited warranty.
12-piece set includes 8-inch and 10.25-inch fry pans, a 5.6-quart covered Dutch oven, and 1.1-quart, 2.3-quart, and 3.2-quart covered sauce pans.
Oven safe to 450 degrees and dishwasher safe
Anodized nonstick and scratch resistant construction
Tempered glass lids
Lifetime Limited Warranty.
– Anthony Dawson
Cookware Buying Guide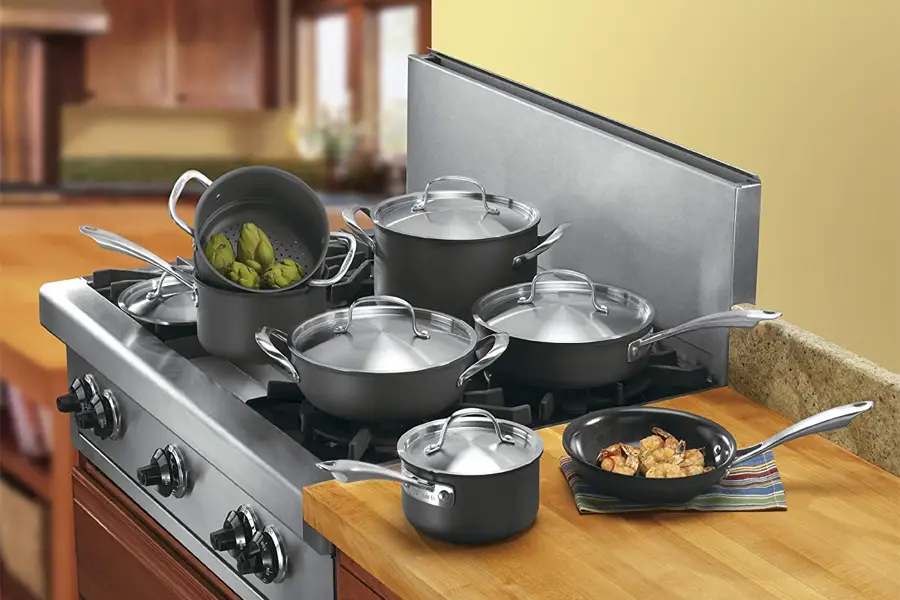 Looking for the best cookware for your kitchen may be a confusing experience given that there are a lot of options to choose from. There are various brands, materials, and even shapes that it might be difficult to figure out where to start. Of course, you also have your budget to consider. If you are planning to build your kitchen's cookware set, learning about the different shapes and your personal cooking style will help you determine which items will be most appropriate for your needs.
Features to Consider Selecting and Purchasing Cookware
Cookware Shapes
Cookware comes in a variety of shapes and sizes, from the most commonly used like a skillet to something more specific like a shaped fish poacher. Get yourself acquainted with the various cookware shapes and from there, you can choose which items you'll need. It might actually be tempting to purchase seven or ten-piece sets because it sounds like a good enough deal, but don't go for it unless you're certain that you will use each of the items on a regular basis. Most of the time, these sets will include a few essential items plus oddly shaped and oddly sized ones that you probably will never use. These unused items are just a waste of cabinet space and money. It is more advisable to build your cookware collection according to your budget and developing kitchen skills.
To give you an idea which ones to buy first, here are some of the items you should consider:
Skillet (10-12 inches) for stir frying and sautéing
Non-stick skillet (8-10 inches) for cooking eggs
Saucier or saucepan for preparing small batches of soup, sauces, vegetables, or even rice
Dutch oven (6-8 quarts) for preparing soups and stews, as well as for boiling water for potatoes and pasta
When you have already gathered the basic items, you can expand your collection to include other items that are in line with your cooking style. This may include:
Wok, if you stir fry a lot
Smaller saucepan (1-2 quarts) for boiling eggs, melting butter, or heating canned soups
Cast-iron skillet (10-12 inches) for preparing cornbread, searing meat, etc.
Double boiler, if you plan to melt chocolate or create sauces that are egg-based
Grill pan, if you wish to grill indoors
These are just some of the pieces that are recommended for a starter kitchen. You don't have to purchase all of them at once, but you should at least get the ones that you really need at the moment.
Cookware Materials
The type of cookware material is one of the factors that make it effective for a specific task. Here are some of the most commonly used metals in cookware and their specific purpose:
Stainless Steel – Stainless steel cookware is non-porous, non-reactive, durable, and resistant to pitting, rust, and corrosion. However, its heat conducting properties are not very impressive so it is often made with other more conductive metals such as aluminum and copper.
Cast-Iron Pans – Cast-iron pans are usually thick, heavy, and durable. Because of this, it takes a while before it fully heats up but it does a good job in distributing and maintaining heat. They are excellent choices for deep frying or for cooking dishes that require longer cooking time such as stews and braises.
Copper – Copper cookware are great at conducting and distributing heat, but the problem is, it can get dented or tarnished easily. It is a common cookware piece among professional chefs due to its outstanding heat conduction properties. They are generally expensive so they are not usually present in home kitchens. They are often combined with other materials because copper itself has a high price tag. It also tends to react with acidic foods and requires frequent polishing for its maintenance.
Aluminum – Aluminum cookware is a good heat conductor and is quite sensitive to changes in temperature. Because of this, it tends to cool almost as fast as it heats up. While aluminum cookware is often durable and lightweight, it can have strong reactions with acidic or alkaline foods. To keep it from being damaged, it is usually coated with other materials such as stainless steel.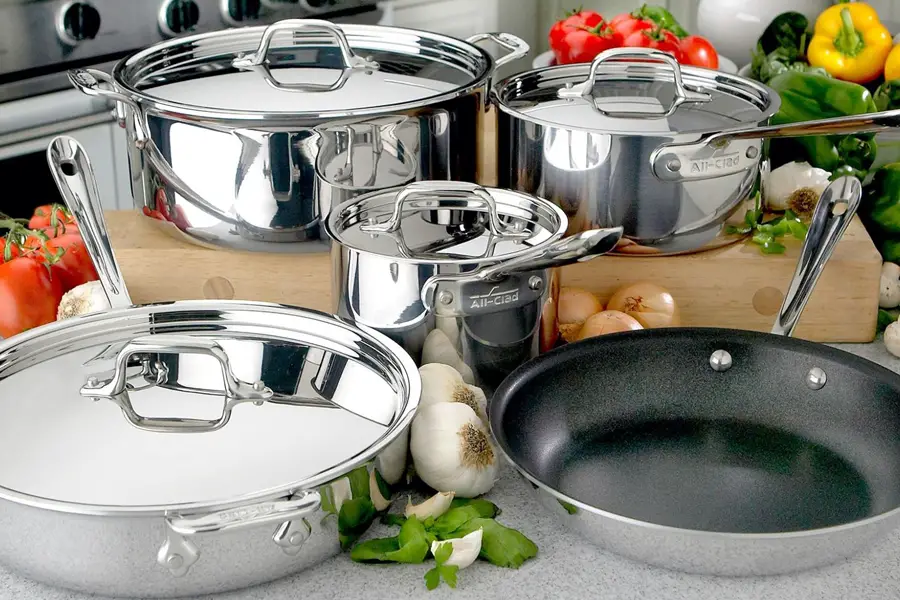 Caring for Cookware
Knowing how to care for your cookware is also as important as knowing how to select and purchase the right one for you. After all, even if you make the right decision in buying your cookware, it will not last long if you are unable to care for it properly. Here are some tips that you should keep in mind when caring for cookware:
Use just the right amount of heat when cooking in your pots and pans. Too much heat can cause your food to burn and can also damage your cookware especially if they are made with non-stick surfaces.
Choose a burner that is just the same size or slightly smaller than the base of your cookware. A larger burner not only wastes heat and energy but can also burn the sides and handles of your cookware.
Do not leave an empty cookware in a heated oven or over an open fire. This only wastes energy and can also burn your pans.
If there are stubborn food residues in your pan, make sure to soak it first before scrubbing away. Excessive scrubbing can damage your cookware surface permanently.
Use proper cleaning equipment with your cookware. Avoid using abrasives or steel wool, as well as scouring pads that could damage your cookware.
Check if your cookware is dishwasher safe or not before letting it go through the machine. You can easily ask the salesperson or read about your cookware through the product information sheet.
Store your cookware properly. Make sure that they are dry before keeping away, and stack them orderly if needed.
Making Your Final Choice
These are just general guidelines that will help you in selecting and purchasing your cookware. Of course, the final choice will also depend primarily on your personal requirements and preferences. In considering the right cookware to buy, here are some of the factors that you should also look into.
Price – Price is one of the main deciding factors when it comes to buying cookware. You will need to set a budget for yourself so that you do not go overboard and also so that you get the best value for your money. Also keep in mind that you may need to buy more than one cookware so take that into consideration when setting your budget.
Durability – Durability is important for cookware. You do not want to buy a cookware that will only last a few uses. Make sure that the cookware you buy is one that will last long and one that will maintain its appearance and properties for years to come. In this respect, stainless steel cookware is one of your best options.
Maintenance – Cookware should be easy to maintain. You do not want to slave away scrubbing your pots and pans and shining them after enjoy your hearty meal.
Knowing the shapes and specific properties of cookware materials will help you determine the best pieces to choose based on what you currently like to cook. Take a moment to consider the aforementioned factors so that it will be easier to pick the items you're going to purchase.