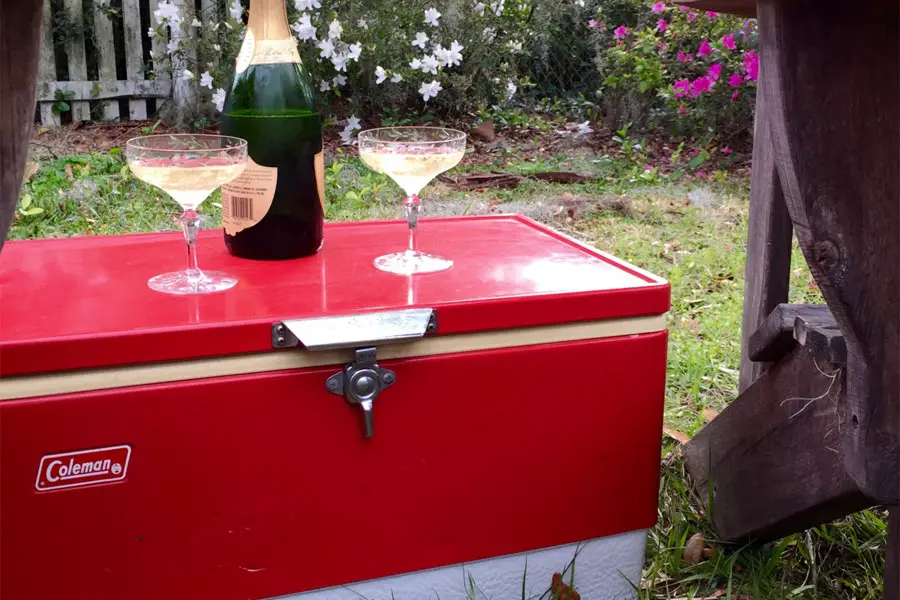 Cooler Reviews
A cooler or insulated beverage cooler, is a ice chest that is portable and will keep drink and food cool during outing events. Most are made out of hard form encased in a shell of plastic. There are other materials traditionally used to construct cooler such as steel.
Many styles and colors are available and some of the features to look out for are simple draining and cleaning methods, resistance to rust or molds, easy access doors and construction materials. When packed full, a cooler can be very heavy so be sure to consider transportation and durability while looking for the cooler that is right for you.
We have brought together all of the top models of coolers and narrowed the list down of the ones we think are the best.
Most Popular Cooler
Igloo
The Igloo Ultratherm 150 Quart Quick & Cool Cooler has an insulated body and lid which for 7 days can stay at cold in 90 degrees F weather and keep ice intact. This cooler can hold up to 248 cans for one picnic. The easy access hatch on the lid prevents cold air from getting out while you access your food and drinks. The heavy duty Igloo 150 Quart Quick & Cool Cooler weights 23.4 lbs and the exterior dimensions are 41.63″ L x 18.69″ W x 20¼". The insulted body and lid is manufactured with UV inhibitors preventing against sun damage and the interior liner is stain and odor free. Easy to carry for 1 or 2 people open or closed and the lid also closes securely with a dual snap fit feature.
Easy access hatch
Dual handles
Lid security
Easy draining
Fits 248 cans
– Anthony Dawson
Best Overall Cooler
Coleman
The Coleman 54 Quart Cooler provides you with the quality and look you would expect from a trusted Coleman product. The durable, painted cooler has a solid latch made of steel, has rubber gripped handles, is made of steel. All this to securely seal and protect your picnic contents. The Coleman 54 Quart Steel Cooler is leak resistant. rustproof and is large enough to hold 85 cans. Made in the USA, you do not have to tilt the cooler to drain is and almost every part is solid and rust proof including the hinges and screw. Draining the cooler is very easy. This cooler is a classic.
Painted steel body
Easy to clean
Hold 85 cans
Made in America
Leak resistant and rustproof
– Anthony Dawson
Best Budget Cooler
Coleman
The 48 Quart Chest Cooler by Coleman, the company which has been creating and innovating products for recreational outdoor use since 1900 is timeless and affordable. The Coleman 48 Quart Cooler can keep 63 twelve-ounce cans cold for an extended period of time and it's size also can also accommodate standing 2 liter bottles. The Coleman 48 Quart Cooler is easy to carry and lift for you and your family with the convenience of two-way handles. The Coleman 48Quart Cooler is rustproof, durable and rugged and strong. The Coleman 48 Quart Cooler is leak-resistant and constructed with Thermozone insulation to keep food and beverages fresh and cold. This cooler was made in the USA it is easy to drain and clean.
Tall enough to hold 2-liter bottles upright
Dual handles
Holds 63 cans
Rustproof, leak-resistant drain
Made with Thermozone insulation
– Anthony Dawson
Cooler Buying Guide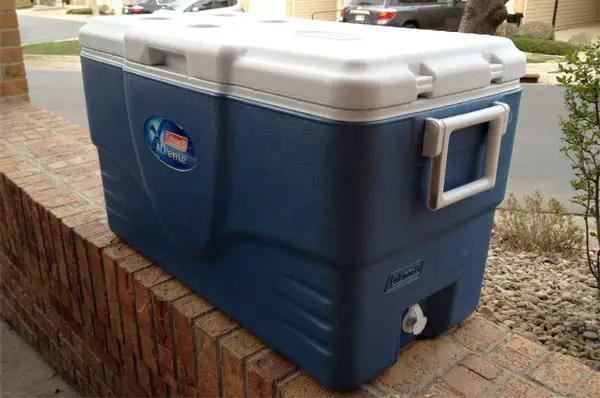 A cooler is important for storing your food whenever you go out for a field trip. Its purpose is to keep your food and drinks cool and prevent it from being spoiled. Using an efficient and high-quality cooler, you can easily bring perishable foods like meat, milk, fruits and vegetable salads, to road trips and picnics. The kind of cooler you need will depend on what type of food and drinks you will bring. There are different kinds of coolers. These coolers have different purposes and sizes. You should know how to look for a suitable cooler.
Different Kinds of Coolers
There are only a few kinds of coolers used for camping, trips and hiking. Insulated coolers make it possible to effectively store food and drinks for safe consumption. It can be built from a firm plastic or from a sturdy synthetic material. It is also filled with ice packs to produce a cold environment inside. The cooler maintains the temperature for a long time. Some coolers are equipped with an electric plug, so that it can transform into a mini refrigerator by plugging it into the car socket.
Plastic Cooler
It is also known as an ice chest. A hard shaped plastic is made into a cooler. It is sturdy, durable and has different sizes. Most of the time, huge coolers are made of plastic. It is capable of storing a large quantity of food. Its lid is insulated. It is also where the handles are attached. These plastic handles will make the work easier for you as you lift the cooler manually. The big-sized coolers have wheels and retractable grips for you to push and pull it anywhere. This type of cooler is often filled with ice cubes surrounding the food and beverages. In addition to that, it has a plug at its base that can be uncapped when you want to get rid of the melted ice.
Fabric Cooler
This type is also renowned as an insulated or a collapsible cooler bag. It is used for storing small amounts of food and beverages. It is made from a long-lasting canvass-like synthetic fabric. Its lid is insulated with a foam. This cooler is not heavy and it is commonly used for bringing an individual packed meal and a few bottles of drinks. This is well-situated and simple to use. This can be folded, making it easy to unpack and to store when unoccupied. It is similar in durability and sturdiness with the plastic coolers. This is highly recommended for a 1-day trip.
Styrofoam Cooler
This is a container made of Styrofoam, and is covered with a Styrofoam lid. This is the most lightweight among all the types of coolers. However, this is less durable compared to the other types. This is compatible for storing lightweight things. The advantage of this cooler is its affordable price. This is cheaper than the sturdy ones. Since it is less durable, it is not preferable for camping and other outdoor trips. If you are going to store your food for a long time, then this is not the suitable cooler for you.
Metal Cooler
If you are finding the most durable cooler, you may consider buying a metal cooler for food storage. It offers the most durable case for a cooler. Fishermen and huntsmen often use this type of cooler. The insulated portion of the cooler is being protected by the metal. This is an expensive type of cooler. This type of cooler is heavy since the material is heavier than the goods being stored.
Electric Cooler
This cooler is a portable fridge that can be attached to the car socket. You do not need to put ice in the cooler. This offers a long-lasting cooler service. As the name indicates, it is just like a home refrigerator, which utilizes electric source for maintaining the cool temperature. It is said to be the most expensive kind, but it gives the most benefits to its users. You will no longer fill the cooler with ice over and over again.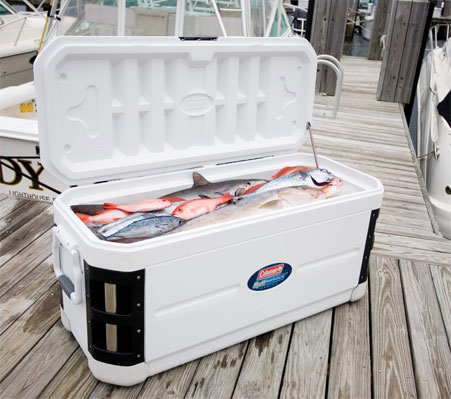 Things You Need To Assess In Picking a Cooler
Cooler Size
Coolers vary in size. You need to consider the size of the cooler, so that you will be assured that the amount of foods and beverages can fit in the container. Decide on how much food and drinks you will bring during the trip. Bear in mind that you must include the ice packs in your size estimation. You need to allot one-fourth of the space for the ice packs.
Stability
This aspect will depend on the purpose of using a cooler and the span of time you want it to last. A picnic does not require a durable cooler. For a one-week camping trip, you need to buy a sturdy and long-lasting cooler. Usually, the most durable cooler is the expensive one. You must also assess the stability of the handles. This is to make sure that it will not collapse when you lift it.
Reasonable Features
You need to look for a cooler with reasonable features to receive most of the possible benefits. Do not buy a wheeled-cooler if the weight of your foods and beverages are not heavy. This is to save money from buying the expensive ones. It is recommended to just buy the collapsible cooler when storing a few amounts of food. Do not buy the cooler you will not need. Only buy the ones that will be suitable to your needs. If you don't have a car, then do not purchase an electric cooler.
Famous Cooler Brands
There are many manufacturers catering all types of coolers, whether lightweight or heavy. Each brand varies in quality and price. Mostly, the most famous brands are known for its quality and reasonable price. You can ensure that you are buying the best cooler if you purchase from the popular brands.
Where to buy Cooler
Most of the department stores and supermarket sell high-quality coolers. If you want to see a wider range of choices, you could go to an outdoor camping shop. You can find the cheapest and most expensive type of coolers in that store. If you are too busy to go outside, you can opt to buy a cooler online.
These are the things you must keep in mind when choosing the appropriate cooler for your outdoor adventure. Be wise in choosing!