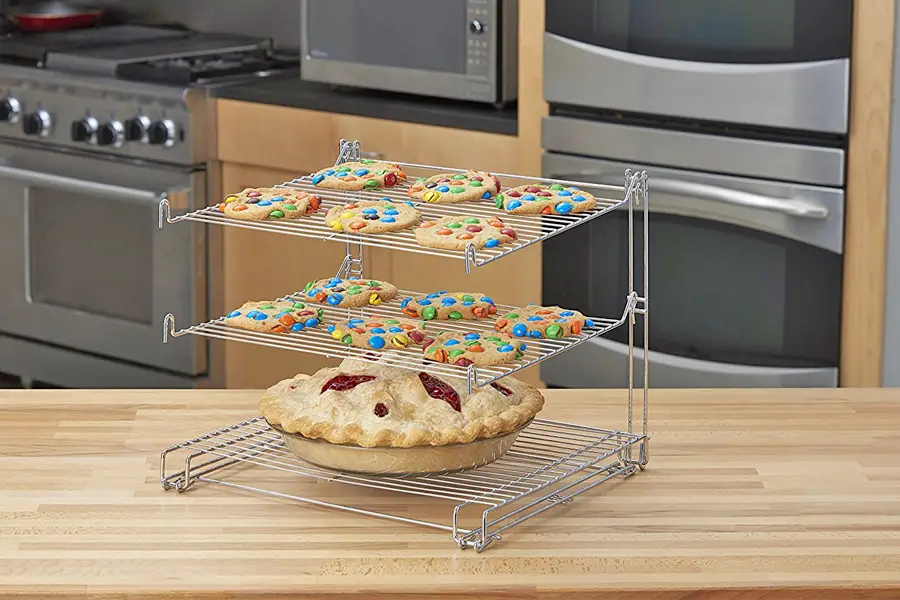 Cooling Rack Reviews
Every baker should have at least one good cooling rack, but if you do a lot of baking, you may want to invest in several so you never run out of room to cool the delicious baked goods that you create. A cooling rack is used to cool down your food evenly and quickly. Unlike setting something down on a counter, when a cooling rack is used, air can circulate all the way around it, cooling things down much faster and without hot spots. This ensures the best tasting food and best results when it comes to icing and additional work that may need to be done on the baked goods. .The importance of this faster cool down is that it stops the baked goods from continuing to cook in the pan longer than they should. This can lead to over baking and in some cases it can ruin how your food comes out. Another benefit to cooling racks is when you take a baked good out of the pan to cool directly on the rack, condensation is prevented which comes from the steam the food releases. When steam comes into contact with certain baked goods, it can become mushy, ruining the look and taste if what you made.
Most Popular Cooling Rack
Fox Run
It doesn't matter what you're cooling, this stackable cooling rack set has plenty of room for loads of cookies, cakes and pies. Measuring 10 x 14 on each tier, the levels stack which enables you to cool more items without taking up more counter space. Chrome construction looks as good as it works. Each rack stacks on the rack below it and has collapsible legs. You can use only one or two racks if needed or get even more for taller cooling racks without additional counter space being taken up. Every baker needs a place to cool their baked goods. These racks are the perfect addition to your baking supplies and tools and will help ensure great taking baked goods for all your family and friends.
Chrome construction
Stackable levels can be used together or separate
10 x 14 cooling space on each rack
Comes apart easily for simple storage
Horizontal cooling wires evenly spaced work great for cookies, piece and cakes
– Anthony Dawson
Best Overall Cooling Rack
Linden Sweden
This rack is a little different than some, because it is designed to cool things right out of the oven and on the baking pans they were cooked on. The four tiered shelves can be adjusted to fit your baking needs. It all folds flat for easy storage when not in use. The black coated metal body looks great in any kitchen. This rack is great for pizza, pastries, cakes, cookies and pies. Stands 13" high when open. This is the perfect rack for taking care of all your baked good cooling needs and the black coating looks great too!
4 tiers for cooling all kinds of food
Folds flat for simple storage
Easy to clean
Black metal looks great in any kitchen
Can hold up to 4 pizza stones
– Anthony Dawson
Best Budget Cooling Rack
Betty Crocker
Cool up to three levels of baked goods on this unique 3 tier cooling rack from Nifty. The non stick coating prevents food from sticking as it cools down. It's easy to store this rack due to the wire mesh design that folds flat easily. The wire mesh used on this rack enables you to cool even very small items like miniature cookies or muffins without them falling through. If you need to cool heavier items like pies and cakes, you'll love the extra support arm that enables you too cool whatever you need to without fear of it collapsing. The measurements of this cooling rack is 13.5 x 12 x 12.5
Three tiers for cooling
Mesh design allows for cooling even the smallest cookies
Extra support arm for cooling heavier items like cakes and pies
Non stick coating prevents food from sticking while it cools
Folds flat for easy storage
– Anthony Dawson