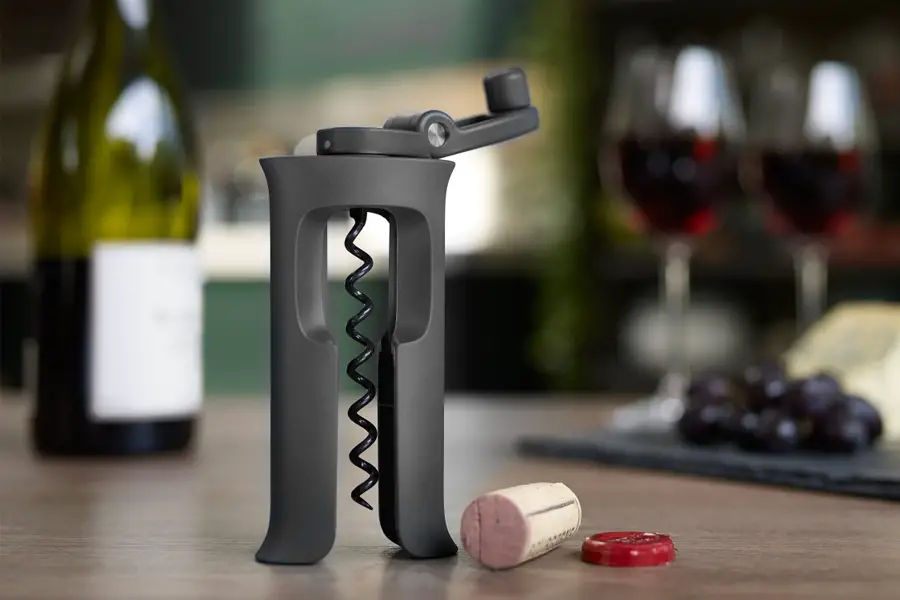 Corkscrews Reviews
Corkscrews are used both professionally and at hone to remove corks from wine bottles. The construction is typically the same for most of them, consisting of a pointed metal part that is attached to a handle of some kind. The metal point is on the end of a twisted metal piece that is twisted into the cork until it is firmly embedded and then the cork is pulled straight up and out of the mouth of the bottle.
Corks are very hard to remove without help from a corkscrew which is why they are so important in restaurants and bars as well as in your own kitchen. There are a few different styles of corkscrews you can choose from and those listed below will give you some variety to look at. All of them work well and would be welcome additions to your kitchen tools.
Most Popular Corkscrew
Le Creuset
Remove the corks from your wine bottles effortlessly with this streamlined and easy to use corkscrew from LeCreuset. This simple designed corkscrew pushes the extracted cork off the screw without damaging it, allowing for it to be put back in the bottle between glasses. This works on any size bottle and any type of cork, including synthetic ones, making it a very versatile and valuable corkscrew to have around. The soft touch panels on the ergonomically designed handle make it easy and comfortable to grip. Includes a 5 year warranty. This is the perfect corkscrew for any server who has to open a lot of wine bottles for their customers.
5 year warranty
Self pulling design makes cork removal effortless
Pushes cork off of the screw without damage
Works on all size bottles
For use with any type of cork including synthetic ones
– Anthony Dawson
Best Overall Corkscrew
Screwpull
Get your bottles ready for serving with the Screwpull pocket corkscrew. Remove even the most stubborn corks with the 2.5″ corkscrew that has plenty of leverage to make any removal job easy. This corkscrew is made from heavy duty die-cast metal and offers a secure grip when in use. The self pulling action makes it much easier and less prone to accidents from the bottle slipping. A black finish makes it the perfect corkscrew for restaurant servers to carry around for use during their shifts, especially if they deal with wine bottles often. The measurements of this corkscrew are 5″ x 10″ x 1″ and it is fully engravable which makes it a great gift for a newlywed couple, or a bartender who loves to have their own tools. Includes a 5 year limited warranty but this classic corkscrew will last a long time with normal use.
5″ x 10″ x 1″ measurements
Attractive black finish
Effortlessly helps you get wine bottles ready for serving
Self pulling mechanism makes it easy to use
Secure grip
– Anthony Dawson
Best Budget Corkscrew
HiCoup Kitchenware
A more traditional style of corkscrew, this attractive wood handled professional model fits into your pocket easily, making it great for a server to carry when working in a restaurant that deals with a lot of wine. The double hinged design, foil cutter and 5 turn worm are all part of what make this corkscrew such a classic to have and use. It also works as a bottle opener as well. Long lasting and durable construction could make this the last corkscrew you ever need to purchase. Removes any type of cork with a two step system that makes cork removal effortless and fast. Makes a great gift for the bartender or server in your life and they will appreciate you making their lives easier with such a simple to use corkscrew.
Steel handle
Sturdy and durable design lasts
Easy to use
Professional grade
Double hinged
– Anthony Dawson