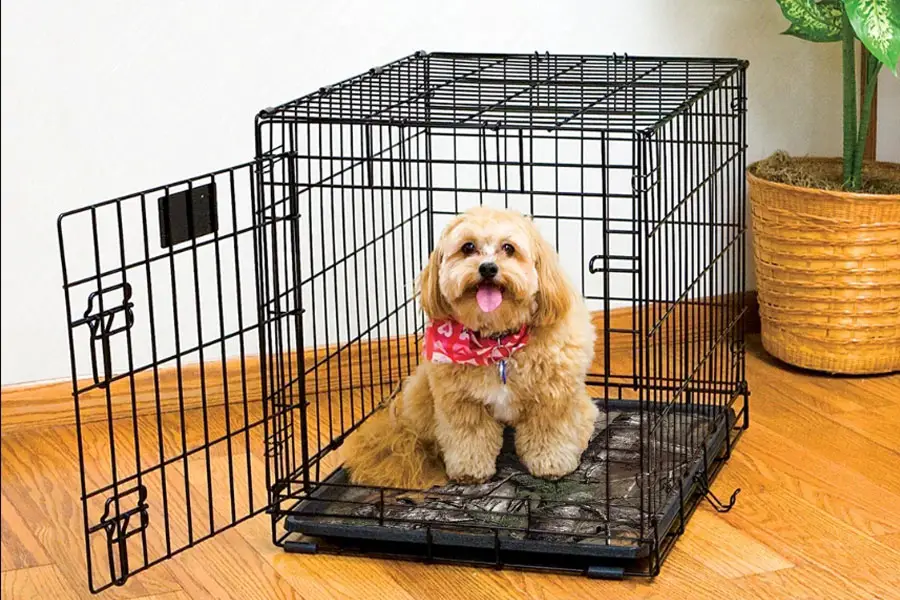 Crate Mat Reviews
Crates mats offer dogs a wonderful respite from the world; where they can sleep, eat, and relax in comfort. It's their special cave bedding that feels safe, and a spot that is their own. It's also a great tool for house-training your dog, and a perfect place to keep your dog at night so they don't wander around the house. If you have a pup, then you know that puppy piddling is no fun to wake up to, and a good crate with a cozy mat will prevent that. The qualities to look for when shopping are durability and comfort. There are a number of different materials that crates are made from, and these include wire, fiberglass, and heavily molded plastic, and that means that you need an extra cozy bed to protect your dog's joints from this tough materials. It's always a great idea to ask your veterinarian what material might be best for the breed and size of your dog.
Most Popular Crate Mat
Big Barker
There are some dogs that just love being in a crate, for the comfort and privacy that it gives them. If you have one of these dogs, then the crate mat is almost as important as the crate! The mat offers that extra coziness that the dog craves, and this 4″ orthopedic pad offers that extra bit of luxury that your dog will cherish. Crates are made of tough materials, and if your dog is inside all day, then he needs something beyond the cheap pads made of flimsy materials. The premium, made in the USA, orthopedic foam makes Big Barker dog beds the most comfortable that you can find. These pads don't flatten out and create that pancake-effect that dog mats often assume the form of. This is a special treat for dogs who suffer from discomfort in their joints, have arthritis, or hip and elbow dysplasia. The cover is also tear-resistant, so it's ok when your dog scratches at it.
Easy to wash, waterproof cover
Works within the standard 48″ x 30″ crate
Made in the USA
Tear-resistant
Orthopedic support foam
– Anthony Dawson
Best Overall Crate Mat
MidWest Deluxe Bolster
This cozy pet bed from Midwest Quiet Time is great for use anywhere around the house, such as crates, dog houses, and special doggy spots, and also works well in motor vehicles. The special technology keeps your pet cool in the summertime, as well as warm during the winter. There are 3 different pleasant colors to choose from, so whether your dog has a flair for Gray Plush Fur, Cinnamon Plush Fur, or Fleece, you'll be able to choose a bed that fits your pet's aesthetic inclinations. There are also 7 sizes to choose from, so you'll be sure to find a bed that fits just right for your dog. The colors of the bed are specially designed to conceal the shedding of your dog, and therefore look pleasing all the time. The polyester filled boosters make lounging and sleeping incredibly comfortable for your dog. All in all, this is an incredibly versatile and comfy bed that is going to last you a long time.
Great for carriers, crates, vehicles, and doghouses
Soft synthetic sheepskin and cushioned cotton base
Great for dogs 41 to 71lbs
Machine Washable
Helps regulate dog's temperature
– Anthony Dawson
Best Budget Crate Mat
MidWest Paw Print Pet Bed
The super soft synthetic fur is what makes the Reversible Paw Print Beds so luxuriously comfortable for your dog. And just when you thought that was the ultimate in comfort, you then flip the bed over and there's plush synthetic sheep skin on the other side. The materials that make up this bed are of the highest quality and durability, and on the whole the bed is easy to wash and maintain. The bed comes in a number of different colors and sizes, and works well any place in your house or vehicle. It's important to give you dog an extra touch of this kind of comfort, especially if they're in a crate all day or going for long car drives. The size is a compact 23″ x 17″, so it should fit well in most spaces. Note that this bed is recommended for pets up to 25 lbs. Another great thing about it is that it's dryable! There are so many beds out there that you can throw in the washing machine, but not the dryer.
Reversible bed with sheepskin on one side and soft fur on the other
For pets up to 25 lbs
Works with 7 different crate sizes
Machine washable and dryable
– Anthony Dawson