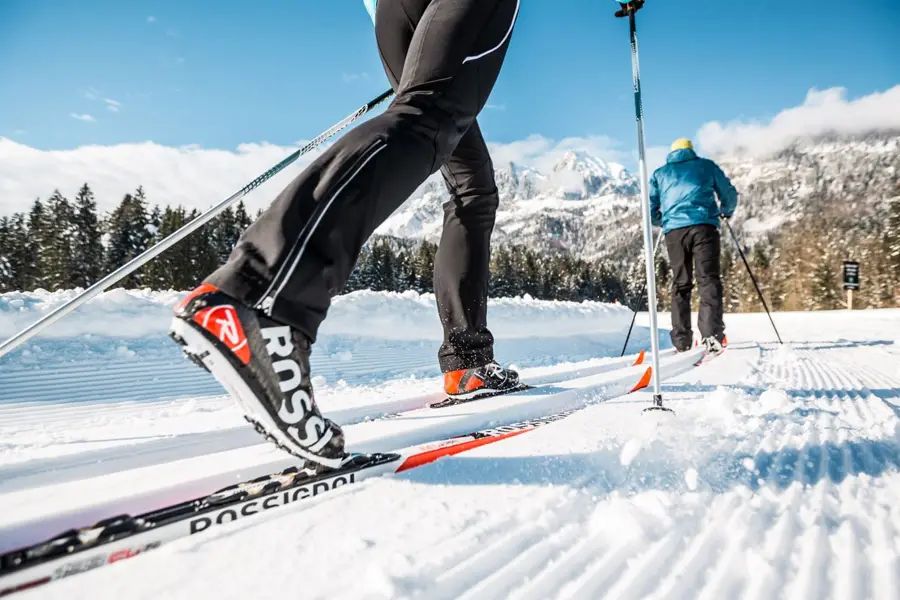 Cross Country Ski Reviews
Nordic, XC or cross country — whatever you want to call it — is one of the most popular types of skiing, it provides the best aerobic exercise as it works out all the major muscle groups. Of course, you cannot also discount the fact that it also provides you that exhilarating experience. However, this type of outdoor activity will require the right gear to ensure safety and optimum performance. Finding the perfect cross country ski can be quite daunting, especially for newbies as there are a number of factors you will need to contend with. For one, you will need to take into account the different distinct styles of skis available as well as determine the appropriate boots and binding systems. Suffice it to say; in order to enjoy fluid, dynamic movements over frozen lakes and rolling hills, you need to have the right cross country skis on hand.
Most Popular Cross Country Ski
Whitewoods
Designed to respond to the needs and preferences of both advanced skiers and newbies alike, the Whitewoods Solution skis are designed to deliver optimum performance. This is a waxless pair that offers a solid platform for maximum control, balance and stability.
With its easy to use design, beginners need not feel intimidated with its sleek, compact length, which is designed to provide superior control.
Constructed with the patented Posi-Grip technology, you can expect reliable uphill grip on all types of snow conditions. This means you can look forward to enjoying great glide every single time.
Like most waxless skis, this one is maintenance free and will only require a thin application of liquid wax before every outing in order to prevent the precipitation from getting stuck to the bases.
Width of the skis measures 75mm tip – 52mm middle – 60mm tail.
Performs well for both touring and trail
Offers greater confidence especially when marching uphill
Easy to control on all types of weather condition
Sturdy base with smooth gliding performance
– Anthony Dawson
Best Overall Cross Country Ski
Fischer
With a wider sidecut, the Jupiter Control offers a more stable ski and greater traction, making it a great gear for tackling uphills and downhills. It is also constructed with Premium Crown that is designed to stretch from edge to edge to ensure smooth and faster glide every single time.
Jupiter Control comes with a Protec waxless base, which requires very little or no maintenance aside from simple cleaning and polishing every now and then. With its lightweight and compact frame, this set of skis is more ideally used on groomed ski tracks. However, for those looking to test their mettle on the slopes, this one will not let you down when tackling woods, frozen lakes, open fields and golf courses.
The Wide Body Technology is not only designed to deliver enhanced grip and stability, it also offers optimum control and maneuverability with its impressive kick and grip performance.
Width of the skis measures 43mm tip – 58mm middle – 53mm tail.
Wide base offers greater stability, inspiring confidence
Highly durable with good surface distribution of pressure
Performs best on sloped terrains
Unhampered gliding performance on all types of terrains
– Anthony Dawson
Best Budget Cross Country Ski
Rossignol
The Evo Trail cross country skis is the ideal easy to use waxless touring skis that are specifically designed for highly active winter adventurers and recreational skiers alike.
It is constructed with a waxless Positrack base that has been proven to deliver optimum grip and the best combination of glide and kick on all types of snow conditions. Compared to other cross country skis, this one is smaller in size, which enhances maneuverability as well as provides better control especially on uphills and downhills.
The Evo Trail is built with a durable Wood Air core, which is perfect for heavy duty use while still maintaining a lightweight frame. And unlike other skis out there, this one requires very minimal upkeep. In fact, it is virtually maintenance-free.
The width of skis measures 68mm tip – 60mm waist – 65mm tail and is designed to be compatible with NNN and SNS binding systems.
Skinnier frame offers faster performance and better glide
Positrack base provides better traction especially on going uphill
Offers better grip when kicking
– Anthony Dawson