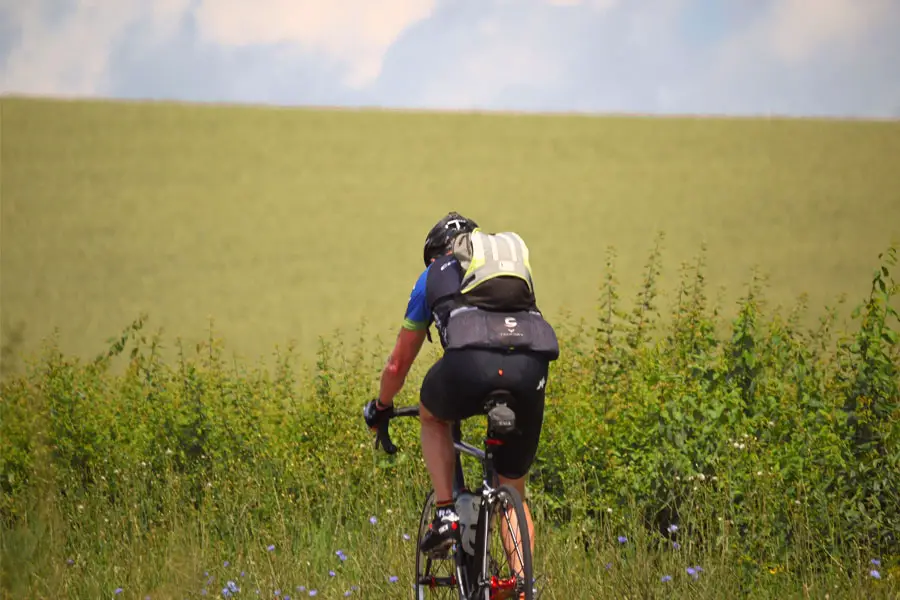 Cycling Commuter Backpack Reviews
Commuting via bicycle is becoming increasingly popular. With climbing gas prices and congested roads, its often much easier to get from Point A to Point B on a bicycle than it would be in a car or other motorized vehicle. Not only does commuting by bike save you money and time spent in traffic, it also offers a great way to experience the outdoors. With that said, commuter cycling is not without its limitations. When commuting by bike, you can only carry items that can be strapped down to the bicycle itself or on your back. For that reason, commuter cyclists have the option of purchasing and carrying with them a backpack designed specifically for cyclists. These backpacks are made to give the rider the best weight distribution as to not cause discomfort or fatigue. They include compartments and attachments as to best fit the items cyclists carry the most to make organization and accessibility as user-friendly as possible. When choosing a commuter cycling backpack, weight-distribution, aerodynamics, and overall comfort are the most important considerations.
Most Popular Cycling Commuter Backpack
Velo Transit
The Velo Transit Men's Quintessential 30 Waterproof Bicycle Commuter Backpack is specifically engineered to offer the most contoured fit to cyclists of all body sizes. Perhaps the biggest advantage to the Velo Transit Commuter Backpack is it full waterproof capability thanks to the Radio-Frequency welded liner. The backpack features Velo's Slick roll-top closure system that allows you to create an air and water tight seal before zipping the bag closed. In addition to its contoured padding designed to optimize comfort on the back, the Quintessential 30 backpack features an ergonomic shoulder strap harness system that offers a snug and comfortable fit that distributes the bag's weight across your back and shoulders perfectly. On the bottom of bag are two nylon strap loops designated for clipping on reflectors or blinker lights in order to increase your visibility while riding. The backpack is available in several bright colors like yellow, red, orange, and blue in addition to more discreet black, grey, and sand.
Welded liner and roll-top closure creates 100% waterproof bag
Offers a variety of pockets and accessory attachments for storage of cycling gear
Available in men's and women's sizes for true fit in seven gender-neutral colors
Back panel and shoulder straps contoured for fully-ergonomic, comfortable fit
– Anthony Dawson
Best Overall Cycling Commuter Backpack
Osprey
Osprey has earned a reputation for making some of the most versatile, comfortable, and user-friendly backpacks and bags on the market. They field test their products in the mountains of Colorado and jungles of Vietnam to ensure every piece of gear sold will stand up to the demands of the user. While not intended for trekking in the jungle, the Momentum 26-Liter Commuter Pack is geared specifically for those who rely on their bike to get to school or work on a daily basis. Though not fully waterproof, the Momentum has an integrated rain cover that fits snugly around the entire bag to keep the elements out and the bag's contents dry. The rain cover comes in a highly-visible color offset to the bag to help you stand out and stay safe while riding in rain and fog. Inside the bag are a document file sleeve and a padded sleeve designated for protecting your laptop, along with an internal organizer for a bike pump, tubes, and tools. On the shoulder sleeve of the Momentum is an oversized cellphone/mp3 player and key pocket for keeping your personal belongings safe and easily accessible. The shoulder straps can be tucked away and hidden in the bag and the contents can be synched down using the two side compression straps, allowing the backpack to be carried duffle/briefcase style using the top or side padded grab handles. The bag also features a LidLock helmet attachment that allows you to attach your helmet directly to the top of the bag when not in use.
Compartments designated for U-lock and bike pump and tools
Features highly visible rain cover, reflective front panel, and blinker light attachments
Designated sleeves/pockets for laptop, cell phone, and keys keep valuable items separate and protected
Compression synch straps, tuck away shoulder straps, and top/side carry handles offer versatile carry options
– Anthony Dawson
Best Budget Cycling Commuter Backpack
Banjo Brothers
The Banjo Brothers Commuter Backpack blends all the best features of cycling messenger bags and backpacks into one versatile bag. At 1500 cubic inches, the bag has enough space for most-sized computers, documents, and apparel, whether you're a student or business commuter. The bag has a dual layer interior that keeps everything inside snug and dry, while a ballistic nylon shell on the outside stands up to bumps, scrapes, and drops on the ground. The Banjo Brothers Commuter Backpack sits low on the back, which serves to evenly distribute weight as to reduce fatigue and help reduce blind spots when looking over your shoulder. Widened shoulder straps also help distribute the bag's load more efficiently, without weighing down or stressing the shoulders and back. The internal waterproof liner can be removed and replaced in the unlikely event the ballistic nylon shell fails to prevent a hole or puncture. Organization features include a mini U-lock side panel, back facing safety light panel, and mounted cell phone pocket on the shoulder strap.
Removable/replaceable dual-layer interior liner offers waterproof protection.
Low riding pack helps reduce fatigue and eliminate blind spots
Wide shoulder straps distribute weight more efficiently than messenger bags
Features large reflective strips and safety light attachment panel to increase visibility in all riding conditions
– Anthony Dawson
Cycling Commuter Backpack Buying Guide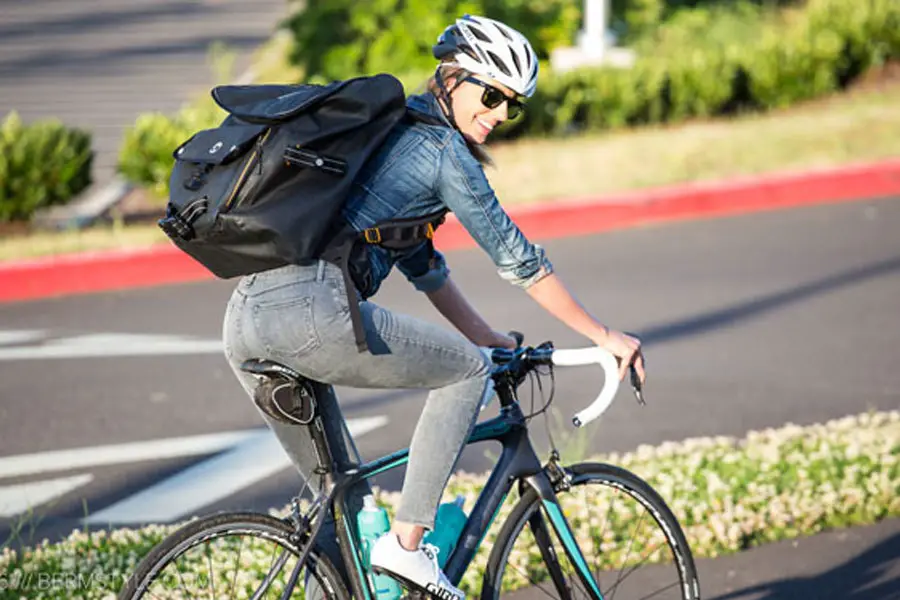 Whether you're an avid cyclist who commutes to and from work or school on a daily basis, or a mountain biker spending the day riding trails, a cycling backpack can come in handy for carrying personal items and keeping your hands free for other things. When looking for the right cycling backpack, there are several things that must be taken into consideration to avoid being disappointed with your purchase down the road. There are many different brands, types and styles out there in the market so this makes choosing one all the more difficult. This guide is prepared to give you information, tips and recommendations that will help you easily pare your choices down to just a few that will best suit your needs and preferences.
How Do You Plan to Use Cycling Backpack
Before you can settle on a specific style and size, you need to first determine how you will be using the backpack and what you will be putting inside of it. Here are some questions to ask. What activities will you be doing? What is the duration of time you will spend doing them and what kinds of items will you need to carry in your backpack? For example, if you are a commuter, you may need to carry a laptop, lunch supplies, and school or work related items and so forth. If you are a mountain biker you may be planning an overnight trip that will require you to carry camping gear, food and other overnight supplies.
Things to Consider When Buying a Cycling Backpack
This leads to the considerations you will make for the type of backpack you select. The capacity must be large enough to accommodate the items you will be carrying. This will determine the size that you need.
Accessibility is another consideration, for example, you may need to have access to hydration while you are cycling. The backpack you choose should have the added feature of a carrying spot for hydration supplies whether it is a hydration system or simply a mesh side holder for your water bottle. The pack must be adjustable so you can alter it for comfort and to achieve balance so you don't tip over easily when cycling.
If you are going to be exposed to the elements, and this is likely the case, you will want to consider a backpack that features water resistance so the contents do not sustain water damage and the pack does not easily mold or mildew from being damp.
Other features such as the number of compartments, pockets and padding are important as you will regret purchasing a backpack that creates sheer misery from straps that rub you raw in certain areas.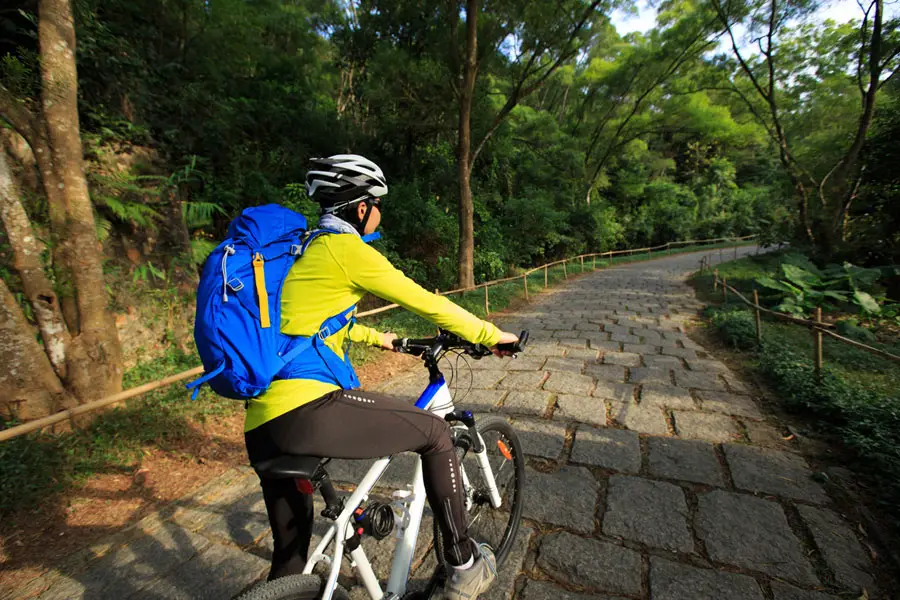 Types of Cycling Backpacks
Hydration Packs
Hydration packs for cyclists contain a water bladder and a tube that is conveniently positioned to come around the side of the pack to your mouth for a drink on the go. This eliminates the need to pack a separate water bottle.
Day Packs
These cycling backpacks are intended for use when you are planning to go cycling for the entire day. They are generally smaller backpacks that allow more freedom because they do not feature hip belts. They do feature shoulder straps for ease of wear. The larger versions of the day pack may have added chest straps to keep the stress of the weight off of the shoulders.
Midsize Backpacks
The midsize backpacks hold extra contents than day packs but are still designed for trips of only a day or so. They are useful for day trips for cyclists who enjoy doing photography and will need to pack extra gear, or similar activities.
Expedition Packs
This type of cycling backpack is designed for a serious cycling road trip such as a tour or a camping excursion. They feature wide hip belts and come with lumbar padding that provides greater ease in carrying. They are designed to accommodate several different items and work the best when a longer trip is expected.
Waist Packs/hip Packs
These types of cycling packs are intended for cyclists who do not have many items to carry and they are technically not backpacks, but they can safely carry keys, phones and smaller items of this type.
Features of Cycling Backpacks
Most of the types of cycling backpacks discussed come with a variety of features. These include increased padding options for additional comfort in the shoulder, chest and hip belt areas. Some have mesh panels to help increase the airflow and decrease the buildup of perspiration when cycling. A variety of different compartments in various configurations is also available which makes it great to choose the one that will best carry the items that you may want to keep separate from one another. The size, dimensions, styles and materials are also available in several different assortments. This part should not be confusing as it adds to the possibilities for selecting the right pack, which is the one that will best meet your needs and accommodate the amount of supplies and items you, will be carrying.
What to Look for in a Cycling Backpack
Look for a pack that is constructed of high quality materials and features the same in the workmanship. Check to ensure that the zippers are in working order and that they are also of a good quality, so they will be durable and are less likely to fail.
Find a size that will accommodate all of the contents you plan to pack inside, with the best configurations of side pockets and internal compartments.
Conclusion
Finding the right backpack just takes a little time in determining precisely what you will need in terms of size and capacity. The features that can help make the pack more accessible and comfortable are also important considerations as you will appreciate it when you've been on the road for a few hours. By following the tips and recommendations provided in this guide, you should have no problem quickly and easily finding the right cycling backpack that will meet your needs for years to come.