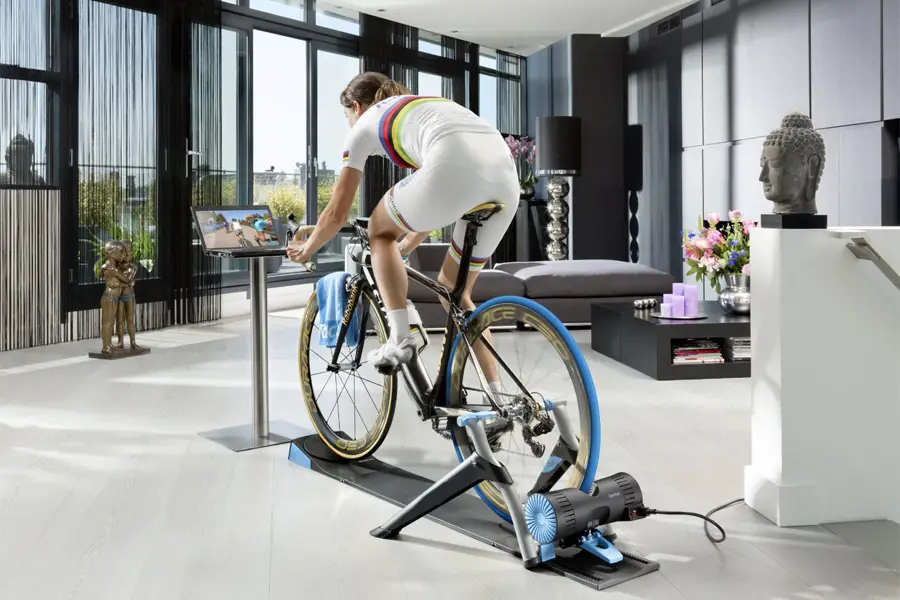 Cycling Fluid Trainer Reviews
Cycling fluid trainers provide a more road like resistance when riding the bike; this can also involve using fans or magnets. This is because the fluid inside becomes harder to push through the harder you pedal. The fluid cavity starts to fill with the oil, which is measured out to the correct amount, this oil then gets hotter and hotter as you ride. Cycle trainers allow you to ride your bike indoors with the same amount of momentum as outdoors with added stability of the back wheel for a safer ride. Just the same as an outdoor cycle, you can still shift the gears and increase or decrease in your resistance. So when you spin the wheels on the fluid trainer you really do feel as though you are actually getting somewhere. This means that you can have a comfortable ride in the comfort of your own home while pushing yourself to your ultimate limits.
Most Popular Cycling Fluid Trainer
Saris CycleOps Mag Trainer
The Saris CycleOps SuperMagneto Pro Trainer is a great indoor trainer for every cyclist's home. The new flexible power curve technology that the trainer uses offers the rider four different power formations in the curve by swapping the location of the resistance magnets around. So as the magnets head upwards on the axis the resistance will in turn increase and give a more challenging ride. Using the lowest resistance on easy will give you a great warm up session before you hit it hard in your workout. When switching to the road setting the resistance becomes slightly harder and more tolerant to your pedalling which mimics a general feeling of travelling on the road, then increasing further to interval you will find a sharp contrast changing between low and high speeds, just like interval training should be. If you really want to push yourself, this cycle trainer even has a mountain setting which has the same resistance as that of a world cup course, with steep climbs and skill based descents.
Power Tuned technology gives you a smoother and realistic acceleration just like in the real outdoors
Frame is single sided for quick mounting and removal
Transports easily and has simple adjustments
Flexible power curve technology for resistance curve adaptations
– Anthony Dawson
Best Overall Cycling Fluid Trainer
Kinetic by Kurt
Kinetic rock n Roll Trainer fulfils the outdoor riding sensation we all love. This trainer goes the extra mile, way past a computer program or fluid based cycle trainer. This cycle trainer uses a resistance unit and frame that mimics natural movement of riding your bike outdoors. The roller part of the frame is made of stainless steel, which is larger than most other cycle trainers. Having a larger roller means your tyres do not rub or wear as much which would reduce the amount the wheel spins. The flywheel is the heaviest around and that's how the momentum is created while you spin, the speed increases and holds at the level you want, and then slows down just as easily. There is a two-part resistance unit at the heart of the product. The first part has six rare-earth magnets and the other half is a sealed cast aluminium fluid chamber with impeller to react with the magnets. This eliminates the common weakness found in cycle trainers which is that there is no drive shaft leading to the fluid chamber.
Natural side to side motion for premium ride
Core muscles are tested and maintained
Clamp attachment with quick release lever
Easy storage
– Anthony Dawson
Best Budget Cycling Fluid Trainer
BalanceFrom
The BalanceFrom Indoor Bicycle Trainer is the ultimate indoor bike-riding machine. It provides realistic accelerations using power tuned technology for all types of riders. Its unique cooling system means you can ride for longer yet keep the same level of performance and stability on a progressive powerful curve. It is easy to change between settings to give different resistance programmes creating harder and more vigorous workouts as well as lower resistance for a pre workout warm up.
Quick installation and removal of your bike with lock resistance for transport and storage
Ride is smooth and quiet
Contains a cooling operating temperature gauge for long lasting performance
Power tuned technology for realistic acceleration regardless of ride type
– Anthony Dawson
Cycling Fluid Trainer Buying Guide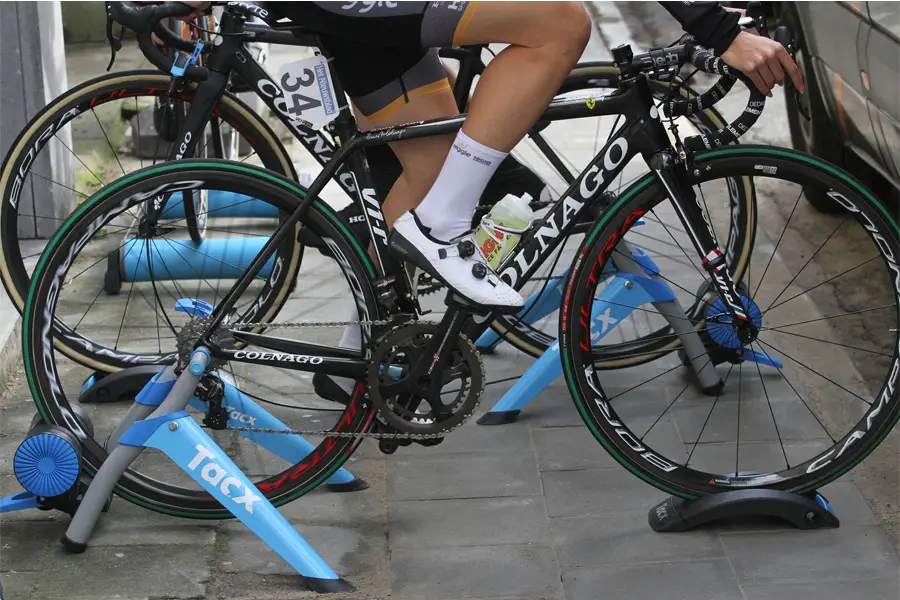 Every professional cyclist and those who want to remain fit and healthy need cycling fluid trainers. It is the best bicycle trainer available in the world today. If you want to have the best and the realistic cycling ride you have to get used to the fluid trainer, they are the most expensive on the market because of the high-end value it provides to its users. It is the quietest and the most reliable cycling trainer you can lay your hands on. Cyclists have been using fluid trainer for many years, as a result, there are different brands on the market. If you want to buy a cycling fluid trainer, chances are there that you may not find it easy to get the best trainer that suits your purpose. This tip will guide you in selecting a cycling fluid trainer.
How to buy Cycling Fluid Trainer
It is not easy to buy a cycling fluid trainer because of the various options available on the market. Here are some factors to consider before purchasing the most suitable trainer machine:
Why Do You Need It
The most important point that would guide you in making a purchase is determining the major purpose for purchasing the cycling fluid trainer. The purpose will help you determine the size, shape, and the design of equipment you need. The major purpose for requiring the machine may be for weight loss, to train to get fit for a race or a cycling competition. You may need it in order to increase your stamina. There are different things you can do with your training machine. You have to make sure that you purchase a machine that would be most useful for the purpose you purchase it. If you get equipment that does not fit your personal needs, it would amount to a waste of money.
Determine the Issue of Cycling Fluid Trainer Cost
This is because of its effective fluid resistance, this equipment is the most expensive machine on the market today. Because of the cost, the tendencies for many users to opt for the cheaper models are always there. Before you decide to shop for the trainer, you have to decide the amount of money you are going to budget for that equipment. You should know however that you would derive maximum benefits from expensive fluid trainers than the cheap ones.
Portability
One thing that makes people to go for this type of machine is that they are very portable, which means that you can easily carry it to other places and train with it. You should also consider the issue of convenience. The machines are known to be quiet, which means that you can be doing other things like watching your television while using the machine. You have to determine the noise level before you make a purchase. You can easily determine this by carrying out a review of the various products on the market and making a comparison.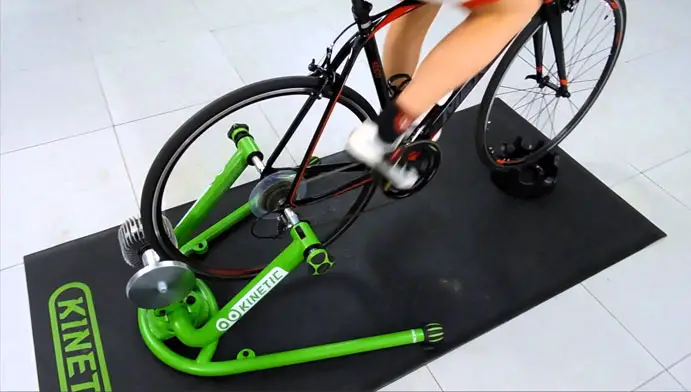 Condition of the Equipment
One major challenge users always encounter with this type of training equipment is that it leaks. There are certain brands on the market that are known to leak easily. Try to find out those brands that leak and isolate them when you shop around for the product. From professional reviews, you can get more information about the various brands on the market and make a choice. Try to educate yourself about the different brands on the market. Another thing about the equipment you need to consider before you shop for it is its heating frequency. Some machines get sticky when it heats up. This tends to increase the resistance of the fluid. Decide how long it will take each brand on the market to heat up before you make a purchase.
Where to Buy Cycling Fluid Trainers
It is because of the high cost of cycling fluid trainers, it is advisable to purchase them from outlet that you would be sure of getting the highest value for your money. Presently, there are different markets you can buy fluid trainers. Many people buy them from online stores like Amazon, eBay and other online merchants. Others buy them from local shops and several other places. Because purchasing this type of trainer is a big investment, you should buy from sources you are sure of getting only the best. Consider an outlet you can get discounts. It is cheaper when you buy any product online. This is because; you will have access to different brands. If you buy from eBay and Amazon, you are likely going to get discounts. Before you procure anything from the internet, you should be sure of the source so that you will not lose your money. Buying from local stores is good, but the costs could be higher than buying them from the internet.
Pros and Cons of Cycling Fluid Trainers
Pros of Cycling Fluid Trainers
It is the best cycling trainer on the market
It is a quiet trainer and this is because of the fluid resistance
It is simple to set it up
It is simple to load and unload
Most of them have an efficient and effective customer support
It is portable because of its lightweight
Cons of Cycling Fluid Trainers
Despite the values it offers to its users, there are a few disadvantages associated with it. Here are some of them:
It is very expensive and that is because of the fluid resistance
Most of the products on the market do not have a clear instruction on how to use them
Despite these few disadvantages, it is obvious that it is the best trainer you can ever lay your hands on. If you can afford the machine, you will derive a lot of fun with it, because there is no quiet trainer like it on the market.
Conclusion
You have seen that you need cycling fluid trainer whether you are a professional cyclist or not. Because of the various brands on the market, many users are not finding it easy to make a choice. The equipment is very exorbitant, this information will guide you in purchasing an affordable bike fluid trainers.