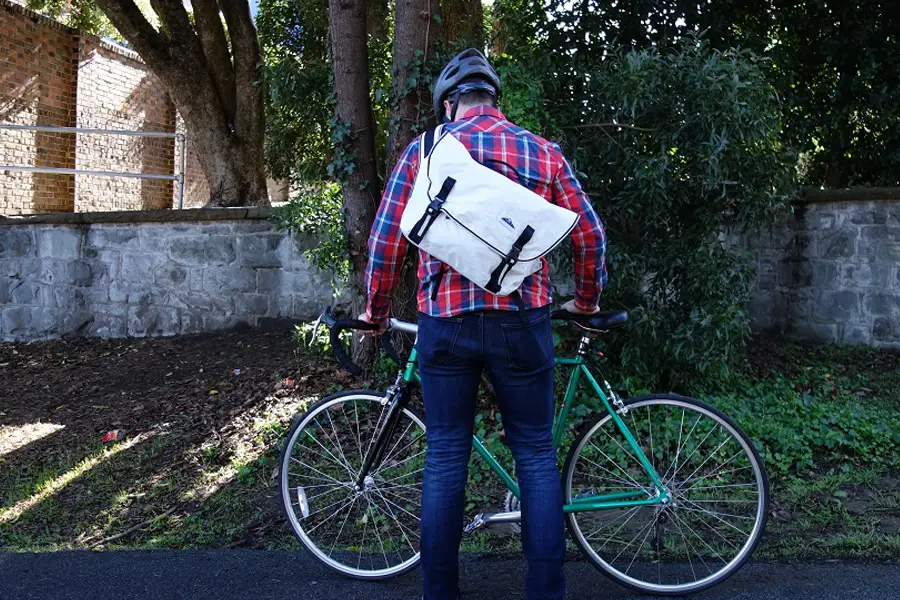 Cycling Messenger Bag Reviews
Visit any city with heavy traffic and you're likely to see cyclists weaving in and out of the gridlock of cars onward to their destination. Look closer and you'll likely notice a common item slung around their backs: the messenger bag. Messenger bags are satchel-like bags that are slung over the shoulder with a broad strap that circles around under the arm and around the chest, allowing the bag to rest on the bag. The single-strap design and placement of the bag allow for even weight distribution, even when carrying heavy items like books and laptops. As such, both students and working commuters often see them as the more comfortable option to carry their belongings over a traditional backpack, briefcase, or otherwise. It's easy to see how messenger bags got their name. Even today, letter carriers use bags resembling messenger bags to deliver mail across their routes. And when you see those cyclists dodging inner city traffic, one of them could in fact be a bike messenger, a decreasingly common yet still efficient way to get messages, documents, and packages from Point A to Point B in a local area.
Most Popular Cycling Messenger Bag
Alchemy Goods Haversack Messenger Bag
The Alchemy Goods Haversack Messenger Bag distinguishes itself from the first look. Unlike most commuter messenger bags that are typically made of heavy-duty nylon, the Haversack has an exterior construction that's comprised of recycled rubber bicycle tubes. Though not fully waterproof, the bike tube exterior does a standup job at repelling moisture to keep the bags contents dry. Measuring 10 x 6 x 11-inches, the bag is on the smaller side and shaped somewhat differently than most messenger bags, allowing it to be slung tight over the shoulder or more relaxed next to the hip. The shoulder strap also has a unique look, as it is made from a recycled seatbelt strap. The Haversack is on the minimalist side in terms of organization capabilities, but it does have a zippered interior and exterior pocket, pen slots, and a key ring clip.
Recycled bag constructed of bike tubes and seatbelt straps with black, turquois, mandarin, and purple piping options
All materials sorted, cut, cleaned, and assembled in Seattle
Protected with lifetime warranty against manufacturer defects
Unique rubber aesthetic offers superior water-resistance
– Anthony Dawson
Best Overall Cycling Messenger Bag
Timbuk2 Classic Messenger Bag
For the past 25 years, TimBuk2 has grown from its origins in a San Francisco garage to become one of the most recognized manufacturers of messenger bags. They offer a variety of bags geared for different uses, but each was spawned from the original, the Timbuk2 Classic Messenger Bag. Available in a variety of colors and patterns that maintain their look overtime, the Classic Messenger Bag offers the bare minimum when it comes to features, but that means there's plenty of open space and flexibility when it comes to organizing and carrying your belongings. Like all Timbuk2 bags, the bag is made of a durable ballistic nylon that stands up to the abuses of life on the road. The bag is lined with a waterproof TPU material that does its part to keep your important documents and expensive electronics dry and protected against the elements. The Classic Messenger Bag uses Timbuk2's signature true-fit cam buckle that allows for easy one-handed strap adjustments to find a snug fit. The bag has a large, roomy main compartment for carrying books, clothes, or other bulky gear, while the front facing section opens up to reveal an internal organizer with slots and loop attachments for a variety of school and office supplies and personal belongings.
Ballistic nylon and waterproof TPU construction offers year round performance in all cycling conditions
Features Napoleon side entry pocket and internal slash pocket for extra storage/accessibility
Available in a variety of colors and patterns that stay true
Internal organizer has room for a variety of commuter/personal supplies
– Anthony Dawson
Best Budget Cycling Messenger Bag
Banjo Brothers Messenger Bag
The Banjo Brothers Messenger Bag, like most Banjo Brothers gear, offers the user the most basic of features at a fraction of the cost of competitor bag-makers. There may not be a lot of bells and whistles, but cyclists don't always want to carry the whole tool shed on their backs. The bag has a built-in, padded laptop divider for keeping your computer snug and secure, which can be removed to give the bag increased roominess. A unique feature to the Banjo Brothers bag is the ability to adjust the shoulder strap for left or right shoulder carry, via the basic nylon strap with a padded sleeve that fits perfectly around the frame of most female riders, while also offering a more bare-bones alternative to taller riders wanting a minimalist feel. Ballistic nylon construction helps the bag stand up the abuses of everyday commuting, while reflective piping on the back-facing panel and a designated tab for attaching a safety light helps increase your visibility in nighttime and low-light riding conditions.
Minimalist bag has 1100 cubic inches of storage room for a variety of commuter supplies, clothes, and gear
Includes cell phone holster and laptop divider that can be removed for more space
Reflective piping and safety light attachment help increase visibility
Shoulder pad easily adjusts for left or right-sided carry
– Anthony Dawson