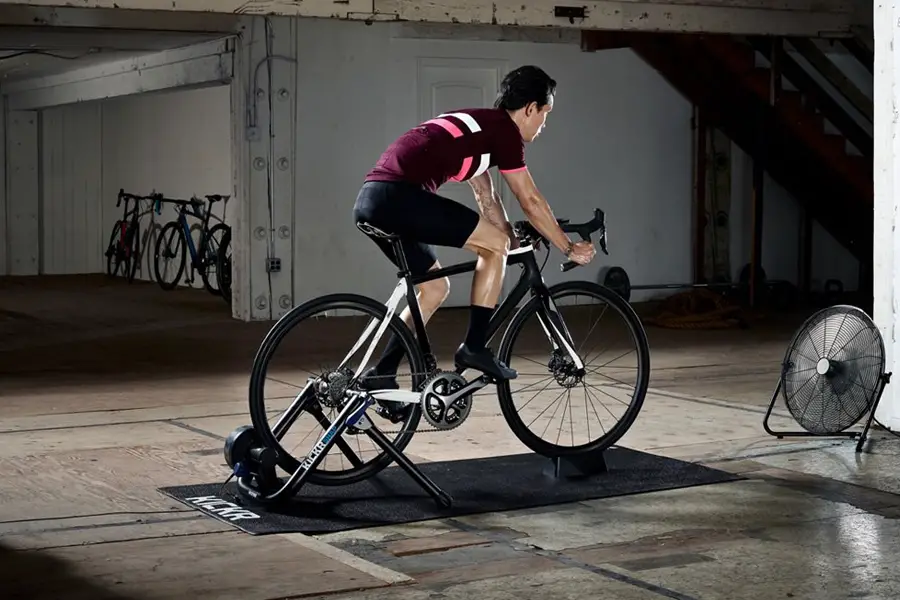 Cycling Resistance Trainer Reviews
Bike resistance trainers are a piece of cycling equipment that allows you to ride your bike while in a stationary position, so you can cycle on your own bike in your own home. They can also be used to warm up before a race or for when the weather permits you to stay indoors. Being able to use a cycling resistance trainer indoors means that you can watch TV or any other activity while you ride your bike. The product consists of a piece of framework that clamps to your bikes rear wheel using a roller system that provides resistance when you pedal. There are a few different types of these style trainers that include; magnetic, fluid and wind as some of the most popular choices. The trainers can come with added functions such as sensors for riding performance or a power output to track heart rate and speed which can help analyse your training.
Most Popular Cycling Resistance Trainer
Alpcour
Training indoors means that you can work out no matter what the weather is. You can still get that outdoor road like ride from using Alpcour Prozone Smooth Magnetic Resistance Bike Trainer. It doesn't matter what style of bike you own, mountain or road bikes can both be used with this bike trainer right up to a 700cc wheel. This product has been specifically designed for long distance cycling providing excellent endurance and a boost in your fitness regime undoubtedly. So no matter what time of the year or how the miserable the weather is outside you can still jump on your bike and get the workout you enjoy. There are six levels of powerful resistance, caused by magnets, which gives you the ultimate realistic bike ride allowing you to push yourself as hard as you can. The magnetic resistance system also means that each ride will be both quiet and smooth causing no interruptions when you are in the zone and working out hard.
Easy to fold down for transport and storage
Can be used for road or mountain bikes
Quiet set up and smooth ride due to magnetic resistance power
Indoor training all year round whatever the weather
– Anthony Dawson
Best Overall Cycling Resistance Trainer
Kinetic by Kurt
The Kinetic Road Machine Indoor Bicycle Trainer is perfect for all types of cycling, sprinting, interval training or just a long enjoyable cruise. It gives you a smooth and quiet cycle providing the most realistic outdoor ride with automatic resistance changes as you speed up. The rear wheel spins on a fluid based trainer that rotates the liquid round giving a smoother and road like feel to the ride. The faster you pedal the harder the workout will become, just like outdoors. The design consists of a trapezoidal leg design offering increased power and motion specifically pinpointed to the flywheel so even with stand-up cycling the bike remains steady. The Kinetic is 100% leak proof and due to the magnetic drive system using the magnets to link this together, there is no way a leak can occur. The liquid will heat up as this is how the power is provided, however using the low operating temperature of the aluminium cooling fins, the temperature is always under control.
Stable platform for stand up riding
A leak proof magnetic system with automatic resistance changes
The flywheel offers an even more realistic bike ride
Real road like performance
– Anthony Dawson
Best Budget Cycling Resistance Trainer
CycleOps
CycleOps Mag Indoor Bicycle Trainer keeps your body in shape even when the weathers bad and the cold winter months draw near. This indoor trainer has a unique internal flywheel that gives a really smooth and extra quiet ride. It has magnetic brakes and a resistance lever to increase and decrease resistance. This allows you to go from an easy warm up workout to a tough terrain and challenging ride. The frame itself is both sturdy and durable allowing for added stability and confidence in using the trainer when performing harder and more difficult training. There is an informative DVD that comes with the product telling you how to get the most out of your CycleOps Mag Indoor Bike Trainer. When it comes to packing the trainer away, the legs fold down easily for good storage solutions and this also makes it simple to set up for next time you want to use it.
Internal flywheel gives a smooth and quiet ride
Steel for durability
Easy storage with foldable legs
DVD included
– Anthony Dawson