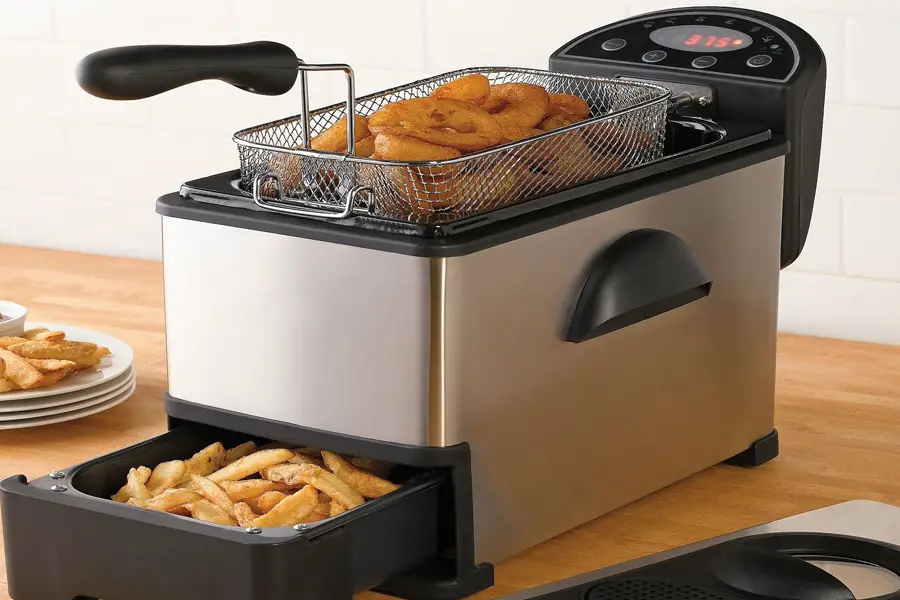 Deep Fryer Reviews
As Americans we love fried food. From French fries to fried turkeys, it seems everything tastes better when it is dipped in a little grease. Deep fryers have been on the market for many years, but many brands are clunky, heavy and even a little dangerous. When it comes to the business of handling hot grease, finding products that have safety and ease of cleaning in mind are worth the money. We have evaluated the deep fryers available on the market today and have selected a few that we feel are the best in the business.
Most Popular Deep Fryer
Instant Pot
Instant Pot Stainless Immersion Element fryer is a professional quality deep fryer that is large enough to entertain, or feed a large family. Is comes in a sleek professional design that would look great on any countertop. The Instant Pot Stainless Immersion Element deep fryer comes with two oblong baskets that are large enough to fry large pieces of fish or chicken. The two baskets allow you to fry two different foods at the same time. There is an adjustable thermostat that maintains the oil temperature even after adding food. The Instant Pot Stainless Immersion Element deep fryer has a 32 cup food capacity which is large enough for all your deep frying needs. The heating element and enamel pot are both removable for easy clean up. The Instant Pot Stainless Immersion Element deep fryer is compact enough for easy storage while being large enough for large family meals.
Adjustable thermostat
2 Oblong baskets
Removable heating element and pot for easy clean up
32 cup food capacity
Adjustable thermostat
– Anthony Dawson
Best Overall Deep Fryer
Cuisinart
The Cuisinart Stainless fryer has 1,800 watts immersion heating element to meet all your frying needs. There is a one gallon of removable enamel coated oil container that has a pouring spout. This provides for easy changing of oil and straining the oil. There are three baskets, one large and two small heavy mesh baskets. The baskets have cool touch handles which makes it easy to remove food when it finishes cooking. With the three baskets you can cook different items at the same time. The handles are also collapsible which make storing easy. The Cuisinart Stainless fryer has a 30 minute timer and digital temperature control. This enables the temperature to remain the same even after food is added. The design is brushed stainless steel. There is a lid for viewing. The Cuisinart Stainless fryer is large enough to fry meals for a large family. The small baskets allow you to fry smaller batches for smaller meals.
1,800 watts of power
3 baskets, 2 small and 1 large
Brushed stainless steel
Digital 30 minute times and temperature control
2.3 lb food capacity
– Anthony Dawson
Best Budget Deep Fryer
Instant Vortex
The Instant Vortex Digital ProFry Immersion Element deep fryer is a 40 cup single basket deep fryer. The small size is perfect for couples, individuals or small families. It's sleek design and stainless steel housing looks great on any countertop. It also stores easily in any cabinet. The Instant Vortex Digital ProFry Immersion Element has 1,500 watts of power which enables the deep fryer to heat up quickly and recover quickly when food is added. The oblong basket maximizes the cooking surface for larger pieces of chicken or fish.
The Instant Vortex Digital ProFry Immersion Element has a digital display on the back of the unit for easy control. There is a 30 minute timer and an adjustable thermostat. This allows you to cook perfect food every time at the exact temperature you desire. The removable heating element and pot makes this unit easy to clean. There is also a filter on the cover. The Instant Vortex Digital ProFry Immersion Element also comes with a 1 year warranty.
40 cup food capacity
Single basket fryer
Digital timer and adjustable thermostat
1,500 watts of power
1 year warranty
– Anthony Dawson
Deep Fryer Buying Guide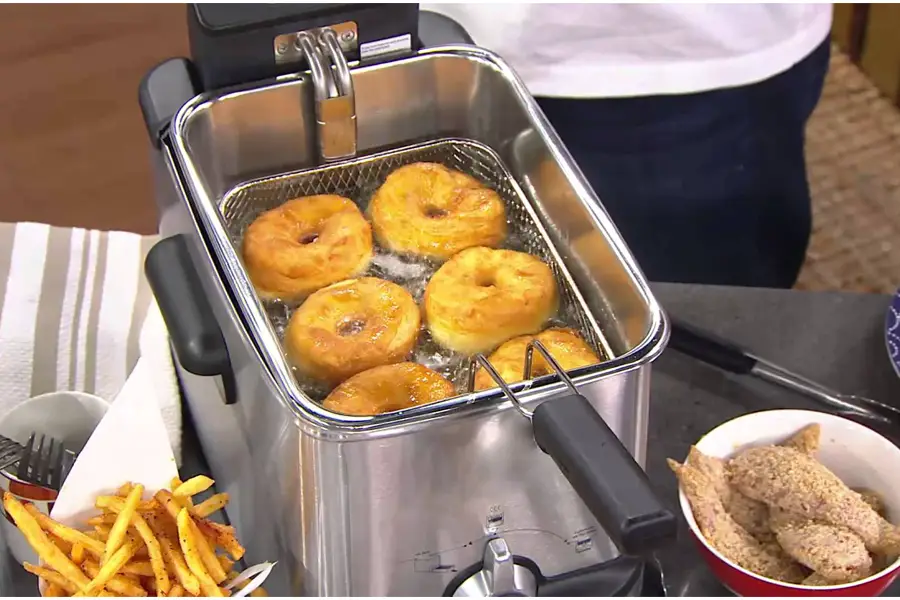 The most criticized cooking method is also one of the most popular ones. Regardless of the time of year, you could always find someone clamoring for food that has gone through this process. Millions of people rely on these when going out, to provide an immense amount of flavor into foods of all types. If you are looking at purchasing any one of the many deep fryers on the market today, you will want to consider a few things. Do not just buy whatever you see on the shelves, and do not just get whatever is on sale. It's better to do a little bit of research and consider the options that you have before you spend any money. You'll not only find this method to be better than just spending frivolously, but you may also find that you can still have healthy foods as a result.
Consider The Deep Fryer Size First
The very first thing that you want to look at is the size of the basket. If you're going to be feeding a family, you may not want to go with small items. Make sure that you seek out large components that will house a lot of oil and produce a lot of food. There are some smaller solutions that you may want to look at, but don't be fooled. Smaller sizes means less oil, which therefore means your dishes will not feed a whole family. Look for something that has at least a 12-cup capacity for best results. If you do not have a large family, then perhaps the smaller solution will suffice. If you're looking at cooking a turkey, you will want to get a larger one, and make sure that you are 100% careful and safe when using it. It becomes very easy to burn your house down if you aren't careful.
Power Plays A Role in Selecting a Deep Fryer
Deep frying requires you to have high heat. The more power you have, the higher the temperatures will go in a much faster rate of speed. You'll want to get oil to 375 degrees Fahrenheit to move forward. Without this, you will not be able to get the best foods cooked fast. A good option to look for is adjustable temperature gauges, so that you can make sure that you have the right heat quotient as a result. Without the adjustments, you will be relegated to high heat and that may not be good for certain foods that you're trying to deep fry. Look for wattage and cooking temperatures that are balanced and adjustable. Do not select anything that isn't going to deliver on the heat that you need.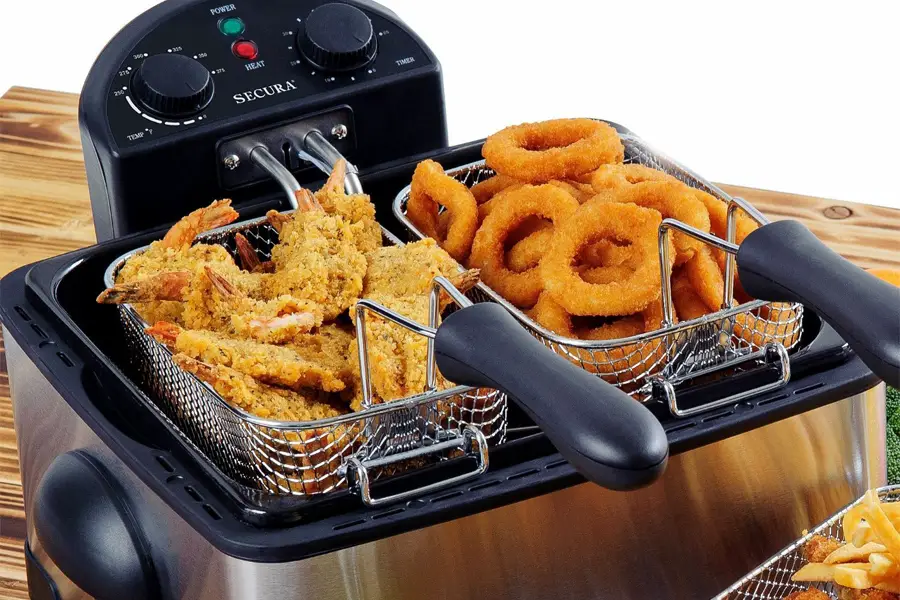 Multiple Use Deep Fryers
Not all deep fryers do one thing. Many have additional components that allows you to steam, boil, and even cook rice. The more bells and whistles that you can utilize, the more meal options you'll have. Not only that, you could cut your meal prep time in half or even more. Do not miss out on utilizing the combination here. Multiple use deep fryers will definitely be a good idea for those that are short on time and need to make dinner fast. The convenience factor alone is well worth exploring on this item, so do not miss out.
Deep Fryers with a Filter or No Filter?
One thing that you will want to definitely look into is the filtering method. Some options have a reservoir that you keep the used oil in, and others have a different solution. Whatever you decide to choose, make sure that you understand the difference. Without a filter, you'll have to be responsible for the waste oil, which could be difficult to discard. With a filter, you can trust the cooking process and your deep fryer can become a bit more versatile. This is something you'll need to explore on a deeper level, as some consumers like filtered options and others prefer a different solution. No matter what you decide, make sure to at least see whether or not the brand you want has a filter.
The Deep Fryer Warranty Issue
Some people swear by the warranty that they get with any appliance, and this is no different. If you're going to spend money on a device, it should come with a solid warranty. When you know your purchase is protected by the manufacturer against certain problems, you'll have peace of mind. This can be important on a lot of levels. It will help you get a replacement or fix when anything occurs. Limited warranties are common, but some people prefer lifetime solutions. No matter what you decide, make sure that you at least understand and acknowledge the warranty information. Without doing that, you may end up losing out when something goes awry. Higher end solutions will come with a lifetime warranty, but that will get rolled into the asking price. Lower priced choices will not have a lengthy option, and could malfunction faster than most.
Deep fryers come in all shapes, sizes, and styles. Some use less oil than others, and many try to go with the "healthy" type of cooking through convection and air. There's a lot of different options that you can move forward with, but in the end, you will want to go with a brand that has good consumer reviews, good ratings, and is not going to break the bank. Price doesn't always dictate the quality of any given item, so do not assume that you will need to spend a great deal to have quality.
In the end, consider a few models, and then pick the one that best suits your needs. Whether you have a large family or a small one, make sure that you have something that will be utilitarian in design. With a little bit of focus, you'll not only be able to purchase a good deep fryer, but you will find it to be a great investment in your cooking. Avoiding impulsive purchasing is the key factor. Do not impulsively buy anything, because you could end up with something that is rarely used.