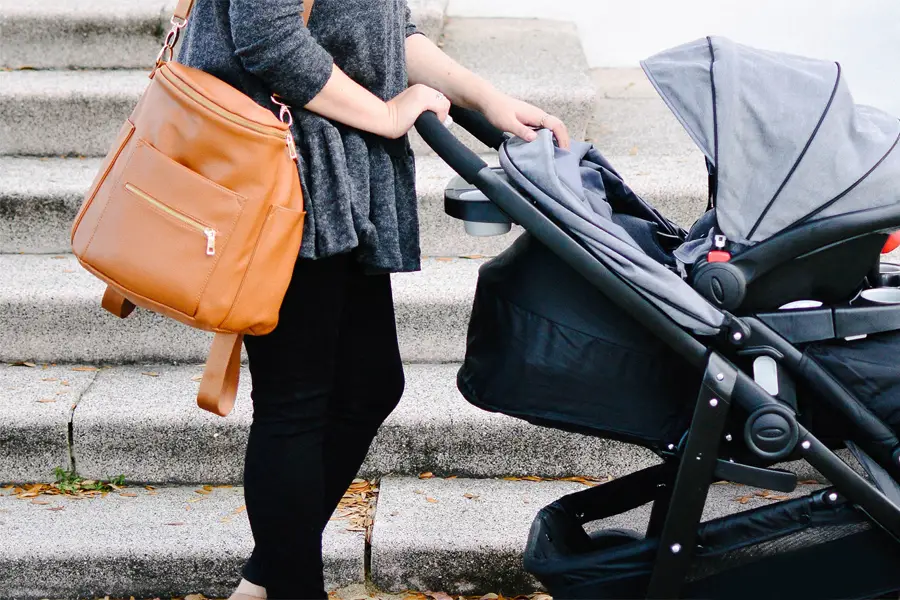 Diaper Bag Reviews
A diaper bag can be a godsend when you're about town with your child and have to carry a number of different items. The ideal bag will help you to store diapers, bottles, toys, food, as well as your own personal phone, wallet, charger, and so much more. When you're carrying your baby around, it can feel like you don't have enough hands, and that's why you need a bag that makes it easy to grab what you need with one hand. Many diaper bags are convertible and allow you to attach and remove a shoulder strap, while also providing stroller attachments that make it easy to adhere the bag to the stroller in an instant. Look for a bag that has many different pockets, as well as open and zippered closures. Once you find a bag that is totally functional, then you can worry about the design. It's nice to find a bag that looks chic and stylish, so that it isn't totally obvious that you're carrying around a baby bag.
Most Popular Diaper Bag
JJ Cole
This lovely diaper bag from JJ Cole features an elegant Stone Arbor design that looks fashionable and sophisticated. The satchel bag makes it easy to stay organized and carry everything you need. There are multiple compartments inside and the exterior offers an easily accessible open and zippered pocket. The seven exterior pockets and four interior pockets are easily accessible, and there's also a convenient bottle pocket that keeps the bottle secure and dry at all times. The padded shoulder strap is built for comfort and is removable, making this bag easily convertible. There are grips stroller attachments included and there's also a coordinating changing pad. The bag is lightweight and comes in at 1.6 lbs. Free from harmful chemicals and materials such as PVC and phthalate, this bag is perfectly safe to have around your baby at all times.
Comes with 7 exterior and 4 interior pockets
Elegant Stone Arbor design
Lightweight and easy to convert
Free from PVC and phthalate
Features open and zippered pockets
– Anthony Dawson
Best Overall Diaper Bag
Skip Hop Satchel
This charming diaper satchel comes in a fun Chelsea Downtown Chic style, and features fine polyester fabric. This runway inspired design is only enhanced by the bag's functionality that keeps you well stocked with diapers both day and night. There are twelve spacious pockets within that make it easy to store everything that you need and quickly find what you put inside. It's important as a mother to stay organized and well stocked at all times, and this great bag helps you to do that. There are also stylish faux leather details that make this bag look much more expensive than it really is. The bag comes with a cushioned changing pad that allows you to conveniently change your child no matter where you are. The studded feet keep the bag clean and off the ground at all times. All in all, this is an amazing and versatile bag that takes care of all your diaper-carrying needs without looking like a diaper bag.
Twelve spacious pockets within
Stylish Chelsea Downtown Chic design
Perfect for use both day and night
Comes with a cushioned changing mat
Affordable and stylish
– Anthony Dawson
Best Budget Diaper Bag
Skip Hop Duo
Skip Hop makes some incredible diaper bags, and the charming Chevron design of this bag makes it easy to carry on the go without it being obvious that you're carrying a diaper bag. The multiple pockets and compartments make it easy to organize diapers, sipping cups, bottles, toys, food, and so much more, while also carrying your personal phone, keys, and wallet. The patented shuttle clips make it easy to convert this bag into a stroller bag in an instant, while the magnetic closures keep everything secure inside at all times. There's also a large exterior pocket which makes it easy to grab things as quickly as possible without opening the bag. The bag comes with its own matching changing pad and stroller straps, so you can be sure that you have everything you need to carry, change diapers, and stay organized.
Charming Chevron style
11 different pockets to stay organized
Comes with changing pad and stroller straps
Magnetic closures keep things secure
The perfect solution to carry everything you need day and night
– Anthony Dawson