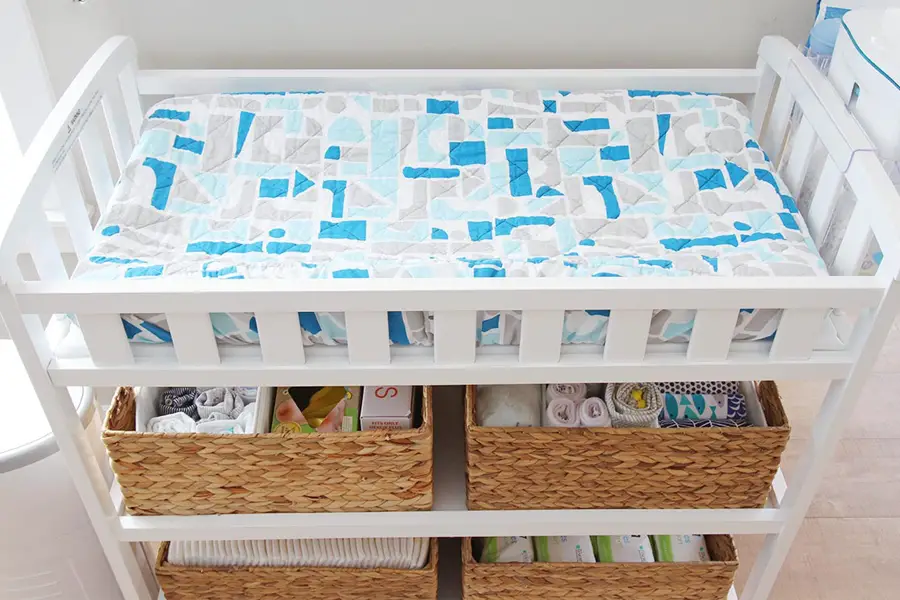 Diaper Changing Table Reviews
Did you know that by your baby's first birthday you will have changed over 2,400 diapers? It's a daunting number, but it serves to remind you just how important a comfortable changing table is, for both you and your baby. If you have a lot of room, and cash, there are a number of expertly-designed models that are practical and attractive. You're going to be using this table well into your child's second year, so it's a good idea to invest a little money in it. You can also get a table that serves as a dresser, so that it can be useful in the room for many more years to come. You may decide that something very small and economical makes more sense, because you do most of your changing on the floor anyhow, in which case you really only choose a special changing pad. But the table is definitely useful for doing all sorts of things while your baby is in a comfortable, safe, and soft location.
Most Popular Diaper Changing Table
Summer Infant Contoured
The Contoured Changing Pad is perfect when your baby's comfort is your greatest priority. The pad measures 32″x16″x4″, and works with pretty much every changing table or dresser. Thanks to the high walls on the pad, it keeps your baby from rolling too much in one direction or the other. There's also a handy safety belt that straps your child in for ultimate protection, and the security strap ensures that the pad stays in place on your furniture piece. The double-layered vinyl top is wonderfully safe and durable, and has the added bonus of being phthalate and PVC-free. The pad is also quite nice looking, so it should fit into the decor of any room with ease. This is a lovely addition to any nursery or changing station. If you're looking to save money by not buying a changing table, this is the perfect way to transform any space into a comfortable changing station for you and your baby.
Made with ultra-durable PEVA vinyl
Super comfortable for both baby and parent
Contoured walls keep baby in place
Security strap attaches to furniture
Safety belt holds baby in securely
– Anthony Dawson
Best Overall Diaper Changing Table
LA Baby
The 4-sided design of this changing pad from LA Baby is incredibly unique and ultra comfortable. It is designed to be completely waterproof, thanks to its durable vinyl top layer. The ideal 32″ size works perfectly for pretty much any dresser top or changing table, and there's a handy quick release safety belt included. It also meets all mattress regulations both federally and statewide. It's super easy to clean the nontoxic cover of this pad, keeping the bacteria at bay. All in all, the 4-sided design is the best feature on this pad, as it really does the difficult task of keeping the baby in place, so as to not roll too much to one side or the other. It's also aesthetically pleasing to the eye, and its clean white color fits well into any home or nursery decor. For the price you're getting an exceptional changing pad that is built really well and going to last you through all your diaper years.
Ultra-ergonomic 4-sided design makes baby comfortable
Waterproof vinyl top layer
Fits most changing tables and dressers
Easy to clean
Elegant white color
– Anthony Dawson
Best Budget Diaper Changing Table
Summer Infant Ultra
There are a number of things that make the Summer Infant Change Pad Cover stand out from the rest, and one of these is the cute design. There's no reason for your changing cover to be drab, and this model looks a lot more sweet than some of the other ones out there. Also, this cover is completely machine washable, which is a wonderful feature that you'd be surprised to hear is not the case with some of the other styles. It fits comfortably onto any commercial changing pad on the market, and the elastic straps hold it snuggly onto the pad for no sliding. Its super-soft material feels nice on baby's skin, and when you put it in the washing machine it doesn't disintegrate into a ball of fuzz. Also, the price of this cover is very reasonable, making it a great purchase that will add to the comfort and happiness of your baby.
Super cute and fun design
Easy to clean in your washing machine
Works with most changing pads up to 16″ x 32″
Ultra soft for baby's comfort
– Anthony Dawson
Diaper Changing Table Buying Guide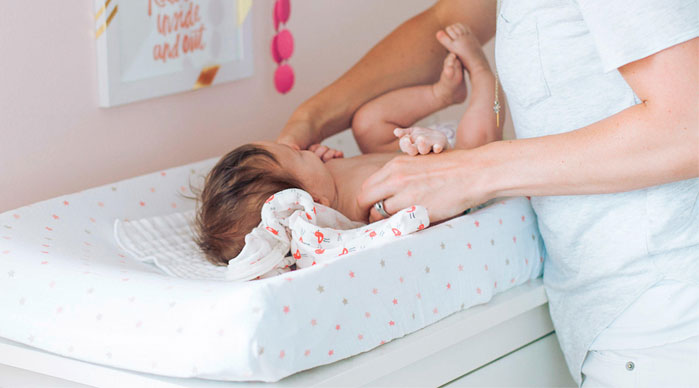 The Need for Specialized Diaper Changing Tables
Many first-time parents may wonder why they specifically need diaper changing tables. The actual act of changing an infant's diaper on a table seems fairly simple to people that are only watching the process from the outside, and purchasing a table for this specific task may seem somewhat superfluous. First-time parents are often surprised when they realize just how much they will have to purchase in preparation for the arrival of their children. While diaper changing tables are typically not all that expensive on their own, they are part of a collection of supplies that does indeed add up quickly. Diaper changing tables also look fairly simple. The design elements that make diaper changing tables so convenient are not necessarily immediately obvious.
Parents that do use diaper changing tables for the first time quickly realize just how important they are. For one thing, diaper changing tables have bottom shelves where parents can easily store all of the supplies that they will need when changing their children's diapers. Having those supplies at hand is enormously helpful. Changing a diaper is an extremely delicate procedure. Babies never hold still during the process, even if they're usually not fussy babies. Parents frequently underestimate the amount of wipes that they will need at the worst possible moment. Changing a diaper requires a fairly wide range of tasks in one. Choosing a diaper changing table that has its own shelves can save parents a great deal of problems down the line.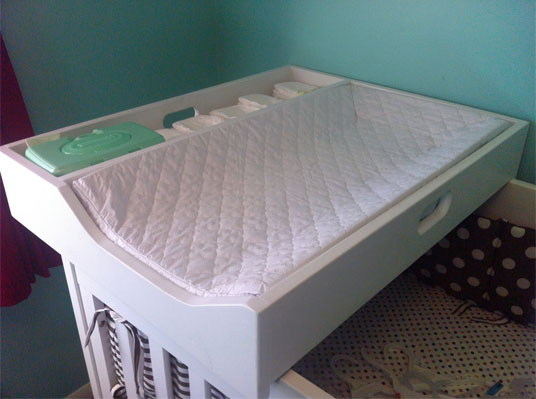 Diaper Changing Tables With Lips
One of the most important features any diaper changing table can have is a lip. That is to say, the top of the table shouldn't be a completely flat surface. There should be some raised border that can act as a barrier in case the infant is near the edge of the table. Even the most attentive parents should make sure that they have another line of defense. Infants falling off changing tables is very serious indeed, and even a lip that's only a few inches high can make all the difference. The lips of changing tables are also decorative and designate the changing table as a changing table, making them even more useful.
Diaper Changing Tables and Height
Parents that are shopping for diaper changing tables should simulate the process to make sure that the changing tables that they are considering are tall enough. Infants will need to be changed many times throughout the day. No one wants to be hunched over during most of the process. Parents who do that too often could develop back problems. At the same time, changing tables should not be uncomfortably tall. While the height of something like a dresser is often unimportant, the height of a diaper changing table is. Parents that are ordering diaper changing tables online should at least try to estimate the height they need. Parents will be using these tables for an extended period of time, and possibly for multiple children, so they will need to choose wisely.