What Causes Diaper Leaks?
Every parent has gone through the frustration of diaper leaks with the mess and extra work it creates. Nighttime is when it happens the most, but it can present itself at any point in the day. Your baby can go through episodes of high volume evacuation that catch you off guard. It can be particularly difficult if it happens while you're out shopping with baby, visiting friends or relatives or at an event that makes it harder to change baby's entire outfit and bathe them. The best course of action is to be fully prepared with heavy-duty diapers that can handle the job well.
Diaper leaks: are overnight diapers any better?
The benefits of using overnight diapers are that they are designed differently, setting them apart from standard diapers. The high quality overnighters are made from highly absorbent materials and they are thicker than standard diapers. The design in the better brands cause them to pull moisture away from your baby's skin, and trap it in between the layers of material in the diaper. This helps in preventing leaking and also lessens the chance of diaper rash developing as your baby sleeps.
Considerations to make when choosing the best overnight diaper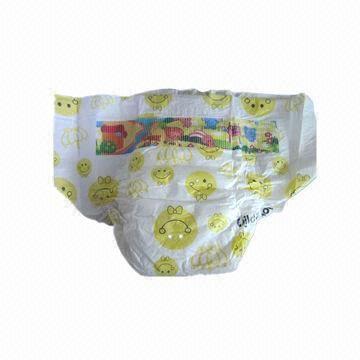 Every baby is different in the volume of evacuation and the shape of their bodies. It is very important to choose an overnight diaper that provides a good fit. Some of them feature elasticized materials near the leg openings. This can help to prevent moisture from leaking out the sides of the legs during the night. If your baby is wearing a diaper that doesn't fit, the odds of having an overnight leak skyrocket.
Choose a style that is comfortable for your child. Not all diapers are made from comfortable materials. Some children may have sensitive skin or perhaps, have an allergy to certain fragrances or materials. In order to maximize baby's comfort, make sure that the diaper you choose feels good against their skin and does not cause any type of rash. If this is a problem, try switching brands until you find the most suitable.
How to find the best overnight diaper
Finding the best diaper for your baby can be done a few different ways. You can talk to other parents about what worked well for them, you can read online reviews or you can use the trial and error method and settle with the one that works best for your baby. Because each child is unique, what works well for one may not necessarily be the best choice for another. You might have to experiment a little until you arrive at the best solution for your baby.
Overnight diapers may be a little more expensive, but since they are generally only used at night, a box will last longer.
Diaper leaks are unpleasant to say the least and they can increase your workload as a parent, but they are controllable. Are overnight diapers any better? The answer is that they can be. So long as you choose a brand and style that provides comfort and a good fit for your baby, along with a high absorption level and a design that pulls moisture away from babies skin as additional protection. When your baby is more comfortable throughout the night, you may actually be able to get some additional rest yourself.