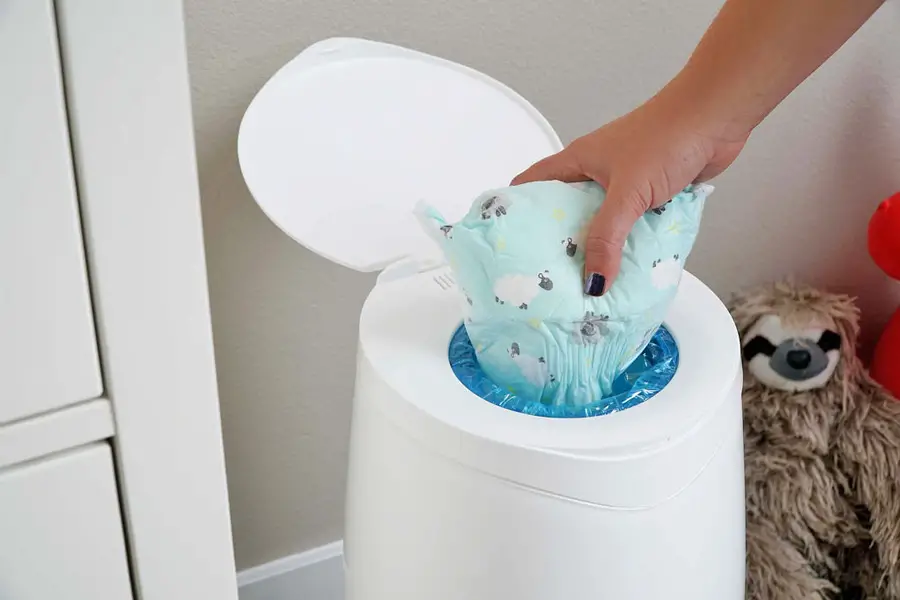 Diaper Pails and Refill Reviews
Babies are a beautiful thing, but changing diapers certainly isn't. Nobody likes this messy task; and it's performed numerous times a day. Diaper pails make the job quite a bit easier, as they give a convenient place to toss the soiled items, and keeps the odor from permeating the house. There are a couple of different types of pails to choose from, and which is right for you depends on whether you're using cloth or disposable diapers. If you're like most other moms, you're probably using the latter, which means you need a plastic pail with a lid; similar to a garbage pail. They are lined with disposable plastic bags, and in some cases, you have to buy special lines to fit the unique size of the pail. If you're brave, and still use cloth diapers, you want a pail that does not have a bag in it, and can easily be converted into a washing bin at the end of the day.
Most Popular Diaper Pails and Refill
Diaper Genie
The Diaper Genie from Playtex is a great choice for a disposable pail if you want an odor and germ-free home. Thanks to its double-locking design, as well as the multilayer liner, the pail really does seal-in the things that you don't want to get out into the air. What's especially nice here is that the pail is ergonomically designed so that you don't have to bend down to put things inside. The handy foot pedal is great for hands-free opening, and we all know what a blessing that is when you have a soiled diaper in your hands. The Genie holds up to 38 diapers at a time (although you probably don't want it to get to that capacity). There is built-in antimicrobial protection in this pail, and this means that you can safely store it right in the nursery without any fear of spoiling or contamination. This protective layer actually works to kill the germs from inside. The pail is even big enough to accommodate toddler-sized pull up pants.
Ergonomic foot pedal for hands-free disposal
Antimicrobial protection kills odor
Holds up to 38 diapers
One refill cartridge that holds up to 270 diapers
Can only use Diaper Genie refill bags
– Anthony Dawson
Best Overall Diaper Pails and Refill
Munchkin Step Diaper Pail and Toss Refill Bags
It's no wonder that the company responsible for keeping our teeth so clean is also the one that is keeping our nurseries free of odor and bacteria. The Arm & Hammer diaper pail, presented by Munchkin, is an innovative pail that really locks out the odor and kills bacteria right in the pail. In fact, every time you place a diaper in the pail, it self-seals, and then sprinkles baking soda on the new arrival within. This makes disposing of diapers a snap. The bags inside snap perfectly shut, so when it's time to place a new bag inside, all you have to do is carry it out to the trash. There's no tying or cutting, there's just trashing. The large capacity bags hold a lot of diapers at one time, and that means less trashing, and more play time with your child. The dispenser comes pre-filled, and will last a whole 90 days before you have to refill it; and when you do, it's simple.
Contains odor-eliminating baking soda
Patented self-sealing technology
Comes fully assembled with 1 refill bag
Just snap, seal, and toss the bag in the trash
– Anthony Dawson
Best Budget Diaper Pails and Refill
Munchkin Arm & Hammer Diaper Pail Snap
The Arm & Hammer Diaper Pail, presented by Munchkin, does a great job of keeping the odor of your baby's diapers at bay; in fact, it has won awards for how great a job it does. Because of the dual power of Arm & Hammer baking soda combined with the patented, self-sealing lid of the pail, you're killing the bacteria that causes odor while simultaneously locking them away. The ultra-hygienic design allows you to push the diaper through the seal using just one hand. This is a great feature because quite often, you have your baby in the other hand. The self-sealing system closes the bag when the lid is closed, which is just one extra layer of protection between the soiled diapers and the air surrounding it. Every time the lid is closed, baking soda is gently sprinkled inside to kill the odors. This is a wonderful and innovative touch that makes this pail stand out from the rest. Also, the sleek design is aesthetically pleasing, and generally fits comfortably into any home decor.
Comes with Arm & Hammer Pail and 10 bag refills
Contains odor-killing baking soda
Patented self-sealing technology
Only takes one hand to use
Snap, seal, and toss to dispose of bags
– Anthony Dawson