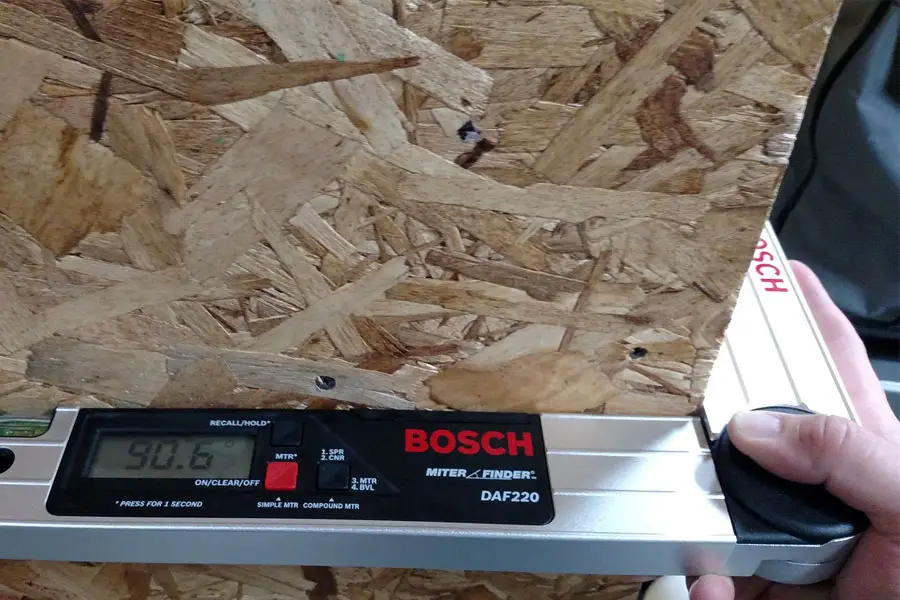 Digital Angle Finder Reviews
Digital angle finders are convenient little pieces of equipment that allow you to quickly and easily find the measurement of an angle without needing to use a protractor or any other manual tool. Though useful for a variety of applications, digital angle finders often incorporate magnets into the base that make them particularly useful for miter and bevel angles on various saw benches. While most digital angle finders are simple plastic boxes with digital displays, there are varieties that are multi-purpose tools that incorporate protractors, levels, and cut calculators into the design for a better-rounded means of measuring.
Most Popular Digital Angle Finder
Wixey
Perfect for miter saws and table saws, the Wixey WR300 Digital Angle Gauge has 0.1 degree accuracy and resolution, easy to use buttons, and a convenient display. The unit is a compact 4 x 5 x 1 inch cube that weighs about 5-ounces and has three magnets at the base for attachment to saw blades and cast iron table tops. Two simple buttons make it easy for anyone to operate; there's one to power the device on and off and one to zero in the settings. All you have to do is attach the gauge to the tabletop close to the blade or directly onto the blade until your desired cutting angle appears on the digital display. Whether cutting baseboards, flooring, crown molding, or anything else that requires exact and precise cuts, the Wixey WR300 Digital Angle Gauge is the tool for the job.
Magnetic base allows for attachment directly to saw blade or tabletop
User friendly functions with On/Off button and Zero button
0.1 degree accuracy, resolution, and repeatability
– Anthony Dawson
Best Overall Digital Angle Finder
Bosch GAM 220
The Bosch GAM 220 MF is four tools in one: angle finder, cut calculator, protractor, and level. This multipurpose design allows for a variety of trim and verification measurements on roofing, molding, countertop, and a wide range of other projects. The angle finder feature can measure the exact angle of an existing structure or project piece and record the measurements over a series of uses for later reference. The integrated protractor tool allows you to position your cut line, while the vertical and horizontal vial levels help you keep things balanced and level. Another feature is the cut calculator, capable of both simple and compound cuts, which help achieve a perfect fit for every measured cut. The calculator can determine exact bevel and miter angles and stores the measurements so you don't have to constantly reposition the tool. The miter cut feature has a wide input range of 0 to 220 degrees that's perfect for finding the exact angle needed for baseboards, molding, framing, and other projects where precision is needed.
Easy to read digital display on front and back of tool
Input angle measurement range of 0-220 degrees with accuracy of 0.1 degree
Includes 16-inch leg extension for measuring in hard to reach and confined areas
– Anthony Dawson
Best Budget Digital Angle Finder
AccuRemote
With a super large LCD display that can be flipped for viewing at any angle, the AccuRemote Digital Electronic Magnetic Angle Gauge is one of the most user-friendly units on the market. The device displays relative and absolute angles measured in degrees or tilt percentage with a 360 (4 x 90) degree range with accuracy of +/- 0.2 degrees. There are magnetics embedded on three sides of the unit for attaching directly to saw blades and table tops without obscuring view of the adjustable LCD display. Perfect for ensuring you have the right angle on saw blades and tables with barely visible graduations, the AccuRemote Digital Angle Gauge is compact, inexpensive, and easy to use for tradesmen and DIYers of all experience levels.
Reversible LCD display allows for easy viewing of measurements
Magnets on three sides allow for attachment to any steel surface
Accurate down to 0.2 degrees with a range up to 360 degrees
– Anthony Dawson
Digital Angle Finder Buying Guide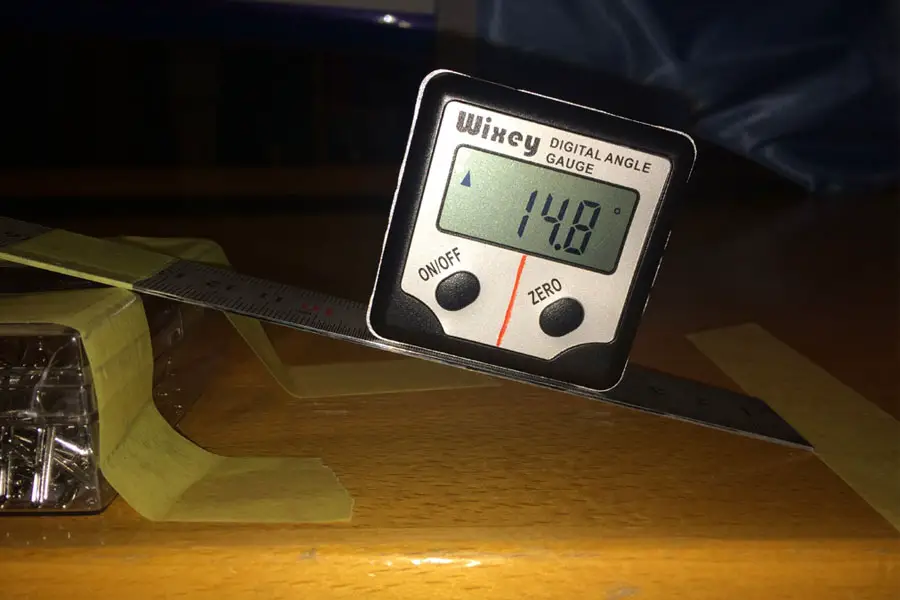 If you are searching for a digital angle finder, there are many things to consider. Unlike its manual counterpart, the digital angle finder will assist you through a digital screen. Once you lock in the angle that you desire, the angle finder will hold that position. This leads to a tremendously consistent and accurate angle. This is of great importance for the home improvement tasks that require an angle finder. If you are going to go to all the trouble of improving your home, it makes sense to do it right. For getting accurate reads and angles there is no better product on the market than the digital angle finder. There are a plethora of different angle finders to choose from. By comparing and contrasting, you will find the exact features that you need.
Specifications of Digital Angle Finders
There are plenty of things to consider when purchasing a digital angle finder. What is the price? Does the product contain a "lock-in" feature? How many times do you intend to use the tool? Such considerations are important when you are buying an expensive piece of equipment. Digital angle finders are comparably more expensive than manual ones. But you pay for what you get. There may also be a question of the necessity of buying a digital finder. If this is for a onetime project, it will likely be more cost effective to just rent the finder. Here are some of the key features of a good digital angle finder:
Extreme Accuracy
If you need a very specific angle measurement, it's undeniable best to go with a digital angle finder. These tools are accurate within a tenth of a degree. That is just something you are not going to find on a manual angle finder. If you do crown molding, or any other type of housework, then this device is a necessity. Depending on the job you are doing, this keen accuracy could be very important.
Wide Measurement Range
A digital angle finder can generally measure an angle between 0-220 degrees. This gives the tool great versatility when dealing with all kinds of projects. Measuring with a manual finder can be very difficult for the more extreme angles, but the digital finder handles them with ease. One of the main advantages of this tool is its versatility.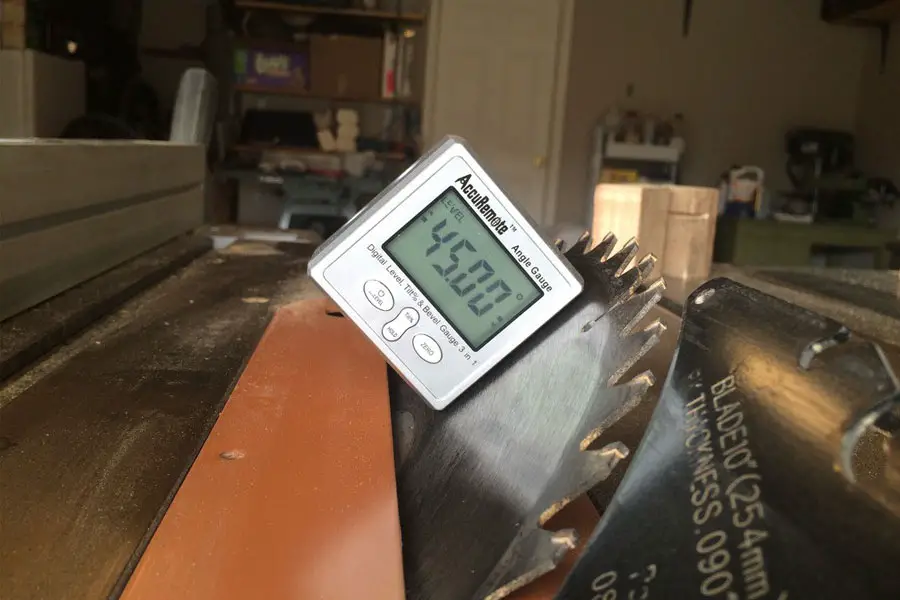 Easy to Read Digital Display
If you are going to go to the trouble of buying a digital angle finder, you want to be sure that it is easy to read. One of the biggest advantages of going digital is that you will easily be able to read where you measurements are. This will save you time and hassle, particularly if you are doing complex work. A good digital reader will take care of all of this for you.
Compound Cut Calculator
Nicer digital angle finders come with additional features that can lead you to appreciate your investment. One of these features is the cut calculator. The cut calculator will ensure that every piece you cut will fit in the exact manner that you want it to. There is nothing worse than making a cut only to find that you were off by half an inch. The cut calculator will do all of this for you, ensuring that your piece will fit every time. This is a feature that is only available on the high-end digital angle finders.
Level Included
It's important to see if a level is included in your angle finder. This is a convenient feature that will save you from trying to go back and forth between your level and your finder with every cut. It is also a good insurance policy in the case that you forget your own level. Regardless, it's a nice feature that is built into many digital angle finders. These are the kinds of things that make all the difference when you are working on the job. Any digital angle finder that fulfills more than one task is one less thing that you will need to carry.
Buying Options for Digital Angle Finders
Here are some of the most popular digital angle finders. These are divided primarily into two categories, amateur and professional. There is nothing wrong with buying the amateur if you are only going to use it a handful of times. If you are a contracting professional, you will want to take a look at the professional selection.
For simple projects, consider: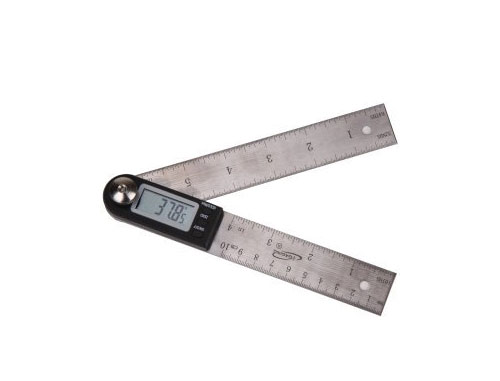 iGaging Digital Protractor with 7″ and 4″ Stainless Steel Bladed
This is in the lower price range of digital angle finders. You should be able to find this product for under $20. It comes in two lengths, helping you decide what is best for the project you are using it for. Furthermore, it only weight 4 ounces. This makes the entire tool very easy to carry and use.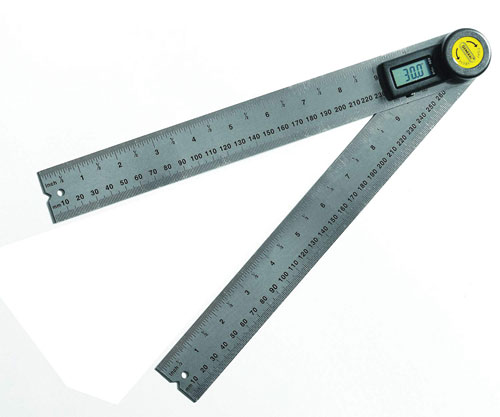 General Tools & Instruments 823 10-inch Digital Angle Finder Rule
For a slight uptick in price, you can afford this product. It is particularly good if you need to make longer cuts. This tool is longer than the iGaging Digital Protractor, and carries a little more weight. This tool is slightly sturdier, but does weigh nearly twice as much (still only 8 ounces). It's a good alternative option, depending on what you need.
Top Digital Angle Finders On the Market
If you want to go the professional route, you will want one of the top digital angle finders on the market. Contractors all around the world prefer Bosch for tasks like these.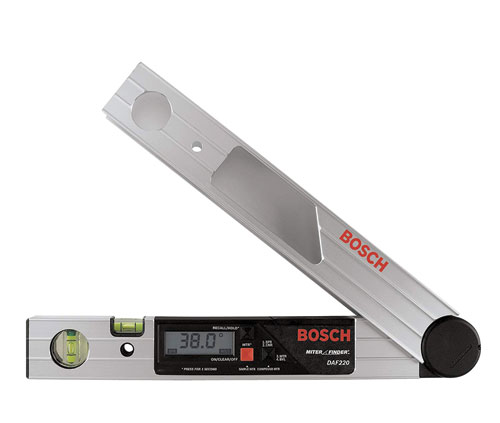 Bosch DAF220K Miter finder Digital Angle Finder with Leg Extension and Case
This digital angle finder is certainly one of the most fancy on the market. You are going to end up paying for it as well. This digital angle finder retails for $300, though you should be able to find it for less. Regardless, it has all the features that you could ever want from an angle finder. This includes a level, cut calculator, protractor, digital screen, and extreme precision. Without a doubt, this is one of the best products on the market.
This has been a brief overview of what a digital angle finder does, and some of the more popular tools in the marketplace. This should serve as a good starting point for your next digital angle finder purchase. It's hard to go wrong with any of these products. Regardless, make sure that any finder you buy has these features. Getting sharp angles is an important aspect of doing home improvement.