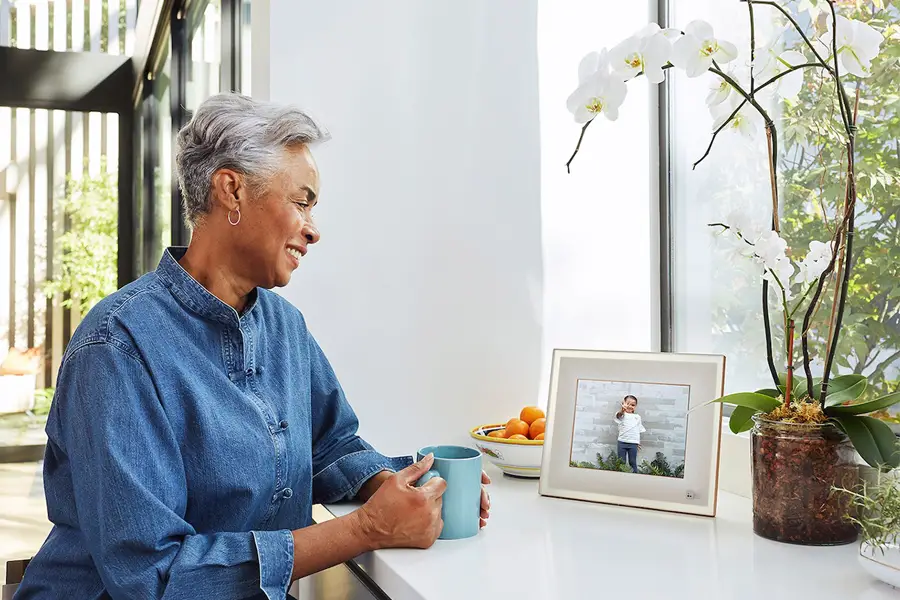 Digital Photo Frame Reviews
Instead of having one photo on your desk or around your home, why not exhibit more than one photograph with a digital photo frame. The digital photo frames will allow you to display a wide range of pictures on a moving picture frame. This allows you to show off your family and travel adventures to friends and co-workers using a small efficient space. Many digital photo frames will allow you to display hundreds of photographs due to their large memory. The following reviews provide the best digital photo frames on the market that will last and display your memories for years to come.
Most Popular Digital Photo Frame
NIX
The NIX Ultra-Thin 10 Inch Digital Photo Frame with Motion Sensor & 4GB USB Memory Drive will allow you to display your most loved photographs easily and conveniently. This digital photo frame is made to be customer friendly and instead of having to turn the photo frame on and off, this device has a motion sensor allowing this device to only be in use when people are around to see them. This digital photo frame has high resolution IPS 1024 x 768 pixels, which is 2x the number of pixels in standard phot frame models. The NIX Ultra-Thin 10 Inch Digital Photo Frame with Motion Sensor & 4GB USB Memory Drive has a 4:3 aspect ratio and will display high quality crisp, clear photographs. With the enormous thumb portable memory drive of 4GB you will be able to display many photographs to your friends and family. This device has SD and USB sockets that can display photos along with MPEG-4 video.
Motion sensor
High resolution 1024 x 768 pixels
2 times the pixels from standard digital frames
4:3 aspect ratio
4GB portable memory drive
– Anthony Dawson
Best Overall Digital Photo Frame
PIXAL
The 15 Inch Hi-Res Digital Photo Frame with 4GB Flash Memory is perfect for your home or as Advertising Signage. The X15B will allow you to display family portraits, memorable vacations, or advertise for your company or organization through the continuous flow of images or video. This digital photo frame provides a large 15 Inch LCD screen with an LED back lighting and 1024 x 768 pixels. With the high resolution images, this digital photo frame will provide you with large crisp, clear photographs that you can display throughout the day. This device is a great gift idea that includes full customer service once purchased including file and video compatibility to help use the device at its full potential. The 15 Inch Hi-Res Digital Photo Frame with 4GB Flash Memory has a large portable thumb drive memory that is 4GB in size with SD and USB sockets. The digital photo frame can mount on the wall allowing you display your photos or videos either on the desk or on a wall. This digital photo frame has an alarm clock and an auto on/off switch becoming more than one device. With the plug and play feature this device is simple to use and is suitable for commercial use allowing you to display video, photographs, and calendars.
Large 15 inch LCD screen
LED back lighting with 1024 x 768 pixels
High resolution
Large portable thumb drive memory
SD and USB sockets
– Anthony Dawson
Best Budget Digital Photo Frame
Micca
The Micca M1010z 10.1-Inch 1024×600 High Resolution Digital Photo Frame With Auto On/Off Timer, MP3 and Video Player will display your photographs with unbelievable clarity with over three times the screen detail of standard photo frames. As you use this digital photo frame you will quickly realize how rich and alive the colors will become while displaying your photos. The Micca M1010z 10.1-Inch 1024×600 High Resolution Digital Photo Frame is very simple to use without any setup or installation required. This digital photo frame is very lustrous and fashionable. This digital photo frame is less than an inch thick with level mounted buttons for easier operation. The Micca M1010z 10.1-Inch 1024×600 High Resolution Digital Photo Frame can display videos, photographs, and music. The device has built-in speakers with a headphone output jack allowing you to listen to music while you are enjoying the many photographs or videos on this device.
Extraordinary image quality
Auto on/off timer, MP3, and video player
No setup and installations required
Less than an inch thick
Can display music, photos, and videos
– Anthony Dawson
Digital Photo Frame Buying Guide
Digital photo frames can display a slide show of the pictures stored in their memory. Many people are opting for digital picture frames instead of traditional frames because they are versatile, programmable and decorative.
There are many types of digital picture frames in the market today. Many people get confused when it comes to buying digital picture frames. These devices come with different features to choose from and it's best to be familiar with them all. The kind of frame that you will choose will depend on your needs.
Why You Should Buy A Digital Photo Frame
Digital picture frames look attractive and can easily fit into your home décor. They offer an improved resolution and have great viewing angles. Also, you can update your images using your phone or computer.
Most frames are equipped with a motion sensor that ensures that the frame only switches on once somebody enters the room. Some advanced frames can play audio and video. Some models allow you to send your social media photos to the frame.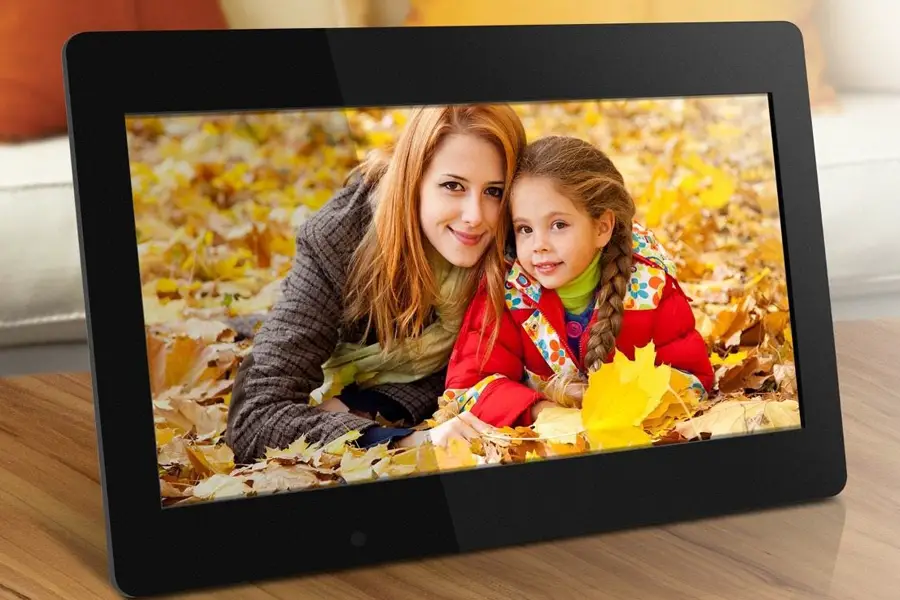 Factors To Consider When Purchasing Digital Photo Frames
1. Screen Size and Resolution
Digital frames have different screen sizes and resolutions. Depending on your needs and budget, you can buy a frame from 24 to 45 inches. Also, the photo resolution varies depending on the technology used. You should first decide the size of the frame that you want before you think about resolution.
You should note that the photo quality depends on the resolution of the screen. You should go for a frame that has a high-resolution power even if it's small. Size should not be your priority since a big screen with a low-resolution power will display blurred pictures.
2. Power and Connectivity
Some frames come with built-in rechargeable batteries that can run for hours before you recharge them. Others need you to plug them into a socket for them to run. Also, some frames may come with advanced features such as Wi-Fi to boost usability. Ensure that the digital frame is compatible with flash drives and memory cards. Go for digital frames that can support USB disks and memory cards.
3. Display
Digital picture frames have two display options: landscape or portrait mode. You should ensure that the mounting brackets of the frame are strong to hold it in place. Digital frames are costly, and you should ensure that they don't fall from the wall.
You can select the display mode depending on how the frame is hung on the wall. You can also adjust the brackets horizontally or vertically to improve visibility.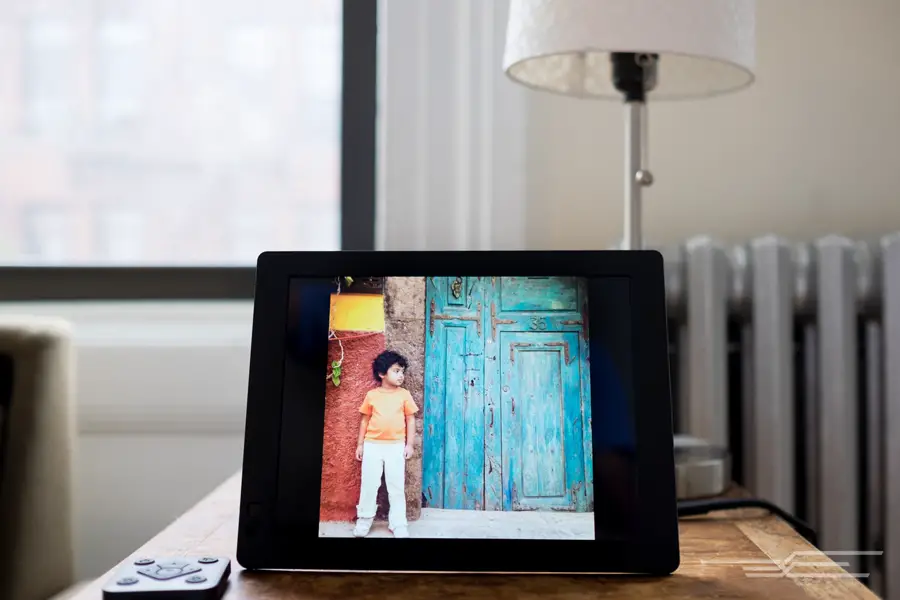 4. Storage
Modern photo frames come with internal memory. These types of frames are the best because they eliminate the need for external memory gadgets such as flash disks and memory cards. Photo frames storage capacities range from 8GB to 80GB.
You can expand the memory by using external devices. Note that some photos such as 4k images require a lot of space. You should be ready to invest in external memory devices if you don't want to buy frames that have internal storage.
5. Ease of Use
You will find that some of the frames are easy to use while others are complicated. Go for frames that are easy to use and can be operated through computers or phones. Some models come with a touch screen to enable the user to control them by touch. You should ensure that the frame has a friendly user interface that doesn't require professional skills to control.
6. Image Quality
The screen surface can affect the quality of the image. Digital photo frames can either have a glossy or matte display. Matte displays are the best since they can prevent reflections. Reflection and glare can lower the quality of the image. You will need an anti-glare coating if you buy frames with glossy displays. Matte displays offer stylish and arty photo presentations.
Conclusion
Digital picture frame manufacturers adopt innovations with time. However, there are some basic features that you should consider when shopping for a digital frame. The size, resolution, user interface and the storage capacity are essential factors that you should bear in mind before you make the final decision.
Also, you should do some research before you buy a frame. Ensure that the frame has positive online reviews and feedbacks. Lastly, you should consider the manufacturer of the frame. Ensure that you buy digital photo frames from reputable manufacturers.