Digital Thermometer Reviews
Digital thermometers let you check the temperature of yourself or others with an accurate reading to the nearest decimal. Thermometers are used by medical professionals as well as in the everyday household for checking ailments. This makes for taking temperatures when somebody is feeling unwell quick and easy. The fact that the thermometers are digital means that they may require batteries. When taking a temperature reading different devices are used in different ways. Some can go under the armpit or in any of the other places used to take a temperature, in a stick like form. Others are used by placing the thermometer inside the ear with a detachable nozzle for personal hygiene. The thermometers will often beep or make some form of electrical indication that the temperature has reached its limit and the reading is ready to be taken. Digital thermometers much simpler to use and much more effective than ordinary thermometers.
Most Popular Digital Thermometer
Exergen
This Exergen temporal artery thermometer is the method of choice in many hospitals. It allows parents to have a professionally piece of medical technology to use at home. This gives them piece of mind and comfort in knowing the product is used by professionals in medical environments. The thermometer takes 1000 readings per second then selects the most accurate one and submits that as the current reading. The reason for the temporal artery name is that it uses the constant blood flow via the carotid artery to take the accurate reading. This is the latest technology that has been proven to give the fastest and most accurate reading there is. To use the thermometer you simply stroke the forehead with the device and this naturally captures the emitted heat from the skin. Arterial heat balance computes the correct temperature. The safest, most convenient and comfortable thermometer reading you can get, that causes the least amount of invasion when being used.
Naturally emitted heat gets captured
LED lights in red along with a soft beep show correct scan has occurred
An arterial heat balance shows the correct temperature
Simple, safe and easy to use
– Anthony Dawson
Best Overall Digital Thermometer
Alihomy Ear Thermometer
The Alihomy Thermoscan ear thermometer has an exact temperature gauge that gives the closest reading ever in terms of temperature readings. The accuracy of this product matches that of a professional tool yet is simple and easy to function. The device allows the storage of 8 previous readings so a record can be kept for health and medical purposes. The flashing light and beeping sound is the indicator that the thermometer is working correctly and that you have performed the temperature reading in the right way. The filter that detects and shows the exact temperature is soft and flexible so does not cause any discomfort or irritation. This product does come with 21 extra lens filters and a cap for safety reasons. The Alihomy thermoscan ear thermometer does not have to be used just in the ear, but can also be used orally, rectally or even under the arm.
The accuracy is of a professional standard
Flashing light and beeping sound confirms the positioning of the thermometer
8 Readings can be stored in the memory function
The filter detector has a soft and flexible tip
Use by oral, rectal or underarm
– Anthony Dawson
Best Budget Digital Thermometer
iHealth Forehead Thermometer
The iHealth forehead thermometer is fast and gentle to use making it easy to use on infants and children. The product is colour coded to detect fever in a traffic light appearance; this shows the severity of the fever. Red indicates a high temperature, yellow if there is a slight fever and green if no fever is detected. The backlight shows the reading even in a dimly lit room. The temperature is given clearly in a matter of seconds with a large easy to read screen, anybody can see the readings with clarity. No probes are required for this thermometer, so temperatures can be taken hygienically and safely without any fuss. To use the iHealth forehead thermometer, you simply swipe the device gently across the forehead diagonally and the thermometer will respond instantly. Using this thermometer is a cost effective yet optimum performance for the whole family.
Has a large colour coded screen with added fever detection
Accuracy at a professional level by swiping the forehead
Measures temperature in seconds
No probe covers needed
Safe and hygienic method
– Anthony Dawson
Digital Thermometer Buying Guide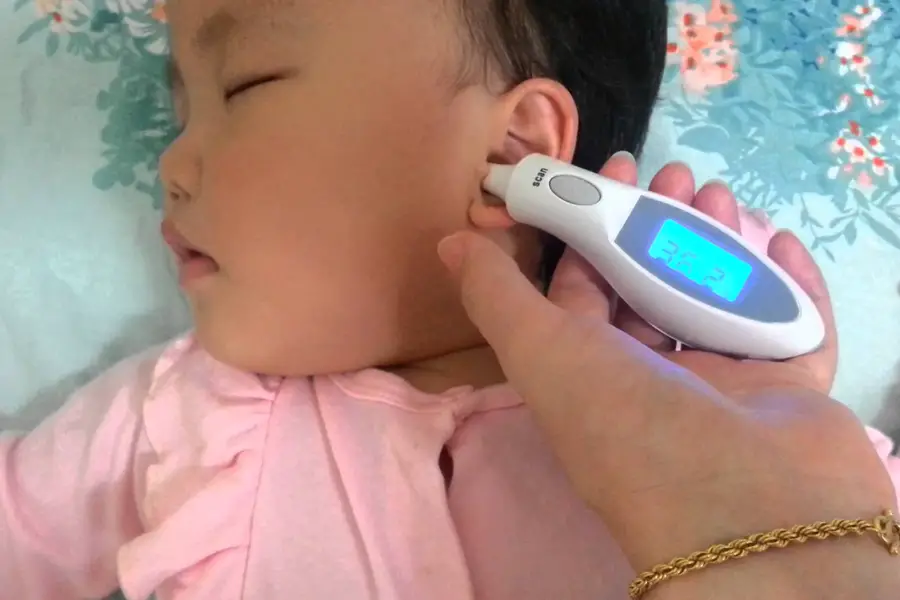 The old days of using mercury based thermometers encased in a fragile glass tube are gone. Although these types are still available they are becoming increasingly hard to find. Thanks to advances in technology, the new digital thermometers are quickly becoming the new standard in thermometers to measure temperature in both humans and in other settings.
Not all digital thermometers are created equally as some have a better track record for accuracy. This may leave you wondering which one you should purchase. The answer is that this depends upon what it will be used for and the degree of reliability is required. This guide has been created to provide you with the information that you will need to make an informed decision so you will more easily be able to identify and purchase the best possible digital thermometer for whatever your temperature measurement needs.
Understand How You Will Use Your Digital Thermometer
The intended use for the thermometer will determine which type, style and model of digital thermometer you should purchase. They are commonly used for measuring human internal body temperature, the temperature of meats and other foods when cooking and in industrial settings to assess the temperature of a wide variety of compounds and environments. Perhaps you are looking for an accurate digital thermometer for preparing meat or other food items that are sensitive to heat.
Laboratory and Industrial Considerations
Another aspect of determining the use is to establish the degree of reliability that you require as some thermometers are certified to be accurate with varying degrees of error margins when properly calibrated.
For laboratory settings this aspect can be critical as some testing conditions which are strictly regulated demand the use of fully tested, calibrated and certified thermometers which are re-tested at specific intervals and re-certified. These are the most expensive digital thermometers on the market because of the quality standards that they must adhere to. As you can see, not all digital thermometers are created equally. Determining the exact uses for the unit will help you to gain an understanding of precisely what you are looking for.
Types of Digital Thermometers
There are hundreds of different brand, types and models of digital thermometers. But the basic types are those which are intended for measuring the internal body temperature of humans, those which are used in cooking and those which are intended for commercial, scientific or industrial use. Each type of thermometer has hundreds of options for different features available. Some units for human measurements are intended for use under the tongue, under the armpit, on the forehead or rectal use. Some of the industrial grade units work through the use of a probe that is inserted into a solution and others are stand alone solid units.
What Features To Look For In A Digital Thermometer?
Digital thermometers come with a large selection of available features, depending upon the intended use. Accuracy is the most important feature in digital thermometers regardless of the reason for its use. This involves testing and calibration that ends with a certification that the thermometer is accurate.
Quick results are also available in some models while others can take up to a minute or longer to register and produce a reading. Slower working units make measuring the body temperature of children with short attention spans difficult. The models which feature a 10 second or less turn around are the best. Backlit display types are good choices for reading in the dark or poorly lit areas, while not an essential feature; some situations may call for it.
Built in fever alerts give an audible signal when the temperature exceeds the normal reading which can help in avoiding misreading of the display. Long battery life is another feature that can be important. Not all digital thermometers feature replaceable batteries, but those with either rechargeable batteries or replaceable ones are the better choices.
Memory storage is another feature which can be useful in tracking temperature variations over a set period of time. This is useful in some industrial settings as well as with humans who are experiencing health issues. Some thermometers have the capacity to store up to 30 readings.
Sanitation: When the thermometer will be used for multiple people or in multiple industrial situations, avoiding contamination can be accomplished by the use of a protective disposable covering prior to use.
Price comparisons are another factor to consider when purchasing a digital thermometer. It can pay to shop around, particularly if you must purchase one of the more expensive certified units that are designated for laboratory testing situations in an industrial setting. The same can be said for any type of thermometer regardless of the use that it is intended for. Some of the cheaper home use thermometers are constructed of flimsy materials with weak batteries that are not replaceable and amount to throw away units with a questionable accuracy certification. Are these really worth owning for any price? When it comes to digital thermometers, you generally get what you pay for and a moderately priced unit that falls somewhere in the middle is a safer bet than going with the least expensive.
Conclusion
Putting as much detail into outlining the intended use for the digital thermometer you require will help you to narrow your product search by a wide margin. It is true that there are an overwhelming number of units available. The number of features alone can be mind boggling, but once you've determined the nature and scope of the intended use, you have just eliminated a score of possibilities. List the features that will be used and the choices dwindle again. When you finally get your requirements mapped out, you will be down to choosing between different brands and the models which contain those specific features.
By reviewing the information provided in this product guide, you will understand how to significantly narrow your choices and more easily and quickly determine which digital thermometer will work best to meet the requirements for your intended purposes.