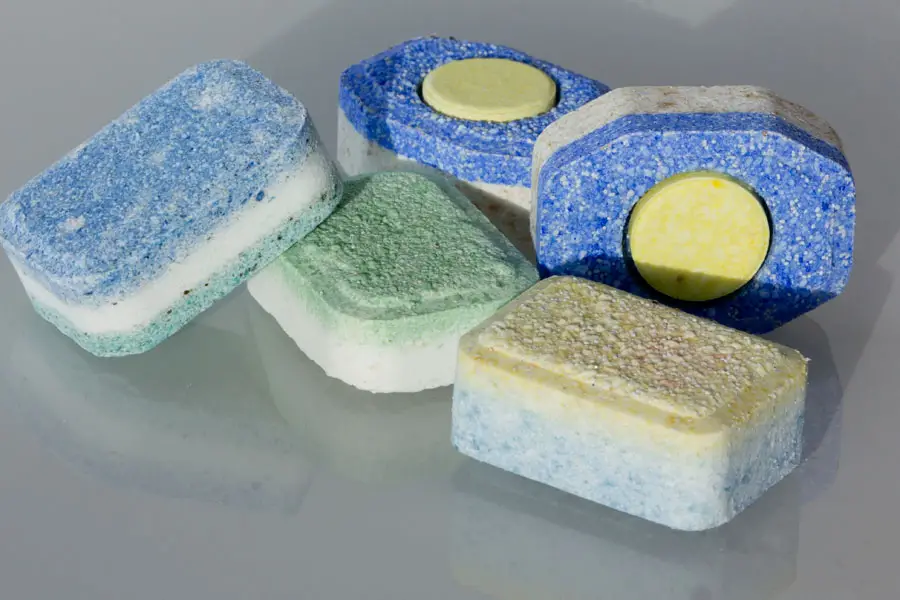 Dishwasher Detergent Reviews
Getting your glasses and cookware clean is not always an easy task especially if you are using the wrong detergent. Some detergents work a lot better than others. Here at BestConsumerReviews.com, we have reviewed the top dishwasher detergents and ranked them for your reviews.
Most Popular Dishwasher Detergent
Miele
Miele Collection Dishwasher Detergent Tabs come from the same company that makes top of the line dishwashers. Just as their dishwashers are excellent, so are their dishwasher tabs. They clean the dishes and the dishwasher without leaving any film on the door or bottom of the dishwasher. These Miele Collection Dishwasher Detergent Tabs come in a water soluble wrapper that quickly dissolves in water. Just add one tab to the detergent basket, close the lid and prepare to be amazed. Dishes come out sparkling clean. Coffee and tea stains will be gone. It will even remove stains that have set or been on your cups for a long time. There will be no hard water stains on glasses, which leave spots and residue. There will be no streaks on plates or spots on silverware. At the end of the dish cycle, after using Miele Collection Dishwasher Detergent Tabs you will be left with shiny sparkling clean dishes.
Convenient tabs with no pre measuring
Tabs dissolve quickly in water so you never touch the ingredients
Stain fighting power that eliminate stains and food residue
Rinse fighting power that eliminates streaks and spots
Cleans not only dishes but the dishwasher as well
– Anthony Dawson
Best Overall Dishwasher Detergent
Finish
The Finish Powerball Dishwasher Detergent pods are designed to make washing dishes easy and trouble free. The pods are mess free and you have no worries about spilled detergent or putting in the wrong amount. The pods have a presoaking power ball that softens tough stains and caked on foods to eliminate the pre rinsing cycle. The scrubbing power of the Finish Powerball Dishwasher Detergent removes coffee and tea stains from dishes yet gently scrubs glasses and silverware to leave them shining at the end of the cycle. The Finish Powerball Dishwasher Detergent also comes with the Jet Dry rinse agent. This adds an extra agent that prevents spots and water stains from remaining on glasses and silverware. Use the Finish Powerball Dishwasher Detergent pods and you will have cleaner dishes without pre washing or rewashing dishes that have stains or food residue. The pods are simply dropped into the detergent basket, close the lid and operate the dishwasher. Let the Finish Powerball Dishwasher Detergent do the rest.
Easy to use pods
Presoaking power ball that eliminates pre rinsing
Removed baked on food residue and coffee stains
Jet Dry rinse agent to eliminate spots
Individual packets with no premeasuring
– Anthony Dawson
Best Budget Dishwasher Detergent
Cascade
The Cascade ActionPacs Dishwasher Detergent is the newest in detergent pods to hit the market. These action packed pods are individually wrapped in material that quickly dissolves in water. This is for ease of use and eliminates the mess of powder and liquid dishwashing detergent. The Cascade ActionPacs Dishwasher detergent uses the grease fighting power of dawn with the power of cascade to give you virtually spotless dishes every time. There is also a hard water softener that breaks down hard water to prevent hard water spots found on glasses.
The other advantage of the Cascade ActionPacs Dishwasher Detergent is that is has a pre treater. There is never a need to pre rinse dishes anymore. Even tough, stuck on food can be tackled by the Cascade ActionPacs Dishwasher Detergent pods. The pretreating power of the ActionPacs dissolves food, fights stains on dishes, and gives everything a brilliant shine. One concentrated pouch is all that is needed. Just drop the pod into the detergent basket, close and wash. You will end up with dishes that shine every time.
Convenient pods for no mess dishwashing
Pre treater that eliminates pre rinsing
Concentrated pouch that dissolves in water
Grease fighting power of dawn
Scrubbing power of cascade
– Anthony Dawson
Dishwasher Detergent Buying Guide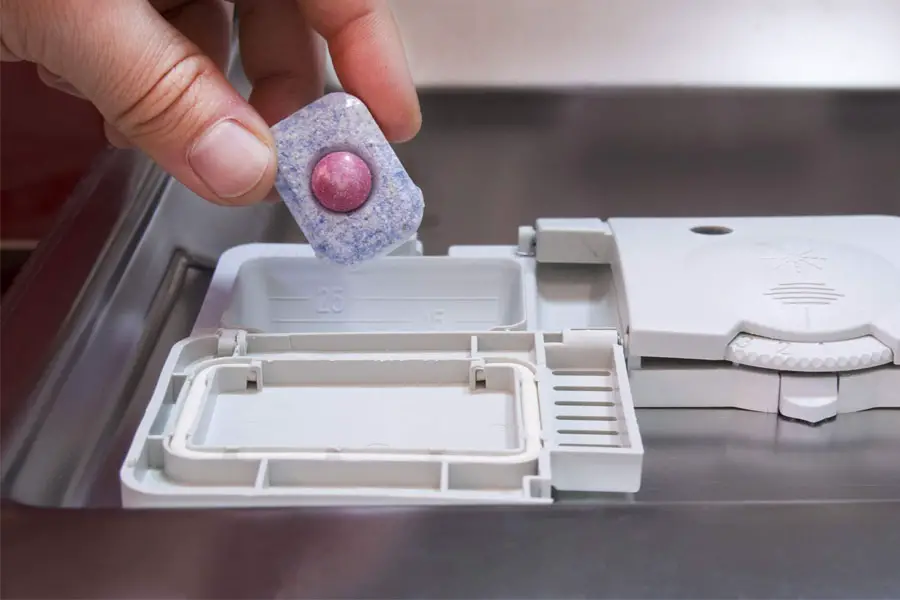 Choosing a dishwashing detergent if you plan to manually wash your dishes is pretty easy. There are even dishwashing liquid variants with moisturizers to keep the hands soft. However choosing a dishwasher detergent requires you to cooperate with your dishwasher. Read the following guidelines to help you choose the right dishwasher detergent.
What is it
A dishwasher detergent is specially formulated to go well with dishwashers. Dishwasher detergents work well with warm water. Dishwasher detergents produce lesser suds than ordinary liquid dish soaps. If you accidentally use ordinary dish soap in your dishwasher, then foams of suds will overflow out of the dishwasher machine. The difference between washing dishes manually and using dishwashers relies on the method of cleaning. Traditional dishwashing relies on soft sponges, abrasive sponges, hand pressure and dishwashing liquid strength to cut off grease and grime. Dishwashers rely on warm temperature, surfactants and time it takes to spray across all dishes. For easier cleaning that saves water and energy, scrape grease and residues of the glassware and dishware with a paper towel and prerinse them before tossing them to the dishwasher to be cleaned. A few times a year, run the dishwasher empty in a cycle using vinegar to get rid of any mineral build-up, especially in households using hard water.
Factor to Consider
Prices
Dishwasher detergents come in affordable and expensive variants. They are prirced from US$8 to US$25. Online stores like Amazon carry dishwasher detergents, too. More expensive dishwasher detergents are also available. These are biodegradable and plant based variants like he brands Sun and Earth and Ecotablets. The most preferred brands include Cascade "Cascade Complete All-in-1 ActionPacs" Packs and Finish Quantum (which may not work with hard water).
Dishwasher Detergent Ingredient
Trace amounts of chemicals in the dishwasher detergents can be passed to your body. Some automatic dishwasher detergents are formulated with dry chlorine. As a result, steam from the machine would contain chlorine and irritate the eyes and respiratory system. The health damage would accumulate if you would experience this every day. The ingredients of dishwasher detergents should be listed at the back. Don't skimp and settle for unknown brands with ingredients listed in a language you don't understand. Chances are the customer and aftersales service won't be available in your country.
Most detergents are formulated with fragrance. Since the individual ingredients used in fragrance cannot be disclosed and is protected by the law, there has been very little research about fragrance ingredients. What is known is that they belong to phthalates, a group of chemicals anticipated to be carcinogens. Just like any soap products, take care that the dishwasher detergent doesn't get into your eyes. They can also be irritating on the skin if you have sensitive skin. Additionally, they should never be ingested. In case of dishwasher detergent poisoning, call your local emergency hotline e.g. 911. Keep the packet for the list of ingredients so authorities could reverse the poisonous chemical's effect.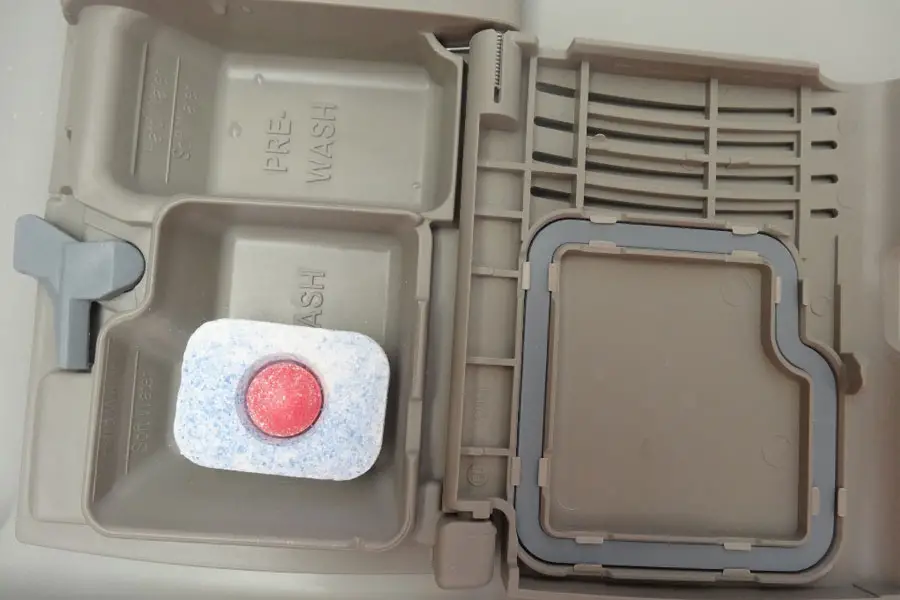 Phosphate in Dishwasher Detergents
Earlier dishwasher detergents are mixed with phosphate. Phosphate helped dishwasher detergents to cut through the grease more effectively. However phosphate is hard to separate from water and as a result, water that came once from dishwashers deprived lakes and rivers with oxygen and induced algae growth, threatening the lives of fishes and marine resources. Surfactants like phosphate are deadly to fishes by interfering with their ability to absorb oxygen through their gills. This reformulation of dishwasher detergents was introduced in 2010. Look for the label "phosphate-free" to be sure.
But there's a downside: cookware would be left with a thin white film especially if you use hard water on your dishwasher. Hard water contains a high mineral content, usually calcium and magnesium. This film would be visible on clear glass. This white film is absorbed by food and will accumulate in your body. To get rid of the white film on clean glassware and dishware, use cleaning kits with citric acid or just citric acid. Some users add citric acid together with the dishwasher detergent itself. Another safe alternative is using vinegar instead of citric acid. However silverware should be cleaned using citric acid or vinegar. Phosphate alternatives include zeolite (too abrasive), sodium carbonate, citrates, and sodium silicate. The ban against phosphate in dishwasher detergent only applies to 17 U.S. states, Canada, Japan and some countries in the E.U.
More and more consumers are beginning to be health conscious and prefer green brands over cheap dishwasher detergents. Look for EU Ecolabel in the packaging. Depending on your water supply, some green dishwasher detergents may gum up drains and hoses.
Your Water Supply
Dishwasher detergents also work in synergy with your tap water supply. If your dishwasher breaks down or gets clogged, have a licensed repairman to fix it. He will give you specific brands and tips about what the kinds of dishwasher detergents to avoid and to stick to. He could also assess the type of water your house runs with, either soft water or hard water and tell you how to avoid future dishwasher malfunctions.
Customer and Aftersales Service
Having a quality dishwasher detergent is a small investment on your health and on your beloved cookware. Retailers and online sellers won't accept returns of dishwasher detergents unless they are accidentally past their expiration date. The brand should provide a hotline or a website at the back. Customer service is important to determine which line will suit your water supply if you're confused.
Ratings and Review
Don't be surprised by the number of consumers who rate their purchases on sites like Ebay and Amazon. There are even blogs and even websites that are dedicated to reviewing and ranking different dishwashers and dishwasher detergent and also forums that you can access for free that contains threads of conversations as to which dishwasher detergent worked best for them. Some manufacturers of dishwasher recommend a certain dishwasher brand for their machines. If you have a brand in mind or if you're still in doubt, feel free to do a little research online. In some cases it would help to specify the brand and model of your dishwasher and querying what dishwasher detergents go well with your dishwasher.