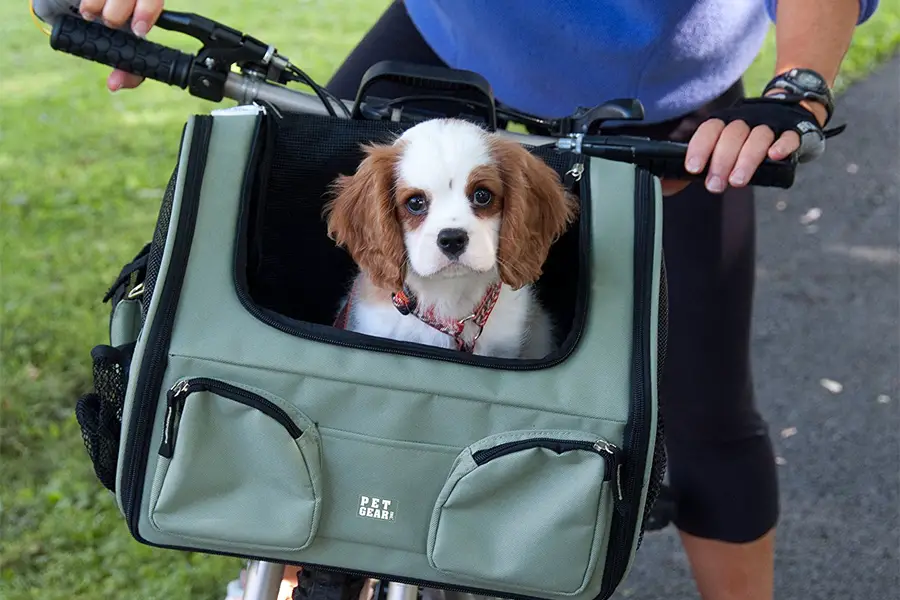 Dog Bicycle Carrier Reviews
You love your pet and want to bring them everywhere you go. However, when you exercise or go to certain locations it may be hard to bring your pet along. Now, with a dog bicycle carrier you can bring your dog with you as you ride your bike. Exercising on a bicycle helps you achieve better results and get the most out of your exercise. With a bicycle carrier you can now bring your dog, get them out of the house, and know that they are secure while riding with you. The following dog bicycle carriers are the best in the market and will keep your dog safe while you exercise.
Most Popular Dog Bicycle Carrier
Snoozer Sporty Bike Basket
The Snoozer Sporty Bike Basket Rear Bicycle Seat comes in black and will secure your dog while you venture into the outdoors. This dog bicycle carrier is meant for dogs that weigh no more than 24 pounds. The device can easily be placed onto your bicycle and works best when placed on the bicycle rack. If you explore the outdoors frequently, you know how dirty your dog can become. In order to keep the dog bicycle carrier clean the cover is easily removed and washable. On the rear of the bicycle carrier, there is a neon strip making the carrier easily visible even in low light conditions. To keep your dog more secure there is an adjustable strap. The carrier is 19 x 16 x 10 inches in size and is sure to provide your dog with security while enjoying the outdoors.
Adjustable strap to secure the dog
Meant for dogs small dogs weighing no more than 24 pounds
Attaches easily onto your bicycle
Neon strip for better visibility
19 x 16 x 10 inches in size
– Anthony Dawson
Best Overall Dog Bicycle Carrier
Pet Gear
The Pet Gear Bike Basket 3-in-1 Car Seat/Carrier/Bike Basket for Cats and Small Dogs is 16-Inches long and will allow you to carry your pet in your car or on your bike. No matter how you decide to travel you can have your pet close by. This dog bicycle carrier is offered in four different colors allowing you to choose a color that matches your personality or your bike. The Pet Gear Bike Basket is stylish and offers you three pockets, one of them is accessed by a zipper to protect important items from falling out like your keys or cellphone. There is a pad made of fleece providing your pet with a comfortable ride wherever you go. The floors and sides of the dog bicycle carrier are strong and made of 600 denier nylon. In order to place this device on your bike, there is a universal attachment that will work for most bicycles. The device is 16 x 12 x 11.5 inches allowing you to secure your pet snugly.
Offered in four different colors
Three pockets; one of them accessed by a zipper
Pad made out of fleece
Floors and sides of the carrier are strong
16 x 12 x 11.5 inches in size
– Anthony Dawson
Best Budget Dog Bicycle Carrier
Snoozer Sporty
The Pet Bicycle Basket will allow your dog to ride along with you on your many adventures. The dog bicycle carrier is offered in five different colors allowing you to choose a color that will match your bicycle. There is a pad within the carrier that can be removed. The pad is meant to make your dog more comfortable while enjoying their ride. There is also a chin support allowing your dog to lay their head down and take in the many things nature has to offer. Nature can be fickle and you never know when it might drizzle. In order to keep your dog dry this dog bicycle carrier offers a cover from the rain in a pocket on the side. There are several pockets on the dog carrier allowing you to keep your essentials nearby including your keys and cellphone. The Pet Bicycle Basket is made of a micro fiber material making the product very durable and comfortable. The material is also easy to clean. The dog bicycle carrier folds flat when it is not in use and can be stored easily.
Offered in five different colors
Removable Pad within the carrier
Chin support allowing your dog to lay their head down
Offers a cover from the rain stored in a side pocket
Made of micro fiber
– Anthony Dawson
Dog Bicycle Carrier Buying Guide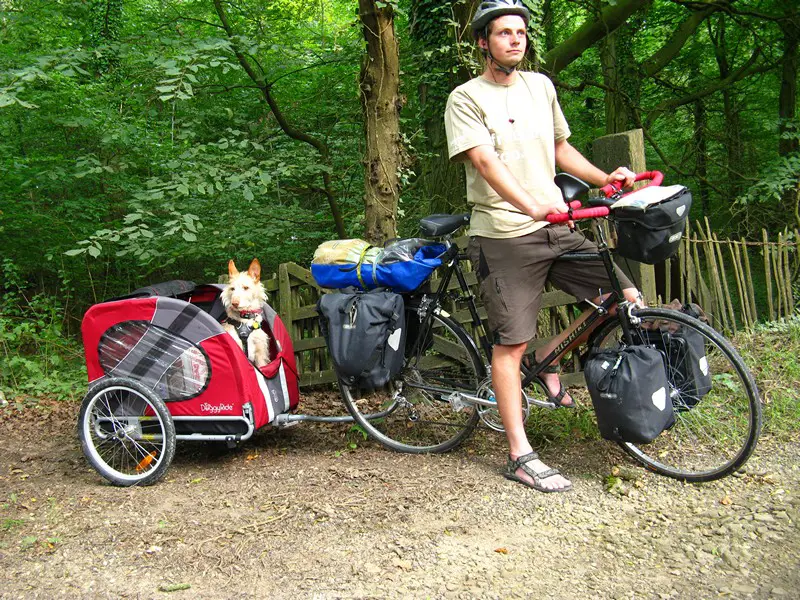 A dog bicycle carrier is a wonderful way to safely transport your furry pet with you anywhere you want to go. Using a carrier that is specifically designed for dogs will decrease the likelihood of potential injuries in comparison to walking with a leash.
Traditionally, leashes were the only way for your pet to travel off of the property. However, the downfall of using a leash is that it also takes a lot longer to travel places on foot. It should be noted that not all dogs will fit safely in a bicycle carrier. Larger breed canines will require a slightly different form of transportation (like a pet trailer). Below is a collection of tips to help you select the best dog bicycle carrier for the safest possible way to travel when outside of the home.
Selecting the Right Type of Carrier
There are a few different options to travel safely with your pet. The first is a basket. This is placed on the front of the bike. Small dogs can fit safely inside of it and you won't have to worry about them falling out. They are relatively simple to install and aren't a huge investment. The polyester material is fairly common and you can ride with it in all weather conditions. Some of the straps used to secure it are made with padding while others are more similar to the strap of a seatbelt in a car.
What you want to look for mainly is the weight capacity. Some baskets only allow up to ten pounds in weight while larger baskets can accommodate dogs up to twenty pounds. Placing a dog inside of a basket that can't hold the weight will risk injury to your pet. Be sure to check all of the guidelines of the product before purchasing it.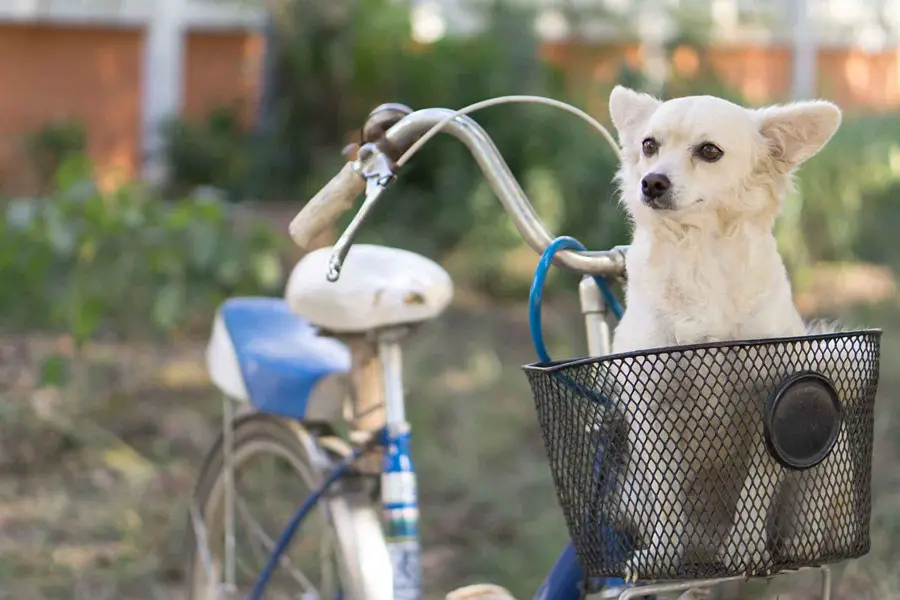 Choosing Material Types
There are a variety of materials to choose from depending on the basket style but mainly it boils down to personal preference and budget. Types available include:
Polyester
Canvas
Nylon
Wicker
Willow
Microfiber
Polyester and Canvas are more affordable but often don't come with secure tops to help protect your dog from leaping out. Some baskets are made of wicker and have a secure wire top to enforce more security without sacrificing the quality of the ride.
If luxury is desired, microfiber just might be the way to go because it is comfortably padded. Willow is cute and sturdy and certain ones are lined with soft fabric. Some baskets are even "escape-proof" but not all of them. Be sure to read the fine print before making your final decision.
Other Considerations
Here are a handful of pointers to mull over before making any final decisions on anything:
Length – Don't select a basket that is just the right width for your pet sitting down. There should be enough room for him or her to lie down comfortably.
Introduce it first – Dogs need time to adjust to new items and might be frightened of it at first, especially if it is their first time riding with you on a bicycle.
Weight – No this isn't just about the weight the basket can hold, but the heavier the basket the more difficult it will be to turn the bicycle. Be sure you can safely maneuver without falling off the bike. Falling can injure both you and your pet.
Escape Proof – If your pet has a habit of chasing every squirrel it sees you may want to invest in an escape-proof basket. The secure top allows for plenty of fresh air while making sure Fido stays right where he needs to be – with you.
Physical retail locations may have a limited supply of bike carriers. Depending on the size of the pet section and whether or not you are shopping at a pet store or online, be sure to check a variety of stores and options. Depending on the frequency used and the weather conditions, you might find nylon is better. Or if you plan to make trips daily you may wish to invest in a wooden carrier with plush padding. Either way, you and your pet stay both safe and stylish in rain or shine.