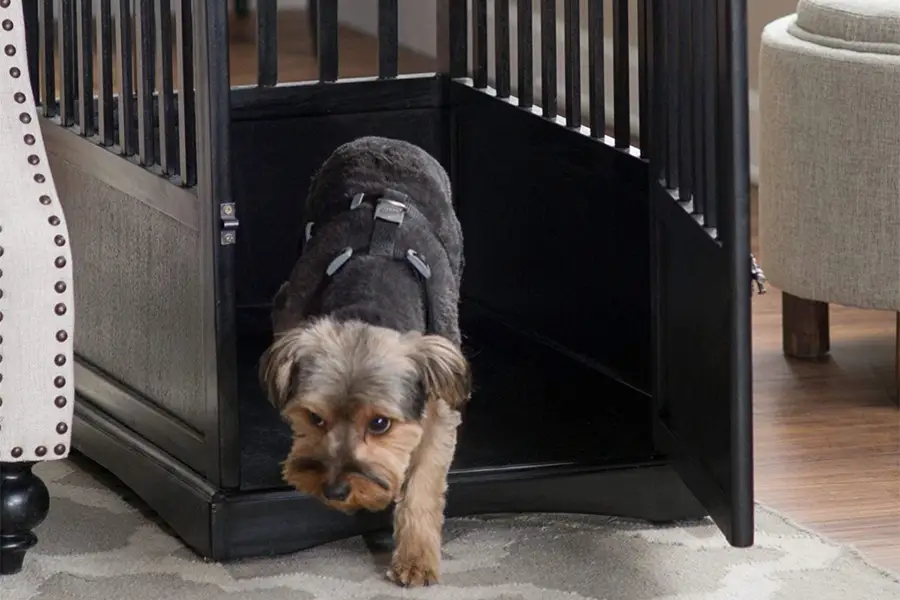 Dog Crates and Kennel Reviews
Dog crates can be used for many different reasons. While you are out of the house you may keep your dog secure in a crate so the dog will not have any accidents or damage any of your belongings. Crates are used as an effective training tool for dogs as well. They are also used to keep your dog secure during travel. Dog crates are a great thing to have if you own a dog. The following dog crates will keep your dog secure while allowing your dog to feel comfortable. They are good quality crates that do not have parts the dog can chew and are secure, so the dog will not get out.
Most Popular Dog Crates and Kennel
MidWest Homes for Pets-Double-Door Folding Metal
The Midwest Life Stages Double-Door Folding Metal Dog Crate is a superb dog crate for many different sized dogs. When you purchase this dog crate there are up to six different sizes that you can choose from allowing your dog to be secure while comfortable. This dog crate is amazingly useful and provides you with a changeable separate panel for your convenience. There are double doors allowing you to be able to open the crate from the side or the front. To secure your dog in the crate there is a side bolt latch. To prevent potential accidents there are curved edges making it so if you bump into the crate you will not be injured. The curved edges on the crate also allow you to have the crate around smaller children and when your dog is not in the crate they can bump against the crate without getting hurt. The Midwest Life Stages Double-Door Folding Metal Dog Crate can be put up and taken down easily. For your benefit, the dog crate folds down making it easily to transport. For transportation purposes there are two handles made out of plastic making it easier for you to carry. The dog crate has a black coat finish. An ABS plastic pan comes along with the dog crate so your dog is comfortable and not sitting on the wire cage.
Up to six different sizes
Changeable separate panel
Double doors; openings from the side or front
Curved edges to prevent accidents
Folds down easily making transporting the product easier
– Anthony Dawson
Best Overall Dog Crates and Kennel
MidWest Homes for Pets-Single-Door Folding Metal
The Midwest Life Stages Single-Door Folding Metal Dog Crate is offered in five different sizes providing you with a crate that will be perfect for your dog's size and weight. The dog crate has a divider panel to make your dog more comfortable while they are in the crate. When you purchase this dog crate a merged plastic pan is included so your dog does not have to sit on the cage wire and be uncomfortable. The dog crate has a black finish. The dog crate has a mesh for additional comfort and is 1 ½ by 5 ½ inches in size. The crate has one door with an adjustable divider panel. There is a side latch that is certain to keep your dog safe and secure. For you, your family and friends, and your dog's security this dog crate has curved edges to prevent accidents. For your convenience the dog crate can be put up or taken down easily and folds flat when not in use. For your benefit, there are two handles made of plastic making the dog crate easier to carry.The Midwest Life Stages Single-Door Folding Metal Dog Crate has a one year limited warranty.
Five different size options
Divider panel making your dog more comfortable
Plastic pan put in place for comfort
Mesh for additional comfort and is 1 ½ by 5 ½ inches
Curved edges to prevent accidents
– Anthony Dawson
Best Budget Dog Crates and Kennel
Petnation
The Firstrax Port-A-Crate E2 Indoor/Outdoor Pet Home is not only a dog crate but can become your dog's home inside or outside. Dogs are your babies and deserve to have a nice place to lay their head when they are ready to relax. This dog crate can become your dog's home and they will certainly enjoy the comfort, security, and roominess it will provide them. The dog crate is light and can easily be carried. Within seconds you can put the crate up and introduce your dog to their new home. It is offered in six different sizes allowing you to find a dog crate that your dog will be comfortable in. The Firstrax Port-A-Crate E2 Indoor/Outdoor Pet Home is meant for dogs that are 70 pounds and less. The crate has fabric sections that are tightly woven and are bounded with a frame made out of steel. The frame is very strong and is certain to be durable.
Can easily become your dog's home
Light in weight and easy to carry
Offered in six different sizes
Meant for dogs that weigh no more than 70 pounds
Frame is made out of steel
– Anthony Dawson
Dog Crates and Kennel Buying Guide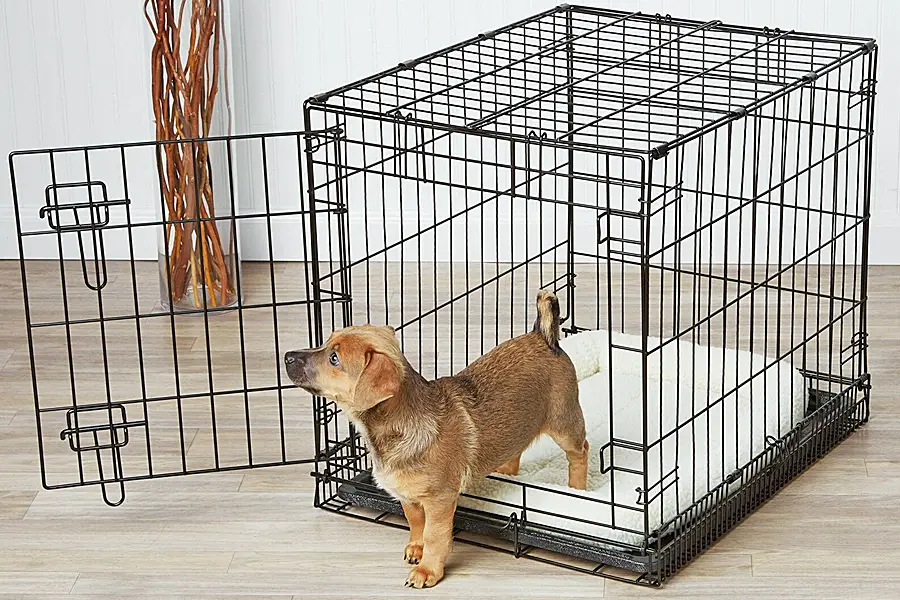 Whether it's for a new puppy or a new addition to the furry family, having proper dog crates or a kennel can be a huge asset to training your new little friend. There are many benefits to crate training. It provides a safe area for your puppy to sleep or enter at will when he or she is frightened or feeling a little stressed. Crates also allow you to safeguard your furniture or other valuables until the chewing stage is over. More importantly, it helps lessen the anxiety your puppy experiences when he or she is left alone in the home.
Dog Kennels Vs. Crates
Dog kennels are generally made of plastic and can be used for training or travel. Most have handles on the top for easy transportation. They can easily be placed beside a bed at night or stored securely in the back of a vehicle. These are more common for smaller breeds of dogs and usually run cheaper in price. This is mainly due to the quality and quantity of the materials.
Crates are more commonly associated with training larger breed dogs. They usually are composed of metal, either silver or black, and can be folded for storage while not in use. However, it is easy to pinch fingers if not paying attention to the latch on the door as the dogs come in and out of the crate. Also, it should be noted that the larger crates usually come with a plastic tray on the bottom for easy cleaning. Plastic can sometimes become fractured and broken by larger breed dogs if they are left in their crates too long. Metal trays are available for purchase but at a steeper price if you ever need to replace the plastic tray with something more durable.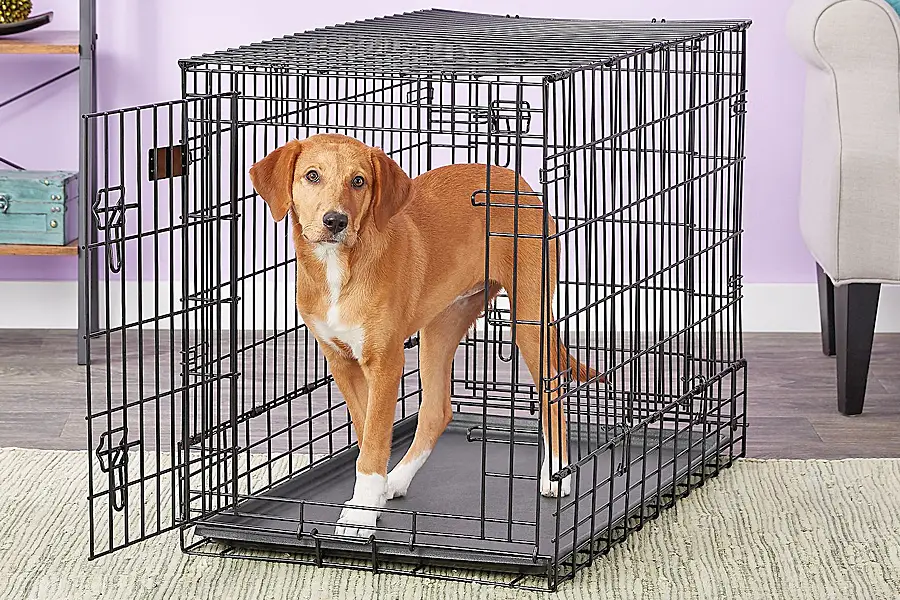 Choose the Right Type
While you may be apt to want to purchase a crate right away for your puppy, don't rush into it because you may select one that isn't the best fit for your lifestyle. Pet stores have a limited number of options. It is more common to see mainly kennels and crates made of plastic or steel but there are actually four different types of crates.
• Wire
These types of crates have the best storage capabilities as they can be collapsed down when not in use. They also offer the best airflow.
• Plastic
Ideal for travel because they have handles and can be carried.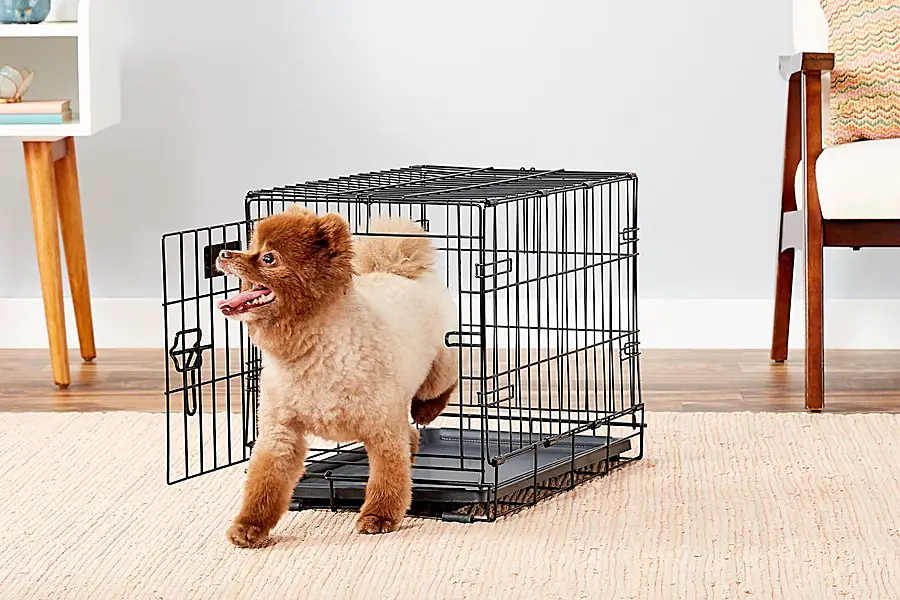 • Soft-sided
These crate types work the best with puppies or small breed dogs. They are composed of fabric and can be put away easily when necessary.
• Wooden
While not usually the first choice, don't dismiss this crate type. They work as well as the steel but offer more style and warmth to the home than a steel crate. However, this may not be the best choice if your dog is a frequent chewer or has destructive tendencies.
• Pick the Proper Size
If choosing a kennel or crate for a small puppy never choose a large crate that he or she can "grow into." Choose a size that allows your puppy enough space to lie down, sit, and turn around but not enough to have an accident and lie in another area near it. Sometimes having too much extra space can become a problem when housebreaking a young dog.
Conclusion
No matter what type of crate or kennel you choose, be sure not to leave your new friend in him or her alone in it for too long. Usually three or four hours is long enough for both puppy and adult dog. Of course, there are a few exceptions for this such as needing to be away for work if you live alone, but overall a crate or kennel can be a wonderful asset to training your new companion.
It may also be that you may want to invest in multiple different crates or kennels. Keeping one designed for travel is good if planning to go on vacation in the future, whereas having one that is more durable might be more affective in the home for year-round use.
Also, it is never a good idea to use crates as a place to punish your pet. Doing this will result in a dog that is frightened to enter the crate or kennel. Helping your puppy or new older dog to his or her new safe place should be gradually increased over a period of time. Once he or she becomes familiar with it and understands that it is a positive experience, you will be just as pleased too.