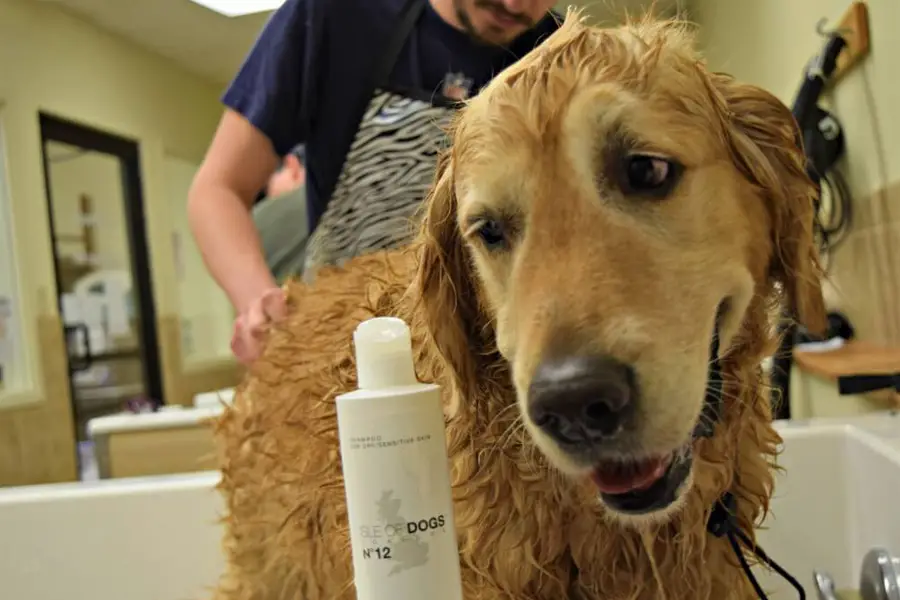 Dog Fragrance Reviews
We all love our dogs, but lets face it, sometimes they just stink. That first day after a good bath is our favorite time to spend with our furry friends, but the fresh effects don't last for long. Dog fragrances have gained popularity recently, because they keep the dog smelling nice while simultaneously dissipating bad odors. If you know you have company coming over, it's not a bad idea to give your dog a spritz to be more welcoming to your guests. What's most important when deciding upon a cologne are the ingredients. You don't want to choose something that is going to be hard on your dog's skin and nose. Choose a scent that you particularly enjoy, as it stands to reason that the dog is not going to complain. Look for a fragrance that is free from alcohol as this is one of the top irritants of your dog's skin.
Most Popular Dog Fragrance
Earthbath
Who wouldn't want a dog that smells like vanilla and almonds? Earthbath created this lovely Vanilla Almond Dog Spray to make your pooch smell like heaven, even when he stinks like hell. Not only does the spray provide odor relief, but it also conditions the coat and makes it shiny. Some people call perfume a "French shower" because it's what the French use when they don't have time for the bath. Well, this product is a "doggy shower" because it's perfect when you don't have time to bathe your pet and you need them to smell better in this instant. There are other wonderful ingredients in this that soothe the skin like colloidal oatmeal, aloe vera, Vitamin E, and natural oils. It's also perfectly PH balanced and soap-free, so you can be guaranteed that it's non-irritating. The packaging is 100% biodegradable, so the product is easy on the environment, as well as on your precious pooch.
Natural odor relief
Conditions the skin and detangles
Luscious almond vanilla scent
Great for between-baths
Contains soothing oatmeal, aloe vera, and vitamin E
– Anthony Dawson
Best Overall Dog Fragrance
Isle of Dogs
Isle of Dogs cleverly named "Coature" spritz is a delightful Evening Primrose Oil mist that smells divine and makes the dog's coat shiny and luxurious. Not only that, but the oil is a natural detangler so it's easier to brush your dog and keep their coat in order. Evening primrose is richly conditioning and moisturizing, and it is combined here with natural extracts that soothe the skin and prevent flaking. The scent is a subtle Maldives Villa fragrance that dogs and owners alike find pleasing. The handy spray bottle makes it easy to give the dog a spritz whenever they need it, and the product is going to last you a long time. It may seem funny to have a fragrance for your dog, but it really is a lifesaver, and a popular product for those who compete in dog shows. Just because your dog is a little stinky once in a while doesn't mean that your household has to suffer!
Evening primrose and herbal extracts effectively reduce flaking and soothe
Lovely Maldives Villa fragrance eliminates odor
Great for sensitive skin
Adds luster and shine to the coat
– Anthony Dawson
Best Budget Dog Fragrance
Crazy Dog
It's one thing to have a Crazy Dog, and it's quite another to have a stinky dog. Hopefully you do not have both, but if you do have a stinky one, then Crazy Dog Baby Powder Grooming Spray can make a huge difference by not just covering the odor but also eliminating it. The easy to use spray bottle makes it convenient to give your dog a quick spritz and eliminate any offensive smells. This fresh, clean baby powder scent is not like the other heavy perfumes that are on the market. It's a subtle smell that everybody finds pleasing and not intrusive. It also conditions the coat at the same time, so it's easier to brush your dog. This is a great choice for dogs that have sensitive skin and noses. It's non-irritating and lasts for quite a while. All in all, this is a favorite among dog owners and a great addition to your pet grooming arsenal.
Lovely baby powder smell
Easy to use spray bottle
Conditions the coat and leaves it shiny
The fine fragrance lasts for days
Contains moisturizing panthenol
– Anthony Dawson
Dog Fragrance Buying Guide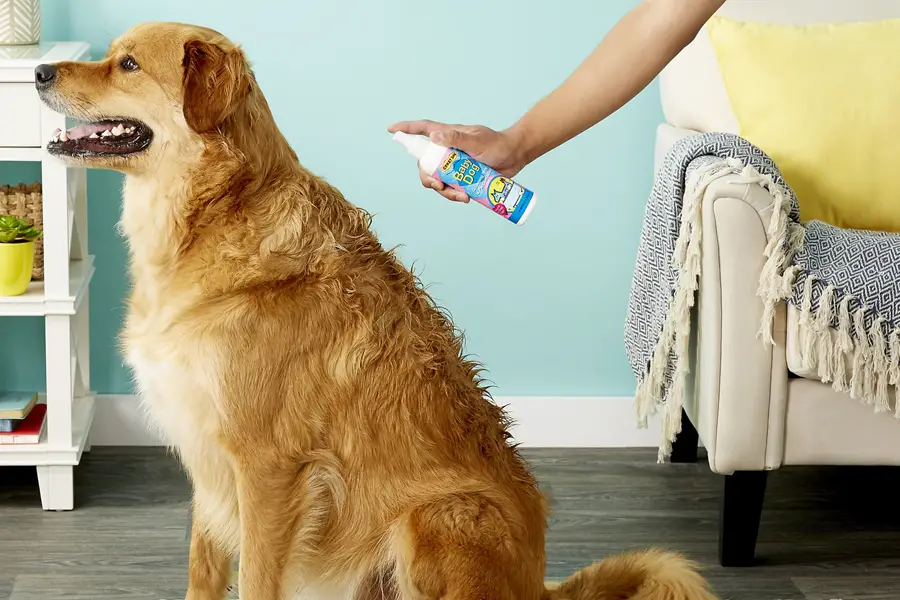 Dog fragrance prevents your dog from developing bad odors. As we all know, it can be hard to pet or play with a stinking dog! Your dog will start to smell if you don't bathe him regularly. Sometimes we are too busy to bathe our dogs regularly. The best way to prevent our dogs from stinking is by using a dog fragrance. Dog perfumes work like human perfumes.
Reasons Why You Should Use Dog Fragrances
Dog fragrances are beneficial to you and your dog. The following are some of the advantages of using dog fragrances.
1. Decent Smell
Dogs experience bad hair days, just like human beings. Unfortunately, dogs don't care about their physical appearance. It's our job to ensure that our dogs look and smell decent since they are part of our family. Since they are close to us, we should ensure that they don't stink. Using a dog fragrance is one of the more natural ways of pampering your cute little friend.
2. Keeps Your Dog Fresh
Sometimes, you might be busy such that you don't have time to bath your dog. Skipping two days without bathing your dog may result in an unpleasant smell. Fortunately, dog fragrances are designed to mask bad odors and keep your dog smelling good until the next bath. They give you time to fix in the next bathe time into your busy schedule.
3. Multi-Purpose
Dog fragrances can do much more than giving your dog a refreshing smell. Some fragrances have excellent moisturizing properties and can prevent matting. Others have glitters that can give your dog a sparkling appearance.
4. Allows You to Spend More Time Together
You want to play and pet a dog that is clean and smells fresh. You can put him on your lap or couch without worries. This enables you to get closer with your dog and spend adequate time with him.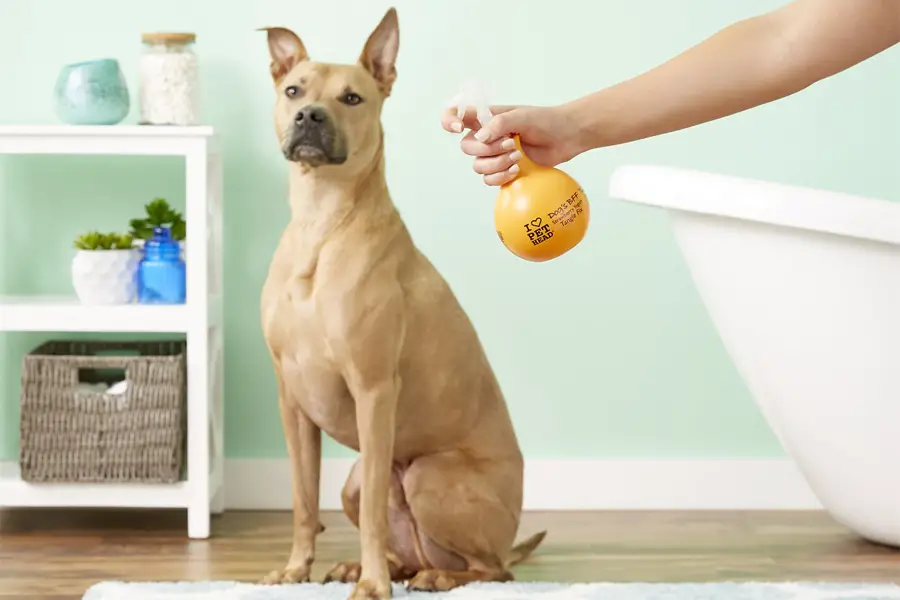 Things to Consider When Buying Dog Fragrances
1. Scent
This is the first factor that you should consider when shopping for a dog fragrance. You should buy a fragrance that has a decent smell. Note that some cheap fragrances may worsen the smell because they can't blend with sweat. Also, ensure that the fragrance is not overpowering. People tend to dislike overpowering scents. Therefore, you should go for a perfume that has a sweet scent and doesn't make people avoid your dog.
2. Long-lasting
You should ensure that the scent of your dog's perfume lasts for a long time. Some fragrances smell sweet but disappear in a short time. Others may take several days to disappear. You should go for long-lasting perfumes if you don't bathe your dog regularly. They will prevent bad odors until the next bath. Also, lasting fragrances save your money because you don't need to reapply them more often. You won't worry about buying a new fragrance every time.
3. Allergies
The health of your dog should be a priority when purchasing a fragrance. Some perfumes may have a refreshing smell but cause allergies. They may irritate your dog's coat or cause itching and sneezing.
Ensure that the fragrance is safe for your dog and doesn't hurt your dog's health. Buy fragrances that are comfortable for your dog and don't cause allergies. Ensure that the fragrance can be applied to the coat of your dog without side effects.
4. Insects
Some scents can attract insects such as flies, bees, and chiggers to your dog. These insects may sting or bring nasty diseases to your dog. Therefore, you should choose neutral fragrances, especially if you live in areas that have many flying insects. Make sure that you buy perfumes that can repel insects such as mosquitoes, chiggers, and flies. A fragrance that repels insects allows your dog to play outside without attracting insects.
Conclusion
Dog fragrances are necessary for every dog owner. However, you should be very knowledgeable when buying dog fragrances. Ensure that you check if your dog has skin problems before you apply the fragrance. The fragrance may cause irritation on problematic coats. Also, you should never substitute a wet bath with a fragrance. Fragrances should only be used to remove bad odors. Bathe your dog after two days.