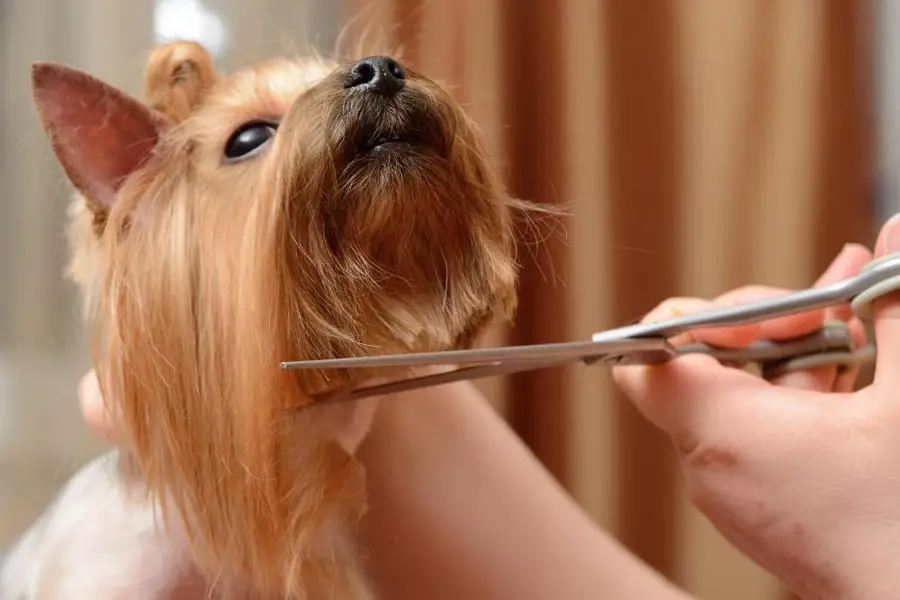 Dog Grooming Scissor Reviews
If you thought you could buy a pair of scissors from your local Office Depot to cut your dog's hair, you're sadly mistaken. Another fallacy is that using human hair shears will get the job done. You need special scissors to cut your dog's hair, and they need to have a precise sharpness to cut through the most matted tangles. The first option to look at is a curved shear, because it works best for cutting thick and curly hair that is difficult to run a brush through. This is particularly effective for those areas along the dog's back and neck. For those hard to reach places, like between the legs and under the belly, the curved shears do a quick and efficient job cleaning everything up nicely. The next style you might like to have in your arsenal is a good thinning shear, which gently thins the coat without cutting all the hair off. Once you've tackled the biggest knots, trimming shears are great for fine-tuning your work. They work well on the face, such as around the eyes and nose.
Most Popular Dog Grooming Scissor
Alfie
This 10 piece grooming kit from Alfie Pet by Petoga Couture gives you everything you need to keep your dog's hair under control. Whether you're looking for a system for touch-ups between visits to the groomer, or you want to save money and not get a professional cut altogether, this kit really gets the job done. It comes complete with a curved shear, stainless steel cutting shear, thinning shear, round-tip trimming scissor, as well as razor, comb, 2 hair clips, trimming lubricant, cleansing cloth, and handsome leather carrying case. With all of that, you're pretty much equipped like a professional, and saving yourself a lot of money every month. All of these shears are razor sharp and work on even the coarsest coats and thick hair. The razor grooming trimmer is a fantastic addition to this kit, and allows you to quickly groom your dog in minutes by running the trimmer through their hair.
Complete 10 piece kits provides everything you need for a professional trim
Leather carrying case makes it easy to store and take on the go
Razor sharp blades that last for years
Comes with 2 Alfie ziplock storage bags
– Anthony Dawson
Best Overall Dog Grooming Scissor
Conair
Round tip shears are the perfect solution for trimming your dog's more hard to reach places, and this model from Conair PRO Dog works with professional quality and precision. The rounded tip adds a whole new level of safety when trimming your dog. They're lightweight and comfortable to hold in your hand, thanks to the soft-grip finger holes and unique finger rests. Once you've got all the larger knots and mats out of your pet's hair, these shears perform the final touches that make your sweet pooch look like a million bucks. Please note that you should only use these shears after the dog is fully dry and free from large tangles. They are a perfect 6 inches in length, and come with a blunted tip so that they're always safe to use on your dog, allowing you more peace of mind if there are other little creatures in your house; like small children.
Coated blades feature Ever Guard technology for a non-stick and smooth surface
Comfortable and lightweight to hold
Great for facial trimming and hard-to-reach, sensitive places
Blunted tip for added safety
6″ in length
– Anthony Dawson
Best Budget Dog Grooming Scissor
Scaredy Cut
These cute pink scissors from SCAREDY CUT are small and lightweight, and provide ball-tipped safety for the most comfortable pet grooming. Their small size makes them ideal for trimming hard-to-reach places, as well as sensitive areas like the face and groin. When you're looking to trim with detail in areas like the paw or around the nose, these precision scissors really get the job done. There is a wonderful 100% satisfaction guarantee that lasts for the first 30 days after your purchase, so there's really no reason not to give it a try. TINY TRIM works great in conjunction with all the other shears found in the Scaredy Cut kit, and it's a favorite among professional groomers. The paddle handle contributes to a silent trimming experience, which helps to put the dog at ease. Some cheap scissors don't allow for tension adjustment, but this fine pair comes fully adjustable for when the shears become a little loose.
Micro-serrated blade allows fantastic grip while trimming
Works best on the face and hard-to-reach areas
Cute pink, lightweight design
Ball-tipped blade for added security
– Anthony Dawson