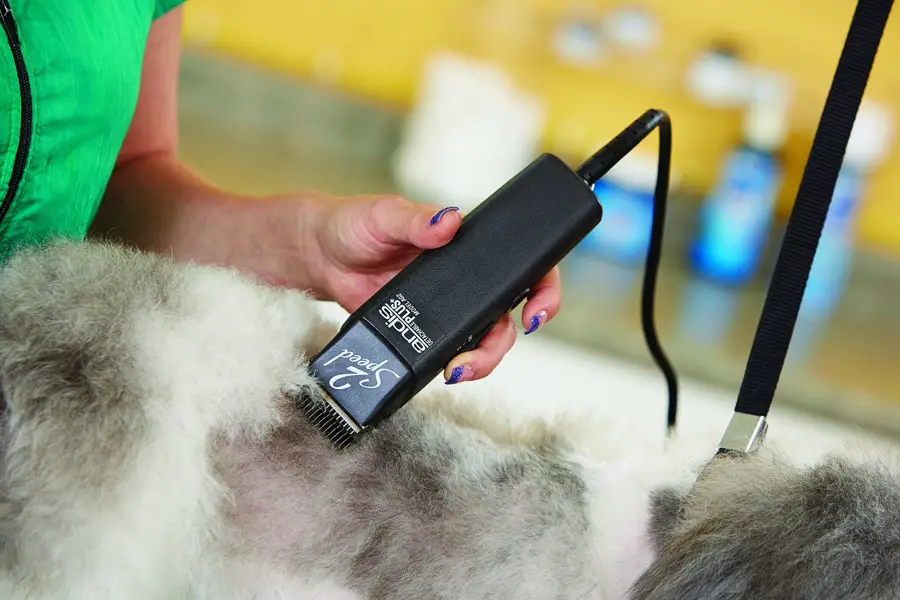 Dog Hair Clipper Reviews
Some dogs just look so cute when they're shaggy, and others do not. For those particular breeds that don't fare well when they wait too long between grooming appointments, it's a great idea to have your own pair of dog hair clippers at home so you can keep your pet trimmed. We can all admit that, unless you're a hair stylist, the professional groomer probably does it better than you, but having your own clippers allows you to get the hair out of the dogs eyes and mouth. Dogs, like humans, enjoy being able to see. So just because your pet looks cute when they're hidden behind a bush of hair doesn't mean you should subject them to that. There are numerous kinds of clippers on the market that are either rechargeable or plug-in. There are often customizable heads so you can use the blades that work best on your dog's coat.
Most Popular Dog Hair Clipper
Wahl Professional Animal
Wahl makes some dependable dog clippers, and this model is particularly great if you're on a budget, and want a device that allows for a quick, easy trim. Whether you're just doing some touch-ups, or a full-body trim, this device makes it painless for both you and your dog. The patented Super Shunt electromagnetic motor is the greatest feature of this clipper, as it allows to power up to 7,200 strokes per minute while still being very quiet and producing little heat. The whole thing comes backed by a 2-year limited warranty, which gives you the peace of mind to give it a try. The included professional blade adjusts from #10 to #15 to #30. Because it switches over so easily, you're saving yourself from having to buy and store 3 separate blades. Included in the kit is everything that you need to get professional grooming results in the comfort of your own home.
Increased power thanks to patented Super Shunt motor
Quiet but tough 7200 strokes per minute performance
Works best on fine to medium coats
16 piece kit made in the USA
– Anthony Dawson
Best Overall Dog Hair Clipper
Andis
This is a powerful and compact clipper from the trusted brand, Andis. It's equipped with two different speeds, durable size 10 Ultra Edge blade, and smooth sealed motor. Choose between 3400 or 4400 strokes per minute, and enjoy 25% more blade torque than any other clippers on the market. It's not uncommon for a dog to become very uncomfortable during trimming, because the motor of the clippers makes a lot of noise and heat. You don't have to worry about this problem with the Andis, because the motor is cool running and requires no vents for overheating. Even the most sensitive animal is comfortable with the sound of these clippers. It comes complete with one UltraEdge Blade that is detachable, but the device can also work with CeramicEdge or ShowEdge blades as well. The housing is completely brake resistant and ergonomic, so you can be sure that it is going to last you for years to come.
Shatter-proof, ergonomic housing
25% more blade torque
UltraEdge Blade included
Durable and reliable for years of continued usage
– Anthony Dawson
Best Budget Dog Hair Clipper
Wahl
This 14 piece kit really does come complete with everything that you need to groom your pet, no matter what breed or coat-texture. This is a cord or cordless system that has 47% more power than its competitors thanks to the power-drive cutting system that gets through even the thickest coats. The kit really does make home grooming a snap, even if you've been holding off for years because you fear that you don't know how to cut hair. The blades are completely self-sharpening so there's never and worry about having to do that by hand. The kit also includes a great how-to DVD that shows you everything you need to know about trimming your dog with the Wahl system. The whole kit is backed by a 1 year limited warranty, so you can feel confident in trying it out for the first time. This is a wonderful way to get your dog's hair into shape without any discomfort for your special friend.
high-carbon steel blades that are self-sharpening
For a comfortable and pain-free trimming
How-to DVD included
Choose between cord and cordless operation
1 year limited warranty
– Anthony Dawson
Dog Hair Clipper Buying Guide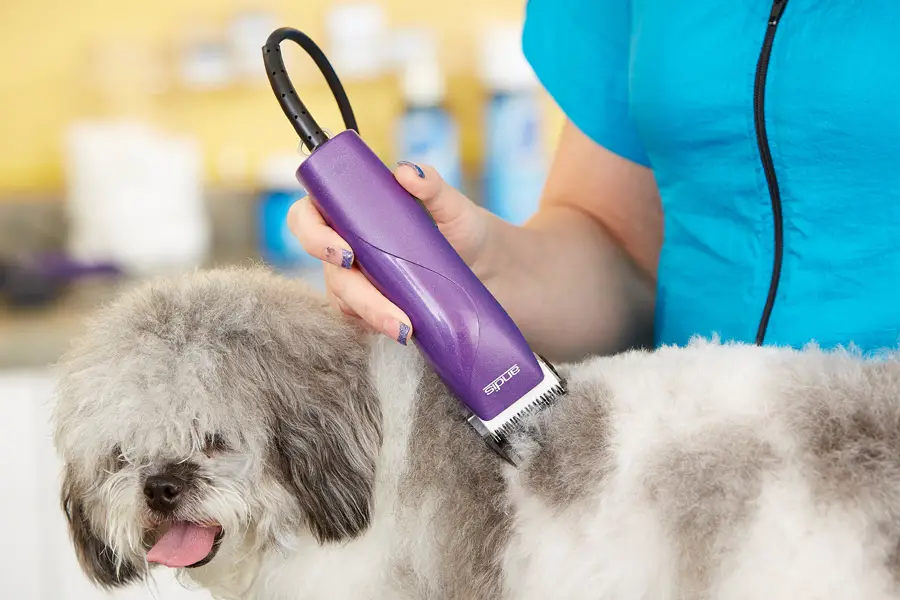 Well-groomed fur makes a dog happy and healthy. Neglecting your dog's fur can invite fleas and parasites. Visiting a professional groomer every time you want to trim your dog's fur is expensive. Doing it yourself can be affordable. The right dog clippers will help make the process fast and quick.
Why You Need Dog Hair Clippers
Dog hair clippers are easy to use and can trim your dog's fur in a short time. They are portable which means that you can carry them when going on vacation with your fluffy friend. They last for a long period. Dog hair clippers are a good investment for every dog owner.
Types of Dog Hair Clippers
There are different types of dog hair clippers in the market today. The following are some of the types that you will find in the market.
1. Corded
These clippers have a cord that you can plug on to your wall socket. Corded clippers ensure that you don't run out of power during your grooming session. The operation cost of these clippers is lower than that of cordless ones because corded clippers don't require batteries to operate. The main downside of corded clippers is that they limit movement. The cord can also trip you while working.
2. Cordless
Cordless clippers use replaceable batteries to run. Others may come with a rechargeable battery and a charger that you can plug in a socket. These clippers are expensive but easy to use. They don't limit your working range.
3. Single Speed
This type of clipper has one speed and is easy to use. Single-speed clippers are affordable and have a straightforward design. They are ideal for dogs with short fur and smooth coats.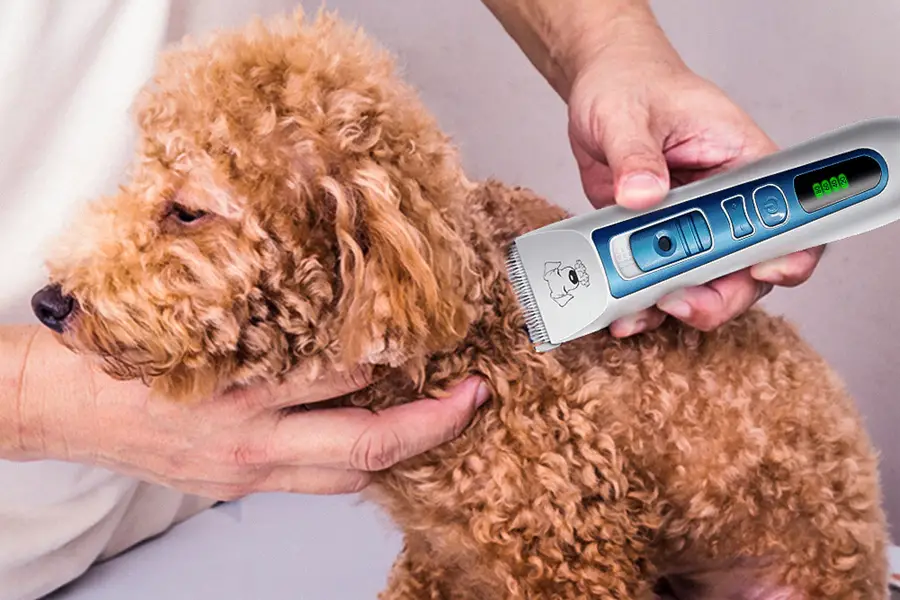 4. Variable Speed
These clippers come with more than one cutting stroke. They are ideal for dogs with coarse fur because you can switch to a faster cutting rate. You can adjust to a slower speed if you want to cut thick coats. You should consider this type of clipper if you have several dogs.
5. Professional Grade
These clippers are meant for professional groomers and veterinary officers. They are reliable and durable as compared to other types of clippers. They are expensive and you should be prepared to dig deep into your pockets if you want them.
6. Quiet and Low Vibrating Clippers
These clippers operate quietly and with lower vibration. They are ideal for dogs that don't like to be groomed and dogs who are anxious and don't like strange noises.
Things to Consider When Buying Dog Hair Clippers
There are some things that you should bear in mind before you buy a clipper. You should understand the purpose of the clipper before you buy it. For instance, a clipper for home use is different from professional clippers. The following are things that you should consider when buying dog hair clippers.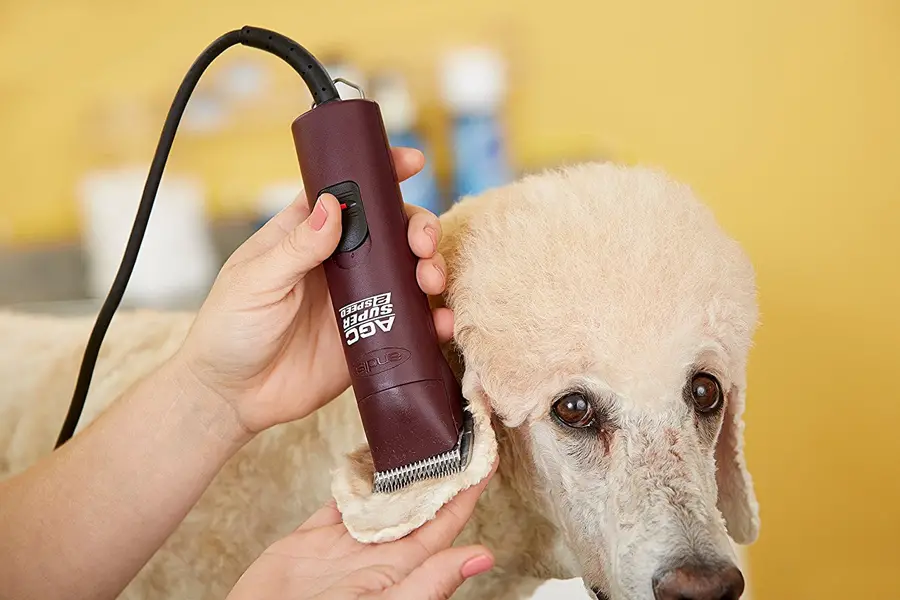 1. Breed
Dogs have different types of coats. Some dogs have fine coats while others have coarse coats. Breeds with coarse hair require a powerful clipper that won't run out power. A corded clipper is suitable for coarse fur. Fine hairs, on the other hand, don't need a powerful clipper.
2. Blades
You should ensure that the blades are sharp. Sharp blades make the process quick and also help you to achieve a neater result. Blunt blades may ruin your clipper. You should also consider the clipper's blades are made of quality materials.
3. Corded vs Cordless
Corded and cordless clippers have different advantages and downsides. Cordless clippers are ideal inexperienced groomers who are still learning to do the job. Corded clippers are reliable and can operate for longer periods without worrying about the battery. It's up to you to decide the one to pick.
4. Noise
Most clippers don't like loud clippers that vibrate a lot. You should go for a clipper that doesn't emit loud noise or vibrate especially if you have a sensitive dog. It's difficult to shave a dog with noisy clippers. The results won't be neat if you do finish grooming the dog.
Conclusion
Getting the right clippers for your fluffy friend can be hard. This guide will help you choose the best clippers for your dog. Having good clippers will ensure that your dog stays happy and healthy. Remember to brush, wash and dry your best friend before you start trimming.