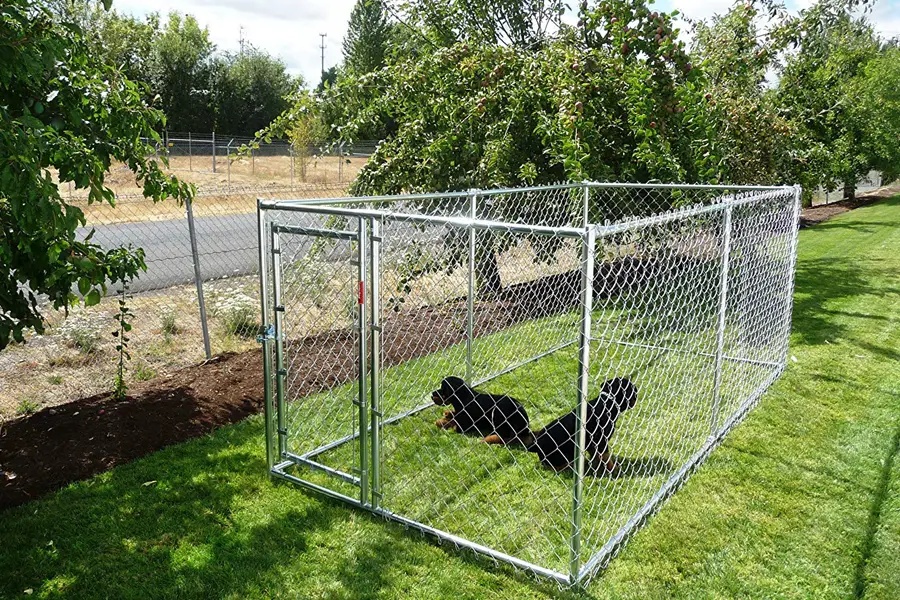 Dog Kennel Reviews
Kennels act as a dog's special cave, where they feel comfortable and secure, as well as perfectly at home. Choosing a kennel for your dog entails many different factors. The most important is the size of your dog. If you have a new pup that is going to grow quite a bit, and you want the kennel to last through these changes, then you need to ask your vet how big they think the pooch will get. If it's a full-grown dog, you want a kennel that is big enough to move and stretch, but not too big so that they get lost in it. There are special kennels designed for traveling, as well as those that are just for home use. Dogs have the magic ability to become quiet and calm within the safety of their kennel, so this is a good refuge when they're ill, during the night, or when you have guests over and there's a lot of commotion.
Most Popular Dog Kennel
Lucky Dog
Dogs love to play in the snow and explore the elements, but that doesn't mean that at the end of the day they want the elements in their house! This durable kennel cover from Lucky Dug adds that extra layer of protection during the harsh winter months. And it's not even just for winter. The cover is great for protecting against sun and rain as well. So this is a year-long investment in the comfort of your furry friend. Included is a 3-layer polyethylene cover that is waterproof and UV protective. The reinforced tie-down grommets ensure that the cover isn't moving anywhere. This is the perfect chance to take the dog house that your pet already loves and really step it up a notch so that it's practically bulletproof from above. It's easy to install and remove, and its durability ensures that it will last you quite a long time.
Kennel roof that is waterproof and protects from the elements
Works under all weather conditions
Secured with galvanized steel frame
All necessary fittings and tie-downs included
Great for taking your existing house to a whole new level
– Anthony Dawson
Best Overall Dog Kennel
Petmate Indigo W/MICROBAN
If you're looking for the McMansion of all doghouses, then you've found it. The Petmate Indigo Dog House is pretty much one of the finest and best constructed on the market. With its off set, extended doorway you keep the wind and elements from creeping into your dog's secret layer. Constructed with structural foam, the house is wonderfully well insulated, keeping your dog warm in the winter and cool during the summer. The roof vent ensures perfect air flow, and the Microban interior kills the growth of stains and odor, as well as mold and mildew. There are absolutely no tools required for installation, and it's suggested for medium sized pets. All in all, the Indigo is the ideal dog house, not just for pampering pets, but giving them an environment all their own that is pleasant, ergonomic, and well worth the price. In fact, you may find that your dog spends an inordinate amount of time there.
Offset doorways allows resistance to rain and wind
Microban kills stains, bacteria, mold, and mildew
Structural foam offers amazing insulation
No tools required for installation
– Anthony Dawson
Best Budget Dog Kennel
Suncast DH250 Dog House
This dog house from Suncast is made of sturdy plastic, and therefore light to carry around, but also durable and easy to clean. Because it's so affordable, it's a very popular design that dog owners are praising. It's perfectly easy to assemble on your own, and once it's built, you'll be surprised by how big it is. Ideal for larger dogs, the house has enough strength to withstand the power of big animals. Not only does it not tear from claws, it also is perfect for surviving and flourishing in the elements. The subtle blue gray color is nice, and doesn't make it stick out like a soar thumb in your yard. The crowned floor is comfortable, but it is suggested that you purchase a cozy mat to lay at the bottom of the house at all times, for your dog's added comfort. All in all, it's a sturdy, cozy home for your lovely pet to call a refuge.
Strong resin construction lasts for years
Perfect under the elements and for withstanding more aggressive dogs
The vinyl doors can be personalized with your pet's name
Works for dogs up to 100 pounds
– Anthony Dawson