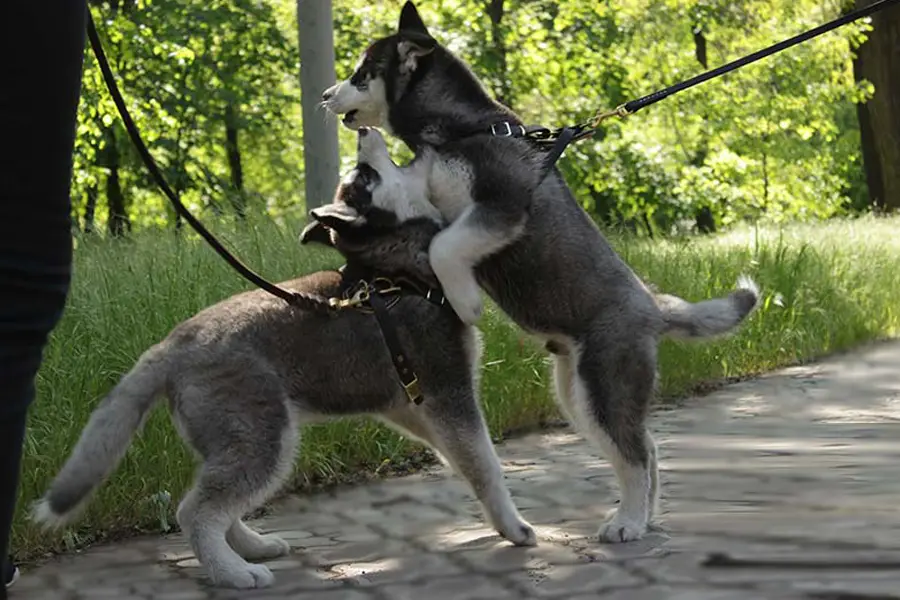 Dog Leash Reviews
The most important tool that you have to control your dog is your leash. Most public places require you by law to have the dog on a leash at all times. With so many different kinds of collars out there, it can be difficult to choose which is right for your dog. If you have a friendly, happy dog, then a simple leash and collar will do the trick. Keep your dog walking beside you or behind you at all times to show dominance. A slip collar leash is going to be better for dogs with problematic temperaments. Those who are easily distracted and moved by squirrels, runners, birds; you name it, you can give them a quick tug with this leash to correct them. There's also a harness leash that is great if you want your dog to pull you! For instance, if you're on a skateboard, roller blades, or out for a run, and you want your dog to give you a tug. As you can see, these are only a few of the many options that are available to you. You must first determine the temperament and needs of your dog.
Most Popular Dog Leash
The Buddy System
Man's best friend is also man's (and woman's) best exercise buddy. A hands-free leash is perfect for when you want to take your dog out hiking, walking, or running, without impeding your stride by holding onto a leash. The Buddy System is a fantastic way to share the joys of exercise and adventure with your dog, while maintaining control, safety, and comfort. The Buddy System is patented, and has won awards for the comfort and security of its 1″ wide belt that adjusts to fit around your waist, and a speedy quick-release mechanism that allows you to detach and reattach to your pet in a snap. The collar attachment is quite durable, and works with any D-ring or O-ring harness or collar. The System comes in three sizes to cater to the needs of you and your dog. It also comes in either black or red, so you can ask your dog which he or she prefers.
Comes in black and red
Adjustable belt and leash length
Allows for hands-free exercise and adventure with your dog
– Anthony Dawson
Best Overall Dog Leash
Flexi
This is a great retractable leash for large dogs that weight up to 110 pounds. The Flexi Explore has a finely-made retractable belt that can stretch out to 26 feet. This makes it the longest retractable model available on the market, and is ideal for vast spaces where it's ok for your dog to go out and explore. The genius about retractable leashes is that they allow your dog freedom while still giving you the control and security that you need as an owner. This leash comes in three different sizes and colors, dependent upon the size and fashion-sense of your dog. Flexi leashes are becoming popular around the world for their incredible durability, quality, and pleasant aesthetic appearance. The one-hand braking handle is incredibly easy to control, and gives you ease and comfort as you walk with your dog. It's not uncommon for other retractable leashes to get stuck, fall off track, and turn cumbersome, but the Flexi operates with the greatest amount of ease you'll find. There's a lifetime warranty that comes with this, and they're all hand-made in Germany so the craftsmanship is unbelievable.
Retractable belt extends up to 26 feet
Handmade in Germany and backed with a Lifetime Warranty
Good for dogs up to 110 lbs
Includes safety collar in package
Instruction Manual provided
– Anthony Dawson
Best Budget Dog Leash
Sporn
This double dog leash from Sporn is a patented, fully adjustable product that allows you to walk two dogs at the same time without needing to use two leads. Everyone knows that walking multiple dogs means tangling and chaos, but the Sporn looks to put an end to all of that. Because each belt is adjustable, you can shorten the leash for one dog and lengthen the leash for the other. This makes walking with two dogs much more pleasant, and gives you more control and stability on the go. The Sporn also makes it easier if you have two dogs of vastly different sizes. Say you have a Great Dane and a toy breed; walking the two at the same time has probably been a nightmare till now. But this double leash is designed to make it easy to accomplish this kind of walk without the headache and tangling.
Completely adjustable double dog leash
For pairs of dogs that are different in size
Lifetime Satisfaction Guarantee
No more tangling
– Anthony Dawson
Dog Leash Buying Guide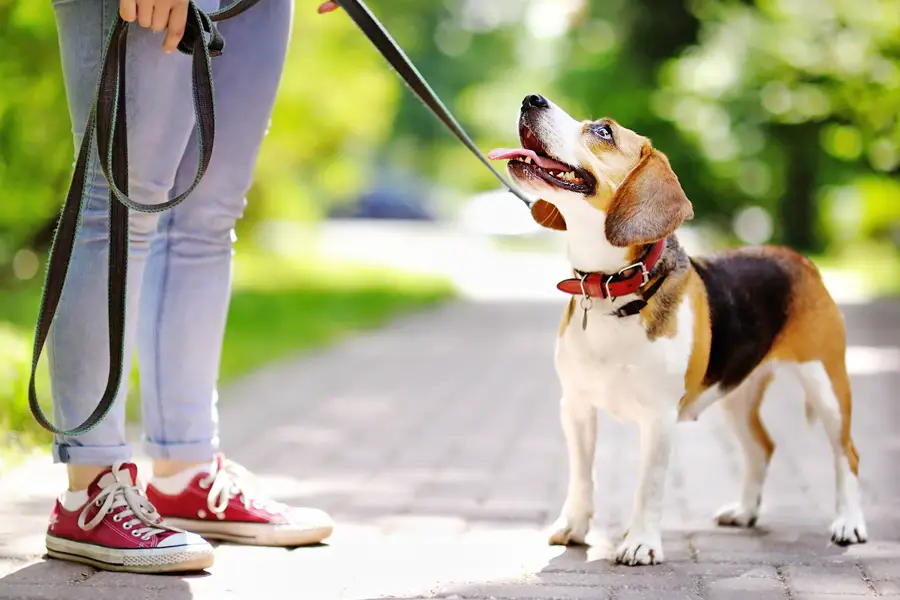 The primary job of a dog leash is to keep your best friend under control as well as safe while you're in public. Every dog requires a specific leash, depending on the breed and temperament of the dog. Shopping for a dog leash can be challenging because of the many brands of leashes in the market. This guide will help you purchase the right type of leash for your dog.
Benefits of Dog Leashes
There are many benefits of using dog leashes. They help you to control your dog while training. They prevent your dog from running into the street and into other areas that are prohibited. Also, dog leashes protect your dog from accidents and injuries.
Dog leashes prevent your dog from scaring and chasing people and other animals. Note that some people suffer from dog phobias.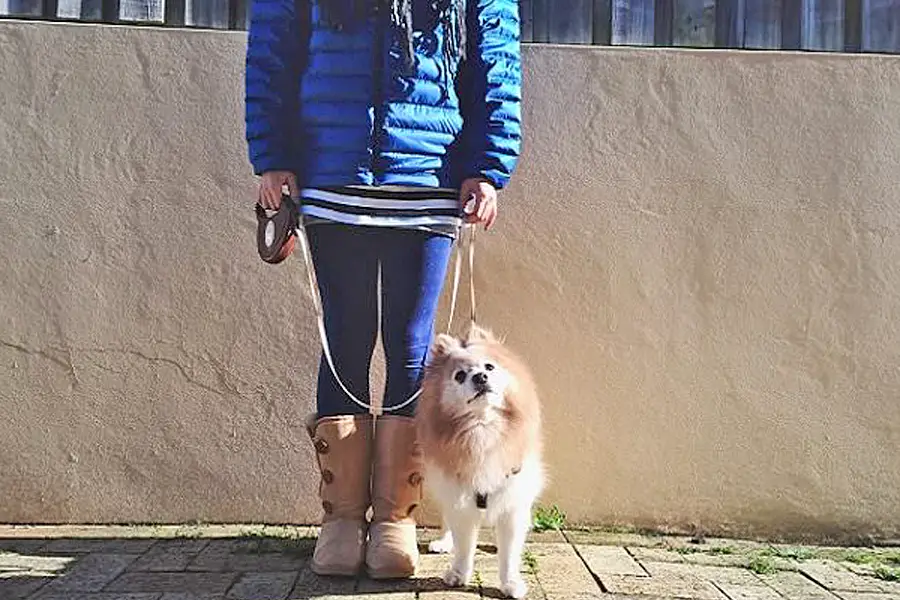 4 Types of Dog Leashes
The following are the common types of dog leashes that you will find when you head out shopping.
1. Standard Dog Leash
This is the traditional type of leash. It has a handle on one end and a hook on the other end. The leash itself can be made from different kinds of materials such as leather and nylon. The handles usually have padding to help make them comfortable. The hooks are made of metal alloys.
2. Retractable Leashes
A retractable leash allows you to limit the length. The handles are made in such a way that the length can retract into them. The handles are sturdy and offer a firm grip. Note that some leashes can be very thin, making them unable to support the weight of large dogs.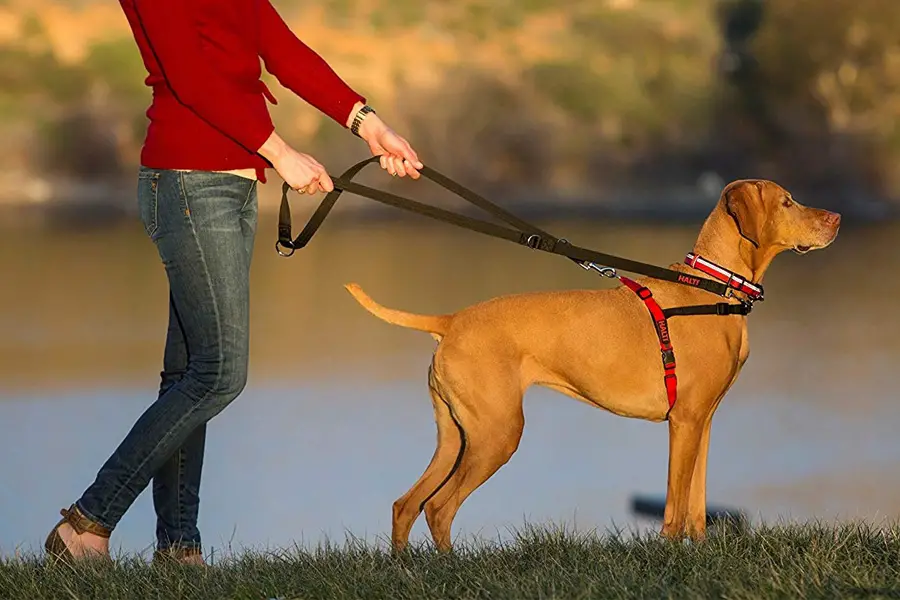 3. Slip Leash
Slip leashes don't need harnesses or collars. All you need to do is slip the leash over the head of the dog. The loop tightens as the dog pull's, training them to behave. Don't use this leash on small dogs since it can damage their throats and necks.
4. Hands-free Leashes
This type of leash allows you to attach the leash to your belt while walking. Some even come with waist belts that you can wear. They give you freedom when walking with your fluffy friend. Hands-free leashes should be used on dogs that know how to walk. Ensure that you buy hands-free leashes that have anti-tangle features.
5 Factors to Consider When Shopping for A Dog Leash
1. Materials
Dog leashes are made of different materials. The materials include nylon, chain, or leather. Nylon is durable and inexpensive. They come in different colors and patterns. They are suitable for any weather, including wet climate. However, nylon leashes can cause burns on your hands due to friction. Also, dogs might chew them because nylon is a soft material.
Leather leashes are classy and durable. They are comfortable on your hands and more costly than nylon leashes. Chain leashes are suitable for dogs that like chewing their leashes. They are ideal for large and strong breeds because of their weight.
2. Length
The temperament and size of your dog will dictate the length of the leash. You can choose a long leash if your dog is mature and behaves well on the leash. The leash should give the dog some freedom, but also prevent tangles.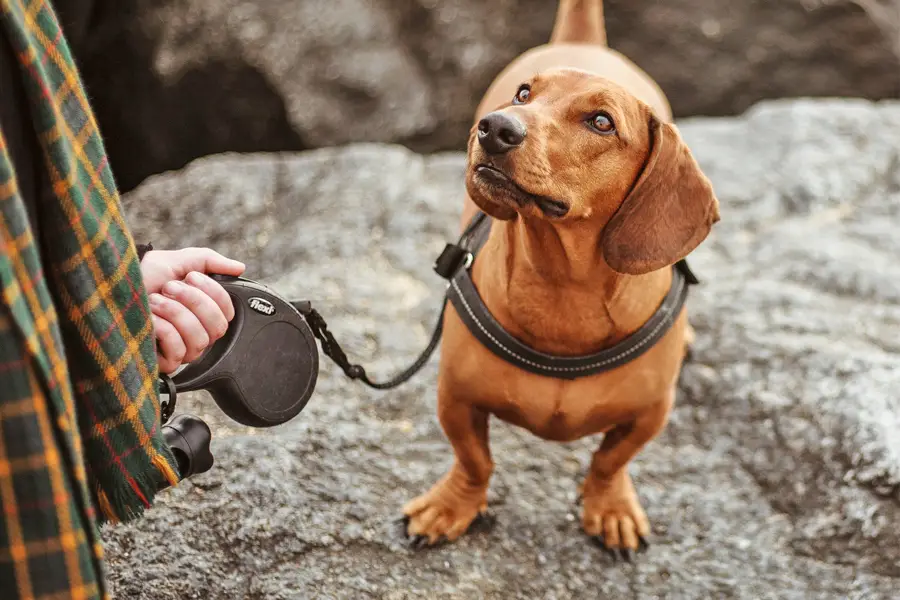 3. Durability
The leash should be strong enough to withstand different dog activities. Also, it should remain intact when exposed to different climatic conditions. It should resist or withstand regular chewing and rubbing. It should not shrink, wrinkle, or stretch over time.
4. Width
Go for a thick leash if your dog likes chewing or pulling. The right width prevents the leash from snapping when the dog pulls. However, you should buy thin leashes if you have young or small dogs. Thin leashes are light and less restrictive. You can upgrade to a wide leash as the puppy grows.
5. Type of Leash
The kind of leash that you will buy depends on the strength and the behavior of your dog. You can settle for a hands-free leash if you want more freedom while walking with your dog. Some leashes can absorb the tension when the dog pulls forward abruptly.
Conclusion
A leash is an essential investment for every dog owner. Your dog is a member of your family, and you should ensure that you buy a quality leash. This guide will help you choose the right leash for you and your dog.