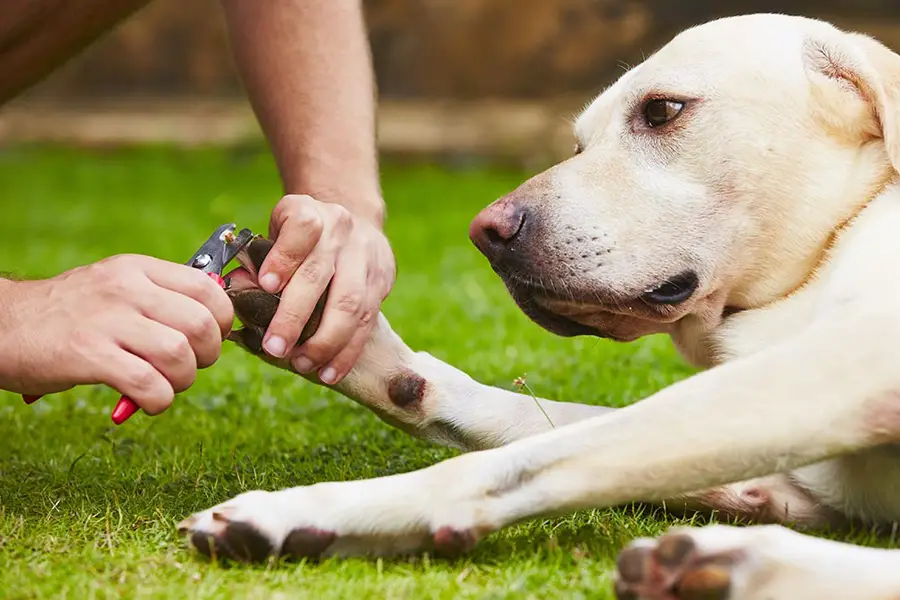 Dog Nail Clipper Reviews
Getting the nails clipped can sometimes be traumatic for a dog, and that's why purchasing high-quality clippers is of the utmost importance. The greater the power and performance of your clippers, the easier it's going to be on both you and your pet. You need to start by buying the appropriate sized clippers, dependent upon how sturdy your pets nails are. If the quality of the nail is particularly dry and brittle, then it's important to have an electronic grinder that will prevent any uncomfortable splitting during the trim. A grinder is also preferable for dogs with very hard nails. Guillotine trimmers are also a good bet, because they gradually trim the nail for less discomfort. Say that your dog has round-shaped nails, then hand held pliers often do the trick. Ask yourself if you're looking for portable clippers that can travel around the house, or clippers with a cord that need not be recharged.
Most Popular Dog Nail Clipper
URPOWER
There's a lot of power and precision behind the URPOWER Tool kit. By efficiently and painlessly grinding the nails, you're giving your dog a much more pleasant experience than you find with other dog nail clippers. Because of its powerful motor that operates at 18,000 RPM, you're getting tremendously accurate results and fantastic durability. Changing attachments is a snap with the quick-change collet feature, and the sure-grip pads allow you to handle the device with ease and security. The hanging hook makes it convenient to store the grinder when you're done, for safe keeping. It comes complete with an AC adaptor, 1 grinding drum, as well as 6 sanding bands and a felt polisher. This is everything that you need to get your dogs nails into tip-top shape at a professional level The color of the device is a handsome blue, and the cord length is ample at 12.5 feet.
Makes it easy to trim, smooth, and shape your dogs nails
Quick change collet makes it simple to swap attachments
Comes with adapter, grinding drum, various sanding bands, and felt polisher
Handsome blue design
– Anthony Dawson
Best Overall Dog Nail Clipper
Petural
The Petural Pet Grooming Kit offers an innovative rotary tool for painless and effective nail trimming. Claws are gently ground down at a comfortable speed, and the cordless design offers you perfect control over the grooming experience. There are two rotation speeds to choose from, so you can experiment with what is most comfortable for your dog. The whole system is backed by a 2 year warranty, is lightweight, and easy to take with you on the go. The hand-held device is also compatible with a number of different Petural sanding drums and bands, so you can customize the experience. What makes a rotating-style clipper superior is that it doesn't cause the unsightly cracking, splintering, and bleeding that scissors and clippers do. Therefore, it is harmless on your dog, and makes the grooming experience much more pleasant for everyone involved. Give your pet the comfort and neat appearance that they deserve with the help of a trusted brand like Petural.
Rotary tool makes for effective, safe, low-stress trimming of nails
Superior to clipping in both aesthetics and comfort
Two rotation speeds to choose from
Cordless operation and lightweight design
2 year warranty and 3-hour charger
– Anthony Dawson
Best Budget Dog Nail Clipper
Oster
Not just humans enjoy having smooth, polished nails. Being well groomed is a pleasure for dogs, and when their nails are rounded and maintained, their paws are more comfortable all day long. This cordless trimmer from Oster makes it easy to keep your dogs nails comfortable and at the perfect length, in the comfort of your own home. The process is quick, painless, and easy for both you and your pet, and you'll see fewer scratches in your furniture and upholstery. There's a great safety guard on the trimmer that prevents that uncomfortable hair winding that dogs find so unpleasant. With 2 speeds to choose from, you'll find this device works great on all breeds of dog and cat. The rotating head makes it easy to gently file down your dogs nails without splintering or cracking. Also, because the Oster works 5 times faster than other models, there's much less time spent having to hold down your dog.
Quick, gentle, and stress-free trimmer
Works 5 times faster than the competition
Great for all breeds of dog and cat
Safety guard protects from hair winding
Comes with coarse stone, fine band and 2 coarse bands
– Anthony Dawson
Dog Nail Clipper Buying Guide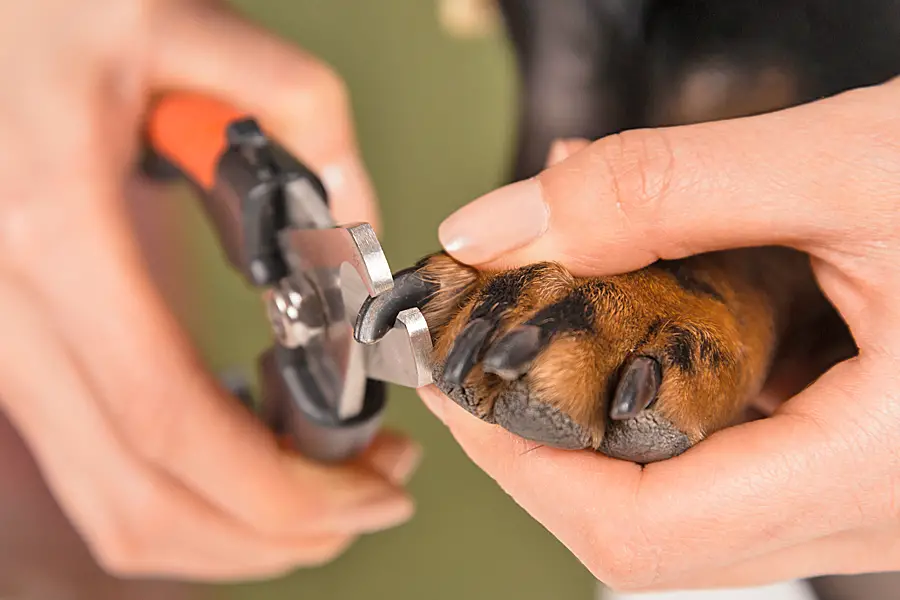 Grooming your dog is one of the most essential, yet largely ignored, tasks that dog owners should regularly perform. Failure to clip your puppy can lead to their discomfort, pain, and injury. However, with so many varieties of clippers in the market, it can be confusing to know which brand any style is the best fit for your dog.
A dog clipper is a vital tool in taking care of your canine friend. However, not all nail clippers are created equal. With this guide, we will explain the essential features you should consider when buying the best nail clipper so you can enjoy clipping your puppy and avoid the risk of injury.
Why You Need Dog Nail Clipper and How It Works
Dog nail clippers are designed for grooming pets such as dogs and cats. They are fitted with a quiet rotary tool to let you trim their nails without causing them stress. Nail clippers work on all breeds of dogs and cats; however, they vary in speed; for instance, some come with a robust 2-speed design. Dogs' clippers are fitted with an adjustable safety guard to prevent you from trimming too far to avoid a mess.
Types of Dog Nail Clipper
There are different types of clippers. However, you should be aware that particular models and styles are best suited for a specific breed and size of pets. Always ensure to check which type of clipper will accomplish the task of grooming your pet efficiently.
Scissor Clippers
These clippers, as the name suggests, works like scissors. They can be used on both large and small dogs. The clippers have enough force to cut which is ideal for large dogs with thick nails. On the other side, the cutting power of scissor clippers makes them for small breeds.
These clippers are easy and straightforward to use. They are widely available and popular among pet owners. Besides, they are affordable compared to other types of clippers on the market.
Guillotine Clippers
These clippers work like a guillotine. They are suitable for clipping medium-sized dogs, dogs with soft and thin nails, and dogs with arthritis. It is easy to use guillotine clippers because you only need to put your dog's nail in the hole and squeeze.
Grinders
Such clippers grind down the nail as opposed to clipping. They work as the industrial grinder by acting like sandpaper or a nail file. It is appropriate if you despise the idea of clipping and the fear that you may cause injury to your dog.
However, this type of clipper can be slow. Besides, the dog can be frightened by the vibration; hence you need to introduce it slowly. Overall, grinding tends to be gentle and gives the nails a smooth finish. It is safe and has minimal chance of injury.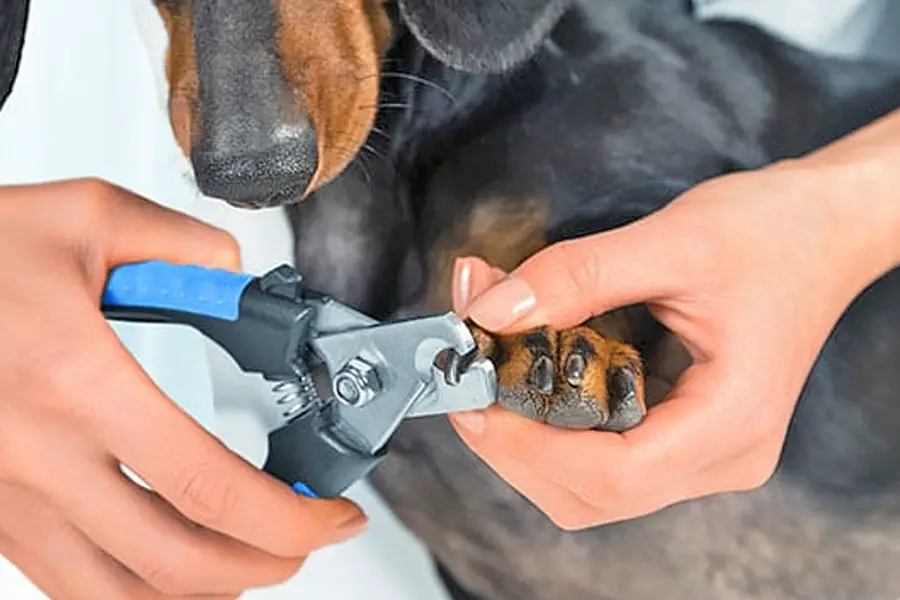 Things to Consider When Buying Dog Nail Clipper
Safety
You should ensure that the nail clipper has a guard to prevent injury. Besides, having a safety guard on the trimmer prevents the hair from winding, which can be uncomfortable for the dog.
If you are a beginner in clipping, it is advisable to look for a clipper with a safety guard or a sensor to prevent you from cutting the nail too short. Nonetheless, you should be cautious even if you have a guard because the machine can hit quick and cause bleeding on your dog's nail.
Speed
Different nail clippers have different speeds. When buying a clipper, you should look out for the one with top speed since it allows you to finish clipping fast, therefore, causing minimal stress to the dog.
The rotation speed of the clipper determines the speed of the device. We recommend going for a clipper with at least two rotations. This allows you to experiment with your puppy and see what speed the puppy is comfortable with when trimming.
Size of the Dog
The size and the breed of your dog determine the type of clipper you need to buy. Dog clippers come in different sizes and power to cater to the different claws size and thickness. Some clippers are most suited for puppies, while others are suited for medium and large dogs.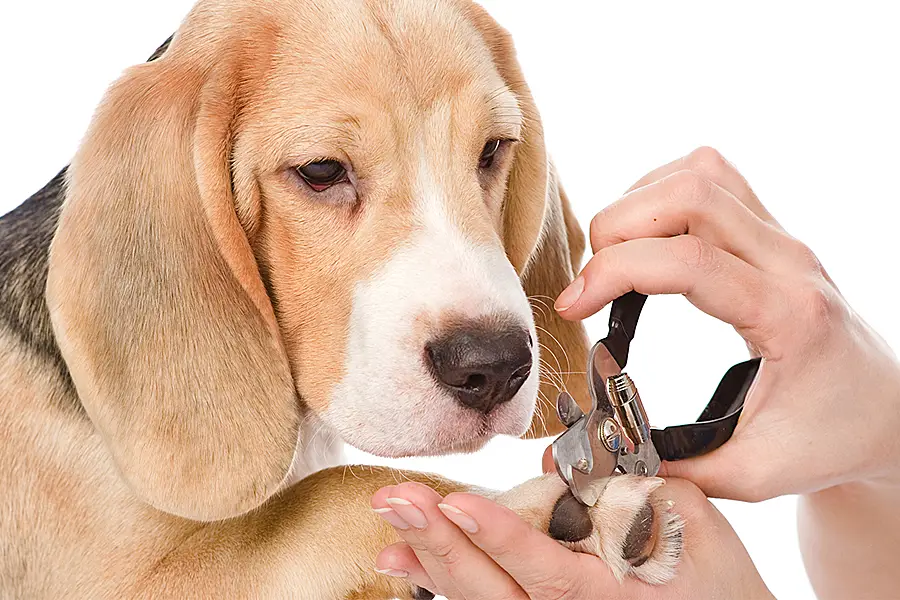 Noise Levels
The vibration of the grinder can intimidate the dog and cause stress. You should go for a device that has low sound to reduce anxiety.
Style and Comfortable Handles
Dog clippers come in different style and level of comfort. Ensure you buy a clipper that is comfortable to hold for long without getting tired. Further, you don't want a clipper that looks intimidating to your canine friend.
Blade Thickness
You should ensure that the blades are thick enough to handle the job faster without the fear of breaking. It is advisable to go for a blade with a thickness of 3 to 5 mm, except for the grinders.
Conclusion
Grooming your dog can be a rewarding experience. However, with the wrong clipper, it can cause anxiety, stress, and pain to your dog. This guide will walk you through some of the best dog nail clippers to ensure your pet is well-groomed and comfortable.