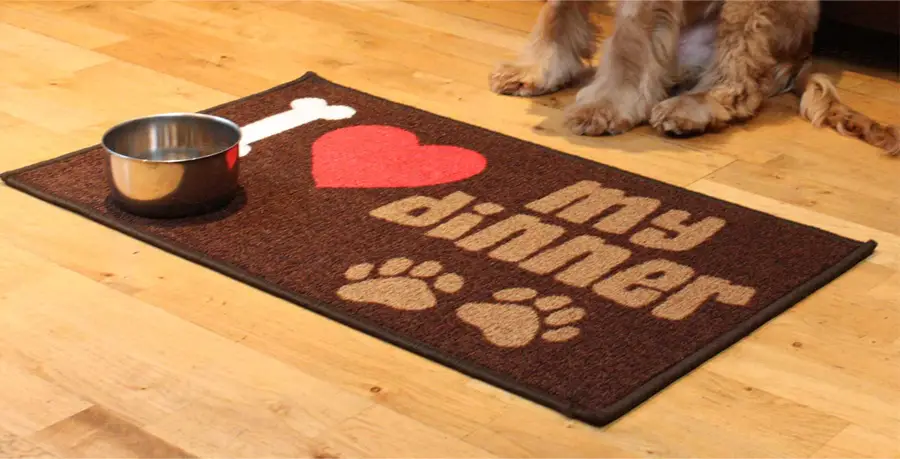 Dog Placemat Reviews
Having a mat underneath your dog's feeding and water bowls is useful for many reasons. The most obvious is for keeping the surface underneath the bowls clean and free from mess. The mat can provide a non-slip surface for your dog's feeding area which is very handy when your pet can't wait to get stuck in to their food and can become quite clumsy with hunger. The mats can also be absorbent to soak up any spillages and can often contain a large amount of weight in water, which allows the mat to trap any spills before they run into and do any harm to your floors. Dog placement mats can also have a special waterproof backing which also stops the floors from getting wet and doubles up as a non-slip material also.
Most Popular Dog Placemat
Reopet
The Reopet Dog Placement mat is brilliant for protecting your flooring from all the messes your dog can make. The mat has slip free corners to keep it in its place at all times even with those clumsy dogs. The raised edges ensure that the liquid is kept away from your floor and contains the mess quickly. The mat is sturdy and can protect from both water and food spillages. As the material is a heavyweight plastic that is BPA free it is easy to wipe clean and looks the part too. The rubber edges provide more coverage in order to stop the mat from slipping, it keeps your dog from dragging the mat or trying to move it while eating or drinking from their bowls at feeding time. As it is made from such strong plastic, it really does make this mat the easiest to maintain and clear up after. It does not require washing machine or dry cleaning as it can be tipped up and wiped off after every use and replaced for your dog to use, as quick and easy as that.
Skid proof keeping the mat in its place
Wipe clean design
Raised edges will contain more liquid mess
Protects your flooring form your dog's food and water
– Anthony Dawson
Best Overall Dog Placemat
Soggy Doggy Slopmat
The Soggy Doggy Slopmat is made from a microfiber chenille material especially designed for sloppy dogs. The material is super absorbent, which is great for those messy pups that like to have a fight with their food at feeding time creating a right mess. The sponge like mat absorbs 5 times more water than a regular cotton placemat, which will ensure your kitchen floor, is kept dry and clean from mess even with the clumsiest of dogs. With such a quick drying fabric bacteria cannot harbour within and this in turn means there are no foul odours entrapped inside the mat. A non-slip backing to the mat means it really does stay put even on wooden floors. The mat itself is velvety soft so comfortable for your dog to use which can also make for a great crate liner to use in the home or on your travels for big and small dogs.
Quick drying mat
Protects from bacteria and is odour free
Can be used in the washing machine and dryer
Absorbs 5 times more than a regular cotton placemat
– Anthony Dawson
Best Budget Dog Placemat
Hoki Found
This unmistakable Hoki Found Mat immediately has big pluses: one for the dog and one for the dog owner. Firstly for the dog, it will be very pleased not to have to chase its bowl all around the kitchen floor as it enjoys scoffing its meal. Nothing must be more annoying than having to follow their bowl round the edge of the room trying to retrieve a bite to eat. So thanks to the Hoki Found Mat the bowl will stay put throughout meal times. Secondly from the owners point of view, for all the same reasons any mess the dog makes is now confined to this mess mat which is easy to wipe and clean off instead of ending up all over the floor. The mat can be thrown in the washing machine ready for the next feed. This mat will guarantee no odours or stains reducing the possibility of bacteria for good hygiene in your home.
Washing machine compatible
Portobello bottom material
18.70 x 11.80 inches in measurement
Stain and odour resistant
– Anthony Dawson
Dog Placemat Buying Guide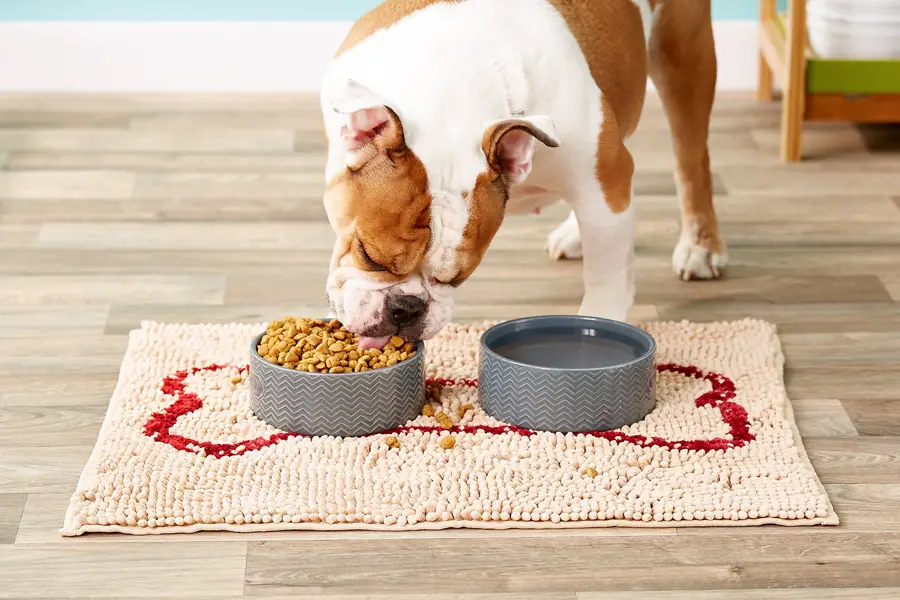 Some dogs manage to make a big mess while eating. Cleaning up that mess after every meal can be tiresome. Having a dog placemat is the best way of preventing the mess from spreading into other parts of your house. It also ensures that the food area is clean and tidy. Dog placemats are easy to clean as you can wash them in the sink after every meal. Some of them are even dishwasher safe.
Why Do I Need A Dog Placemat?
Imagine dealing with the mess of an overturned bowl of dog food or water after each meal. Although small dogs are problematic, large dogs are worse. Carpeted or hardwood floors are more delicate and can be ruined quickly. It's not a good idea to use rags or newspapers under the feeding bowls since the mess will just soak through them.
A dog placemat can help you protect your pristine floors from food spills. The mat will contain any food or water spills. The mats are easy to clean and won't consume much of your time as compared to cleaning the floor. A placemat also trains your dog to eat at a specific area.
Types of Dogs Placemats
Most dog placemats are made of plastic, silicone, rubber, or cotton. Ensure that the dog mat is free from toxic and allergenic materials. They also come in different colors so that you can choose the one that suits your home décor.
Mats can have square or rounded corners. Rounded corners are more appealing, but the squared ones fit well in an eating corner. Dog placemats can have smooth or raised surfaces. Raised surfaces give the dog a better grip but are also hard to clean.
Dog food placemats may also have flat or raised edges. Raised edges are convenient because they keep the food on the mat and are easy to pick up and carry.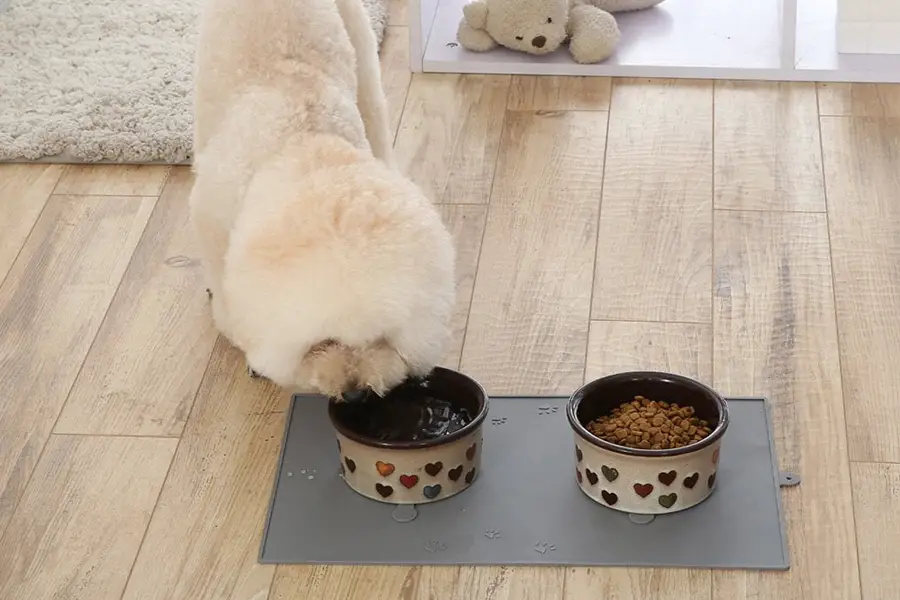 Things To Consider When Shopping For A Dog Placemat.
• Materials Used
A good placemat should be waterproof to prevent spills from soaking through. It should be made from waterproof materials such as rubber and silicone. The mat should also be made of materials that have been approved by the FDA. It should be safe for your dog even if he/she licks. The materials should not be slippery to ensure that the feeding utensils remain steady.
• Durability
Some dogs may chew the mat because of curiosity. You should ensure that the mat can withstand rough usage for an extended period.
• Ease of Cleaning
The main reason for buying a dog placemat is to avoid wasting your time on scrubbing the floor. Therefore, you should look for a mat that is easy to clean. Buy a placemat that you can quickly rinse in the sink. It's even better if you find a placemat that is dishwasher-safe. Note that dishwasher-safe mats are smaller and you should ensure they are big enough to contain the utensils.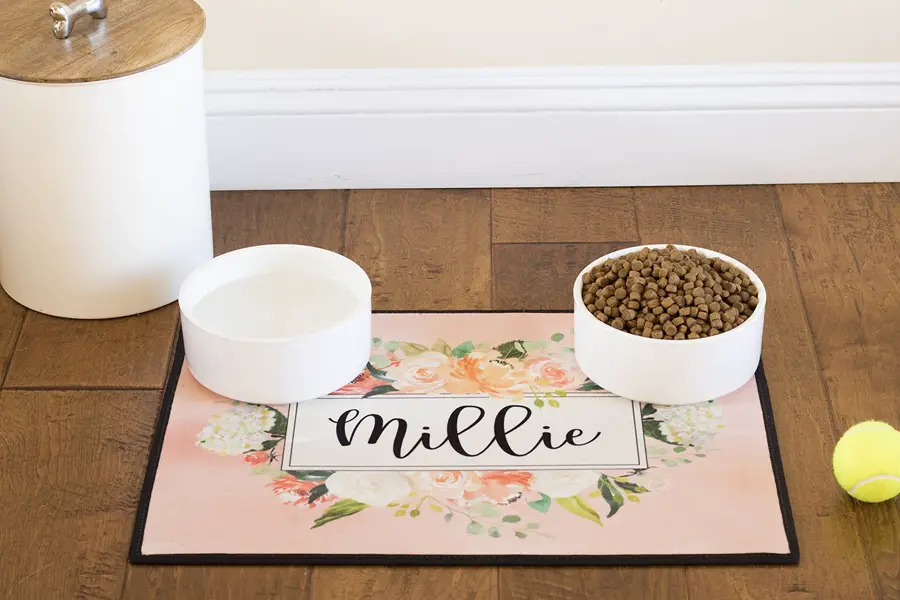 • The Size of Your Dog
The size of your dog is an important factor when shopping for a placemat. Go for a small or medium mat if you have a little dog. If your dog is large, you should buy a large or extra-large mat. You won't find a problem getting a placemat that suits your dog because they come in different sizes.
• Size of the Dog's Placemat
You should ensure that the mat can hold the food and water bowl. Your dog should eat comfortably without spilling the food or water on the carpet or floor. The mat should accommodate all the utensils and the mess that the dog may make when feeding.
• Placemat's Design
Ensure that you buy a placemat that's not only safe for your dog but also keeps the food on the mat. Placemats with raised edges are more convenient because they can prevent the food and water from spreading to the floor. Raised designs boost the dog's grip but are also hard to clean.
• Cost
Placemats have different prices depending on the brand, materials, and design. Look for a mat that is not only affordable but also good for your fluffy friend.
Conclusion
A dog placemat is a necessity for all dog owners because it saves time and energy. It also protects your carpet or floor from damage. You should find a mat that's convenient for both you and your dog.