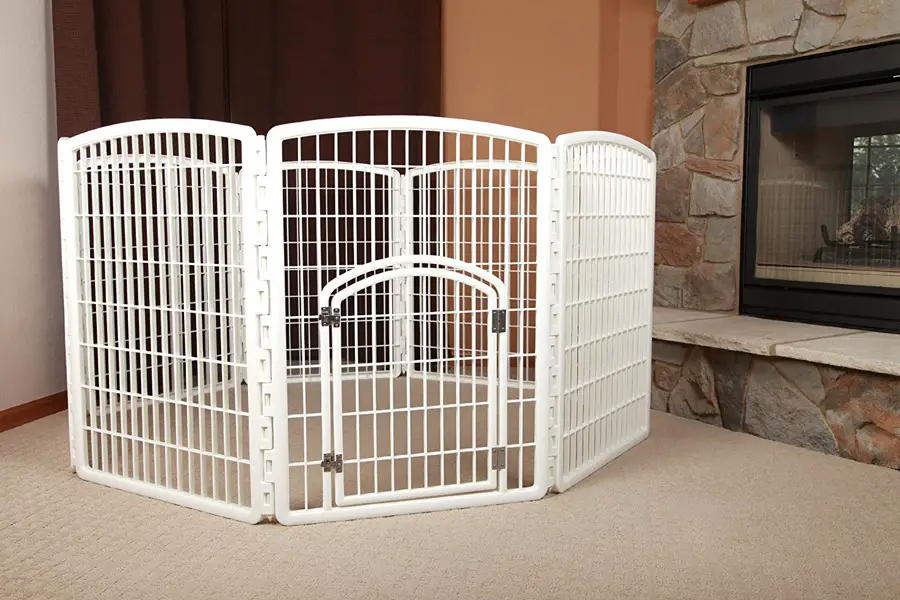 Dog PlayPen Reviews
Play pens are absolutely necessary for a dog's health and development, and especially important for when you don't want to keep them inside a crate all day long. Should you need to cook or clean, and aren't able to pay attention to the dog, it's incredibly safe to leave them in the play pen without supervision. The pen offers a spacious location for them to play and get exercise, while still providing the containment that keeps them safe. This is also a great way of keeping all the doggy toys, bedding, and food in one area, so you're not constantly picking stuff up around the house. It's important to never associate the pen with any form of punishment. You need to establish with your dog that this is the place to be happy and relaxed. Please note, the pen is a special place and should not be overused. If the dog sits inside for too long there can be issues with separation anxiety.
Most Popular Dog PlayPen
MidWest Homes for Pets
There's nothing more unsightly than an outdoor doggy pen that is covered in corrosion and rust. The special Midwest Black E-coating on this pen makes it outlast all the competition, providing superior protection from the elements. Its black coloring also disguises any signs of wear and tear. It's easy to set up on your own, and comes in 5 different heights to choose from, dependent upon the size and jump of your dog. The handy ground anchors keep the pen secure outdoors, and it easily folds for convenient carrying and storage. There are absolutely no tools required during set-up. This is a special way to give your furry friend the space and freedom that he craves, while allowing you the peace of mind that you need. If there are often children, joggers, and postal workers in the neighborhood, but your dog wants to be outdoors, then this pen from Midwest might be the solution.
Coated in durable black-E finish
Long lasting protection from the elements
Works on pets of all sizes
Easy to fold and store
– Anthony Dawson
Best Overall Dog PlayPen
IRIS USA, Inc.
This 8-panel plastic play pen from IRIS works both indoors and outdoors, and is perfect to provide a contained space for exercise and freedom. With its 21 square feet of space, it's perfect for all sizes of pet. The durable, high-impact plastic is made in the USA, and its lovely white color will never rust or tarnish. It's perfectly easy to assemble this pen right out of the box, and remarkably easy to clean and maintain. The locking latches hold tight, so there's no fear that your dog might make a great escape. Extra panels can always be added to this fence, so you can make it even larger as your dog grows. This pen from IRIS provides everything you need at a great price, and the quality construction holds tough, even when your dog is a jumper. It's easy to move the pen from indoors to out, and vice versa, by simply unlatching, or lifting and folding the entire piece.
Convenient enclosure that provides the utmost safety
Comes with 8 interlocking panels
Commercial-grade plastic made in the USA
Double steel door latch keeps the pen secure
– Anthony Dawson
Best Budget Dog PlayPen
Pet Trex
This lovely pet playpen from Pet Trex is a satiny black color, and is coated with special finishers that will give you years of protection from rust and corrosion. With the 8 panels that are provided, you get a good-sized pen that your dog will find accommodating for all kinds of playing, running, and jumping. The entire piece folds flat for convenient storage, and that also makes it much easier to move the pen from place to place. There are tough ground anchors that stabilize the walls, if your dog likes to jump and lean. All in all, this is a very well-designed pen, and seems to last most customers for many years. Whether you have a puppy or a bigger dog, this is a great choice to get your beloved pet out in the fresh air without having to be on a leash. It's also ideal when there are children in the house, and you want the dog to be able to play unsupervised.
Comes with 3 panels measuring 24″ x 24″
Easily foldable and simple to set up
Durable black finish with electro-coating
Comes with ground anchors and corner stabilizers
– Anthony Dawson