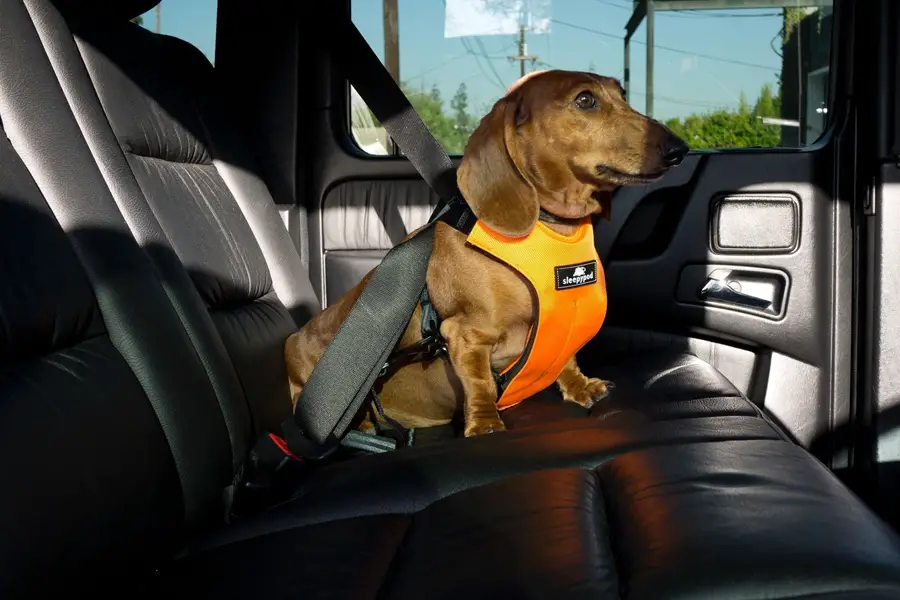 Dog Safety Harness Reviews
When your pet travels in your car it is important to secure them to keep them safe. Without a safety harness your pet can explore the car while it is moving. This can be a distraction for the driver and can cause great harm or death to your pet in the event of an accident. In order to protect your pet they should be in a dog safety harness. The following dog safety harnesses will keep your dog safe while you are driving.
Most Popular Dog Safety Harness
Kurgo
The KurgoTru-Fit Smart Dog Harness with Quick Release Buckles is offered in several different sizes ranging from extra small to extra-large. When you purchase this dog safety harness you can choose from three different colors making it easier to find a color that will fit with interior of your vehicle. This dog safety harness is meant to snugly fit your dog around their body. Based on your dog's size you can find a dog safety harness that can handle their weight. The neck and chest portions of the dog safety harness can also be adjusted making the device secure your dog completely. There are a total of five adjustment points for your pet to be securely maintained in the vehicle. You can install the device easily by using it with your seatbelt. Not only can you use this device when transporting your dog in the vehicle, you can also use this harness when you are walking your dog.
Offered in sizes from extra small to extra large
Choose from three different colors
5 adjustment points for a snug fit
Neck and chest portions can be adjusted
Can install easily using existing seatbelts
– Anthony Dawson
Best Overall Dog Safety Harness
Solvit
The Solvit Pet Vehicle Safety Harness will keep your dog safe while you are driving by preventing them from entering a section of the vehicle they should not be. There are several sizes offered ranging from small to extra-large allowing you to select the harness that best accommodates your pet's size. The dog safety harness is made of strong material to hold your dog securely. The vest is made of a mesh material that provides additional comfort while riding in the car. The mesh material allows the vest to breathe, which will prevent odors and allow your dog to stay cool even in warmer temperatures. The dog safety harness can be attached and installed in your vehicle easily by attaching it with straps that are heavy duty and connectors that are completely metal. The Solvit Pet Vehicle Safety Harness comes with a one year warranty. The dog safety harness can be adjusted to snugly fit your pet and keep them safe while they are in your vehicle.
Several sizes offered for various sized dogs
Made of strong material to fit your dog snugly
Mesh material allows the vest to breathe
Keeps your dog safe and cool during car travel
Attached and installed in your vehicle easily
– Anthony Dawson
Best Budget Dog Safety Harness
Bergan
The Bergan Dog Auto Harness with Tether is a great device to secure your pet when traveling in the vehicle. The dog safety harness comes in multiple sizes ranging from small to extra-large and can be completely adjusted. Based on the size you purchase you can have a dog safety harness based on your pet's weight. The safety harness is lightweight and will secure your pet comfortably. The carabineers attached to the device are aluminum and help keep the harness in place. When you are driving, the dog safety harness will be able to keep your pet steady when you are forced to stop quickly. The Bergan Dog Auto Harness with Tether passed several tests judging durability and safety for your pet and meets V9DT B2009 standards.
Comes in multiple sizes from small to extra large
Lightweight, yet strong material
Completely adjustable to secure your dog
Meets V9DT B2009 standards
Holds pets from 10 to 150 pounds. Select size based on dogs weight
– Anthony Dawson
Dog Safety Harness Buying Guide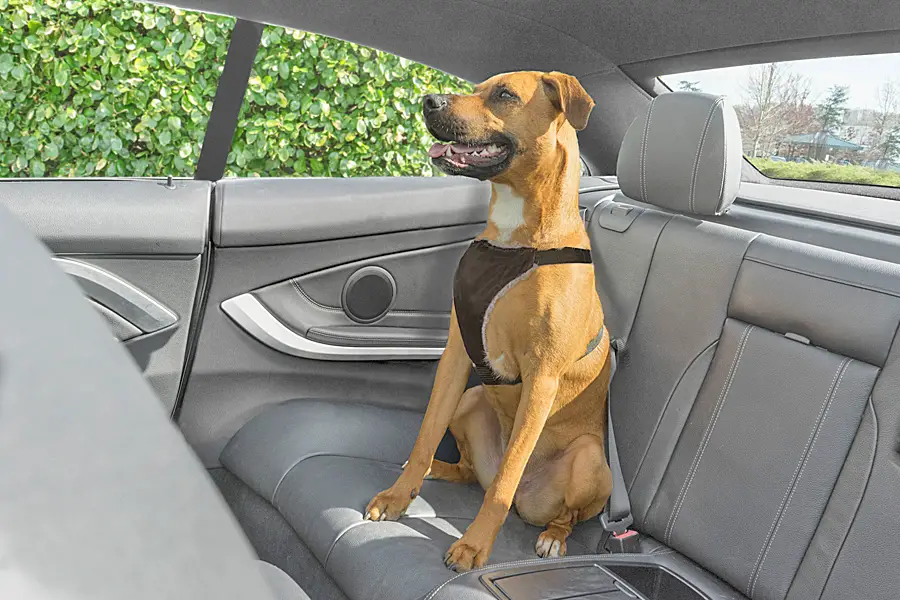 Most dog owners want to be with their dogs all the time. They want to be with their best friends when doing different activities such as hiking, walking and even driving. A dog harness is essential for owners who want to go out with their dogs and keep them safe. Nowadays, people use harnesses even when taking a quick walk with their dogs.
There are many dog harnesses in the market, and buying one can be a daunting task. It will be more difficult if you are purchasing a harness for the first time. Also, it's disappointing to buy a harness only to find that it doesn't fit your dog properly.
Why You Need A Dog Harness
Gives you more control
Managing strong and large dogs can be frustrating and difficult, especially when they are excited. A harness allows you to have more control over your fluffy friend where you need it most, in public areas.
Enhances Safety
Nervous dogs can quickly free themselves from collars. Harnesses cover the chest, front limps, and shoulders, securing the dog. They prevent the dogs from rushing into busy streets.

Helps Prevent trachea and neck injuries
You can strain your dog's neck when you pull a leash attached to their collar. This can lead to neck and trachea injuries that can be hard to detect. Smaller dogs have fragile bones, and pulling the leash can cause pain and neck injuries. Some small breeds are vulnerable to tracheal collapse when you squeeze their windpipes. A harness relieves the pressure from the neck and spreads it across the shoulders and shoulders.
Protects your dog from Ocular Proptosis
Ocular Proptosis is a condition where the dog's eyeballs bulge out of their sockets. Putting undue pressure on the neck of a dog can lead to this condition.
Things To Consider When Buying A Dog Harness
Finding a dog harness that suits your dog's needs requires research. There are various factors that you should put in mind when purchasing a dog harness. They include:
1. Size
The first thing that you should consider when purchasing a harness is the size. Fortunately, manufacturers indicate the size of the harness. They show the height and circumference in detail. Some manufacturers mention the breeds that can fit the harness.
2. Comfort
Walking around with your dog in a harness can cause discomfort. Therefore, you should ensure that you purchase a harness that has padding over the pressure points. Also, ensure that you buy a harness that allows your dog to breathe.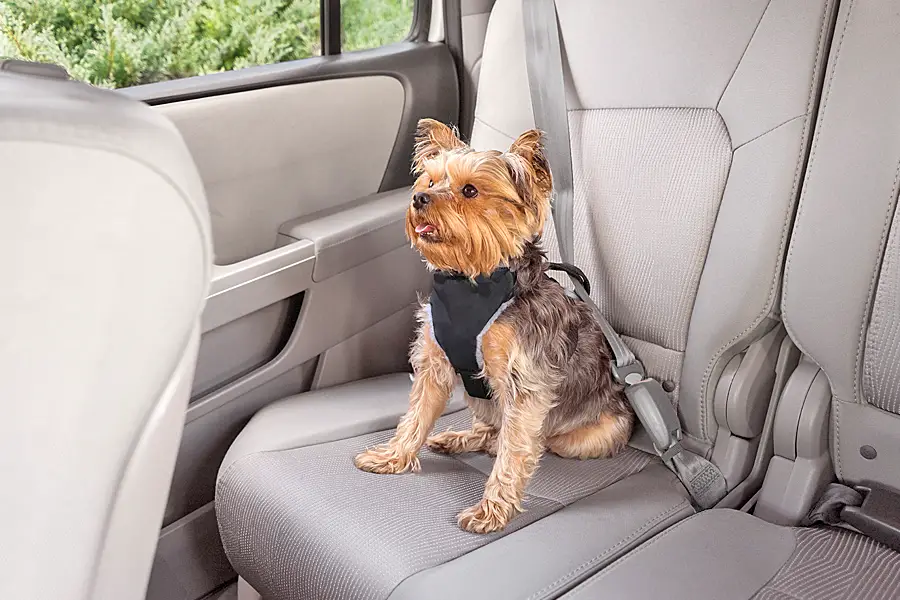 3. Accessories
The purpose of the harness will dictate the accessories that the harness should have. For instance, you don't need accessories if you are purchasing a harness to walk your dog around. However, you will need accessories such as loops and ID badges if you are shopping for a hiking harness.
4. Adjustability
Adjustability allows you to create the perfect size for your dog. A good harness should have one or two adjustable points. High-end brands offer more than three adjustability points. A perfectly sized harness can reduce discomfort and improve security.
5. Backpacks
Some brands come with a backpack while others do not. A backpack allows your best friend to carry essential supplies such as water, first aid kits, and other things. You should not confuse these backpacks with the ordinary pack since they look like small pouches. You can either buy a harness that has a backpack or purchase the pack differently. You should buy a harness that has a backpack since you can easily match the colors.
6. Ease of Lifting
A harness allows you to pick and lift your dog quickly. You can put your dog into the car or any other place without worrying about the weight. You should ensure that the harness has a handle that can allow you to lift the dog.
7. Pull and Safety
The pulling power of harnesses differs depending on their designs. Some will enable you to pull your dog from the front while others don't. Ensure that the harness is safe and can protect your dog.
Conclusion
A dog harness is a significant investment that all dog owners should have. When buying a harness, you should ensure it's comfortable and safe to you and your dog. This guide will help you buy the right harness for your dog.