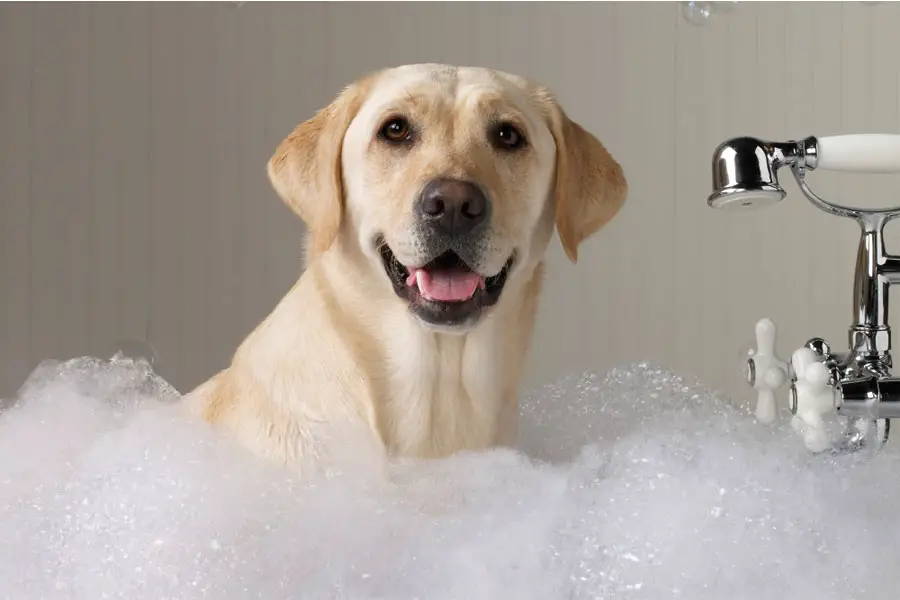 Dog Shampoo Reviews
With so many options out there, choosing a shampoo for your dog can almost be as confusing as choosing for yourself. The first rule of thumb is that you should absolutely not use human shampoo on a dog. The skin of our pets is especially sensitive, and formulations that we use will damage the pup's skin. There's a whole different PH for their skin, and it needs to be more acidic than standard brands that we use. First determine what kind of skin type your dog has. There are formulations for dry, oily, and normal, and sometimes it's best to ask your vet what the condition of your dog's skin naturally is. The best brands offer the most natural ingredients, like products that use oatmeal and other healing substances. If you can't pronounce the names of the synthetic ingredients, then you probably want to choose another brand. Shampoos that contain pyrethrins are a great choice if your dog suffers from fleas and ticks. Also, formulations with aloe vera are fantastic if your dog has itchy skin.
Most Popular Dog Shampoo
Aroma Paws
Choosing a shampoo for your dog that also acts is a conditioner is a great way to save you that second step of the bathing ritual. With its delightful coconut papaya smell, this shampoo/conditioner from Aroma Paws is a fantastic choice if your dog has sensitive or dry skin. The green tea leaf extract leaves the coat extra shiny, and aloe vera helps to soothe troubled skin. Also, the sweet almond oil and coconut are terrific detanglers and conditioners. The formulation is completely free from chemicals and other harsh cleansing agents, like alcohol, dyes, parabens, and synthetic fragrances. This also happens to be a tremendous stress soother because of the pleasing scent and gentle cleaning power. Because it works to soften and detangle so well, it's particularly beneficial for longer coats, as well as for adventurous dogs that always seem to be a mess of fur by the end of the day. The PH balance ensures that you will have no negative reaction on your dog's skin.
Biodegradable, tearless formula
Perfectly PH balanced for your dog
Low rinse formula
Comes in extra large size
– Anthony Dawson
Best Overall Dog Shampoo
Earthbath
Earthbath is a fantastic, natural brand that works well with a dog's skin. This is particularly helpful for dogs who have itchy skin due to seasonal allergies. The gentle cleanser is also free from any harsh ingredients that can only make itchy skin more irritable. Some dog owners who use this product swear that it's more powerful for clearing up skin infections than the harsh medications that the vet prescribes. The scent of the shampoo is wonderful, and the gentle cleansing effect is perfectly safe and free from harsh soap or perfumes. The packaging has the added benefit of being totally biodegradable and gentle on the environment. This is as good as it gets when you're looking for all natural pet care that thoroughly cleans and heals the skin, without drying out the coat. Earthbath remains the leader in natural dog products that pet-owners love, and that pets never have any difficulty with.
Completely natural pet care
100% biodegradable packaging
Cruelty free
Wonderful scent
Soap-free shampoo
– Anthony Dawson
Best Budget Dog Shampoo
Sulfodene
Sometimes all-natural products don't quite cut it if your dog is suffering from serious itching and scratching. Sulfodene Medicated Shampoo and Conditioner for dogs is basically the K9 answer to Selsun Blue. When natural shampoos with oatmeal and aloe just aren't working for your dog, then it's time to step it up with this powerful formulation that keeps the scratching at bay. Not only is it tremendously effective, but it does not dry out your dog's coat like some other medicated shampoos. Users report a soft, shiny coat, even above and beyond the more expensive brands on the market. This is also a great one step process, so you don't need to buy separate shampoo and conditioner, and keep your dog in a pool of suds for longer than is necessary. This product comes highly recommended by vets and professionals. If you're looking to find some serious relief for your dogs itchy skin, without salvaging their beautiful, moisturized coat, then this formulation is a fantastic way to get the best of both worlds.
Biodegradable, tearless formula
Perfectly PH balanced for your dog
Low rinse formula
Comes in extra large size
– Anthony Dawson
Dog Shampoo Buying Guide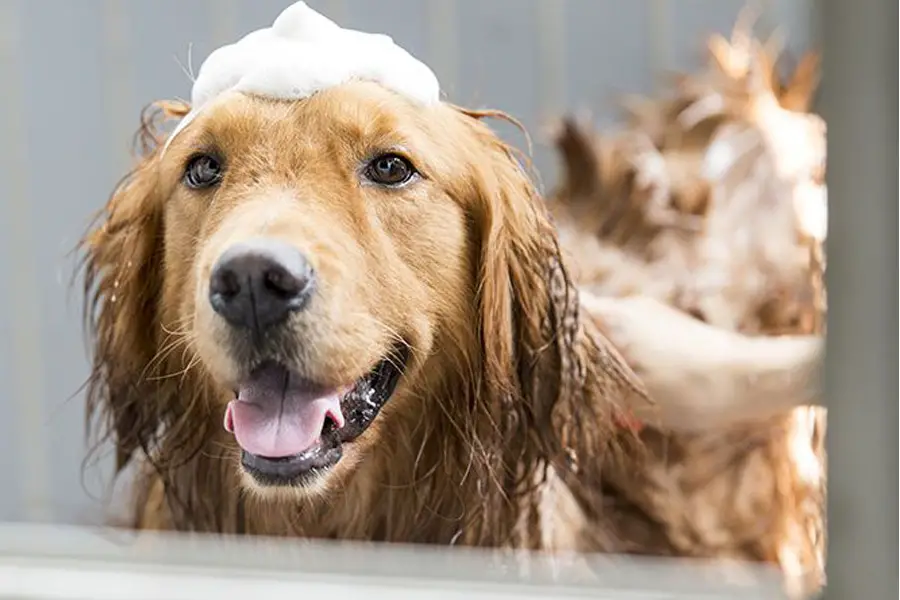 A clean dog is a happy dog, no matter how much your furry friend enjoys rolling in the mud. Over time, shampooing your dog at home can save a lot of money and time spent at the groomers. But, have you ever wandered down a pet shampoo aisle? It can be slightly intimidating, and with all the different colored bottles and scents, where do you start? We have put together a comprehensive guide on everything consumers need to know when it comes to lathering and rinsing your dog's coat. Let's take a look at some considerations you will have to make.
Purchase Consideration
Your Dog's Coat
Each breed has a different kind of coat, from long, silky Afghans to short-haired Chihuahuas, each coat needs a specific shampoo. Some shampoos can be drying while others are greasy, so it is important to be in tune with the kind of coat your dog has. If you are stumped on deciding what kind of coat your pup has, ask a veterinarian for their professional opinion. The last thing you want to do is buy a shampoo that doesn't work well with your dog's fur.
Skin Irritations or Allergies
Poorly made shampoos are full of harsh chemicals that can irritate your dog's sensitive skin or cause an allergic reaction. If you know chemicals or scents that you know your dog is allergic to, such as Coconut oil or colored dyes, then you can avoid these by reading the ingredient list carefully. Natural shampoos or those made with hydrating ingredients like oils and vitamins are perfect for dry and irritated skin.
Flea and Tick Prevention
There are specific shampoos on the market that prevent fleas and ticks from manifesting in your dog's coat. If you take your pup to the dog park or allow it to roam in the fields or backyard for hours, chances are it may come across a flea or tick at some point in its lifetime. Ask your veterinarian about a good quality flea and tick shampoo that smells great and nourishes the coat at the same time.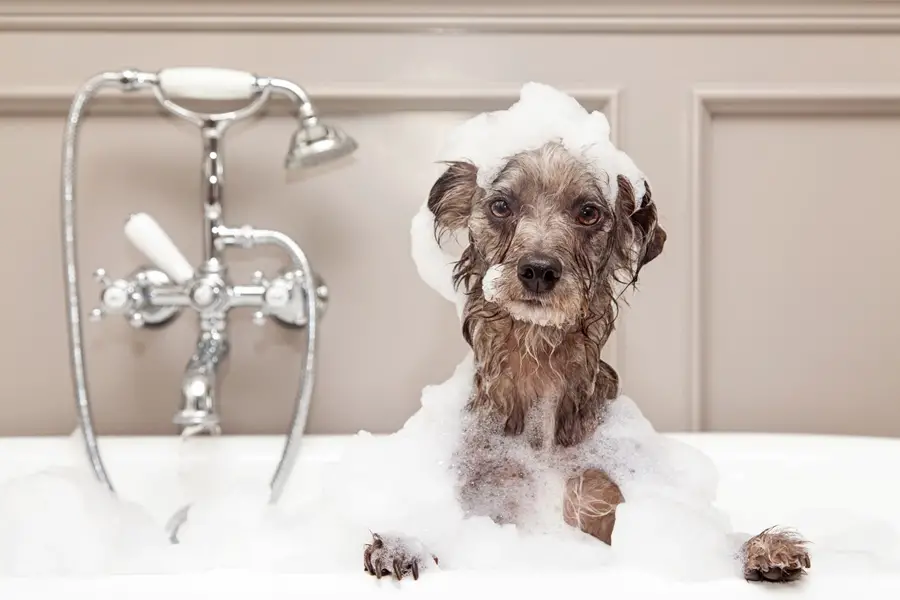 Silky Shine
Dogs with luxurious coats should wear them proudly! If you use a harsh shampoo or one that is very drying instead of hydrating, your beautiful pup will be left feeling drab and flat. A nourishing shampoo will keep your dog's coat shiny, silky, and oh-so-fluffy! Look for ingredients such as coconut oil, jojoba oil, vitamin infusions, essential oils like lavender and orange, and even green tea extract. These ingredients also make the brushing and drying process easier because the tangles are smoothed and easy to comb through. Not only will your dog be looking its best but it will be smelling its best, too.
Odor Relief
Some dogs are stinkier than others, let's face it! There's farm dogs, backyard dogs, and apartment dogs, all of which are exposed to different smells! Outside dogs or those who love to roam outdoors for most of the day can benefit from a shampoo that has essential oils like rosemary or lavender to combat any strong outdoor odors. However, inside dogs can benefit from lighter scents like orange and flowery smells that will make the entire living room smell amazing.
Budget and Bottle Size
Depending on how often you plan on shampooing your dog, you need to consider your budget and requirement of size. If you have a Great Dane or St. Bernard that you plan on shampooing weekly, then you probably want a shampoo that is affordable and comes in a fairly large size. Consider your budget and how much you plan to spend on shampoo, so you aren't going through a bottle every time and running your wallet dry.
Shampooing your dog at home can be a real time-saver and make for a great bonding experience between the two of you. However, if you use the wrong shampoo, your dog could come out feeling itchy, dry, and drab. Using the right kind of shampoo that compliments your dog's skin and coat will make him or her much happier about hopping into the tub. The next time you wander down that long pet shampoo aisle, take this helpful advice into consideration to make the decision process easier an