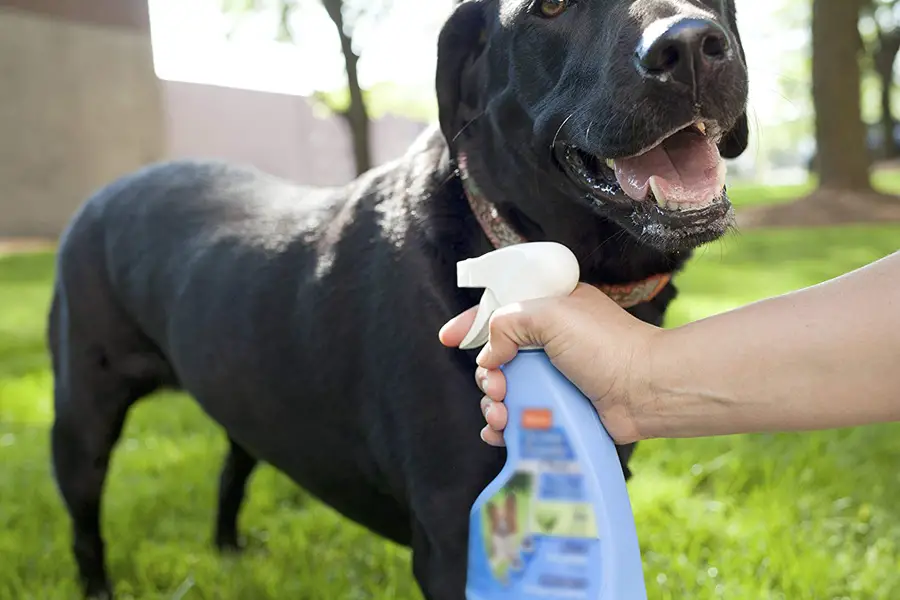 Dog Spray Reviews
Dog sprays come in all different forms. There is literally a spray for everything when it comes to animals. This is because the use of a spray is a much quicker, easier and less intrusive way to handle a problem or to carry out cleaning of an animal. Sprays can be used to fight against fleas or ticks, being used once a month say for the upkeep of repelling the insects away from the animal's fur. Sprays can also be used for grooming the dog. In the form of a spray shampoo or lotions or powders can be spray on the dog instead of manually rubbed into the fur which often causes the dog discomfort or makes them uneasy. Pet grooming has become extremely reliant on sprays now due to them being a much easier option all round. The sprays can even cover as a form of training or obedience in the form of anti-barking collars.
Most Popular Dog Spray
Frontline
The well-known and popular brand Frontline presents the flea and tick treatment spray for dogs and cats. It comes in a handy 8.5 ounce bottle with a sturdy and easy to use nozzle. The spray action ensures an even application of the product and allows the process to be quick yet effective for the pet every time. The formula can be sprayed directly on to the pet's fur and will control the battle against fleas and ticks for up to 30 days. Containing fiprinol, this flea treatment kills all pests safely even from as young as 8 weeks old, it also promises to kill the fleas before they have laid their eggs which in turn prevents another infestation from occurring. One spray a month should cover the pet however if there is a need to re-spray then the product can be used and reapplied regularly.
Spray on topical flea and tick controller used directly on the pet
Easy to use with fast and effective application covering large areas
Kills off eggs and fleas preventing infestation reoccurring
Safe formula for kittens and puppies from 8 weeks
– Anthony Dawson
Best Overall Dog Spray
PetSafe with Anti-Bark Device
The Gentle Spray Citronella Anti Bark collar is easy to operate and causes no pain to your dog. When the sound of your dog barking occurs, it triggers the microphone in the collar to then spray a burst of citronella which dogs find unpleasant. It's a great way to control excess barking and give obedience training to your dog safely. Nuisance barking can cause issues in a household so learning to get the problem under wraps for both the dog and everyone else can be very rewarding. This technique is far more appealing for dogs and owners as electric shocks and ultra sonic products can cause anxiety and aggression in dogs where as the use of a simple spray with a foul scent that becomes an association with barking, seems a much more humane approach to teaching your dog to stop barking. The collar itself holds up to 25 sprays and the refill can holds 300 sprays.
Works on dogs from 6 months upwards at 6 pounds in weight or more
Painless and minimal intrusiveness for training
20 inch neck collar
Nylon material, with a detachable spray device
3 ounces of solution, 6 volt battery
– Anthony Dawson
Best Budget Dog Spray
Crazy Dog
The Crazy Dog Baby Powder Grooming Spray really is similar to the baby powder you would use on a baby to keep them fresh and clean. The spray is easily applied to the dog's fur coat and can then be brushed in a more manageable fashion. The use of the spray allows the fur to be detangled and removes any static from within that can sometimes cause the dog fur to matte together and get entangled in it and other objects. The dirt and static are removed simply by using a negative charge that comes from a reaction between the spray and the fur, almost like a magnetic attracting the dirt out from the fur in a pulling motion. Crazy Dog's Baby Powder Spray is perfect for grooming your dog, it cleans and conditions the fur to a high standard and leaves the dog smelling fragrant and fresh for days, all due to the oils the spray contains. This means it can be used as a dry bath between regular washes.
Makes combing and brushing much more manageable
High quality oils with lasting fragrance
Dirt and static removed by negative charge
– Anthony Dawson