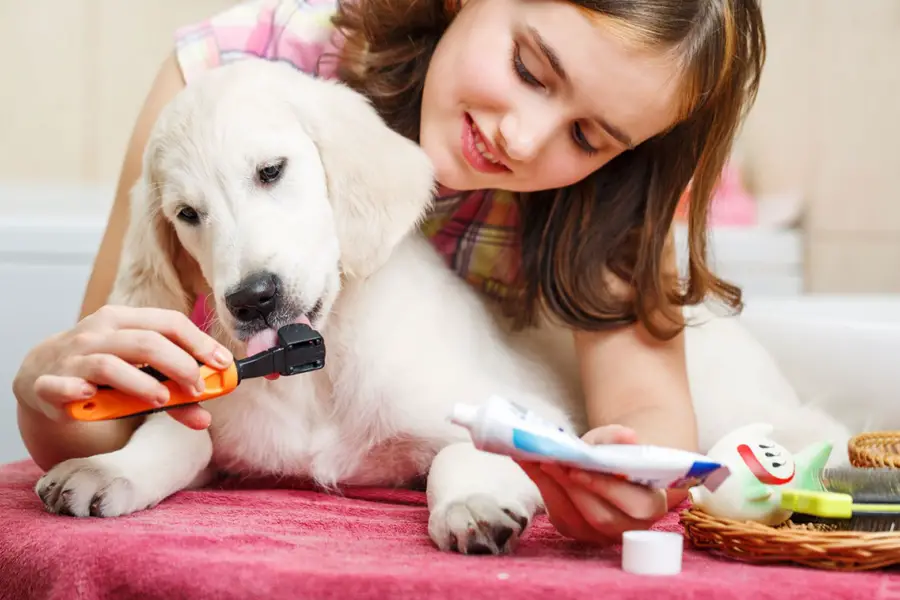 Dog Toothbrush Reviews
Dental disease is an extremely common affliction in dogs that most owners are actually unaware of. Depending on the breed and age of the dog and of course its personal habits and hygiene, the rate at which the dental problems can arise increases. It should be made an important part of your dog's daily routine to encourage and take care of its oral health. The use of a toothbrush if done on a regular basis can be hugely beneficial in the removal of plaque and tartar from your dog's teeth keeping both teeth and gums healthy. Using quality dog toothpaste when brushing means the dog can swallow the ingredients, as they are not harmful animals. Tooth brushing also prevents bad breath, so as time passes by and your dog learns that using a toothbrush is a daily part of life, the whole process gets much easier and more enjoyable for you and your dog.
Most Popular Dog Toothbrush
CET
A pet toothbrush is sometimes a worrying product to some owners. The thought of trying to use a toothbrush on your pet can sound like really hard work. However it is of such great importance that you look after your pet's oral hygiene not just for their mouths but for their overall band of health too. Having a healthy mouth prevents nasty bacteria from entering your pet's body and causing other forms of health issues in the future. The toothbrush can be used for small dogs and cats too, as it is slim line and compact, so can fit in even the smallest of mouths. The toothbrush can be used in conjunction with other CET Pet Toothpaste products to give your pets pearly white teeth with no mouth odours with prevention against plaque and tartar build up. Due to the size of the toothbrush owners will find it easy to manipulate and get to areas within their pets mouths easily and quickly making brushing of their pet's teeth a quick and hassle free part of their daily routine.
Use for small dogs and cats
Tartar and bad breath reducer and eliminator
Gives your dog proper oral health care
Easy to use for owner and for dog
– Anthony Dawson
Best Overall Dog Toothbrush
PenVinoo
A dental care kit should be an essential part of everydog's lifestyle and routine. Oral health is a major part of your dog's overall health care and maintaining it to a good standard is a must. Using the PenVinoo Dog Dental Care Kit, this comprises of toothpaste and two toothbrushes. That is all you need to have in order to keep your dog's mouth in good check. The toothpaste comes in great poultry flavours that your dog will enjoy to use and like the taste. This makes the hard part of the process a lot easier to deal with and less daunting for your dog. Keeping your dog's breath fresh and being able to eliminate any mouth odours will be beneficial for your dog and for you, no more dog breath.
Designed for dogs as a dental kit
Great poultry flavours
Eliminates bad breath and mouth odours
Controls plaque
– Anthony Dawson
Best Budget Dog Toothbrush
Virbac
The CET Poultry Toothpaste isaprofessional and effective toothpaste that is specially designed for a safe and appealing process for your dogs or cats. The poultry element makes the toothpaste inviting and therefore encourages the animals to want to use the product as the flavour is enticing for them. There is a dual enzyme system built within the formulation that is designed to remove any plaque or tartar from the teeth and gums with ease and protects the areas against any further build up in the future. The flavours make for the use of the toothpaste a much easier process, and this in turn means that the animal will eventually enjoy cleaning their teeth and keeping their oral hygiene at a good, high standard. They will be left with fresh breath and the CET toothpaste will eliminate any mouth odours so no more bad dog breath for your pet.
Specially formulated for dogs and cats for a natural antibacterial removal of plaque
Prevents and eliminates mouth odours
With a no foaming agent, pets are safe to swallow the toothpaste
– Anthony Dawson