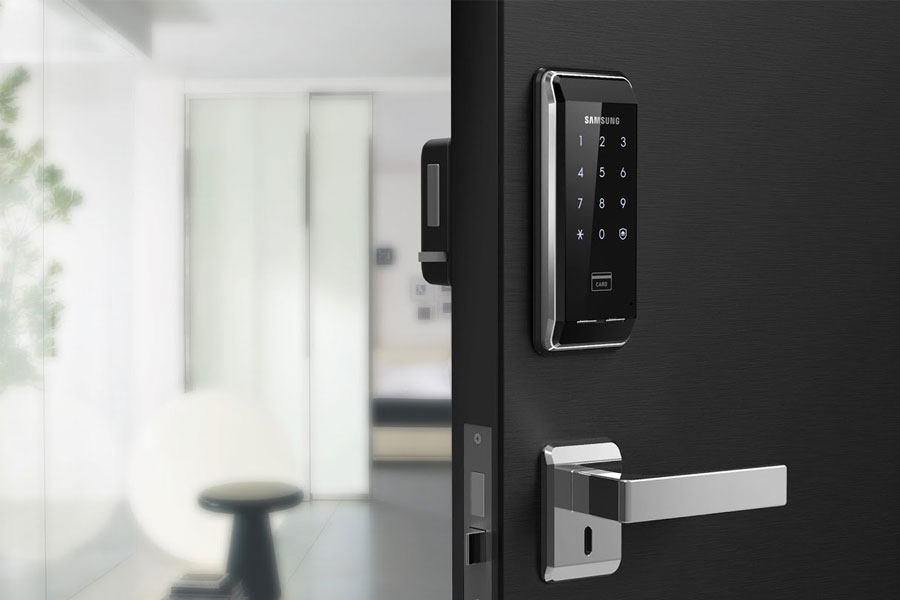 Door Lock Reviews
Keyless Door locks secure your home, keep your family and your valuables safe and secure and prevent unwanted guests from entering your home. Keyless Door locks can also protect you while you are around the house, in the back yard or garage, taking a nap, or in the shower. With a keyless door lock you can prevent potential harm or robberies that may threaten your home. These door locks are tamper resistant and provide a secure way to enter your home without having to worry about lost keys or being locked out. Protect yourself, your family and your valuables by purchasing a secure door lock. The following keyless door locks are high quality top brands known for providing fail proof locks to better secure your home.
Most Popular Door Lock
Schlage Lock Company 365
The Schlage BE365VCAM619 Camelot Keypad Deadbolt is available in three different colors allowing you to match the inside or outside of your home, creating a sleek entry. This door lock has a keyless entry providing you and your home with enhanced security. For your convenience, this device has an easy one tool installation saving you time and stress. The Schlage BE365VCAM619 Camelot Keypad Deadbolt is compatible with 1-3/8 to 1 ¾ an inch thick doors making this door lock useable for almost any door. Codes can be easily added or deleted right at the keypad using the lock's unique six digit programming code. When you purchase this door lock you will also receive a 9-volt battery, the six digit programming code, along with two 4 digit user codes preset at the factory. The Schlage BE365VCAM619 Camelot Keypad Deadbolt has a limited lifetime mechanical and 1 Year Electronic warranty.
Up to three colors available
Keyless entry providing you enhanced security
Useable for almost any door
Codes can easily be added or deleted using the keypad
1 year warranty
– Anthony Dawson
Best Overall Door Lock
Schlage Lock Company 595
The Schlage FE595VCAM619ACC Camelot Keypad Accent Lever Door Lock will prevent break-ins and allow you to be secure in or out of your residence. This door lock is offered in four different colors allowing you to choose a color that will match your residence décor. The keyless entry that this door lock offers will provide you with enhanced security. The Schlage FE595VCAM619ACC Camelot Keypad Accent Lever Door Lock has a reversible lever for use with doors that are either right hand open or left hand open. The outside assembly is 6.84 inches tall, 3.01 inches wide, and 2.74 inches deep. The inside assembly is 5.75 inches tall, 3.01 inches wide, and 2.77 inches deep. For your convenience, this door lock can quickly add or delete user codes at the keypad using the lock's unique six digit programming code. You can easily install this door lock without any wiring. With keypad entry you never have to worry about losing your keys or getting locked out of the house again.
Offered in four different colors
Provides you with enhanced security
Reversible lever for use with right hand and left hand doors
Can quickly and easily add and delete user codes
Unique six digit programming code
– Anthony Dawson
Best Budget Door Lock
Anaconda
The All-Weather Mechanical Keyless Deadbolt Door Lock-Satin Nickel, #409 is a very helpful door lock that will keep you secure. This door lock is offered in three different colors allowing you to match your home décor. The all-weather operation door lock does not require any batteries and has an easy to open door handle design. This door lock can replace existing deadbolts on doors up to 1-3/4 an inch thick and can also fit standard 2-1/8 an inch diameter cutout. The All-Weather Mechanical Keyless Deadbolt Door Lock-Satin Nickel, #409 unlocks through a push-button code or with a standard key, 2 keys are included with purchase. This door lock has a user programmable code up to 10 digits. The door lock has a 13 digit alphanumeric keypad with a clear key. The All-Weather Mechanical Keyless Deadbolt Door Lock-Satin Nickel, #409 will fit both left-hand and right-hand door types with the 2 position backset latch that is 2 ¾ & 2 3/8 an inch.
Three colors available
All-weather operation door lock
Can replace deadbolt locks on doors of many sizes
Unlocks with a push-button code or with a standard key
Programmable code up to 10 digits
– Anthony Dawson
Door Lock Buying Guide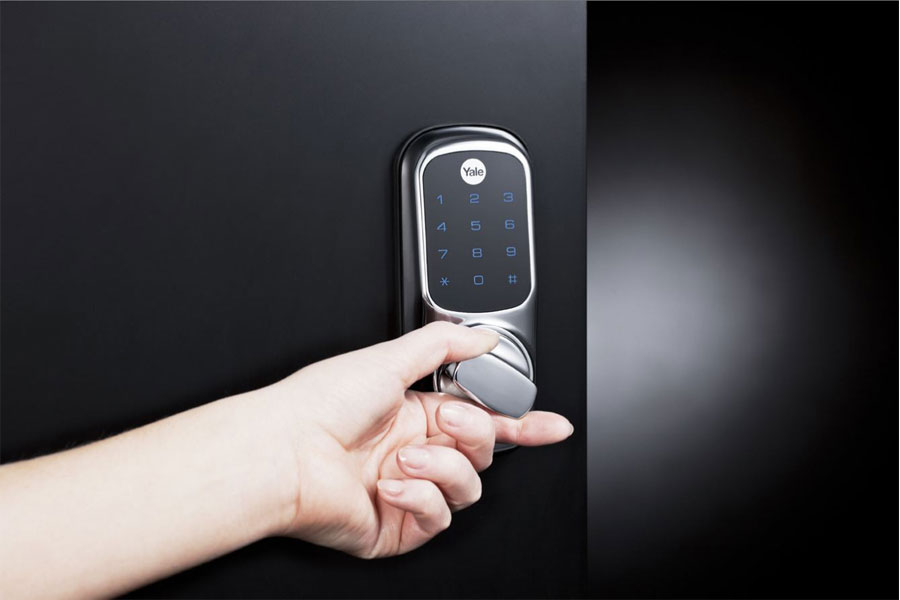 A door lock is used to protect privacy and property. It offers varying degrees of security and choosing the right one depends mainly on the function it will perform where it is installed.
Privacy locksets are used for interior doors, usually bathrooms, where a locking mechanism is found inside but no key is needed on the outside. Any narrow, thin object may be inserted to turn and unlock from the outside.
Entry lock sets are those used to prevent unauthorized entry for medium to heavy security. They may be used in offices, classrooms, rooms where important property is stored, or exterior doors.
For medium security, there is a locking mechanism on the inside while a keyed entry is required on the outside. For heavy security, both sides require keyed entry. Door handles for both privacy and entry locksets may be lever or knob type.
Types Of Door Lock
Door locks may be chosen depending on the bolt type, lock type and ANSI grading. ANSI is the American National Standards Institute which sets three grades as standards for security, where 1 is the highest and 3 is the lowest.
The bolt is a tubular plug that protrudes from the lock and into the door frame, usually through a matching strike plate. Bolt type may either be latchbolt or deadbolt.
A latchbolt has an angled or beveled edge, and is spring driven. This means that the bolt retracts manually when the door handle is turned or the right key is used, and the spring engages automatically once released, allowing the bolt to extend out fully. For ANSI grades 1 and 2, the protrusion is ½ inch while an ANSI grade 3 only requires 3/8 inch. This is the type that can be opened by jimmying.
Some latchbolts come with a deadlocking device called a plunger. The plunger is a small separate part that is not beveled and deadlocks the latchbolt. This supposedly prevents the lock from being jimmied, but incorrect installation may still allow a good lock picker to forcedly open it. The protrusion is ½ inch for all ANSI grades.
The deadbolt is a cylinder with no beveled edges, such that it needs to be manually turned to extend or retract. It has no spring mechanism. This is much more secure than a latchbolt. The required protrusion for all ANSI grades is 1 inch.
Lock type is either a bored cylindrical lock or a mortise lock. The difference lies in the installation. A bored cylindrical lock requires a hole on the door face around 1.5 to 2 inches in diameter for the cylinder, and a smaller crossbore hole on the door edge where the bolt goes through. A mortise lock, on the other hand, requires carving a pocket or mortise on the thickness of the door to insert the lock. It requires woodwork and intensive labor. Though it hides the lock within the door, it renders the door weak because of the hollowed middle.
A bored cylindrical lock uses a latchbolt with a cylindrical or tubular chassis. Of the two, the cylindrical chassis is more durable. However, cylindrical locks are still basically weak in the center and forced entry is possible by applying force to the cylinder using a torque wrench.
If the door is flushed to the jamb, a latch guard plate may be installed to protect the latchbolt from being jimmied (usually with a laminated card) or pried open (with a pry bar or spreader bar).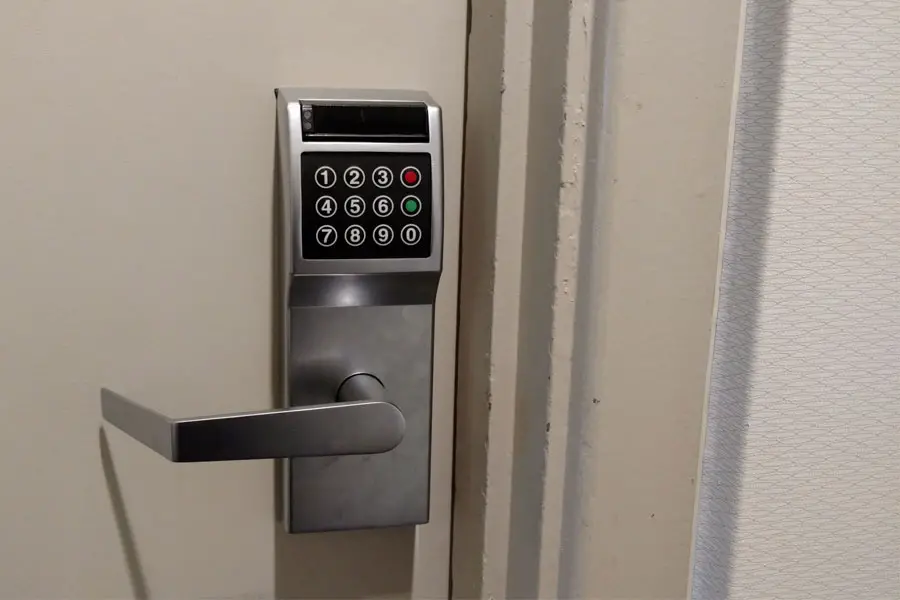 All ANSI grades require a pin-and-tumbler mechanism with at least 5 pin tumbler cavities. Pin-and-tumbler mechanism is easy enough to pick for an experienced lock picker. With the right tools, the pins of the mechanism may be pushed to the right notches to allow the bolt be retracted fully. To avoid this, there are now mechanical keyless locks that have numbered buttons or dials in place of the keyhole. The correct number code is entered and the handle may be turned to open the lock.
For maximum security, deadbolts are the best option. Deadbolts have beveled and hardened steel casings, and saw-resistant bolts. Beveled casings make it hard to use wrenches, pliers or pry bars to dismantle the lock from the door. The hardened steel case resists against a drill bit if power drills are used. The saw-resistant bolts spin freely back and forth against a saw blade should it be attempted to saw off the deadbolt.
Deadbolts come in single cylinder type or double cylinder type. A single-cylinder deadbolt has a keyed entry mechanism on the exterior and a turnpiece on the interior so that a key is not needed when exiting. A double-cylinder deadbolt has keyholes on both sides. This is for doors that can be easily reached by breaking a window. There is no turnpiece to open the door from the inside and, thus, prevents unauthorized entry. The problem with a double-cylinder deadbolt arises in cases of emergency. To address this, some double-cylinder deadbolts have a captured key turnpiece. This is a turnpiece fitted in the interior keyhole that can be left in when the occupants are at home, but can be removed using the key when the occupants leave.
Some deadbolts also now have a mechanical keyless entry mechanism where numbered buttons may be pressed in place of a keyhole on the exterior. In this type, a turnpiece is also on the exterior which may be turned to release the deadbolt after the correct code is pressed.
To improve on the mechanism of keyless entry, electronic lock sets are also available which allow keyless access using numeric keypads (with audio response and/or alarms), security tokens (as swiped keys), or biometrics that authenticate entry through fingerprint scanning, retinal scanning or voiceprint identification. Usually, once entry is authenticated, the door unlocks automatically without having to turn any handle. It also automatically locks again when the door closes (installed with an automatic door closer). In case of electronic failure, a key and keyhole are still included as safety feature.
Advantages
To combine the advantages of all these door lock sets, there are interconnected lock sets that have both latchbolt and deadbolt in a combined plate. There are two separate keyholes on the exterior but only one turn piece in the interior to easily open both locks. Interconnected lock sets are available in both cylindrical and mortise type. Even electronic keyless entry types are available.
Choose door locks carefully. Take into consideration its purpose, function and convenience. For exterior doors like the front door, back door, and garage door, deadbolts are advised. It may be more expensive, but for better security, the price is worth it.