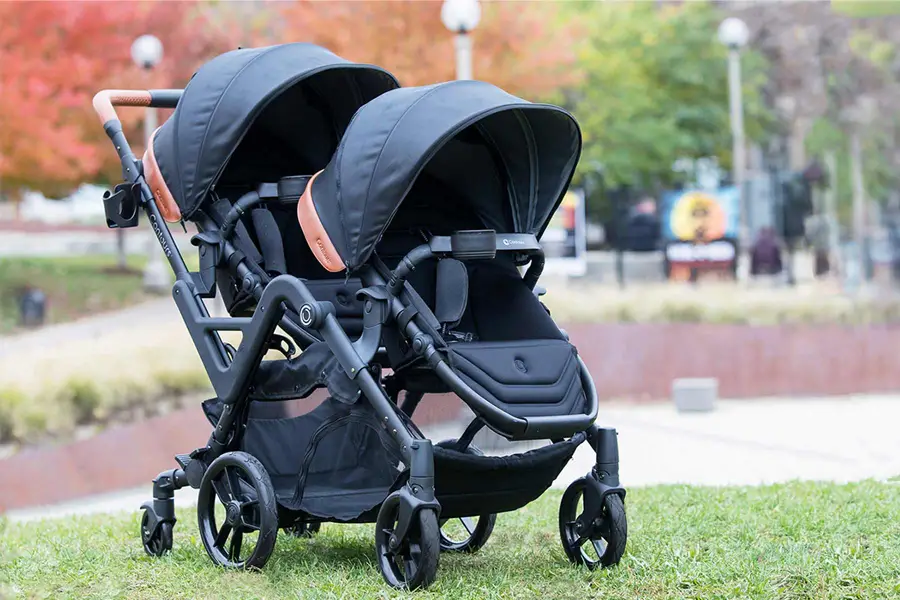 Double Stroller Reviews
Once your children are out of the car, it is still important to keep them safe. In order to do so strollers are the easiest way to keep an eye on your children without the hassle of constantly chasing them down every five seconds. It was once thought that double strollers were only for families with multiple children. Yet many families have discovered that if they have children close together a double stroller can be a life saver for longer shopping trips or outings. The following strollers are a great investment and will help you keep your things and your children's things close by. Enjoy a family outing without having to worry about your children's safety. Strollers are also great for children with tired legs who want to ride for a while before getting back out to play or explore.
Most Popular Double Stroller
Baby Jogger
The Baby Jogger City Mini Double Stroller comes in three different colors Black/Gray, Crimson/Gray and Teal/Gray. The double stroller has an aluminum frame, which allows the stroller to be very light making the stroller easy to handle. The handle is comfortable and slip resistant. Attached to the handle is a parent tray that has two cup holders. The cup holders are very handy when trying to keep up with your things along with your children's things. The Baby Jogger City Mini Double Stroller which is guaranteed to keep your children entertained for the duration of your exercise and increases the amount of time they will stay in the stroller without fusing. The double stroller also has a child tray with two cup holders allowing you to store drinks and snacks for the children. The cup holder pivots, which allows the feature to be out of the way when not in use. The Baby Jogger City Mini Double Stroller has a spring suspension, allowing your children to have a smooth ride even with uneven terrain.
Built-in MP3 speaker
Lightweight
Parent and child tray with cup holders
Slip resistant handle
Spring suspension for smooth ride
– Anthony Dawson
Best Overall Double Stroller
BOB
The BOB Revolution SE Duallie Stroller comes in three different colors including orange, black, and navy. The stroller is lightweight for easy transport and storage. The double stroller breaks down easily with a two-step folding system and does not take up much space in the vehicle or house. The adjustable suspension system gives your children a comfortable ride. The front wheel swivels and allows you to maneuver easily. Whether you are traveling on a sidewalk or gravel, the stroller will maneuver different surfaces with ease. The BOB Revolution SE Duallie Stroller locks forward for stability and helps keep the stroller steady when jogging or on rough terrain. The seats recline and are padded for extra comfort for your children. The seats have a five point harness keeping your child secure and safe. The BOB Revolution SE Duallie Stroller has an adapter/snack tray that can be attached easily and quickly to keep snack time clean and convenient.
Swiveling front wheels for mobility
2 step folding system for compact storage
BOB Car Seat Adapter/ snack tray
Adjustable reclining seats
Seats have 5 point harness
– Anthony Dawson
Best Budget Double Stroller
Baby Trend
The Baby Trend Swivel Wheel Double Jogger comes in two different colors including gray/green or green/gray. The slip resistant handle is very comfortable. The handle also includes a molded tray with two cup holders. The parent tray allows parents to have a place to put their drinks, keys or other small items in a safe and convenient place. It is very difficult to watch your children's things, your things, and hold miscellaneous objects. Therefore, you will find that the parent tray will come in handy. The Baby Trend Swivel Wheel Double Jogger also has a child tray with two cup holders each. The cup holders will allow your children to have drinks and snacks within reach while you go jogging, or enjoy a family outing. The child tray pivots so that when they are not in use they can easily be moved out of the way. The Baby Trend Swivel Wheel Double Jogger is made with a dual trigger folding mechanism for safety. This feature also allows the double stroller to be folded away easily without taking too much space.
Pneumatic tires for easy mobility
Dual trigger folding for compact storage
Parent tray for storing small items conveniently
Child tray with two cup holders each for drinks and snacks
Slip resistant handle for a comfortable grip
– Anthony Dawson
Double Stroller Buying Guide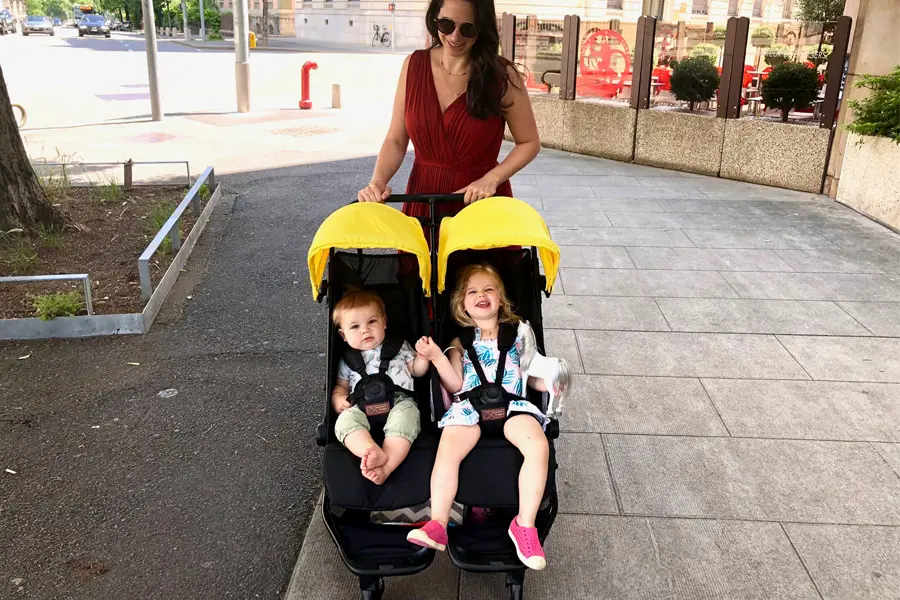 Looking for the Best Double Stroller
Being a parent requires you to buy a lot of things for your baby. From the small items like infant wears, socks, and feeding bottles to bigger equipment like car seats, playpens, walkers, and strollers, parents should always be meticulous in choosing the best product for their baby. Comfort and safety are just two of the major factors anyone should consider before purchasing any baby stuff.
Experts say that making the baby travel once in a while may help with fast brain development. Traveling will give babies an opportunity to be more familiar with colorful things and sounds. Though strolling babies outside is recommended, a lot of parents think of it as a hassle especially if the baby is too young to walk and needs to be carried all the way. Good thing baby strollers are invented to assist parents especially the single ones in making some quality time with their babies in a more convenient way.
Carrying a baby outside together with a bag full of baby stuff is undeniably a hassle for anyone. What more if there are two babies and both of them still need support in able to walk? In that case, a double stroller may come in handy. Double strollers are basically 2-in-1 seats that are specifically designed for twins or baby brothers or sisters.
Shopping for double strollers is somewhat a hard task to do. There are very few baby product manufacturers that design double strollers and almost all of them are branded and expensive. For most consumers, the price is not really a problem because it is like getting two products in a price of one. Plus the fact that they don't need to push two strollers at the same time adds up to its overall score.
Features to Consider
Double strollers are an essential item for parents that have a baby and an older child that still uses a stroller, or for parents of twins. There are many different makes and models of double strollers on the market and these will all have different features. It can be difficult to know where to start when comparing different double strollers but there are a number of features that parents should look out for.
Tandem or Side By Side?
There are advantages to both these types of strollers and the choice that is made is likely to be down to the personal preference of the parent. Tandem strollers are roughly the same width as a single stroller and are much easier to navigate through doorways and shops. Side by side strollers encourage greater interaction by both children as they are able to see and communicate with each other, whereas with a tandem stroller one child is always at the back. It may be a good idea to test out both types of stroller to see which one the parent is more comfortable pushing and how easy they find it to maneuver. Both types of strollers will usually have the option to have fixed or swivel wheels.
Adequate Weight Limit
This is especially important if the stroller is to be used for children of different ages. Children put on most weight in the first six months or so and after this time any weight gain tends to even off. This means that the weight of the eldest child is probably not going to increase by a large amount. Parents can use the weight of the eldest child to assess whether any potential weight gain for this child and the weight of the new baby which will increase quite steadily in the first few months will exceed the weight limit for the stroller. When working this out the parent will need to consider how long the stroller will potentially be used for and what the estimated weights of the children are likely to be at this point. Most strollers will have an upper limit of 100lbs which should be more than adequate but it is always worth checking the limit and working out whether this is likely to be exceeded.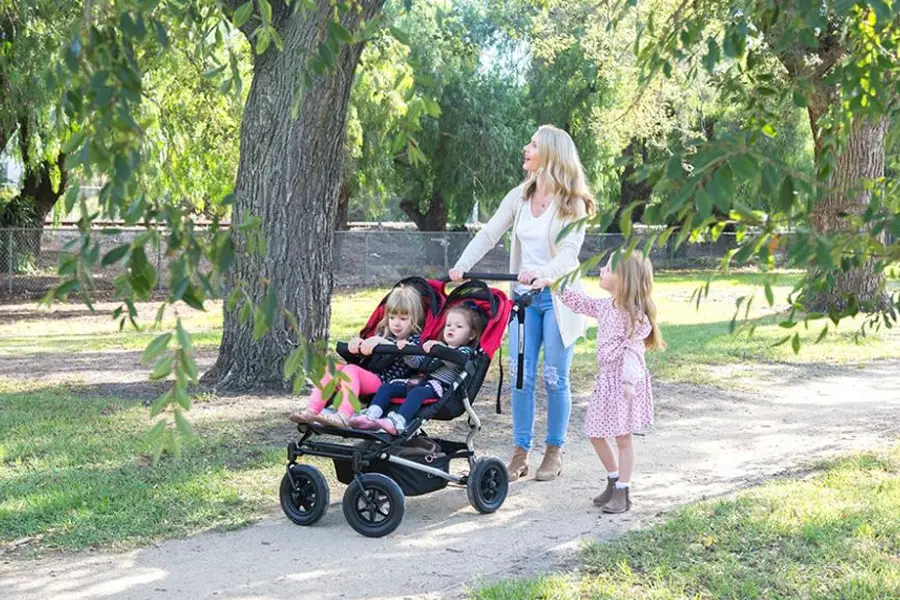 Types of Double Strollers
There are two types of double strollers parents can choose from.
Tandem – Commonly known as back-to-back double strollers. This type is much recommended because it requires less width because its style is like two seats tailing each other. Tandem double strollers are perfect for strolling the mall so that they can fit anywhere even in a place where there is a limited space.
Side-By-Side – This type of strollers are more convenient for babies since they can feel that they are not sitting all alone. Though some parents think that using side-by-side strollers are a hassle since it requires width, there are still those who prefer buying them. This type is actually perfect for infants because they still cannot support their backs from sitting and they are mostly lying down.
Umbrella Strollers – This is the lightest type of stroller. It has a shade on the top that helps protect babies from direct sunlight. This type of stroller can be easily folded because the material used in making it is more likely with the ones used in making an actual umbrella.
Jogging Strollers – These are the bulky ones that have large pair of wheels. They have a five-point harness which offers a high protection for the passenger. Hand breaks are present so that the person using it can easily stop the stroller from moving.
Additional Features for Double Strollers
Apart from making it possible for parents to travel with their kids in a very convenient way, a double stroller also serves as the baby's haven. There are several accessories that can be purchased and installed to give babies and parents a good riding experience. Here are some:
Baby Toys – they are of big help to prevent the babies from getting bored especially when traveling.
Food trays – it comes handy for toddlers who are being trained to eat alone.
Pouches and Organizers – perfect for holding baby towels, feeding bottles, teething rings, and other small baby items that are needed for traveling.
Bag Hooks – to be used for hanging diaper bags and other personal stuff.
Purchasing the perfect stroller will not be that complicated if the shopper knows all the things to be considered. It is not only with the style and design, but it is also with the safety and security since the ones who are going to use it are very precious and should be well taken-cared of. Keep in mind that when it comes to the baby's safety, there is no valid reason to trim down the budget. Buying baby strollers should be treated as an investment, not an expense.
Double Strollers are Life Savers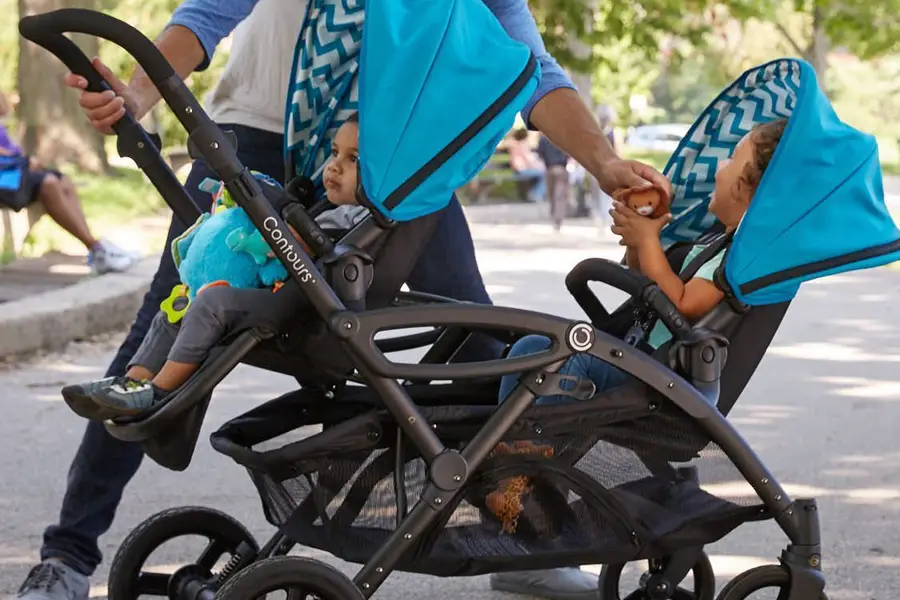 It used to be that a mother with two young children (twins, for instance) had to struggle if she were to carry both of them with her; usually, one in the stroller and the other in her arms. Since the advent of the double stroller however life has gotten a lot easier. Now she's able to carry both infants with the same amount of effortlessness and ease.
Double Stroller Seating
Since their launch, double strollers have evolved to keep pace with the ever changing needs of mothers. In some, the seats are side-by-side, usually with duplicate features so to accommodate each child equally. However, some models have the seats aligned in a linear fashion so that one set trails the other.
And then there are the more drastic configurations where one seat sits almost on top of the other, or where the seats are arranged back-to-back. There are even designs where one seat is significantly larger than the other to accommodate a toddler and a newborn.
Double Jogging Strollers
A more recent incarnation of the stroller is the jogging stroller. They are usually marked by larger tires and having only three wheels. This innovation is to facilitate speed and maneuverability. With these strollers the new mother can begin to get back in shape while watching the kids at the same time. Now, when she decides to go for a jog, she simply puts the tires into her jogging stroller and off she goes.
You might be thinking that jogging while pushing two infants might be too much for the new mother, but the exaggerated/tricycle wheel design makes this job a lot more effortless than you might think. The bicycle tires perform just as they would if you were riding a bike. And, the tricycle-like front wheel swivels, affording zero degree turns and unmatched maneuverability.
Double Stroller Features
Again, the front wheel of jogging strollers that feature a single, swiveling wheel has a locking mechanism for safety. In addition, there are also locking mechanisms on the rear wheels. So, whenever the new mother does decide to take that much needed break, she can feel secure that her toddlers won't roll of on their own.
These strollers are so well designed that even storing them away is effortless. Most models feature a one-step, trigger action that collapses the unit so that it stores easily and safely away. They also have dual cup holders for toddlers' fruit juice or water.
And, although double strollers are designed with the infant in mind, they didn't forget about the new mom either. So, some models also feature canopy-topped speakers that accepts mom's MP3 player; so she can listen to music while jogging.
Holding onto the stroller handles during a long run can be rough on the new mother's hands; so most models equip their product with rubberized grips to make prolonged clutching more tolerable.
As you can see, double strollers have come a long way since your grandmother's days. Now, manufacturers have made every effort to make the job of caring for kids less demanding.
Mom's Best Accessory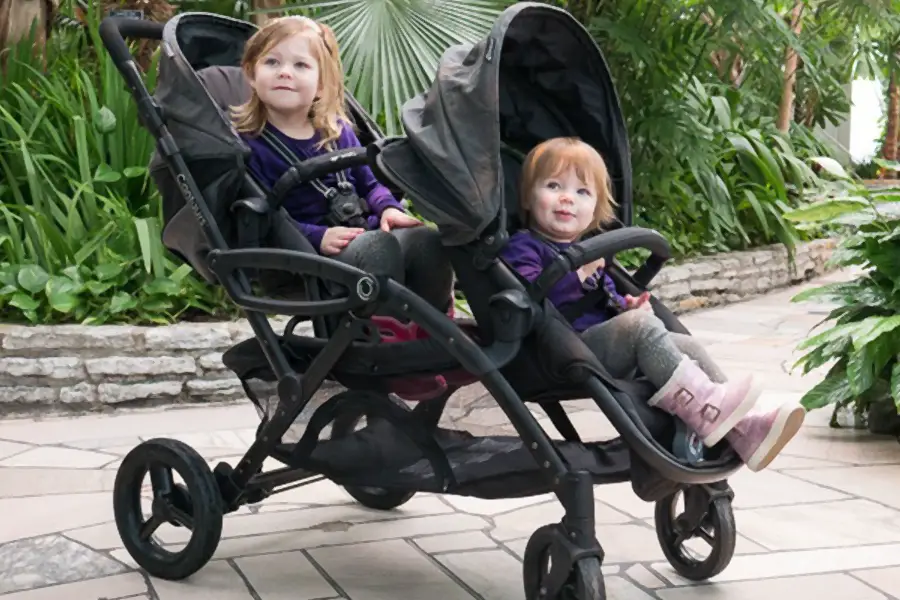 A double stroller can be a Godsend to moms with two kids under the age of three, provided you know what to look for. There are thousands currently on the market, which can muddy the waters and make it difficult to find the right one for you and your precious little cargo. They are much larger than the average stroller, which can be an inconvenience if you make the wrong choice. Take these factors into account before you buy one to make sure that doesn't happen.
Factors into Account
Substance Over Style
A stroller may look pretty or stylish, but that doesn't mean you should buy it. Things like color, design or special features should come second to how it functions. What you need trumps what you want. It's nice to have things like cup holders for you but they shouldn't be deal breakers. You want a double stroller that will make it easy for you to travel with your kids, not one everyone will ooh and aah over because its eye-catching. All those bells and whistles will not make it lighter, easier to handle or more maneuverable, which is what you should be looking for. It's also worth noting that all those extras can make the price skyrocket. The bottom line is yes,you can have both, but if you have to choose between the two it's substance over style every time.
Form & Function
There are 2 types of double strollers, front-to-back and side-to-side. The side to side is nice because your kids can see and entertain each other. However side-to-sides tend to be very wide and can not fit in all store aisles, sidewalks, elevators and other possibly narrow areas. The front-to-back, on the other hand, is long and much thinner and can go virtually anywhere. Whichever you choose look for the following:
Comfort – This is the most important feature. Your babies will be spending alot of time in the stroller so make sure they fit comfortably and the material is soft and breathable so they don't sweat.
Five-Point Harness – This is another critical feature. You need a five-point harness so you'll know your kids are securely strapped in and can't fall out. As they get a little older and a lot more curious they tend to lean over to look or touch, so the harness will prevent them from falling out.
Dual Reclining Seats – Some double strollers only have one seat that fully reclines, which can be a problem if both of your kids need to nap so choose a stroller where both seats go back.
Look For One That Is Lightweight, But Sturdy – You will be pushing 2 kids around, which can tire you out after a while. You don't need a stroller that is going to add additional weight, especially these days. There are plenty lightweight models available from some of the top brands, including Graco & Chicco.
Easy To Maneuver – You want a stroller that is easy to turn or push and one that folds up quickly and compactly. Some models need to be pushed hard when turning, which is not ideal, they should turn with little effort. They should fold up with little effort too. You don't want to have to fight with your stroller every time you need to close it. Also, make sure its compact so it can fit in the trunk of your car or your hallway.
Extras
Some extras are unnecessary, but there are a few you should try and get, like extra storage and car seats. Under the carriage bins are a great bonus because with two kids odds are you will have a lot of supplies, toys, blankets and more to take with you,so the more storage compartments, the better. Double strollers that come as a set with cars eats are also great. The car seats snaps in on top so you can easily take them from car to stroller without having to wake them. They also are priced better when you buy them in a set.
As you can see, there are a lot of things to consider before buying a double stroller. Do your research and test out various makes and models before making a decision. If you follow these steps you'll find a double stroller that is just as perfect as your little angels.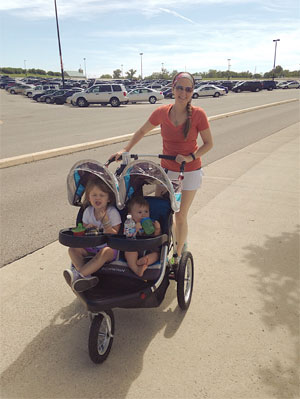 What Accessories Are Available?
Accessories for double strollers can range from sunshades and rain covers to infant car seats. Car seats are a very useful feature for newborn babies as it means they can be moved from the car to the stroller without having to disturb them if they are sleeping. However, it should be remembered that as the child gets older and heavier these types of seats will become more difficult to carry and the switch from car to stroller will not be as easy. While car seats are definitely a useful accessory they should not be the primary reason for choosing the double stroller as the stroller itself will probably be in use a lot longer than the car seats. Depending on the type of stroller that is chosen, accessories that protect against the weather will either cover the stroller as a whole or each seat individually.
Helpful Tips on Buying Double Strollers
A double stroller is a very helpful baby equipment for any parent of two young babies that is why trimming its cost by finding the cheapest brand is not acceptable. While the cost of double strollers matters in making a buying decision, you have to make sure that you do not go for cheap ones with the lowest quality. Here are some points to check before deciding which one is the best for the little ones:
The space in the vehicle compartment where the stroller will be placed should be checked first to determine the size of the stroller to be purchased.
Double strollers are expected to be heavier than the singletons because they are generally designed to hold two babies at the same time. Take some time to calculate the weight of the stroller added with the weight of two babies as the passengers.
If the double stroller will be used mostly inside malls and other establishments with very limited space, choose the tandem double stroller. If it will be used mostly outdoors like in parks and other recreational places, then the side-by-side is better since this allows both babies to have a better view of the picture.
The sturdiness is also very important because it will determine how much weight the stroller can support. If value for money is one of the major concerns, then choose the ones that can be used up to toddler days. Consider the current weight of the children and their projected weight in the next years.
A good stroller should carry a Juvenile Products Manufacturers Association (JPMA) seal. This only means that the product has been tested and approved by the organization and is actually safe for the babies to use.