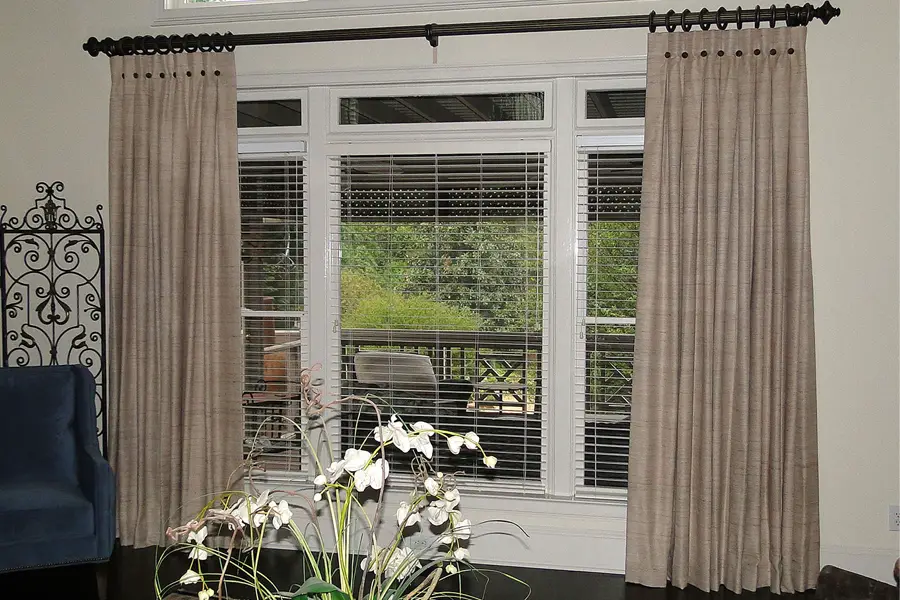 Drapery Panel Reviews
Curtains and drapes are a lovely way to decorate and bring elegance into your home. By purchasing drapery panels you will have control over how much light enters the rooms of your home. They can bring class and elegance to your windows by highlighting the furniture and home accessories you have already chosen for each room. The following drapery panels are durable and will bring an elegant charm to your home while pulling the room together. We have selected the best draperies available that will add to the interior design of your room as well as controlling the light.
Most Popular Drapery Panel
Best Home Fashion-1 Panel
The Wide Width Grommet Top Thermal Blackout Curtain 100″W X 84″L Panel will allow you to personalize your home décor. The drapery panels are offered in six different colors allowing you to choose a color that will match and compliment your interior design. With this product you can feel safer knowing that no one can see into your home. They have been scientifically tested to suppress 99.9% of sunlight and protect your home from drafts. The drapery panel's construction is made of fabric that is innovative and machine washable. The product has a panel that encompasses one grommet panel. The grommet panel is 100 inches in width and 84 inches in length. They also include a tieback that will match the curtains and enable you to draw back the curtains as needed. There are 16 grommets that are bronze. The grommets are 1.6 inches in diameter.
Offered in six different colors
Suppresses 99.9% of sunlight
Fabric construction is machine washable
Protects rooms from drafts
Grommet panel is 100 inches in width and 84 inches in length
– Anthony Dawson
Best Overall Drapery Panel
Best Home Fashion-Set of 2 Panels
The Solid Grommet Top Thermal Insulated Blackout Curtain will bring style and texture to your home. The drapery panel is 96 inches in length allowing you to cover and bring accents to your windows. This device can be draped onto a variety of curtain rods making it easier to bring a modern look to your home. Curtains have scientifically been proven to suppress 99.9% of light and 100% of UV rays. By suppressing light you can determine the amount of light brought into rooms at particular times. Curtains can also reduce drafts and outdoor air that might come in through the windows. This insulation can help you save money on your energy bill. The fabric is innovative and can be cleaned with a standard washing machine. These drapery panels come with a tie to pull or draw your curtains back when you want more sunlight in your rooms. The panels are offered in eight different colors allowing you to mix and match your home accessories.
96 inches in length
Can be draped on many types of curtain rods
Scientifically been proven to suppress 99.9% of light
Regulate heat and drafts from entering into your room
Can be cleaned with your washing machine
– Anthony Dawson
Best Budget Drapery Panel
Arlee
This optical viewfinder is compatible with digital cameras with LCD viewing, but it is also fantastic for DSLR hi-def video photography. With the choice between framing models, magnification and standard, you can choose exactly how you'd like to see your LCD. It's incredibly easy to use and install this viewfinder, and comes off in a snap, thanks to its Smart Click-clips connection. There is a durable 180 degree rotatable eye cup, that is soft to the touch and ergonomically designed for ultimate eye comfort. There's also the option to adjust the eye cup, dependent upon which eye you use while shooting. The design of this viewfinder is aesthetically pleasing, and makes a perfect complement to most digital cameras. In other words, it won't stick out like a soar thumb. Diopter adjustment makes this technology really easy on the eye, whether you're an eye glass wearer or not.
Two viewfinding modes to choose from
Eyepiece optical system for less eye fatigue
3x Magnifying mode
Diopter adjustment is great for those who wear glasses
Great portable design
– Anthony Dawson