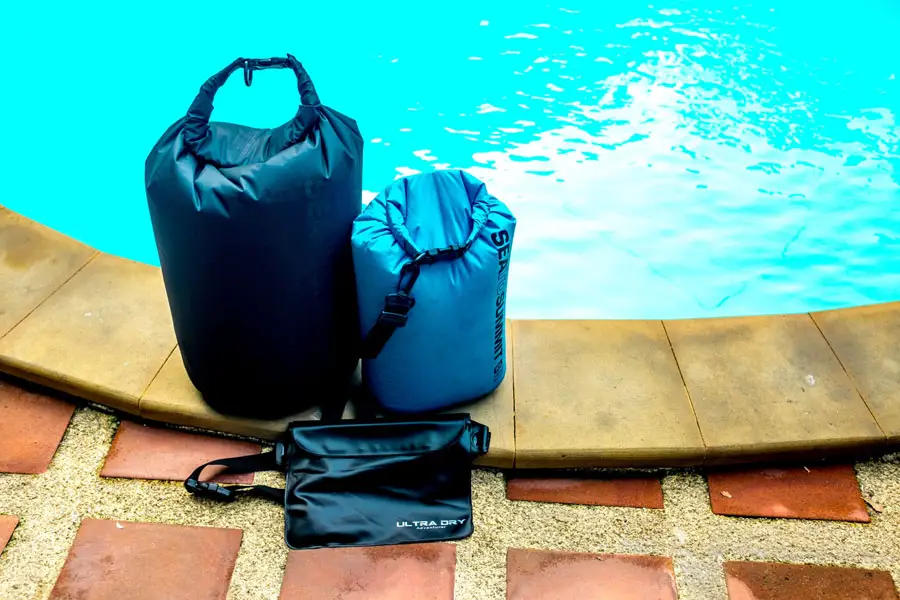 Dry Bag Reviews
As its name implies, a dry bag is designed to keep your belongings dry, whether while fishing, kayaking, boating, camping, or otherwise. They come in a variety of sizes, allowing you to keep your clothing, gear, electronics, and food out of the water and the elements. Made of durable, abrasion-resistant, and moisture-repellant materials, dry bags are essential pieces of gear for any outdoor excursion in, on, or near the water. Dry bags are typically constructed of either vinyl or nylon materials. Vinyl is usually reserved to make smaller dry bags for small, personal items. Medium and larger sized dry bags are typically constructed of nylon, as it is more durable and can be coated with CORDURA silicone for waterproofing and abrasion-resistance. The seams on dry bags are also reinforced as to not allow any water to slip in through the stitching. Most dry bags close with a hypalon roll top, wherein you roll the top of the bag several times then secure it with a buckle to create an air and water tight bag with a convenient carrying handle. Other bags employ the use of a press-and-seal zipper mechanism that is also effective at keeping water out, but typically reserved for smaller bags.
Most Popular Dry Bag
Outdoor Products
Featuring a two, four, and eight liter sack in three different colors, the Outdoor Products 3-Pack Ultimate Dry Sack package is the perfect starter set for the outdoor adventurer. Each bag is constructed of soft and flexible rip-stop nylon that's polyurethane coated and reinforced with double-stitched, tape-sealed seams for keeping the water out. The bag employs the use of a roll-top closure that offers maximum compression and creates a watertight seal to protect your belongings inside. These bags are perfect backpackers, kayakers, fishermen, and outdoor adventurers of every nature. But despite their best efforts, the Outdoor Products Ultimate Dry Sacks are not geared for full-submersion, and thus are not totally waterproof. You can drop them in a stream or allow them to get rained on, but you probably don't want your electronics or valuables to be in them when you do. Fortunately, the convenient 3-pack gives you the ability to keep anything from a pair of shoes to a first-aid kit in a compression-tight container that'll repel moisture and protect your belongings.
3-pack comes with two, four, and eight liter dry bags
Roll-top provides full-compression, airtight closure
Seams are double-stitched and tape-sealed to increase water resistance
– Anthony Dawson
Best Overall Dry Bag
Aqua Quest
Weighing just under a pound, the Aqua Quest Mariner 10L/600cu-in. Dry Bag offers 100% waterproof protection for anything you stuff inside. Whether you're a kayaker, canoeist, sailor, or deep-water boater, you'll find comfort in knowing the 10-liter Mariner Dry Bag can be splashed, dipped, and submerged in the water without a single chance of your belongings getting wet. The bag has a single, 600-cubic inch compartment with dual-integrated stiffeners that allow you to carry a full day's load backpack or duffel-style with the integrated shoulder straps and carrying handle. The straps can be adjusted at the top and bottom to ensure a snug and comfortable fit. For increased safety, the shoulder straps incorporate a reflective webbing to make you more visible in low-light conditions. The Mariner is constructed of 100% waterproof, TPU-coated PVC fabric and uses a classic roll-down buckle closure system to create an airtight seal. Aqua Quest products have been field tested by over 10,000 satisfied customers from the Outback to Antarctica to everywhere in between. Having not faltered to that much abuse, the Mariner 10-Liter Dry Bag Day Pack deserves a place in any outdoorsman's gear selection.
Durable PVC construction withstands abuse and offers complete waterproof protection
Adjustable shoulder straps and carrying handle allow for backpack or duffel-style carry suitable for men and women
Welded seam construction and classic roll-top closure keeps bag contents water and air tight
– Anthony Dawson
Best Budget Dry Bag
SealLine
The SeaLine Baja series of dry bags come in a variety of sizes and colors for designation of each of your personal belongings that you want to keep protected and dry. The bags use SeaLine's Dry Seal roll-top closure system to create the most watertight seal possible to keep the bag's contents totally dry, no mater the conditions. For added waterproof protection and durability, the bags are built tough with heavy-duty, scrim-reinforced vinyl side and bottom seams. Though not intended for full-submersion, the SeaLine Baja Dry Bags will keep your belongings safe and dry in the event you flip or roll your kayak or canoe, so long as you roll the top at least 3 times and buckle it closed. The biggest advantage to the Baja series is the versatility when it comes to size selection, as the bags range from 5L all the way to 55L. So whether you need to keep your cell phone or an entire change of clothes dry, SeaLine has you covered.
Size selection ranges from 5 to 55 liters for storing all types of gear/valuables
Dry Seal roll-top closure system creates totally water/air tight seal and acts as carrying handle
Scrim-reinforced seams enhance waterproofing and durability
– Anthony Dawson