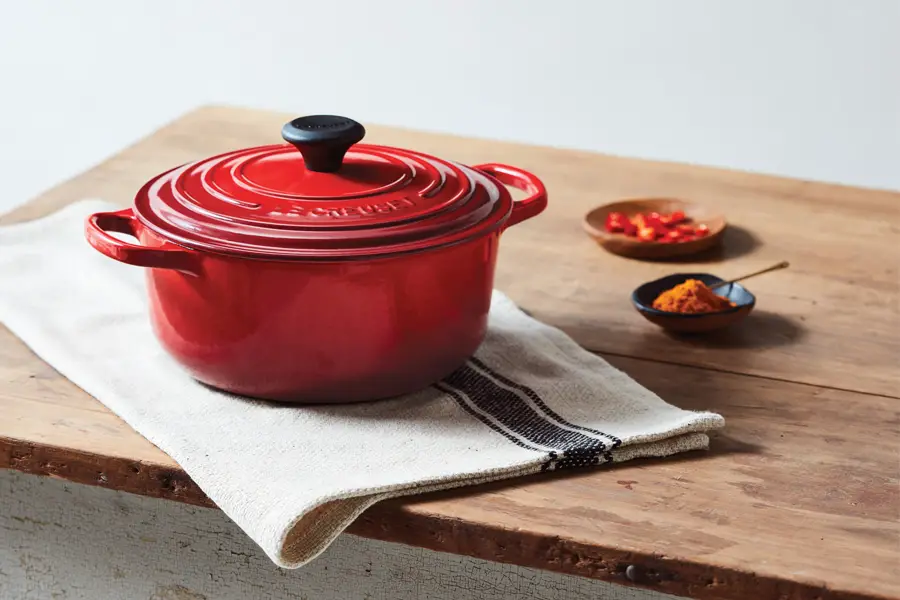 Dutch Oven Reviews
Dutch Ovens were once only used as a staple for camping. In the camping environment it was beneficial because Dutch Ovens retained its heat making it excellent for baking over an open fire. The tight fitting lid sealed in the moisture for breads and cakes. Today these same features are used inside the home by millions of cooks worldwide. The Dutch Oven construction distributes the heat evening. This means the bottom; sides and even the lid hold the heat in. This reduces the amount of energy needed for cooking and creates an even cooking surface. In the last few years many different manufacturers have begun making Dutch Ovens, as millions of users catch on to the superior way of cooking. We have researched these new products and bring to you the best that we recommend.
Most Popular Dutch Oven
Lodge 6 Quart
The Lodge EC6D53 Enameled Emerald 6 Quart Dutch Oven is made of enameled cast iron. It comes in a variety of colors which allows you to select the color that best fits your kitchen decor. The porcelain enamel construction has a chip resistant design and does not need to be seasoned and is ready to use upon arrival. The 6 quart design is oven safe up to 400 degrees F. The Lodge EC6D53 Enameled Emerald 6 Quart has a strong porcelain design that allows for even distribution of heat throughout the oven, creating an even cooking surface. The lid is designed to seal in the moisture during the cooking process. The Dutch oven can be used for baking, stews, roasting and marinating. It can even be put in the freezer without any damage. The Lodge EC6D53 Enameled Emerald 6 Quart is best washed by hand with warm soapy water and comes with a lifetime warranty. This inexpensive model rivals in performance with many of its more expensive competitors making it an exceptional value.
6 Quart oven
Oven safe to 400 degrees
Enamel cast iron construction
Hand wash to preserve appearance
Lifetime Warranty
– Anthony Dawson
Best Overall Dutch Oven
Lodge 7 Quart
The Lodge L8DOL3 Pre Seasoned 7 Quart is designed with dual handles for easy use. The top handle makes it easy to remove when the cooking is complete. This Dutch oven is made in the USA supporting local manufacturing. The cast iron construction arrives pre seasoned and can be used immediately. The Lodge L8DOL3 is virtually indestructible. It has a self basting dome lid that retains moisture. The cast iron design heats evening and slowly making this the perfect cooking pot for slow cooking. Short ribs and stews come out perfect every time. The Lodge L8DOL3 holds 7 quarts of your favorite chili or chicken and rice. The pot is 10 ¼ inches in diameter and 4 inches deep. The depth makes is the perfect choice for soups and stews. The handles make it easy to move the pot from the stove to the oven. The non stick surface is best if treated with a cooking spray before use. Clean up is easy. Use a wire brush and hand wash with warm soapy water. The Lodge L8DOL3 comes with a lifetime warranty.
7 Quart Oven
Pre seasoned; ready for immediate use
Cast iron construction
Hand wash
Lifetime Warranty
– Anthony Dawson
Best Budget Dutch Oven
Calphalon
Simply Calphalon Nonstick 7 qt Dutch oven is made with hard anodized aluminum. This Dutch oven is chip and scratch resistant and has a non stick interior surface. This makes for easy food removal and easy cleaning. The Simply Calphalon Nonstick 7 qt Dutch is oven safe up to 400 degrees F. It is perfect for cooking on a stove top or in the oven, depending on your cooking needs. The diameter of the Dutch oven is 10 inches and the sides rise up 5 inches. The handles of the Simply Calphalon Nonstick 7 qt Dutch are coated in silicone, which means the handles stay cool even during cooking. This makes moving the hot Dutch oven easy, when the meal is ready. The lid is made of tempered glass so you can watch the magic happen with your recipes. The Simply Calphalon Nonstick 7 qt Dutch oven is perfect for slow cook meals and heats food evenly. The Simply Calphalon Nonstick 7 qt Dutch needs to be hand washed and comes with a 10 year warranty.
7 Quart oven
Oven safe to 400 degrees
Hard Anodized Aluminum construction
Non stick cooking surface
10 year warranty
– Anthony Dawson
Dutch Oven Buying Guide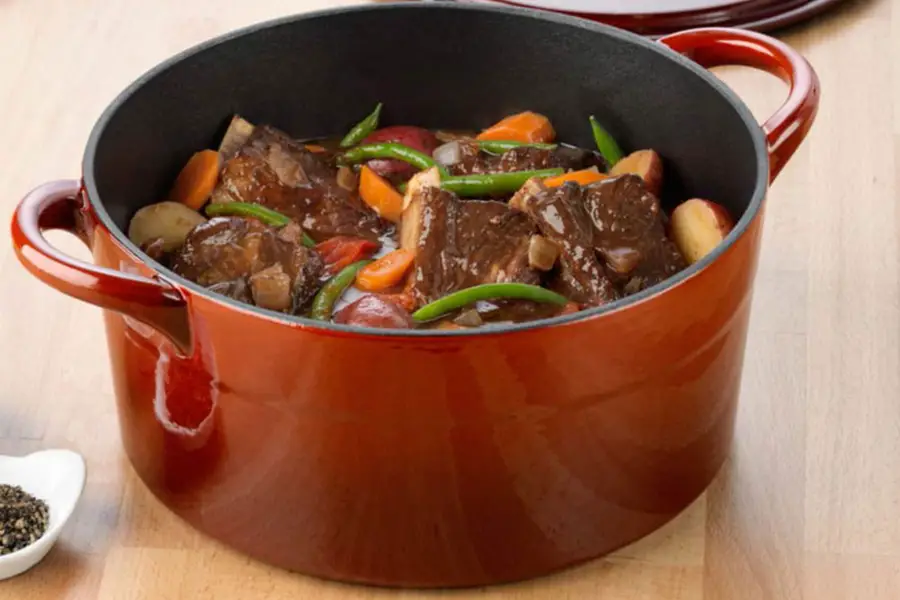 For people who have graduated their cooking skills from simple stir frying and reheating, a quality Dutch oven is a good addition to every home owner's kitchen staple. Read the following guidelines to help you decide what to look for in a Dutch oven.
What is it?
Contrary to its name, a Dutch oven is a cooking pot with a thick wall made from cast iron and sometimes, copper, ceramic and clay. Dutch oven's have been around since the 17th century. Modern Dutch ovens are lighter in weight. Cast iron Dutch ovens are still available, but porcelain-enameled steel versions are getting frequent. Porcelain-enameled Dutch ovens are less prone to rusting and are easier to clean. Dutch ovens are heavy because of its thick-walled body and are tightly fitted with a lid. They fit well in ovens and on stove tops. Commonly, Dutch ovens are available in sizes that can hold up to 4 to 6 quarts (3.8-5.6 liters) but they are available from 1 to 9 quarts (0.9-8.5 liters). Dutch ovens have handles on the sides. Older Dutch ovens have flat, curved protrusions for handles. Some Dutch ovens with rolled edges prevent spilling when pouring soup to a different container.
Dutch ovens are often used for braising, making stews and soups. Cast iron Dutch ovens can withstand deep frying.
The Ideal Dutch Oven for Your Needs
Dutch ovens are perfect for slow cook meals and one pot meals. Due to its built and size, lifting a Dutch oven out of the oven or the stove requires a lot of strength. As mentioned earlier, most Dutch ovens can hold around 4 to 6 liters. Unless you're naturally strong, you will need assistance when preparing meals with a Dutch oven.
Cast iron Dutch ovens take a long time to heat but can sustain heat even when the flames are already out. But its high retention of heat makes it ideal for braising meat. Meat braising would soften the meat's connective tissues, making each slice soft and tender to bite. Oftentimes beef and spare ribs are braised. These tough meats come cheaper in some supermarkets so braising meat using a Dutch oven will do your budget a favor and help you save money. The downside to braising meat is the duration for the food to be cooked which normally it takes 1 to 5 hours.
The lid should be heavy or tight fitting to seal the moisture and pressure inside, yielding to softer and juicier meat. The handles should be sturdy. It should not move when lifting the Dutch oven. Any less than that may cause the hot food to spill when the handle breaks. Some handles have a heat-resistant plastic or rubber grips, while some have a clear food-safe, heat-resistant coating making it cool enough to touch.
The Types of Dutch Oven
Dutch ovens are available in 4 types: cast iron; porcelain-enameled cast iron; copper and stainless steel.
Cast Iron Dutch Ovens
These are the toughest kind and will last a very long time, provided proper care. Remember that cast iron Dutch ovens are prone to rusting so oil them properly. Prices vary from US$50 to US$400 for cast iron Dutch ovens. When used for the first time and the succeeding few times, they must be seasoned first so food won't stick to its interior and exterior. Brand new cast iron Dutch ovens are coated with oils so it should be washed with soap and water before using. Seasoning is done by coating the entire Dutch oven with corn oil, lard and cooking fat such as Crisco then heating it in the oven for an hour at 150˚C.
Since iron doesn't distribute evenly, there will be hotspots (i.e. areas of the Dutch oven touching the flame) that would brown or blacken meat faster. It's also tricky to clean cast iron Dutch ovens. You should not let it sit for too long before cleaning but it should be cool enough to touch. Charred food also sticks to the interior. Once it gets rusty, cleaning involves a great deal of heating, scrubbing with vinegar, salt and oil, reheating and rinsing. Owning a cast iron Dutch oven requires high maintenance.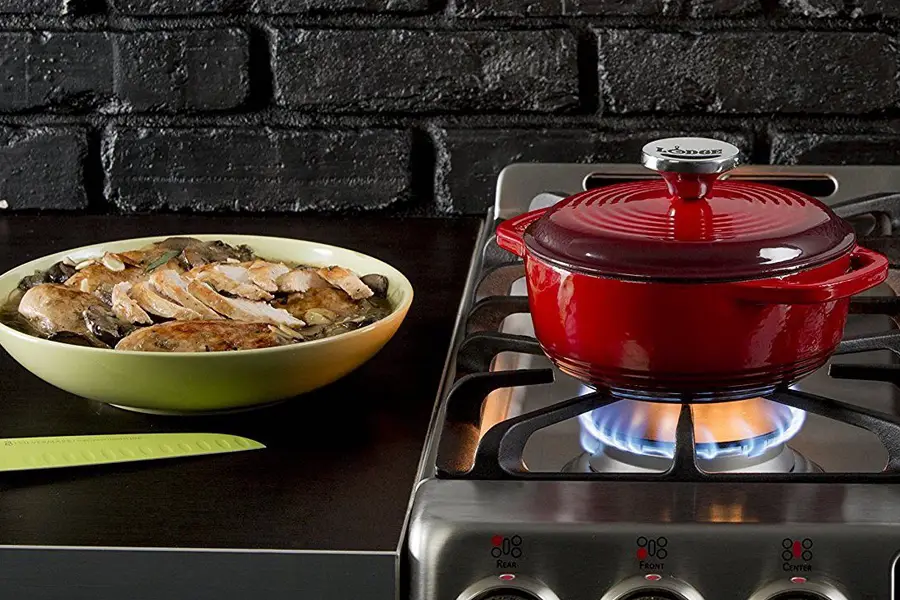 Porcelain-Enameled Cast Iron Dutch Ovens
They are the improved version of cast iron Dutch ovens. Porcelain distributes heat more evenly than iron. Overtime the ceramic coating can chip off, especially in cheap models. Prices range from US$80 to US$400.
Copper Dutch Ovens
Offer the best conductivity. Pricier models offer a lifetime warranty. Because copper is not as hard as steel, most copper Dutch ovens come with round sides and are squeezed between stainless steel to make them more durable and less prone to getting dents. Copper also heats faster than iron, so cooking time with copper Dutch ovens are relatively shorter. This type of Dutch oven is ideal for making soups and stews. It heats quicker, weighs less than cast iron Dutch ovens and distributes heat evenly. The heat capacity of Dutch ovens is provided by the manufacturer. The downside is that copper reacts with acidic foods so either avoid cooking with acidic components (which can be impossible) or look for copper Dutch ovens with a stainless steel interior lining. Make sure it's PFOA and PTFE-free.
Stainless Steel Dutch Ovens
These are durable and heat well, but not as fast as copper Dutch ovens that's why most manufacturers sandwich copper cores between stainless steel.  Stainless steel is non-reactive, so cooked meals won't have a metallic taste. These Dutch ovens are freezer, broiler and dish washer safe. The downside is that it is prone to scratching.
Cooking Technique
Depending on the manufacturer, it will be specified if the Dutch oven is safe for gas, electric and halogen cook tops. Check the size of your oven and stove top before narrowing your choices. Also consider your budget, amount of food needed to be prepared and time for maintaining and cleaning your Dutch oven.
Customer and Aftersales Service
A Dutch oven is an investment. It's pricey but it will help you achieve a lot of dishes. Unless you decide to buy a 2nd hand model, make sure that your purchase comes with a warranty.