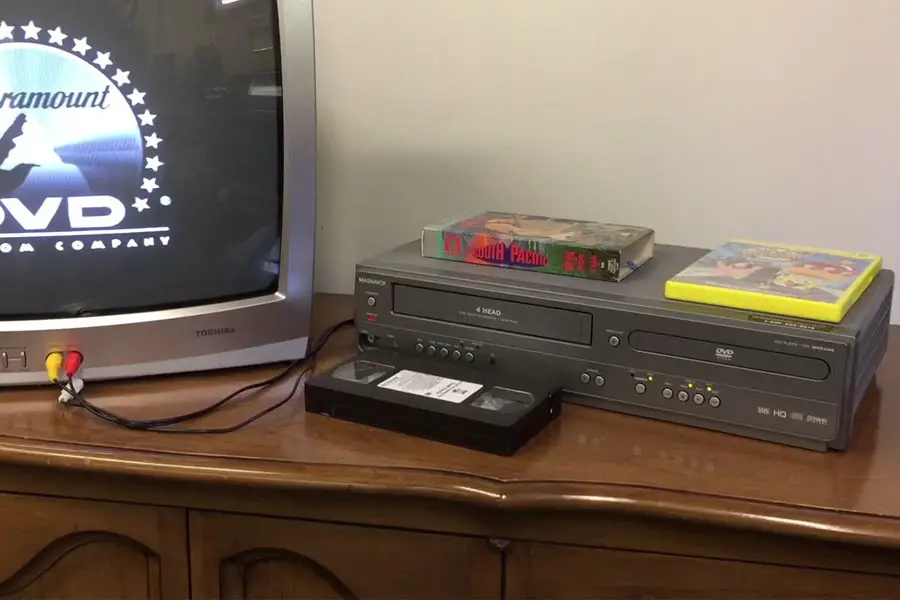 DVD VCR Combo Reviews
Do you still have VHS movies that you can't seem to find on DVD? With the DVD VCR Combos you will be able to keep your VHS movies and be able to watch them without having to own a separate device. With so many classic movies hard to find on DVD, the DVD VCR combo units are still in demand with consumers. Not to mention all those home videos that were taken on VHS tapes. The following DVD VCR Combo units are top quality devices that will allow you to watch and record as your needs dictate.
Most Popular DVD VCR Combo
Sony
The Sony SLV-D300P DVD/VHS Recorder is a product that will help you with your movie and TV program watching needs. This DVD VCR combo has a DVD and VHS Recorder with two way dubbing. This means that you can convert DVD's to VHS and VHS to DVD's. When you are taking a trip or know only one of the video formats is available, you can transfer your favorite movie to that format. This unit offers Playlist, Rename Title, Replace Title Thumbnail, Chapter Creation and Bi-Directional Dubbing editing features.The Sony SLV-D300P VDV/VHS Recorder records formats including: -R/-RW, +R/+RW. This DVD VCR combo can also playback MP3, VCD, JPEG, Kodak Pic, and DV devices. This allows you to listen to music, watch movies, record programs, watch home videos and view photographs. With an Input of 1080P upconversion you will have the highest resolution with the clearest picture with all of your viewing methods. The digital formats greatly enhance the picture quality of VHS Tapes. In order to record programs you will need to purchase an external tuner source. This is not very expensive and will be worth all of the available features. It comes with a 1 year product warranty and 90 day labor warranty.
2 way dubbing and records in –R/-RW, +R/+RW format
Playback MP3, VCD, JPEG, Kodak Pic, and DV
1080p up conversion
DVD bookmarking, resume, and picture zoom
19-micron heads for clear images from EP recordings
– Anthony Dawson
Best Overall DVD VCR Combo
Toshiba
The Toshiba D-VR600 Tunerless VCR Combo is a device that will allow you watch all of your movies without the expense of having to convert your VHS movies to DVD's or having to invest in buying DVD's to replace your VHS tapes. The Toshiba SD-V296 Tunerless VCR Combo has a simultaneous DVD playback and VHS Record for watching a DVD while recording a TV program. This feature allows to record and watch all your favorite films or TV programs at your convenience. With this DVD VCR combo, not only will you be able to watch and record movies/TV programs, you can use the JPEG Viewer 3 feature. This feature enables a user to display digital photographs on the television set in the JPEG digital format. The Toshiba D-VR600 Tunerless VCR Combo is a customer friendly device that allows you to complete many different tasks with easy to operate controls. This DVD VCR combo comes with a remote control that can easily be connected to your television remote. The Toshiba D-VR600 Tunerless VCR Combo also has 1 coaxial for digital audio output providing you with the highest quality audio sound.
Customer friendly controls
DVD playback while recording
JPEG Viewer
Remote control included with purchase
1 Coaxial Digital Audio Output
– Anthony Dawson
Best Budget DVD VCR Combo
Magnavox
The Magnavox DV200MW8 DVD Recorder/VCR Combo, HDMI 1080p Up-Conversion, No Tuner has many different features and benefits that will enhance your television experience. This DVD VCR Combo is a DVD player and recorder as well as a VHS recorder. This allows you to watch DVD's and record your favorite shows on a VHS or DVD depending on your needs. There are four different VCR video heads including Dolby Digital Recording. The Magnavox DV200MW8 DVD Recorder/VCR Combo makes recording simple with its one touch feature. You can even record up to 12 programs, allowing you to be confident in recording missed programs on TV. This DVD VCR combo has a theater surround sound, virtual surround sound system that will make you feel like you are in a theater without the additional background noises. The Magnavox DV200MW8 DVD Recorder/VCR Combo includes a progressive scan system with high definition multi-media interface. A separate tuner is needed to record live TV.
DVD player and VHS recorder
4 different video heads
One touch recording
Can record up to 12 programs
Theater surround sound
– Anthony Dawson
DVD VCR Combo Buying Guide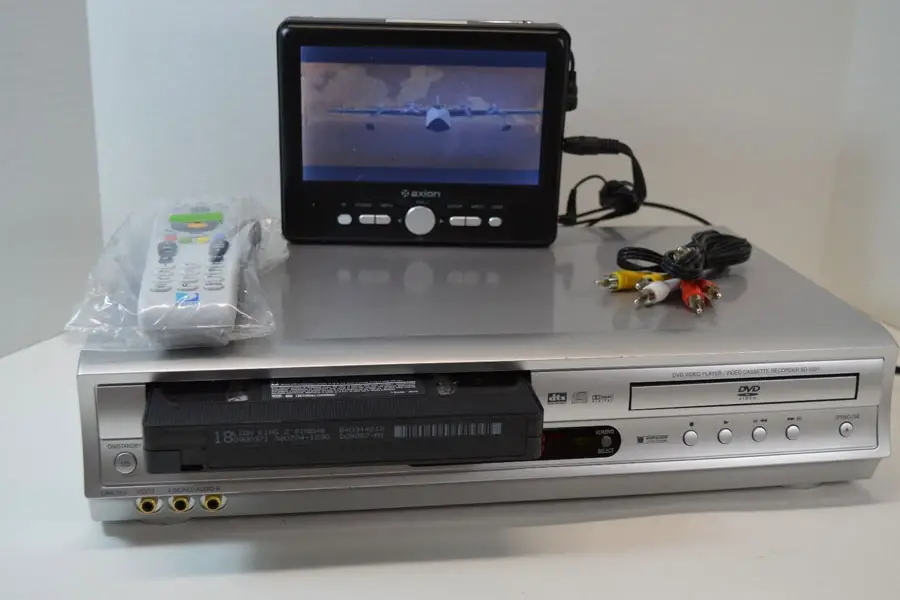 What You Should Consider When Buying A DVD VCR Combo
The indispensability of a DVD VCR combo is still proven and tested by the challenges of time even though there are already many modern technological advancement in equipment that serve the same purpose. Some people may look back at the VHS tapes that they have been using since their childhood and feel sentimental about their VHS players.  A lot of people remember viewing their first home movies using their VHS players. So, it is completely understandable as to why the DVD VCR combo remain to be a household name and every home, not to mention that it offers the best of old and new video formats. This unit can play DVDs and VHS tapes, as well as record the videos from camera recorders.
While it may be true that you could just use a laptop or a desktop computer to view the television programs and movies of your choice, this unit combination lets you record all of those and play it back the next time, without the limits to the number of times you could view it. That's one thing that makes this unit hard to let go of and hard to dump at the basement. So, if you are planning to buy your own set of a combination DVD VCR, these are the top considerations that you should always keep in mind.
DVD VCR Combos are Space Savers
This combo, although it serves two purposes as the name suggests, does not require two units to be displayed. It helps save a significant amount of space in the component shelf, not to mention that you do not need to connect many wires just in order to make it function properly. The connectivity of this combo is very impressive because you do not need to have many remote controls just so you could efficiently use both the purpose of the combo, it would still require you one remote control with all the features and buttons needed already embedded.
DVD VCR Combos Save Money
Of course, you bought this amazing combination because you do not need to buy a DVD and a VHS separately. A DVD recorder alone could cost you a significant amount of money because of its attractive features and distinct characteristics as well. A VHS would also cost you a valuable amount if you buy it independently from a DVD recorder. And also, when you buy a DVD recorder and a VHS separately, that would mean you need to have different kinds and formats of tapes, and that is definitely not cost-efficient. The efficiency of the value of the money spent should justifiably serve its purpose without compromising the quality and service of the product.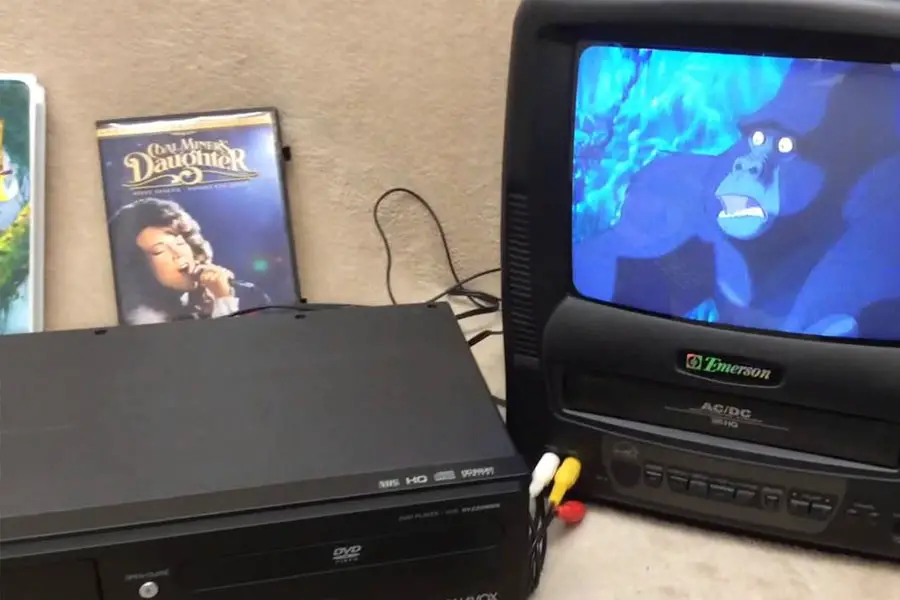 This feature is very attractive to all those potato couches and to those that want more viewing time. If you want to use this unit for the purpose of entertaining yourself with your favourite television shows and most-watched movies, then this is just the right thing for you. You could record those movies in the DVD recorder and you could have the service of a VHS as well. And not only that, you can pause, stop, or replay a particular part of the program while it is still going on.
Also, if you the DVD set that you have bought a hard drive having a significant amount of storage capacity then you could save the VHS content to the DVD since it will give more reassurance of longevity and would still play the same quality video and resolution the next time you play it. A VCR standalone could not give you the EPG feature that could be given by the DVD recorder. The EPG features is the one responsible for allowing you multiple time shifts and play back time; tolerating your fondness of visual and moving entertainment.
This feature is one that you should look for when buying the combo because usually, what happens is that while you are away in the office and you left your kid in the house, you bribe him of watching his favourite movies and television shows just so he would not go out from the house. However, it is really inevitable that your child could watch videos that are not suitable for his age. So, make sure that this feature is in the set that you will purchase, and then learn to play around with it. This ensures quality and relevant information that your child could get upon entertaining himself.
The Quality of The DVD VCR Combo
The digital audio outputs should really be taken into consideration if you want your entertainment set match the audio quality to the image quality. A player that has an optical or coaxial digital audio output will give you just that harmony of sound quality and image resolution that you have always wanted.
Keep in mind also the types of standard formats for the recording tapes. The market has now DVD-R and DVD+R which can be recorded just once, while there are the DVD-RW, DVD+RW and DVD-RAM which are rewriteable, so you can record and rerecord on these discs depending on your needs and interests. In the end, it is all about the finding for the right combination that would suit you.
When they say that you are hitting two birds with one stone, they could be referring to a DVD VCR combo. This combination allows you to experience the benefits and advantages of DVD and VHS in just one unit. You do not have to punish yourself with agony to just a buy one separately because indeed, you have been provided with an equipment that serves two masters at the same time really well. So, you do not have to sacrifice one just to have the other. Indeed, this combination unit will never cease to keep up with the demands of time. This have come a long way already, since the time of our grandfathers, and undoubtedly, this would surpass the demands and requisites of time, and that is what makes this household equipment a practical and wise buy.