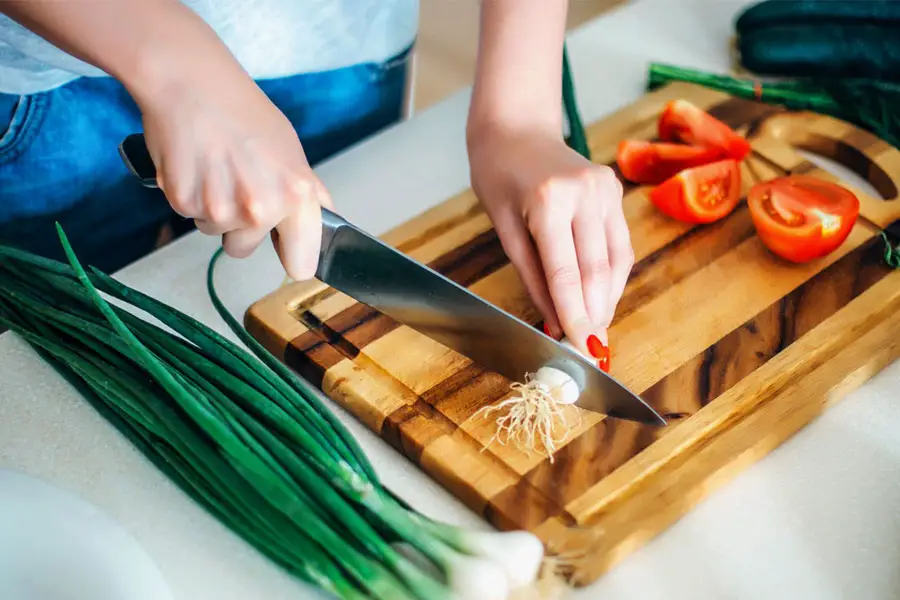 Electric Knife Reviews
Electric Knives have made their way into today's kitchens as professional and home cooks alike look for better ways to make difficult tasks easy. Cutting large meats like hams and turkeys are made simple by the use of an electric knife. Not only is it easier, but the cuts are cleaner and more even and consistent. With so many electric knives on the market, and quality ranging from barely usable to professional grade, we have gathered the best electric knives on the market and narrowed the list to the ones we recommend.
Most Popular Electric Knife
BLACK+DECKER
The Black Decker EK700 Electric Carving knife comes with a 9 inch carving blade that is perfect for cutting bread, meats and poultry. It has the power to take on the toughest carving job, yet delicate enough to slice bread easily. This handy knife has a blade that can cut thick and thin slices with speed and precision. The stainless steel blade has a flush cut design that makes it very easy and convenient to cut with accuracy. The Black Decker EK700 Electric carving knife has non slip tabs which make the knife removal easy and safe. The comfortable handle includes a non slip grip for control and comfort. The handle is made to fit both right and left handed users comfortably. The knife also comes with a safety lock which prevents accidental starts. The cutting blade has a quick release tab, which allows for easy blade removal and clean up. The Black Decker EK700 Electric carving knife includes a built in knife stand and a 1 year warranty.
Safety start button
9 inch blade
Non slip handle for ease of use
Quick release blade
1 year warranty
– Anthony Dawson
Best Overall Electric Knife
Cuisinart
The Cuisinart CEK 40 Electric Knife comes with two stainless steel blades and a wood block storage tray. The blades include a bread cutting blade and a carving blade. The bread blade cuts even hard crusted breads with ease. The carving knife will cut through any roast with little effort. It also has an ergonomic handle which allows for both left and right handed people to use the knife with ease. The Cuisinart CEK 40 Electric Knife is built with safety in mind. There is a safety switch which controls the on/off button and can lock the controls when not in use. The blades lock securely to the handle and there is also a lock that secures the blades to the wood block. The blades are dishwasher safe. The 4 foot cord can be stored in the back of the block, providing easy and compact storage. The wooden block can be stored on the countertop or in a drawer. The Cuisinart CEK 40 Electric Knife comes with a 3 year warranty.
2 stainless steel blades
Safety buttons for on/off switch and locks blades into storage block
Wood block storage tray
Dishwasher safe
3 year warranty
– Anthony Dawson
Best Budget Electric Knife
Mister Twister
The Mister Twister Electric Knife has all the power you need to cut through any job. It is sharp enough and precise enough to filet fish, with very little waste. The sharp knife will cut through a two pound fish in seconds. Yet is it powerful enough to tackle a turkey, ham, or even a roasted pig. The operation is very quiet compared to most electric knives. The serrated double action 7 inch blade is precise and easy to use. An optional 9 inch blade is available for larger jobs.
The Mister Twister Electric Knife has a quick blade release and a safety button to prevent turning on the knife accidentally. The recoil cord is 5 feet long and stores easily. The lightweight design and comfortable handle make this knife safe and easy to use. The high impact housing and heavy duty motor produces 50% more torque than electric knives of similar size. The knife comes with a 2 year limited warranty.
Quick blade release
Safety button
Heavy duty motor
5 foot recoil cord
2 year limited warranty
– Anthony Dawson
Electric Knife Buying Guide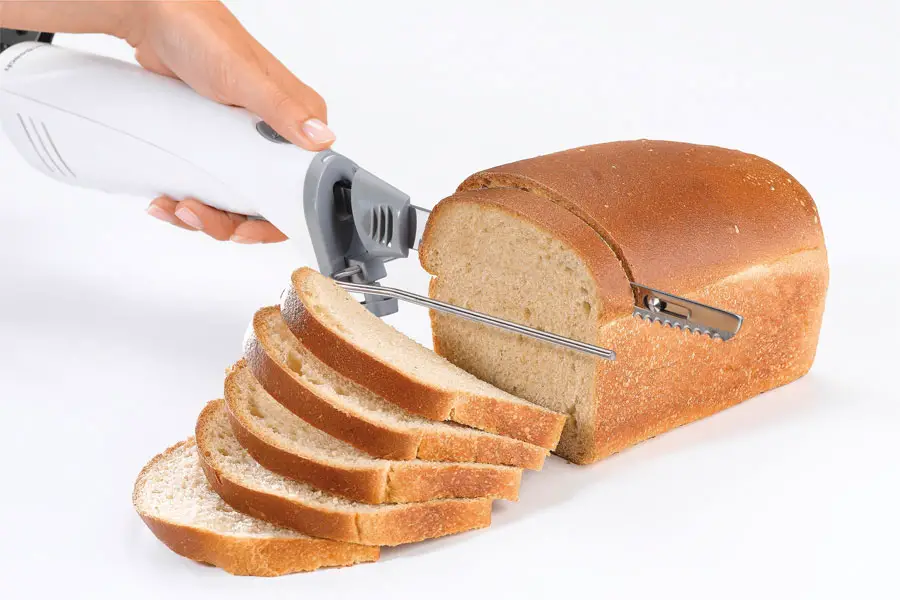 Using an electric knife is a lot easier than using an ordinary knife. This is often used in cutting breads, roasts, ham, turkey, and meats. This is a hand-held tool that is operated by an engine. The motor is connected to saw-toothed blades. The two saw-toothed blades are moving back and forth to make a sawing movement that penetrates within the meat. Unlike manually operated knives, electric knives ensure uniform size of cuts. Aside from simplifying the process of cutting, it can also minimize the time and energy you will use in doing the activity. You can also use this tool for chopping onions, squash, tomatoes and other vegetables.
Here are the things you must consider in buying the best electric knife.
Types of Electric Knife
You may choose a corded or a cordless knife. A cordless knife is powered by a battery, making it a good option for outdoor trips and picnics. You can also use this on your dining table. A corded knife requires an electrical outlet to function. If you want a powerful tool, you should buy a corded knife. If you want the tool to be portable, then a corded knife is a better option. However, the battery life of a cordless knife is limited. Thus, you need to recharge the tool whenever the battery runs out.
You must find an electric knife that has a comfortable handle. Since the blades are very sharp, you need to be comfortable in handling the tool to avoid cutting your finger. There are different models available in the market. Look for a model that you can easily maneuver. The handle must be near to the switch and control buttons. In this manner, you can easily switch on and off the engine using the same hand that is holding the handle.
Usually, the blades are serrated and made of stainless steel. Stainless steel blades are durable and strong. Blades are removable, making it easier to clean. Usually, the blades can be washed with soap and water using your hands. It is easier to cut if the blades are 8 or 9 inches long. If you're buying the tool to cut large chunks of poultry, then you need to look for longer blades. You must also buy separate blades for cutting bread.
This feature is only applicable for corded knives.The cord length is an important thing you must consider. You cannot easily operate the tool if the cord is too short. It will be uncomfortable if the cord is too long. Selecting a right cord length will make the work more comfortable for you. Imagine the place where you will use the knife and the power outlet. Estimate the needed length for you to cut the meat easier. Mostly, you will use the tool in your kitchen. Therefore, make the kitchen table and power outlet as your basis for the cord length.
Aside from the ease of operation, you must check the length of battery life. To save money, buy electric knives that are operated by rechargeable batteries. In this way, you will no longer buy batteries over and over again. You should also assess the engine's specifications. Find a tool that only uses 100 watts of power when cutting thick cuts of foods.
Like any device, an electric knife is composed of small functional parts. Only professionals have the ability to repair this tool. A durable electric knife is more beneficial. Find a tool that offers a longer span of warranty. This is to ensure that the company will be liable for any damage and malfunction. Any tool may be damaged unexpectedly. You should find a tool that offers at least 2 years of warranty.The blades must be non-corrosive and sturdy. High quality electric knives can last longer than poor quality ones.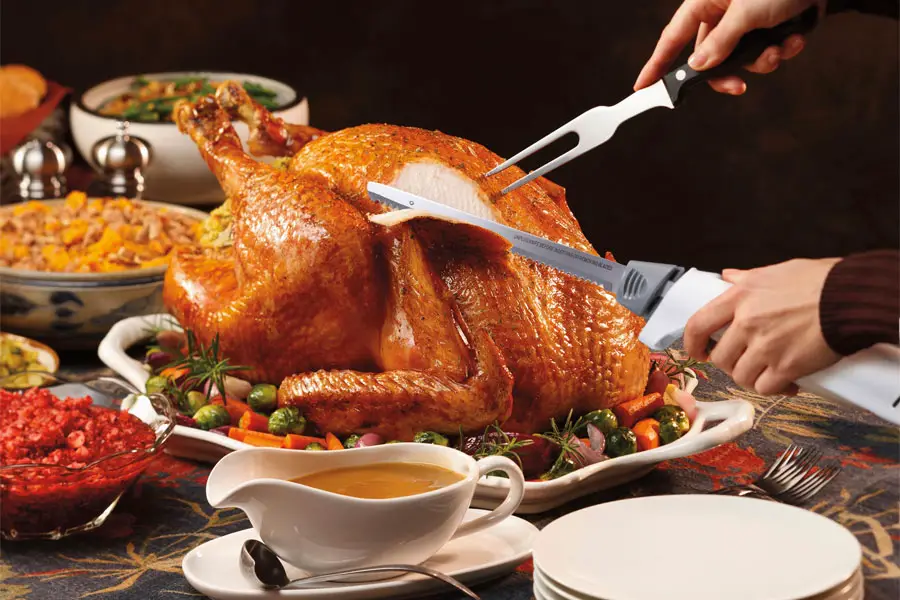 Accurate Cutting Performance
A high quality electric knife is capable of cutting meat cleanly with few traces of sawdust. If the blades are not sharp, the cuts will not be clean and there will be more shreds of meat.
Aside from durability, you should also be comfortable when using the electric knife. If the tool is easy to use, you can accurately cut the meat in your preferred spot.
You would not at all mind having such a stylish knife especially if you will be using it tool in parties and other occasions where other people may see you using it. This is important if you would like to project a certain image, especially if you are running a catering business.
Things You Must Know Before Buying an Electric Knife
How Frequently Will You Utilize the Electric Knife
If you are planning to utilize this tool once in a while, then it will be more beneficial to buy a durable electric knife with a long warranty. If you will only use this tool for special occasions, a cheaper unit will be a good choice. This is to be more practical in spending your money.
What Are the Things You Need to Cut
Some households have separate knives for cutting meat and bread. If you are more likely to cut breads, then you could buy an electric knife that specializes in cutting bread. If you will use it to cut meats, you must buy an electric knife intended for cutting meat. There are some models that are applicable in cutting meat and bread. However, these models are more expensive.
How Much Strength Do You Have?
Even if this tool is powered by electricity, you may still be required to exert some effort in cutting frozen meats. Look for a knife that will not make your arms tired, esepcially if you would have to use it for extended peiods of time.
In buying an electric knife, you need to try the electric knife before buying it. You must examine if it satisfies your personal preference and budget. By testing the knife, you will know if you can easily lift and hold it. Indeed, selecting the right electric knife may be tricky. It will take time and effort to find an appropriate one.