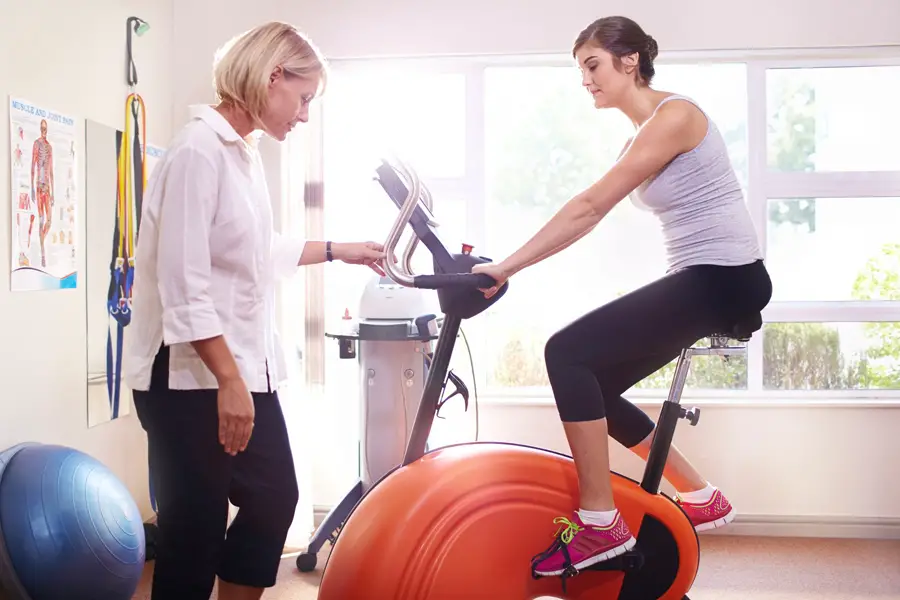 Exercise Bike Reviews
Stationary bikes are a great way to start working out. These great machines are ideal for those who want to get fit but may suffer from joints or back pains. It is said that one of the main motivators to exercising is doing something that you enjoy doing. What can be better than a bike ride? You can do this while reading a book, watching TV, or listening to your favorite tune in the radio. Stationary bikes are designed to last a long time and to be easy to store in your house. Not to mention how it targets all the major muscles of your body while protecting you from injuries. Below are our top three bikes that will leave you feeling rejuvenated and re-energized.
Most Popular Exercise Bike
Marcy
This sleek compact upright exercise bike is the perfect bike for small living areas. It comes with a console that allows you to track your speed, time, distance and calories burned. The seat is wide enough to fit all users and to ensure that their workout will be comfortable. The handlebar and seat can be adjusted up or down to meet your desired settings. This incredible bike allows you decrease the resistance for those days that you just want to take it slow, and it also allows you to increase it for when you want to challenge yourself. The pedals comes with straps to ensure that your feet are secured and wont slip out when you are pushing yourself that extra mile. If you are looking for a convenient and affordable exercise bike that will give you the workout of your life then this is the right bike for you.
Dimensions: 31.5 x 48.75 x 18 inches
Eight levels of resistance to meet your desired workout goal
Bike weighs 43 pounds
Console that tracks time, speed, calories burned, and distance for your record keeping
Perfect for cardiovascular fitness
– Anthony Dawson
Best Overall Exercise Bike
Sunny
This incredible steel framed bike is a great at helping you shed weight and tone your body. It comes with adjustable resistance for when you are ready to pick it up a notch. You can read, listen to music, and even watch TV while working out. This bike is ideal for those who come home late from work as it has a chain driven mechanism that will give you a quiet workout. Thus it won't disturb anyone around. The seat and handlebars can be adjusted to your comfort height and it can support up to 275 pounds. If you are looking for a practical bike that will deliver results, then look no further. You will be amazed at how fast time passes by when you are working out and having fun at the same time.
Adjustable resistance
With 04lbs flywheel
Weight capacity: 275 pounds
Transport wheels so you can easily move it around the house
Dimensions 20 x 46.5 x 48.5 inches
– Anthony Dawson
Best Budget Exercise Bike
Exerpeutic
This is a low impact, upright bike that is designed to give you the best cardiovascular exercise in your life. It guarantees to give you a zero impact workout to protect your ankles and joints. This bike is durable and strong. It can hold up to 400 pounds and the seats are designed to fit any user and it is made out of cushion to make your exercise experience a comfortable one. It also has a heart rate monitor to help you ensure that you are working out at a safe heart rate. As you get in better shape you can also increase the tension for a more intense workout. This incredible bike has a large LCD screen where you can track your progress. It allows you to see distance, heart rate, and even calories burned. Once you are done with your workout you can easily fold it and roll it to your assigned storage location without having to lift it. Come on and challenge yourself to be healthier a more fit.
The handle has a hand pulse heart rate monitor
Seat can be adjusted to fit anyone from 5'1 to 6'5 inch tall
There is an eight level Magnetic Tension system to allow the user to make his/her workout more intense
Dimensions: 39″ L X 26.4″ W X 48.4″ H
Product weighs 51.6 pounds
– Anthony Dawson
Exercise Bike Buying Guide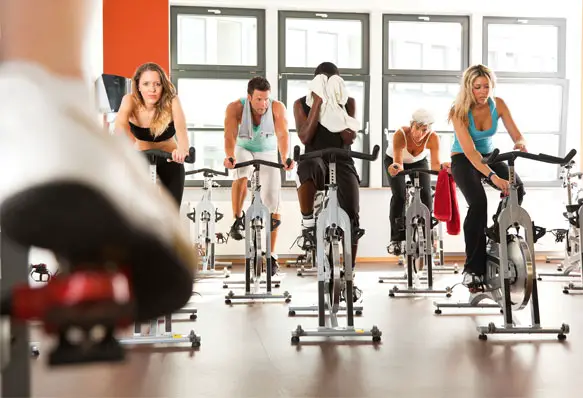 Different exercise machines are now catching the attention of many people with their high technology features. But long before these machines existed, stationary bikes or exercise bikes has already been aiding people in their exercise routines. They are still popular workout partner in gyms and even at home and are considered staples of cardiovascular exercises.
Exercise Bikes, in all its simplicity, resemble bicycles without true wheels and is used to increase cardiovascular fitness. It offers easy to do workout that is why it is a perfect choice for beginners or novice exercisers. People who suffer from back, knee, or joint problems are also suggested to use this bike. Not only is it a great fat and calorie burner and good oxygen booster, using exercise bikes are also made simply enjoyable and convenient. One can use it while doing several things at once like watching television or reading a book.
Like other exercise machines, exercise bikes offer a number of health benefits. First, it can improve flexibility and range of motion of muscles preventing stiffness and discomfort acquired from disuse or lack of exercise. Another is that (as mentioned before) it provides a moderate cardiovascular activity which stimulates and helps better circulation; therefore, strained muscles and soft tissue problems are easier to heal. Aside from those, aerobic exercises also increase the body's endorphin production which is known to be a natural pain blocker. Moreover, endorphins also reduce anxiety, stress, and depression. Exercises done using this (in just a short span of time) prove to have more benefits than longer workouts which only target specific muscles.
But before you go out and buy an exercise bike, do the homework because there are several considerations to take.
Type of Exercise Bike
There are five basic types of exercise bikes so make sure that you research very well. Also, it would be very helpful to try them beforehand to know if you are comfortable using them. Here is a list of the types of exercise bikes and brief summaries of their uses.
Upright Stationary Exercise Bikes – It has a typical bike-like form and features. If you are one who enjoys outdoor cycling, this would be a good choice. The body also receives the same workout as bicycling without the need of getting out of the house. They come up with the basic features needed and are space savers because they can be folded and stored. It is very popular among consumers.
Recumbent Stationary Exercise Bikes – This is suggested for people who need additional back support. It comes up with larger seats and backrests. Unlike in an upright type, the rider's position is partially reclined for a more comfortable workout. Recumbent types are more expensive than upright ones and have additional features.
Indoor Cycles – This is gaining popularity because it provides a more authentic workout. It contains neither consoles nor added features and only focuses on the workout itself. These are designed for more intense workouts.
Interactive Exercise Bikes – It allows the user to simultaneously enjoy technology as well as the health benefits gained from the exercise. Interactive bikes are packed with different entertainment and workout programs. Interactive bikes can come in upright and recumbent types. This type is expensive due to the entertainment factor that it provides.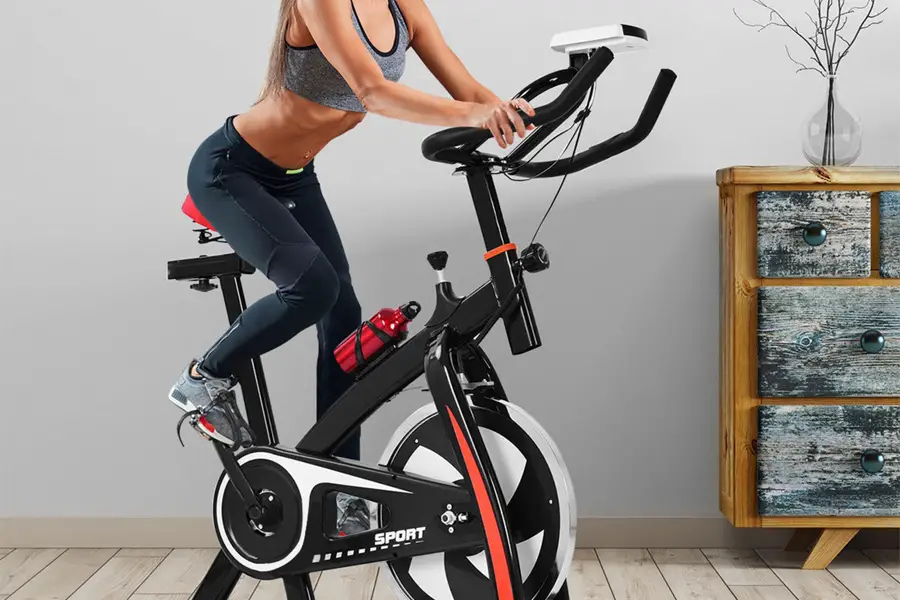 Dual-Action Stationary Bikes – This type provides a full body workout with emphasis on the upper body portion. This is very much similar to elliptical trainers. Many dual-action bikes offer built-in fans as well as adjustable resistance levels for both the pedals and the handlebars. Like interactive bikes, it can be upright or recumbent but upright ones are more available to the market.
Room/ Space
Do you have enough space for electronic exercise bikes? Or there is limited space for your exercise machine?
Budget
Determine how much you want to spend for an exercise bike. Knowing what purpose you will use the bike for will be very helpful in deciding and will also save you money. You can also consider options such as buying a brand new or secondhand machine.
Features
Make sure that you purchase exercise bikes that contains the basic features. Those basic features include adjustable resistance levels, comfortable seats, and wide pedals. Additional features you may also want to look at are heart-rate monitors, different options for programming, and it even comes with LCD display, book rest, and bottle holder. Also check the quietness of the model. Noise can disrupt you from having a peaceful exercise. Another is the stability of the model. This ensures that the machine does not wobble while you are performing the workout. And since exercise machines come in big sizes, it will be helpful if they have wheels for easy transportation.
Top Exercise Bikes
Here is a short list of exercise bikes you can choose from.
Exerpeutic Upright Folding Magnetic Bike
This is the number one best seller exercise bike listed in the amazon website. This model provides a large seat cushion for multiple users. It can be easily adjusted to fit 5'3″ to 6'1″ user heights. Also, it has extensions that increase stability of the bike. You need not to worry for any movement or tipping. It has very easy get off and on the bike for a more comfortable workout. It is definitely a space saver and can be folded to at least half its size. The Exerpeutic model has an LCD Display that indicates total distance, calories burned, time, speed, and heart rate monitor. Even with all of those features, it can still be bought at a very affordable price!
Sunny Health & Fitness Pro Indoor Cycling Bike
This is a heavy duty crank with a smooth chain drive mechanism. Aside from that, seats and handlebars are fully adjustable for maximum user comfort. It also has adjustable resistance systems and transport wheels made for easy transportation. It supports a maximum weight of 250 lbs and can withstand tough workout conditions. Also, this indoor cycling bike is very easy to assemble. Rated with nearly 5 stars, it gets the number two spot in the amazon website. If you're looking for a very durable and sturdy exercise bike, you can never go wrong with this!
Exerpeutic 400XL Folding Recumbent Bike
This is a highly recommended exercise bike with a very wide and comfortable back support and seat. It is a very quiet machine that you need not raise the television volume while doing the exercise – the perfect partner for multitasking. It supports a maximum weight of 300 lbs meaning it can endure strenuous exercises. Aside from that, it is sold at a relatively low price and also comes with home exercise computers. It is easy to use and also very stable. This is the ideal fit for tiny homes.
This kind of equipment should be well-researched before purchased. Always take into account your fitness goals, budget, and desired features. Whether you are looking for a regular exercise partner or tough equipment that can endure tough exercises, exercise bikes can provide the workout you need.