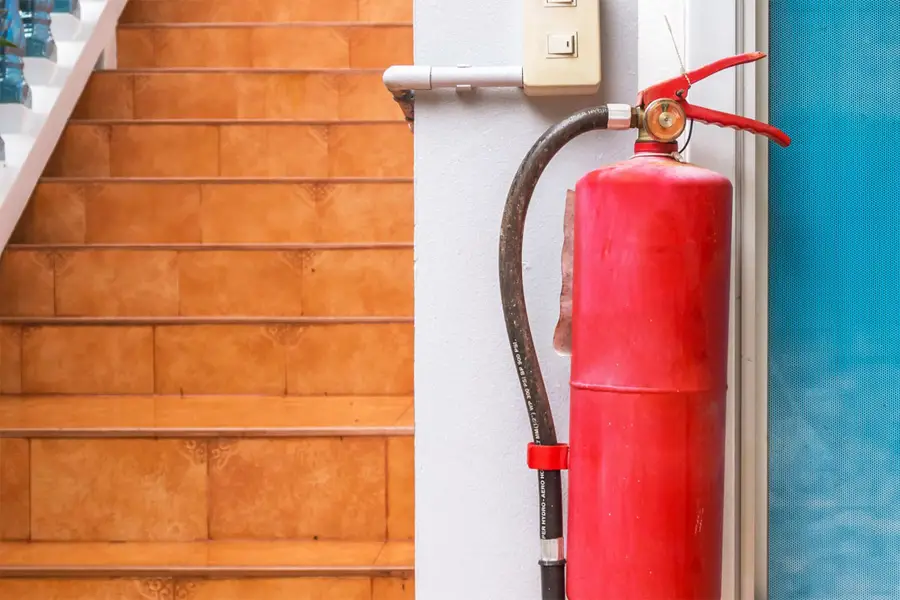 Fire Extinguisher Reviews
Every home, vehicle, boat and motor home should carry a fire extinguisher in the event of an emergency. The average fire extinguisher lasts around 3 years before losing pressure. Since most fire extinguishers have a one-time application, having an extinguisher that has the proper pressure to work in the event of an emergency is an important feature. Fire extinguisher units cannot be tested before hand, finding an extinguisher that is made from a reputable company is very important and can have lifesaving consequences. It is recommended that a unit be placed on each floor of a home and in the garage as well as one in each vehicle, boat and RV. Fires come in class categories. For home use there are three main classes. Class A fires include combustibles. This includes wood, cloth, paper, and plastics. Class B fires include liquid flammables. This includes gasoline, grease, and oil based paints. Class C fires are electrical fires and can include wires, motors and appliances. We have selected fire extinguishers that are made with strong performance records and strong reputations.
Most Popular Fire Extinguisher
Kidde-466112
The Kidde-466112-Kitchen-Garage-Extinguisher is a 2.9 pound unit. Included is a pressure gauge that is easy to read and determine the amount of charge in the unit. The clear instruction label has instructions as well as pictures providing easy to follow directions. Online videos are available to demonstrate use, since these are one-time use units they cannot be tested prior to an emergency. The easy pull safety pin provides fast and easy discharge when needed. There is also an impact resistant nylon handle that prevents accidental discharge of the unit. The Kidde-466112-Kitchen-Garage-Extinguisher is coast guard approved and has an available mounting unit if using on a boat or in an RV. The powder coated cylinder prevents corrosion. The Kidde-466112-Kitchen-Garage-Extinguisher comes with a 6 year warranty and is great for the home or garage. The fire extinguisher provides effective protection for class A, B and C fires which includes wood, paper, plastics, oil and grease fires along with electrical fires.
2.9 Pound unit
Clear instruction label with both written and photographic instructions
Powder coated cylinder prevents corrosion
Easy to pull safety pin and easy to read pressure gauge
6 Year Warranty
– Anthony Dawson
Best Overall Fire Extinguisher
Kidde-466180
The Kidde-466180-Fire-Extinguisher-Rated 5 pound unit is made for bigger jobs. This rechargeable unit must be recharged after discharge to be available for additional use. The carbon dioxide agent does not damage food, valuables or electronics. The carbon dioxide dissipates quickly and leaves no residue. The Kidde-466180-Fire-Extinguisher is effective on class B and C fires which include liquid fires like grease and gas or electrical fires. The unit includes clear instructions with both written instructions and graphics to demonstrate use instructions. It comes with an easy to pull safety pin and an impact resistant metal valve, handle and lever to prevent accidental discharges. The powder coated cylinder is resistant to corrosion. The Kidde-466180-Fire-Extinguisher comes with a UL approved wall hanger along with a 5 year warranty. This unit is great for using in rooms where there are electronics or sensitive equipment that would be damaged with an ordinary fire extinguisher. It is also not rated to put out combustible fires like paper, plastic or wood.
5 Pound unit of Carbon Dioxide
Rated for Liquid and Electrical fires
Leaves no residue and will not damage electronics
Easy to read instructions and easy to pull safety pin
5 Year warranty
– Anthony Dawson
Best Budget Fire Extinguisher
Kidde-FA110
The Kidde-FA110-Purpose-Extinguisher-1A10BCis a 2.5 pound extinguisher that is great for home and vehicle use. It has an easy to pull safety pin and an easy to read pressure gauge to show the charge level. The clear instruction label is easy to read and the directions are easy to follow. There are also online videos available if you have never used a fire extinguisher. They are good to watch because in the case of an emergency is no time to learn. The Kidde-FA110-Purpose-Extinguisher-1A10BC is coast guard approved. It comes with a 6 year warranty making this fire extinguisher longer lasting than most units. The powder coated cylinder is made to prevent corrosion. The Kidde-FA110-Purpose-Extinguisher-1A10BC is prefect for home and vehicle use. It will put out fires involving everyday combustibles like wood, paper and plastics; flammable liquids like grease and gasoline; along with electrical and appliance fires. It has enough power to put out smaller fires before they spread. Once the unit has been discharged, it needs to be replaced.
2.5 Pound Unit
Easy to read pressure gauge
Easy to pull safety pin and clear and easy to read instruction label
Powder Coated cylinder to prevent corrosion
6 Year warranty unless discharged
– Anthony Dawson
Fire Extinguisher Buying Guide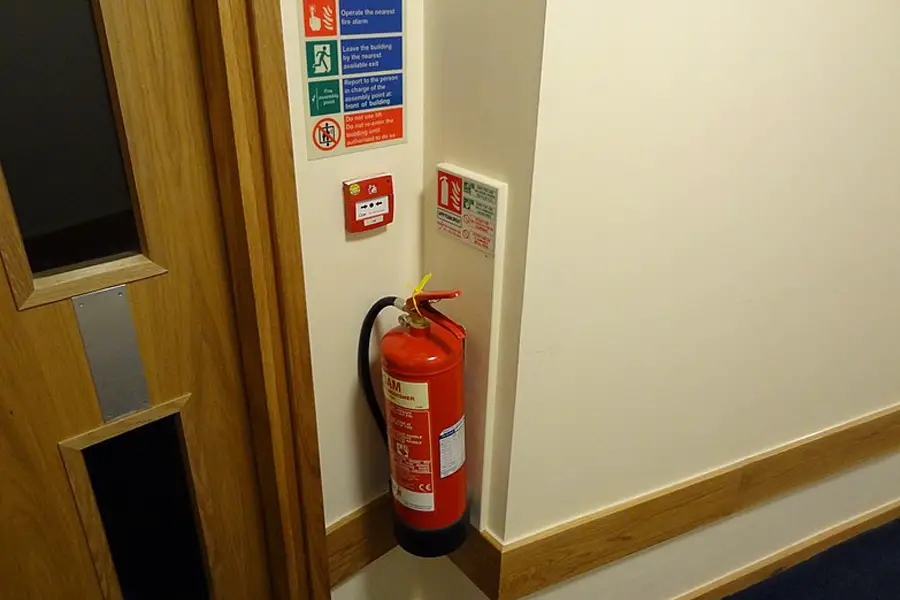 Easy Steps in Choosing the Best Fire Extinguisher You Need
Fires are a menace. They can destroy many precious things in a second. Many households and offices consider a fire extinguisher as a very important equipment to purchase. Unfortunately, buying one is not as easy as you think, considering that buying a fire extinguisher is a matter of safety and security.
Know What You Need
When buying a fire extinguisher, you should consider your surroundings and where you're going to be placing it, or for which parts of the house or office you will be using it in. Most codes have a minimum of 2A rate. Fire extinguishers that are made with dry chemicals are relatively safe, but are very messy. There are also extinguishers that are made from clean agents that are liquefied and also from dry gases that leave no residue. They are usually more expensive, but are popular for those who take great consideration for the things in the room that might catch fire. This is especially important for those with important papers or electrical gadgets.
Know What Class Is Right
When you buy a fire extinguisher, you need to know what type or class you need. These extinguishers are made with specific codes under specific classes to help buyers and users distinguish the specific extinguisher they need for a certain fire emergency.
You should only buy extinguishers approved by UL (Underwriters Laboratories) or FM from quality manufacturers. These extinguishers come in three classes or types: Classes A, B, and C. These types are based on the kind of fire that they can handle.
Class A fire extinguishers are made to handle combustible materials like wood, paper, burning rubber, cloth, and plastic.
Those under Class B are made for combustible liquids like gas or oil. Those who only wish to buy a canister for the kitchens usually buy Class B fire extinguishers ones, but they are also highly encouraged to buy an all-purpose one. Although it's more expensive, it's worth it and can save more money in the end.
Class C fire extinguishers, meanwhile, is designed for electric fires.
One is the Class D fires category that is rarely used by ordinary households and offices. These kinds are used largely by factories or auto body shops that deal with highly flammable materials and other metals.
Class K fire extinguishers are largely used in the restaurant industries with large commercial fryers and other fire hazard equipment.
Many people also favor extinguishers with carbon dioxide because of its odorless feature that also leaves no residue. These fire extinguishers are usually utilized in fighting Class B and Class C fires.
Halon extinguishers are also used for Class B and Class C fires. They are sometimes used for Class A ones, but they are largely popular for use of protection for places like laboratories with chemicals or electric gadgets, films, aircraft engines, and automotive parts.
Halotron extinguishers are ideal for those in the military industry who seek to protect data in control rooms, laboratories, vehicles, and boats.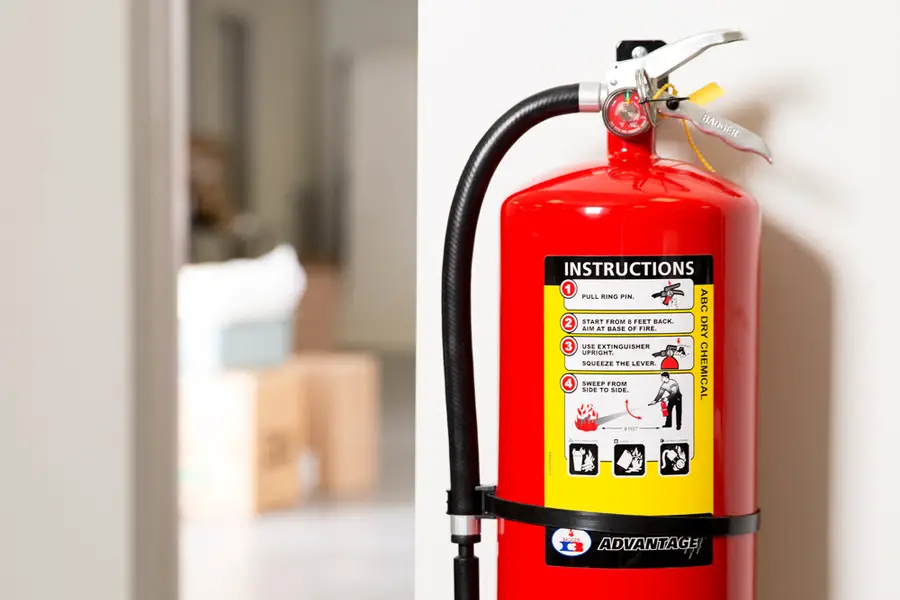 Check Out the Numbers
Buying a fire extinguisher needs a lot of consideration and knowledge on your part. Size matters. The bigger the canister is, the larger the fire it can put out. Most people buy smaller ones for areas like the kitchen. However, they also buy larger ones that can easily be accessed for use of bigger fires.
There is a set of numbers on the extinguishers that will tell you its capacity. The first number will tell you the liter of chemicals; the second one will tell you the amount of square feet that your canister can cover.
You also need to remember that different codes might be allowed or disproved of in other countries. It's always best to buy one from a trusted manufacturer. The fire extinguisher needs to be rechecked constantly for the hydrostatic test date to make sure that the canister is free of defects and can still function well. Hydrostatic test dates will vary according to the chemicals used by the fire extinguisher. Wet chemicals usually take five years till the test date, while dry chemicals will be tested after twelve years.
You must also remember that even though these extinguishers relatively have long lives, those that were made before 1980 can no longer be tested after their current test expires. It is, therefore, highly recommended to look at the dates of the extinguishers and buy one that has been made relatively recently.
Disposable or Rechargeable Fire Extinguishers
There is also the question of whether you should buy disposable or refillable extinguishers. Disposable ones are cheaper than the refillable ones, but after ten or twelve years, they need to be replaced. The downside to this is that they can only be used once before you are able to replace them. Most buyers who choose this are those who think that they only need to use the fire extinguisher once. Most people would rather buy the rechargeable or refillable ones. They are more expensive, but when it comes to safety, money should take the back seat. The refillable ones can be refilled after they are used or when they lose pressure, even before the ten or twelve year mark. Ideally, though, they should see service annually.
Complete Parts
You also need to make sure that when you buy a fire extinguisher, the pressure indicator should state that it is full and hasn't been tampered with before your purchase. When you buy a canister, check out all the parts. Are the handles, mounting hardware, and other parts fully functional? Are there no defects?
Conclusion
Buying a fire extinguisher can be relatively exhausting. Because they deal directly with protection from danger, these extinguishers should be considered carefully. You must have knowledge on the codes that are found on the canisters and should also be ready to approach local service centers to check out the extinguisher. One thing to remember is that the only way for you to know how it works exactly is when you use it for the first time. So, read reviews and guides like this to equip yourself with the things you need to buy fire extinguishers for your needs.