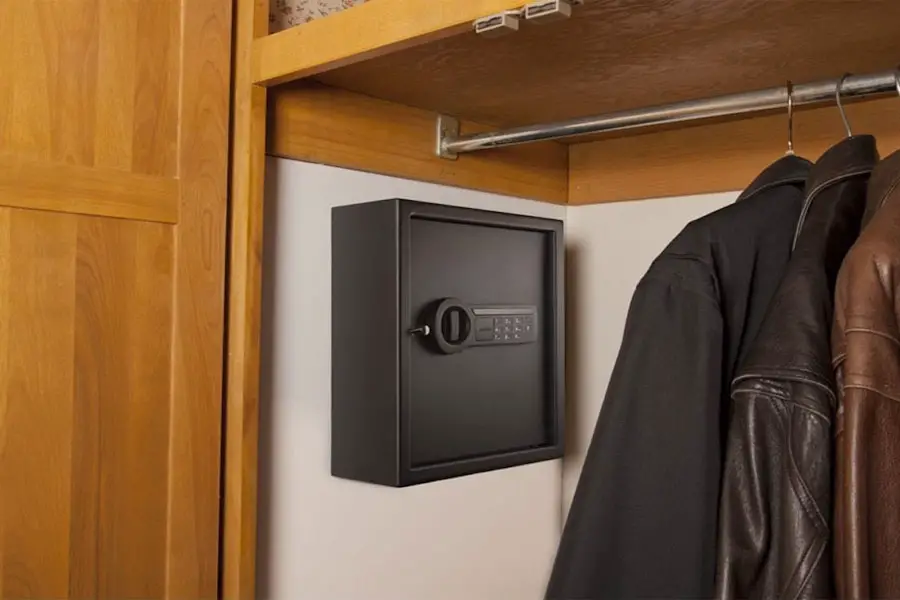 Fire Proof Home Safe Reviews
Securing important belongings are important to feeling safe and secure. When a home is broken into, a fire breaks out or a home is damaged by water, knowing your most important items are secure gives families piece of mind. Security safes protect your belongings from theft, while fireproof and waterproof safes protect your belongings from disasters. A home safe allow owners to have access to important papers without have to go to a bank safe deposit box, while still securing those items from damage or theft. This can include valuable papers like birth certificates, passports, and health records as well as wills, car titles, emergency cash and property deeds. These items are very difficult to replace. Add to that CD or flash drives with your favorite photographs, valuable jewelry, firearms and small collectibles like coins, and you can see how a home safe can be an extremely important item for your home. We have evaluated the home safes on the market today and have selected the best ones to meet your needs.
Most Popular Fire Proof Home Safe
Sentry Safe SFW123GDC
The Sentry Safe SFW123GDC Safe 1 Hour Fireproof Combination Safe has a total of 1.23 cubic feet inside the safe. This is enough room to keep all of your important papers, photographs, jewelry and other important items that need to be secured. The Sentry Safe SFW123GDC Safe 1 Hour Fireproof Combination Safe provides both security and fireproof features. It has been UL classified for 1 hour of fireproof protection up to 1700 degrees. This includes protection for CD's, DVD's and flash drives. It is also ETL verified for a 15 foot drop test. The Sentry Safe SFW123GDC Safe 1 Hour Fireproof Combination Safe can be bolted to the floor and has 4 live locking bolts for additional security. The combination lock can be set with 3 numbers for additional security. It would take a lot of time to remove this safe, in the event of a break-in. This creates security for your valuables for both break-ins and fires.
Fire safe to 1700 degrees
Drop safe to 15 feet
Combination lock
Can be bolted to the floor
1.23 cubic feet interior
– Anthony Dawson
Best Overall Fire Proof Home Safe
SentrySafe EF4738E
The SentrySafe EF4738E Fire Safe Waterproof Security Safe is heavy duty well-built safe that should be used mainly to protect against fire and water damage rather than a security safe. The small unit is large enough to fit your important documents and small enough for easy storage. The SentrySafe-EF4738E-Fire-Safe-Waterproof-Security safe provides a convenient way to store important papers like passports, titles and deeds. It also stores CD's, DVD's and flash drives that can contain your precious memories. You can have the confidence of knowing if the unthinkable happens, your most important papers and photographs are protected. It is ETL verified to protect against fire damage for ½ an hour up to 1550 degrees. It is also ETL verified to be waterproof. With a 4.71 cubic interior it fits 8X11 inch documents easily and has room to store all your valuables. It comes with 2 tubular key locks for entry.
ETL verified ½ fire protection up to 1550 degrees
ETL verified waterproof
4.71 Cubic feet interior
2 tubular key locks
Protects DVD's, CD's and flash drives from both fire and water damage
– Anthony Dawson
Best Budget Fire Proof Home Safe
SentrySafe X055
The SentrySafe X055 Security Safe is built to keep your valuables safe. This security safe is perfect for storing items like firearms, medication, emergency cash, and valuables like jewelry and small collectables. The heavy steel construction is pry resistant with hidden hinges. Mounting hardware is included for the option of bolting the safe to the floor. It also includes a hardened steel lock plate that resists against drilling. The SentrySafe-X055-Security safe is .5 cubic feet interior which gives plenty of room to store your valuables. It comes with 2 override keys and an electronic lock. Create an individual passcode that is 2 to 8 digits and is easy to program. The electronic lock is battery operated and needs 4 AA batteries. The 2 override keys can be used if the passcode is forgotten or the batteries fail. The 2 live locking bolts add extra security.
Security Safe
Pry resistant and drill resistant
Can be bolted to the floor
Electronic locks with key overrides
0.5 Cubic feet interior
– Anthony Dawson
Fire Proof Home Safe Buying Guide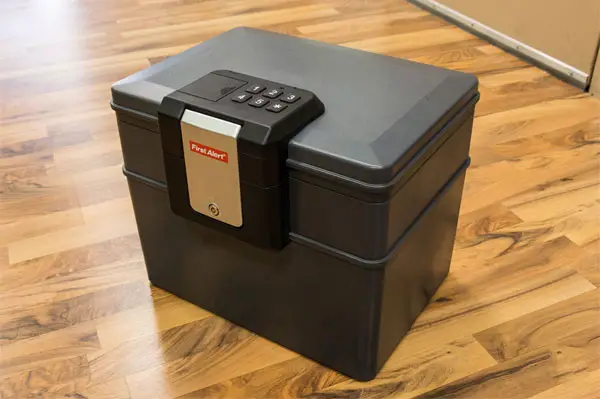 Safes live up to their name and keep very important things safe for you. Most safes are used to hide money, jewelry, or important data from burglars. However, burglars are not the only things that can take away important things from you. Fires can also raze your homes and eat through safes to get at documents or films or money inside. Fireproof home safes may be expensive, costing from one-hundred to one thousand dollars, which stresses the importance of buying one to ensure security of highly valuable items. Not all fire safes are the same, though. They don't look the same and they don't function for the same kinds of things you will be placing inside them. This guide will give a few things to consider when buying your fire safe.
What the Fireproof Safe be Used for
This is what makes it very important to buy safes that are fireproof. Fireproof safes are also called fire safes, composite safes, or fire liner safes. When you buy a fireproof home safe, it is very important to consider the things you will be putting inside. The things in your safe will determine the kind of safe that responds to the temperature needed by your things to be safe from fire, no matter how much it licks the outside of the safe.
Most safes should have an internal temperature of 51.67 degrees Celsius. Those who want to keep safe their paper documents should look for safes with temperature that does not go higher than 350 degrees Celsius on the inside. Those who plan to put old recordings or tape records in the safe should consider a safe with 150 degrees Celsius inside. Meanwhile, a safe for computer disks or flash disks should have an internal temperature of 125 degrees Celsius.
Buyers should also be aware that fireproof home safes are made to withstand one to three hours' fire. Most standard fire safes are manufactured to stand an hour of fire. This is adequate enough, unless your house is extremely far from the local fire department.
UL or Underwriters Laboratories ratings can also help you choose which safe is better for your papers or gadgets. If you will use the safe for computer media, you need to look for the UL rating of 125 or 72. Never disregard these ratings. Without this, your computer gadgets will melt even if the safe is relatively still standing. Safes for storing documents normally have UL ratings of 350.
Speaking of labels, you should be aware of the difference between "listed under UL" and "tested to UL Standards". Those fire safes marked with "tested to UL standards" do not necessarily mean that they have passed the test. Those that have passed the test are marked "UL Listed".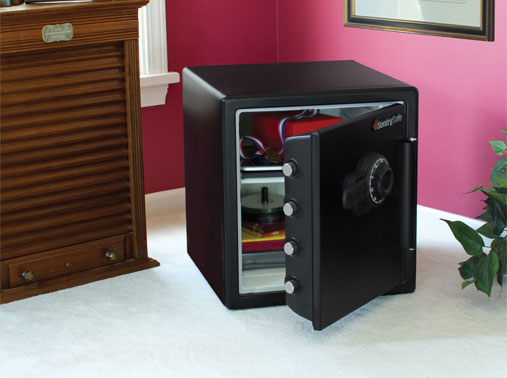 Size and Weight Matters
Another thing to consider when buying fireproof home safes is the safe's size and weight. Although the safe is fireproof and has the right internal temperature for your documents or things, its resistance to impact might be low. Impact resistance is very important in choosing a home safe. In a fire, the safe, if it is not mounted, might fall from its place, and the shock of the fall might have the safe bursting open with its contents.
You also have to consider where you will be using or placing your home safe. Will it be big or small? If it's a big one, does it have removable shelves? Also, you have to know what delivery services the retailer has. If it's a big safe, will the delivery team bring it up to your house in the room you want to place it in? Will they just place it outside your home? You also need to consider these things when you buy fireproof home safes because they are made of layers of metal and could be dramatically heavy.
Most fireproof home safes are actually not burglar-proof. Fireproof safes with ordinary locks are inexpensive, but they do not have the right locks to protect your things from those with less-than-good intentions. That is why it is also very important to choose the fireproof safe with a lock that can guard your things. Most locks used are deadbolts, tubular, combination, or electric. The best choice would be the electric lock. Of course, when you choose an electric lock, you also have to make sure that you will not lose the password for the lock. You also need to ask what happens when you forget your password and can no longer access your own safe. Is there an emergency lock?
Conclusion
When buying a fire safe, you should look for a mark of approval by the UL or Underwriters Laboratories. There are also marks or approval by the GSA or Government Service Administration. This kind of fireproof home safe is made with two thin layers of metal surrounding a water-retaining medium.
Not all home safes can be mounted. If you would like to have a wall safe, then it is vital that you consider the other features of the safe you want to buy. Does the safe have settings that can be customized or changed to accommodate your preferences? Is there a way for you to access it in the dark? It is highly recommended that you ask specific questions about the home safe you want to buy, especially if you want to mount it. Will the construction surrounding it affect the other features of the safe? Consider your lifestyle, preferences, and habits when you buy a home safe.
When buying a fireproof home safe, it is very important to have enough knowledge to buy the best safe for your use. Such knowledge can save you time and money. It can also help you from being swindled by people who will rely on ignorance of fire safes to make extra money. Always remember that having knowledge of which fireproof home safe to buy beforehand will result in better choices and better handling of resources, which you will be thankful for in the long run.